The first stage of the 2020 season has finally come to an end. Aside from the conclusion of all the pro-tier tournaments, it saw the first half of games in the US and Canadian Challenger Leagues, as well as most of the qualifiers for Europe and Latin America's Challenger Leagues.
Jump to:
North America
North America's Challenger League was split into two this season -- the US and Canadian Divisions, with the eight teams in each playing for a spot in their division's pro-tier tournament. While around half of the games were played off-stream, the games were all cast and posted on the official Rainbow Six Esports YouTube account, letting us have a look at all the action.
Rent Free -- a team made up of three ex-Pro League players in Tomas, Rexen, and Filthy --got off to a rough start. A 2-0 defeat against Polar Ace was overturned as one of the Polar Ace players had failed to upload their MOSS files. Rent Free then went on to take down its fellow ex-Pro League core stack of PogChamp in a 2-0 to quickly top Group A of the tournament. This put them straight into Stage One's grand-final a few weeks later, with neither of their games so far streamed.
Joining them there from Group B came another one of the tournament's favourites in The Last Dance (TLD), led by the two ex-Evil Geniuses players of Yung and Spades, as well as the ex-Tempo Storm player of Butterzz. After beating two of the longest-lasting tier two rosters in North America in beastcoast and joe esports in the groups in two 2-0 scorelines, they entered the grand-finals unfazed.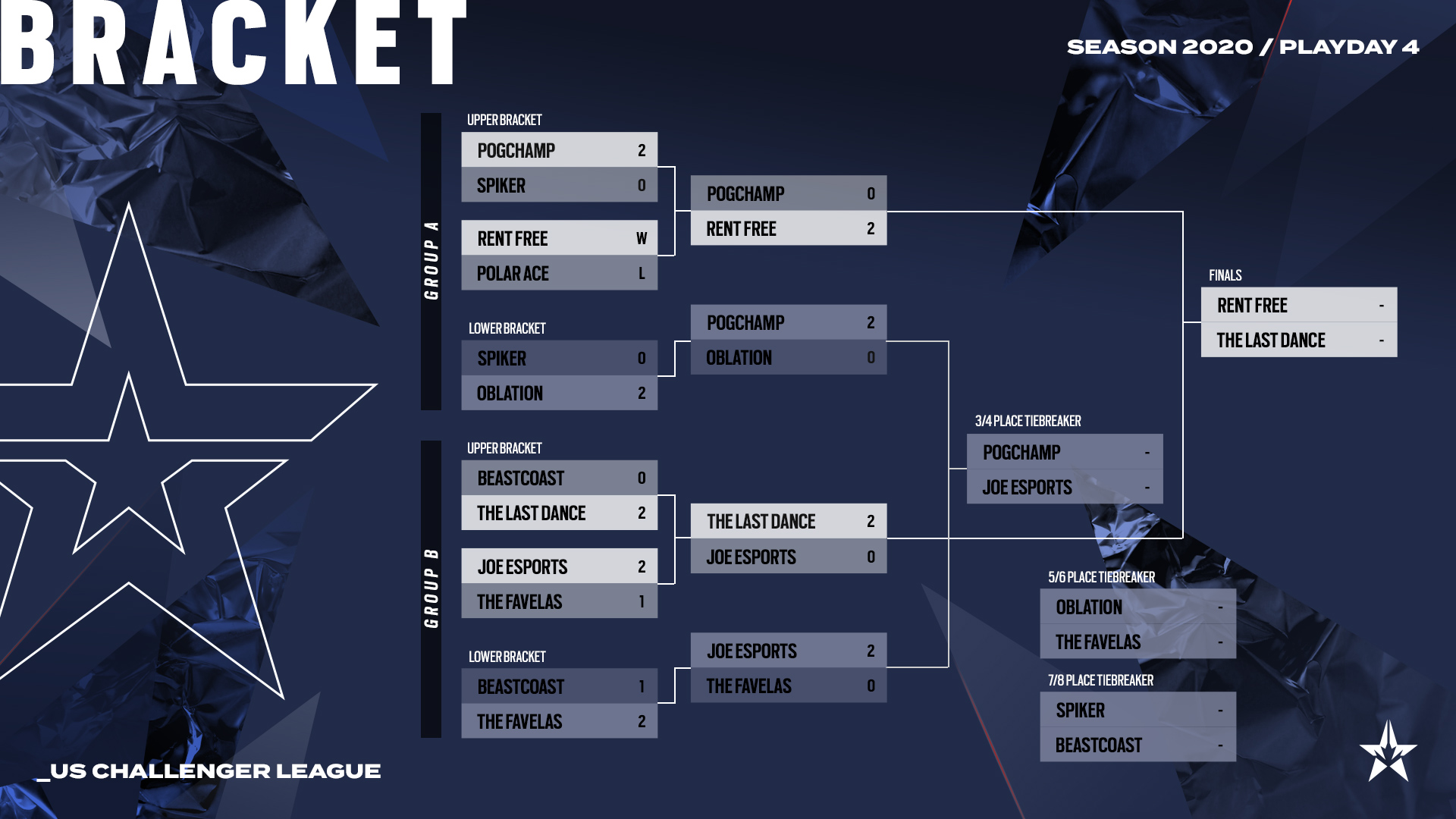 Starting on Villa, TLD took a remarkable 4-2 offensive lead on the defensive sided map, with a 1v1 by Spades over Benjimoola making up the difference. This first half momentum continued as TLD moved to the favoured defensive half where, despite the expected Mira and Valkyrie bans coming out, they were quickly able to clean up their opponents with a strong 7-3 scoreline.
Next up was Coastline, which TLD kicked off with a Vigil and Lion ban, was clearly picked to target their opposition directly. Despite these bans, Rent Free started out strong with a number of close round wins to start their offensive half, including a 1v1 by Rexen with three seconds remaining. Taking their time, TLD finally got on the board themselves with a 1vX, as Yung ended a quadruple kill with a post-plant clutch against Filthy as seen below.
After this action-packed first half, which ended 5-1 to Rent Free, they managed to close out the map easily with successful Kitchen and Hookah site holds and push us onto map three.
Determining the US Challenger League victors would be Kafe, a map that neither team had played on so far this season. Very early on during round two, Butterzz showed his pro-calibre gun skill to secure an ace after shutting down two spawn-peeks in the opening 30 seconds. Strong plays such as this put his team up 3-0 before Rent Free started the comeback with two victorious 2v1 situations.
The second half then saw a lot of quick executes, with many rounds going from an even 3v3 man count to a round win in less than ten seconds. Rent Free came out the better of these confrontations thanks largely to Rexen, who sat with over a 2.0 kill-death ratio across the 12 rounds to push his team to overtime.
Despite Rent Free's comeback, rounds 13 and 14 both ended in unwinnable 1v4 situations and they slid to a 6-8 loss, giving the Challenger League title to The Last Dance.
Since that time, though, both teams have now made changes, with Brainbow, Rexen, and Benjimoola leaving their respective lineups as the teams hope to cement first place in Stage 2. Speculation is rife regarding Rexen's destination, with the ex-Luminosity Gaming player certainly having proven he still has the chops for the top-flight.
In Canada, meanwhile, Honor Esports took the Stage 1 Canadian Challenger League title after losing just a single map the entire season. The team took down Team Oblivion in a 7-5, 7-5 scoreline to put themselves in prime position to play in the relegation matchup to join the main league for the 2021 season.
Honor Esports -- Pox, Wolfzies, Maple, TaC and Envision
After the break in August, the seventh and eighth team in both sub-regions will face the winners of an open qualifier to retain their spot for Stage 2. The 16 teams will then replay the season over again, with both stage's results being averaged to determine which teams will attend the North American League Finals in December to fight for a spot in the pro-tier league.
---
Europe
In Europe, the Challenger League is to kick off in Stage 2, with Stage 1 seeing nine national leagues taking place, each offering a spot in the 2020 Challenger League season.
So far, this means the following teams have qualified:
CL S11 3rd -- PENTA: ENEMY, RevaN, BlaZ, Kaktus, Alive, and BiOs (coach)
CL S11 4th -- LowLandLions: Leonski, Avaiche, Deapek, Next1, blas, and Sternab (coach) & Phenomene (analyst)
Russian Major League -- ex-forZe: SmashByAsh, Leri, eXoduSS, and ViKING
Benelux League -- Sector One: WishMaster, SE7EN, BaasheD, Duco, and Okidokie98 (analyst)
PG Nationals -- Samsung Morning Stars: j3n4, SirBoss, Keenan, Frateli, Hunter, and Neska (coach) & MrBox (analyst)
Spain Nationals -- Team Heretics: Kuriboh, baroz, p0lo, sakke, JuK4, and Noel (coach) & Fabs (analyst)
GSA Nationals -- DIVIZON: ASTRO, Shermi*, Kapkan, namea, Pacbull, and Mrofficer88 (coach)
6 French League -- BeKind: Legendz, Riverz, Zydenn, Wallkero, Arth, and Pink-Angel (coach) & AlphaX (analyst)
*Shermi is currently investigation for a possible rule violation.
The remaining four teams will be determined by the following three competitions (all of which ends on September 6th), as well as an Open Qualifier:
Nordic Championship
UK Ireland Nationals
Polish Masters
Open Qualifiers
With three months still to go before the Challenger League kicks off, a number of player and organisation changes can still be expected in the above teams. At the moment, DIVIZON seems to be in the best position after a really impressive GSA season which saw them beat Team Secret once and Rogue twice to spend most of the season leading the league table.
Also of note is the Spanish roster of Team Heretics, which includes a number of ex-Pro players including p0lo and baroz, the Ninjas in Pyjamas stand-ins during the Pro League Season 10 Finals. Last season's Challenger League teams of PENTA and LowLandLions, on the other hand, will both be eager to finally qualify for the EU League after missing out last season by just one and two points, respectively.
---
Latin America
The Latin American format also doesn't see its Challenger League games kick off till Stage 2 with Stage 1 consisting of "Liga Six" qualifiers. All three sub-regions -- Brazil, Mexico and South America -- see one Liga Six tournament take place per month per region, each of which gives points to the top 32 teams.
After three months of tournaments -- in June, July and August for Mexico and South America and June, August and September for Brazil -- the top eight teams by points qualify for the Séries B Challenger League tournament in September.
This means two months of tournaments have taken place so far, with the following teams leading the way in each region:
Brazil -- Team Singularity -- LENDA, rhZ, Levy, KDS, and KingSt4r
Mexico -- OverKnight R6 -- DraabG, LarztQ, Xyro, Libe, and Kcire2100
South America -- CA Academy -- nktr6, PePeZ, WeTzz, AlpacaRefuge, and LeaSSJ
---
Asia-Pacific
Finally, the Tier 2 tournaments in the APAC region each take the form of national tournaments. In Japan this takes the form of the ongoing Japan Nationals, while South Korea has the Korean Open, both of whom are in their first of two seasons which will be scored together to find the top teams not already in APAC North to compete in December's relegation games.
The standout teams so far in each national tournament is:
Japan -- Nora-Rengo J -- Shift, iZRO, VaNiSh, solty, and Window
South Korea -- Game Club Busan Spear -- JaekDow, Templat, h3dy, CATsang, Chanzo, and DongUk (coach) & Fanxy (coach)
We've reclaimed the top spot in Japan!
We won the JP Nationals yesterday!
Thank you for your continued support.
The South-East Asian nationals, however, have yet to be announced and will likely come in September during Stage 2.
---
Catch our coverage of games from the top and lower tiers of competition all across the world right here and follow us on Twitter for instant updates for new content.