The ₩30,000,000 (US$25,000) Korean national tournament got underway last Saturday, with three APAC North teams in attendance, with the other teams not to be scoffed at either. Despite past struggles with making the numbers for the Pro League, the Korean domestic scene has been going along strongly.
The new Korean Open series of nationals is the latest in a line of a few prior successful tournaments, so here's a rundown of the games from the week prior and here's what to expect from the week ahead.
Map Scores: 7-4 (Oregon), 7-5 (Kafe), Not Played (Villa)
The curtain-raiser for the tournament was the Group A matchup between APAC North team and Korean stalwarts Cloud9 and the up-and-coming SGA eSports. While Cloud9 is a name familiar to most, some may also recognise Lee "WATB" Jae-Deok and Hong "Siral" Jae-Hyun as former Pro League players on TRIPPY and SCARZ, respectively.
Kicking the match off was Cloud9's map pick of Oregon, with the APAC North team starting off with two defensive wins. While SGA got on the scoreboard on the third round, Cloud9 shook off the following three attacks to position itself 5-1 at the half. A quick back-and-forth made that 6-2, but Cloud9 had to wait an additional two rounds to secure the 7-4 win, finally closing out another attack on the Meeting/Kitchen site.
Swapping over to SGA's map pick of Kafe, Cloud9 got off to a blistering start, completing a full three-site rotation and securing a 3-0 lead on defense. SGA struck back with two important attack wins to keep itself in the game, as another round win for Cloud9 after meant that it was 4-2 up. SGA was far from out of the game, though, tying the score quickly, but a response in kind meant that Cloud9 was on match point. The map would go to maximum regular distance after SGA would retake the site and disable the defuser, but Cloud9 would close things out and complete a 7-5 map win.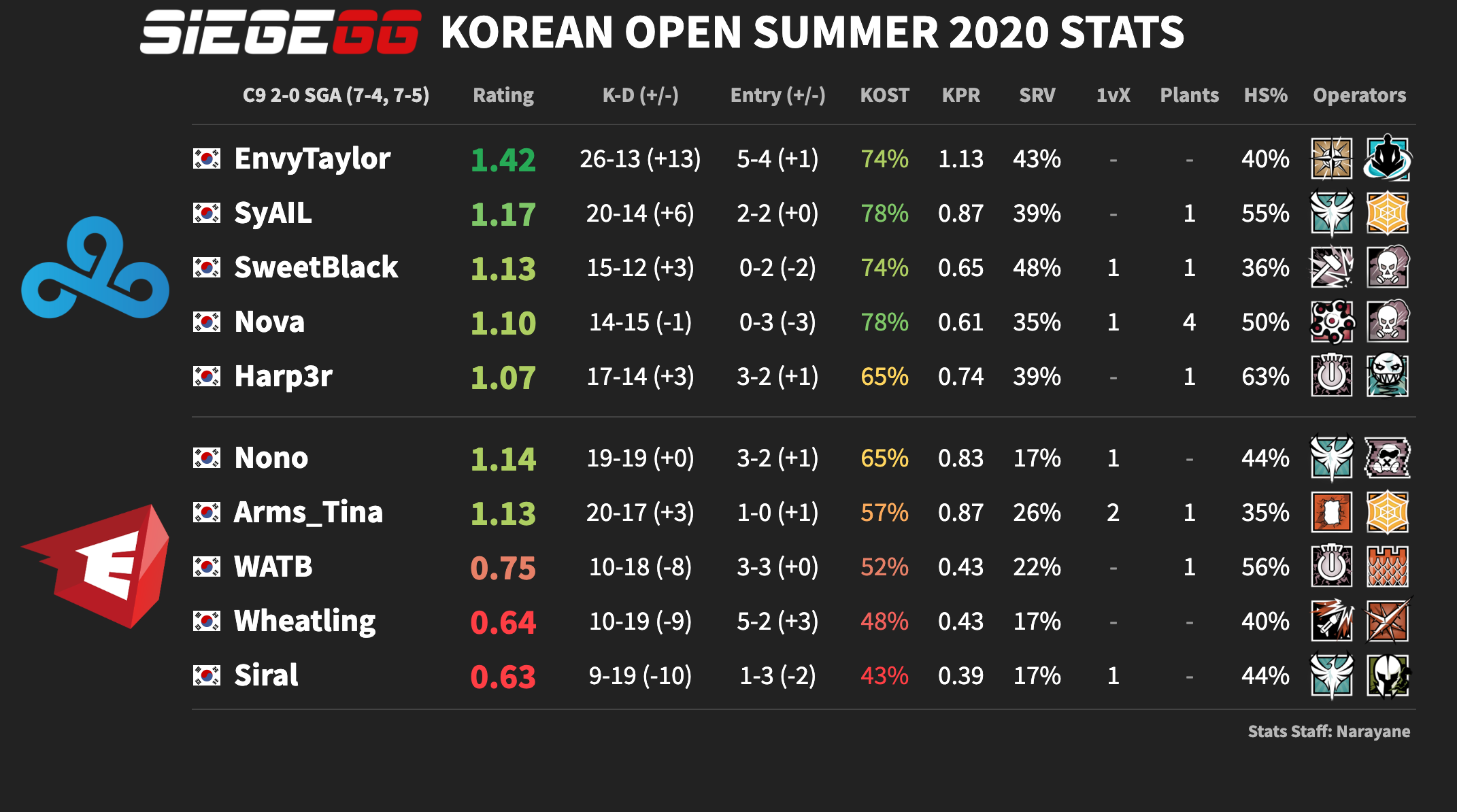 Map Scores: 7-5 (Villa), 7-3 (Clubhouse), Not Played (Kafe)
Next up was the Group B matchup between another APAC North side, SCARZ, and its former player Lee "JungGoon" Jeonghyeon's new side, WHALE. In the APAC North Division, SCARZ has been struggling, having to play with its coach, but against weaker opposition (on paper) and the ability to fill that fifth spot with a proper player.
Playing on WHALE's map pick of Villa first, SCARZ surprisingly fell behind after two failed defenses on a defender-sided map. Three attack wins in a row meant that the favourites finally had the lead, but with another attack win, WHALE seemed set to take the win after a 3-3 attacking half. It seemed, however, that attack was the name of the game in this Villa game, though, as SCARZ kept trading rounds with WHALE despite being on attack. Finally pulling away, SCARZ closed out the map with a 7-5 win after stringing two attacks together in a row.
On its own map pick of Clubhouse, SCARZ drew first blood on attack. While WHALE struck back with two defensive wins, SCARZ's response with two attacking wins meant that the APAC North team would not have been too worried about losing the sixth. With a 3-3 half on attack, SCARZ opened the floodgates -- and shut them for WHALE -- winning four defenses in a row to close out the map and the series.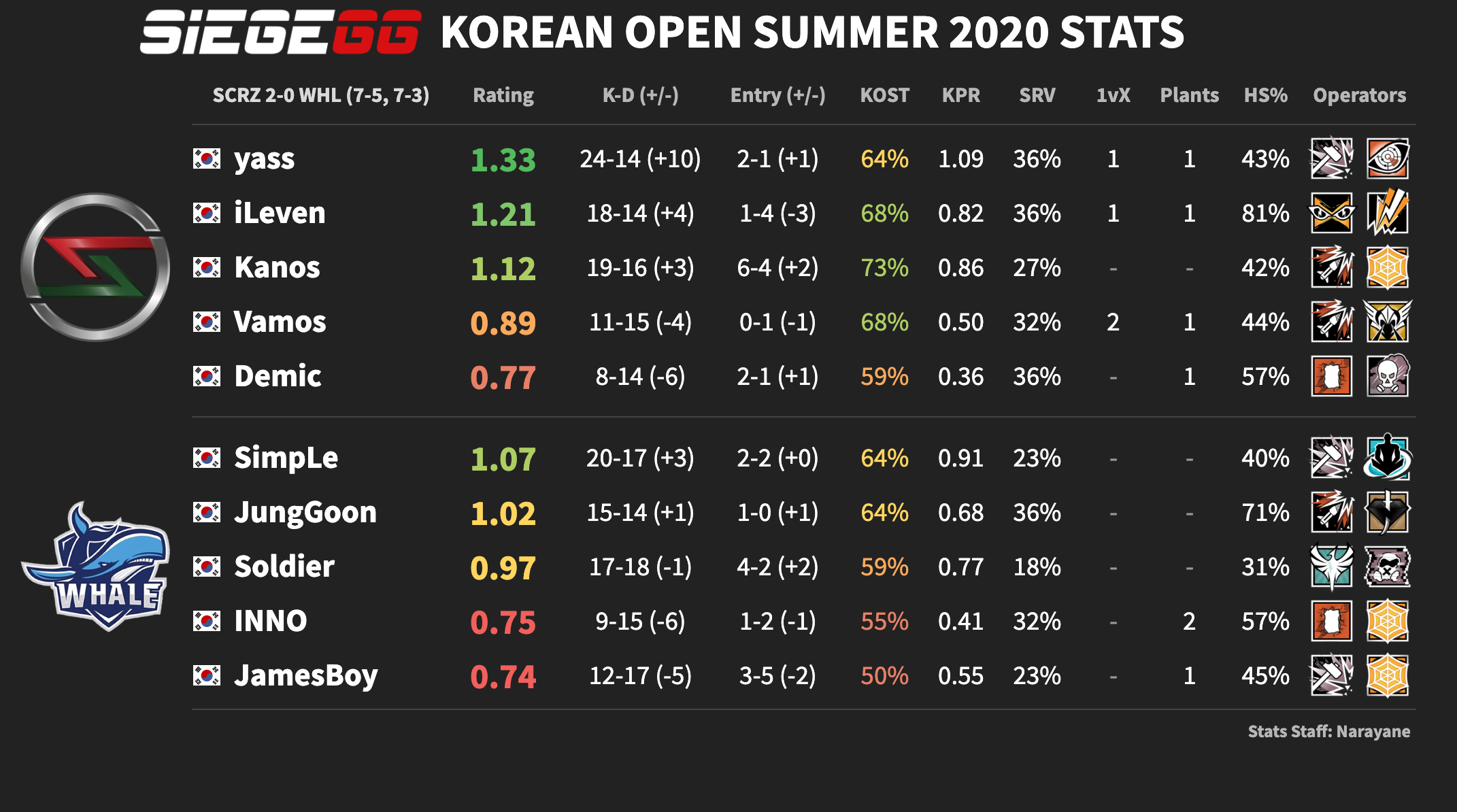 Map Scores: 7-3 (Kafe), 7-2 (Clubhouse), Not Played (Theme Park)
The next day, the newly-formed Use Drone team went up against the former Axiomatic and TRIPPY roster, known as GC Busan Spear. While the team name may be unfamiliar, its players will not. Yugeun "h3dy" Kwon and Sewoong "CATSang" Heo will certainly be the two biggest names there, having played for Cloud9 before. Jeon "JaekDow" Yeong-Jin, Kim "Templat" Yosep, and their coach of DongUk, on the other hand, had been together in their respective roles on TRIPPY (later absorbed into Axiomatic) and had played in multiple seasons of the Pro League.
Spear's opponents, Use Drone, did not have that star power, but featured one of the few currently-active female players at this level in the form of Nam "Nox" Ha-Young. Her team had picked Kafe and kicked off the match there on defense, even drawing first blood. However, Spear responded with three attacks in a row before Use Drone could get another round on the board. Headed into its attacks down 2-4, Use Drone finally added to its tally on the third round, but Spear closed out the map two round wins later at a 7-3 scoreline.
Moving onto Clubhouse, Spear began to assert its dominance stemming from the wealth of experience it boasted. Two attacking wins opened the team's account, and while Use Drone struck back on the third, three attacks in a row after made it so that Spear led 5-1 at the half. While Use Drone was able to take the first attacking round, two relatively comfortable defenses from Spear closed out the map 7-2 and the series 2-0.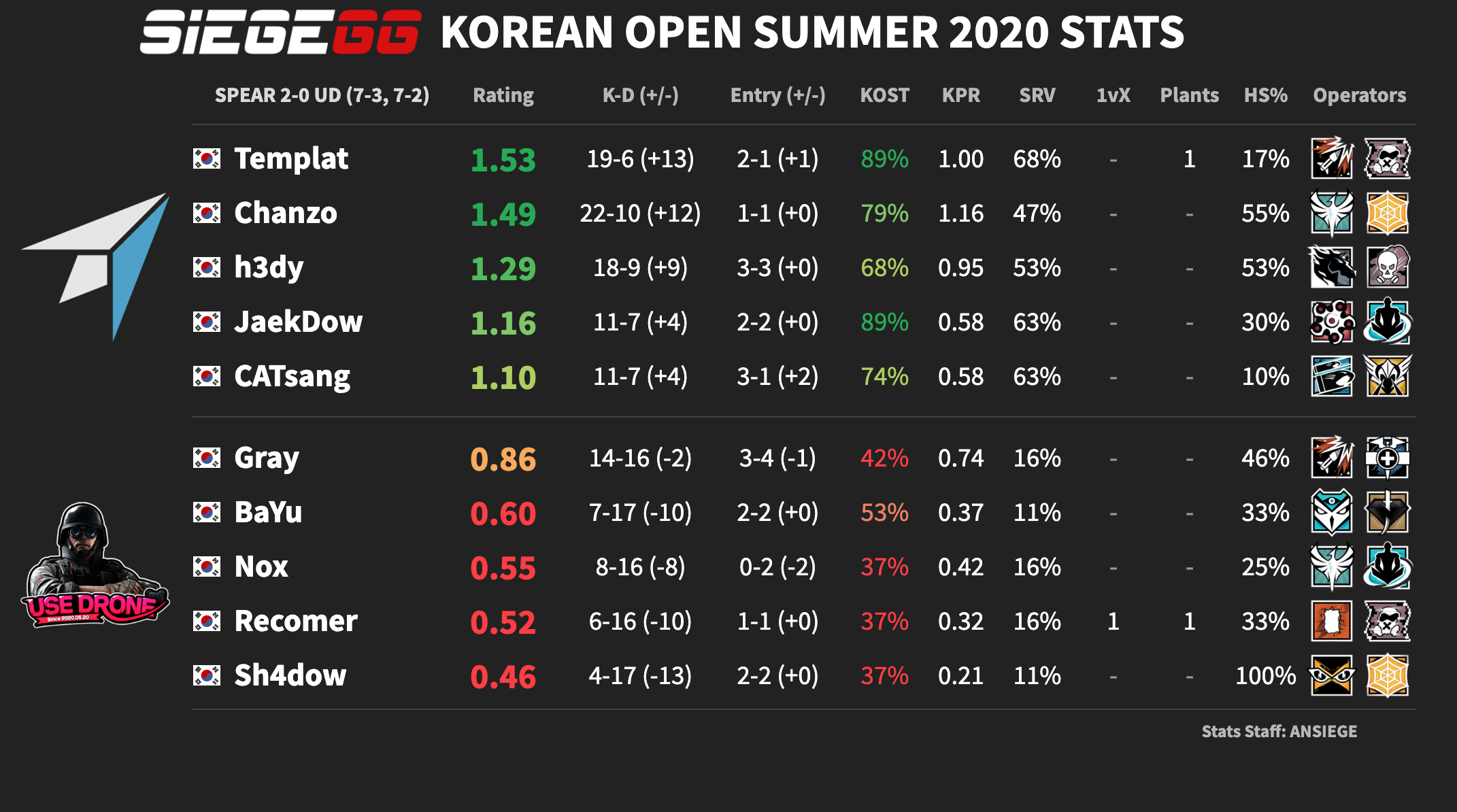 Map Scores: 7-3 (Coastline), 7-2 (Theme Park), Not Played (Consulate)
Closing out the first week of play was the third and final APAC North team, Talon Esports, up against the less-esteemed Faust. While not enjoying completely smooth sailing in the APAC North Division, Talon had notched wins against Fnatic, SCARZ, and NORA-Rengo. As such, Faust was certainly up for a tough fight.
Playing first on Faust's map pick of Coastline, Talon fell behind in the first round, but took the lead after stringing together two attacks. Faust, however, proved to be more sprightly than expected and wrested back the lead at 3-2, but Talon was done with its 'warm-up'. Not looking back, Talon made sure to finish the first half on level rounds and then took the next four defenses as well in a surprisingly defender-sided Coastline showing to take the map 7-3.
Moving onto Theme Park, Talon had little difficulty in getting off the ground, carrying over the first map momentum and securing the first two defenses. While Faust struck back with one attacking win, three more defenses in a row meant that the APAC North side had a commanding 5-1 lead at the half. Faust would get another round after the role swap, winning its first defense, but Talon would sweep past the lower-ranked side to take the win required attacking rounds and close out the map 7-2.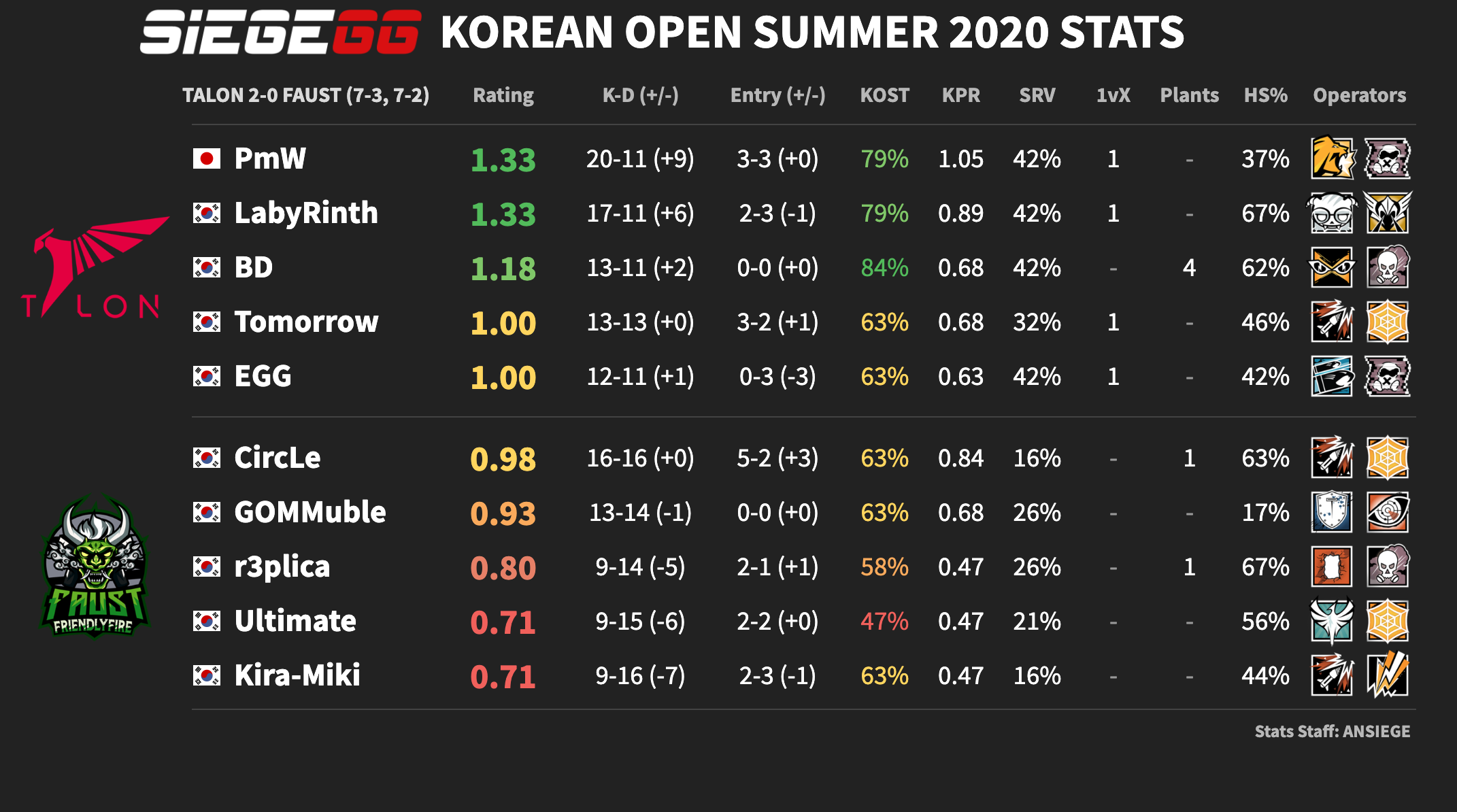 Up Next
This week, be sure to tune in for the matches again, starting at 2 PM KST (UTC+9). Of note will be the APAC North clash between Talon Esports and SCARZ, while fans will get another chance to get a feel for GC Busan Spear's true strength in its match against SGA eSports -- a team that did not give Cloud9 the easiest of times. Also playing the next day will be Cloud9 against Use Drone, as well as WHALE taking on Faust.
---
Keep an eye out here on SiegeGG for further updates from the Korean Open 2020 Summer tournament as the games continue for the next three weeks, and be sure to follow us on Twitter for instant updates.
SiegeGG is proud to be an official media and statistics partner of the Korean Open 2020 Summer tournament.