The first online Benelux League Finals took place last weekend, following two months of weekly games through April, May and June. Here's how things went down, with the Challenger League team of LowLandLions taking the title yet again.
(Read in detail about the teams, prize pool, and previous victors here.)
Jump to:
LowLandLions vs UX Gaming
LowLandLions - Leonski, Avaiche, Deapek, Next1, blas, and Sternab and Phenomene (their coach and analyst)
UX Gaming - Lucania, Pangoro, Robinshu, Krst, OneTepHek, xdguru, and joon0009
With LowLandLions (previously known as Trust Gaming and Defusekids) taking first place in the regular season with a 12-1-1 record, their matchup against UX was expected to be a very one-sided affair, but no one would have expected it to be quite this extreme.
Across both Clubhouse and Consulate, UX Gaming were completely flattened as they lost every single round to a 7-0, 7-0 scoreline. As well as this, not a single round ended in a 1vX victory, as UX players were left in unwinnable 1v4 or 1v5 situations in half of all rounds. In the end, UX's top fragger of Luke secured the same number of kills as LLL's lowest of fragger of Deapek, while Next1 was crowned the game's MVP with 19 total kills across the 14 rounds.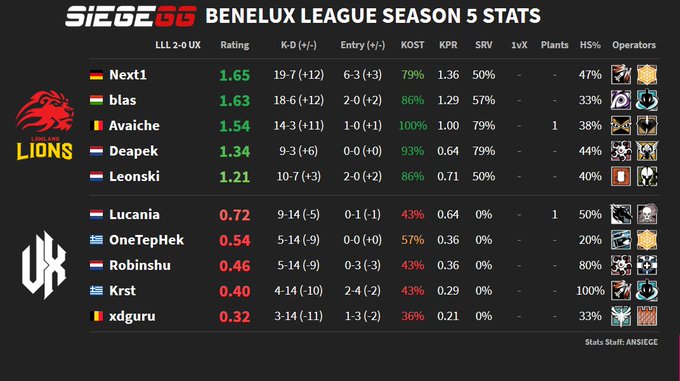 ---
Sector One vs Epsilon eSports
Sector One - WishMaster, MXKX, SE7EN, Baashed, Duco, HughesDS, Darjetii, and Okidokie98 (their coach and analyst)
Epsilon eSports - Deox, Doggon, JP, Layton, Kerv, Sura and Hell (their coach)
After that somewhat disappointing initial matchup, we saw the real fight for Challenger League, as the victor would join LowLandLions in the 2020 FACEIT Challenger League as the best team in the league that was not already qualified.
This game was much more competitive, going to all three maps. Sector One's pick of Villa started the game with a confident defensive side by Epsilon, which was ended quickly as S1 won the last two rounds to end the half at 3-3 -- a strong scoreline on the attack. The second half kicked straight off with a clutch by WishMaster in a 1v2 on Smoke to take the lead and S1 then ran away with it, taking three more increasingly one-sided rounds to win the map 7-3.
The next map of Consulate once again saw Epsilon gain an early lead which, despite a 1v1 victory by S1's Duco, still ended in their favour, 4-2. As sides switched, Epsilon continued their advantage, thanks to a 1v2 by Layton and a 1v1 by Deox. A final round to clinch the map came on round 10, thanks to two very quick double kills by Deox and JP to also win the map, 7-3.
This pushed the game to its third map of Clubhouse, where Sector One came out swinging. A 1v1 by SE7EN and both a triple and quadruple kill by Duco led to a four-round lead to start the game. A triple by Doggon, helped by a disconnect by WishMaster, put Epsilon on the board, which was followed up by a remarkable 1v3 clutch by Doggon to end the half 4-2.
Doggon failed to repeat this the following round as Duco took him down in a 1v1 before three back to back round wins tied up the scoreline 5-5 as overtime loomed. This wasn't to be the case, however, as Sector One lost just two lives in the next two rounds to win both and take the map, series, and Challenger League spot.
LowLandLions vs Sector One
As LLL had only just defeated Sector One 7-5, 6-6 in the league season, this game was expected to be somewhat close, but the new Challenger League players certainly made an impression as they opened map one of the best-of-five with four straight round wins, including a 1v2 win by SE7EN. However, not only did the Lions pounce back to a 4-2 scoreline at the half, they then went on to take the lead following three more wins on their defences, including a 1v3 by Leonski on their third objective of Consulate's Piano/Lobby.
Sector One pushed back past LLL to push onto map point at 6-5, before Avaiche almost secured the second 1v3 of the game -- only to be denied by SE7EN -- to end the map and step one bit closer to the Benelux title.
Whatever Sternab said to the Lions between maps certainly kicked them into gear, though, as the players were eager not to lose their title yet again, while the coach himself was eager to not lose his second nationals grand-final in three months. LowLandLions took the next map of Clubhouse in a very convincing 7-2 scoreline, which included a 1v2 by Avaiche and a 1v1 by Next1, as well as a 1v2 by WishMaster on time.
https://twitter.com/Rainbow6Benelux/status/1274731364768780288
With the scoreline now tied, the new map of Kafe was particularly important and was also the closest overall. Once again, Sector One took the lead on defence to start the map, winning all three of their site picks before going on to losing Bar/Cocktail twice and Cooking/Service once.
While the teams continued to trade rounds back and forth, none of the individual rounds were ever close, as five out of the six rounds in the LLL defensive half saw a player in a 1v4 or worse situation and the team, which secured the opening kill winning all six rounds.
This continued in overtime as the LowLandLions secured two one-sided round wins attacking and defending the Bar/Cocktail site to win the map 8-6 and take the series lead once again.
https://twitter.com/thelowlandlions/status/1274757125164630016
Next up was Theme Park, which was definitely a let down after the previous map. A strong 12 kills by Next1 and 10 by Deapek -- both more than double the top fragger on Sector One -- led to a 7-1 mauling of S1 on the fourth map. The lone round Sector One found was the penultimate one, thanks in large to an entry double kill by BaasheD, but LLL just ran through them in every other round to win the map and series, 3-1.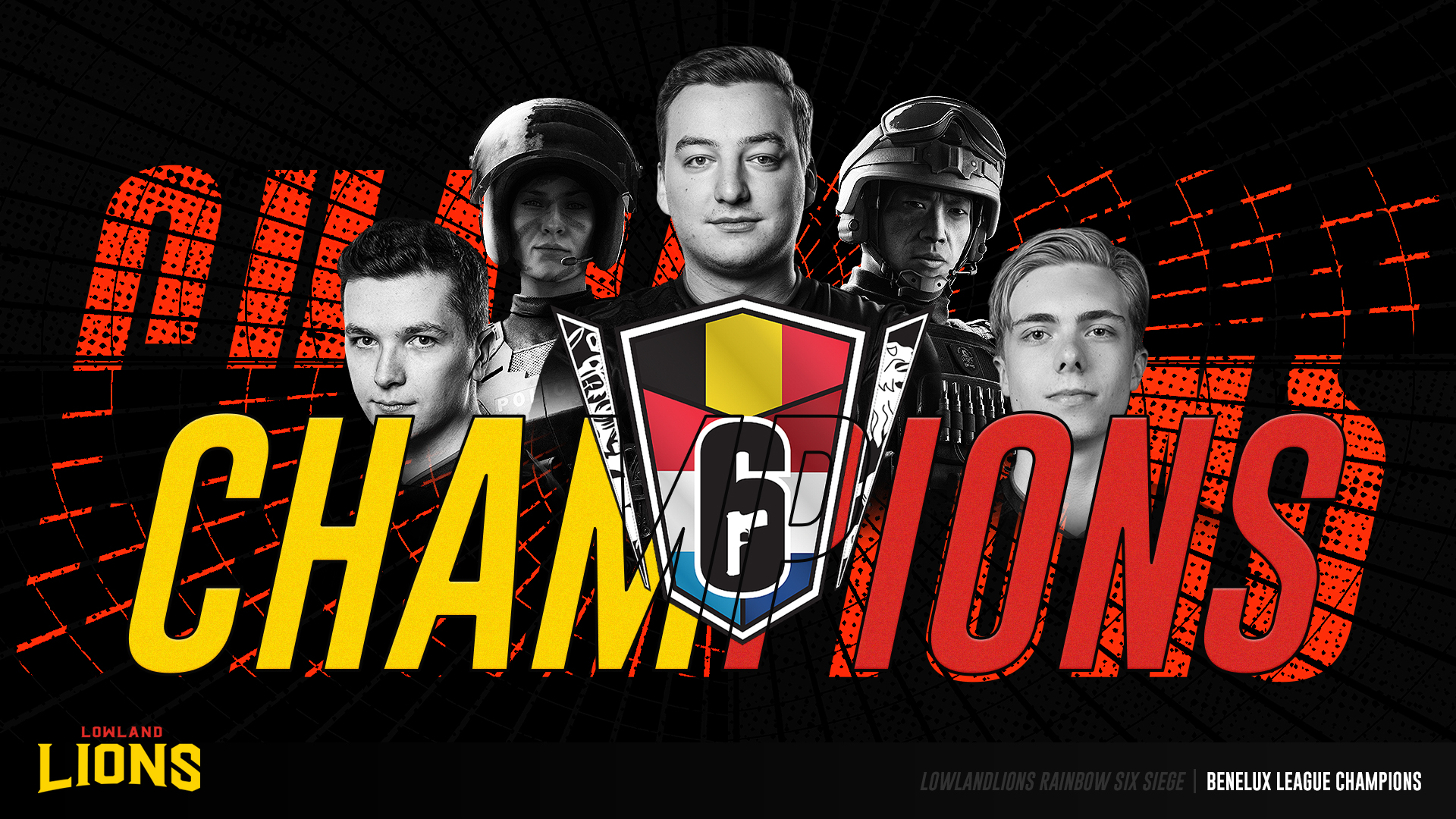 This means the LowLandLions are your Benelux League champions as they win the title for the fourth season overall. While Avaiche was crowned the grand final MVP, the Sector One player of Duco took the title of official league MVP when looking at the player's statistics, the Twitter votes, and views of team captains and league talent.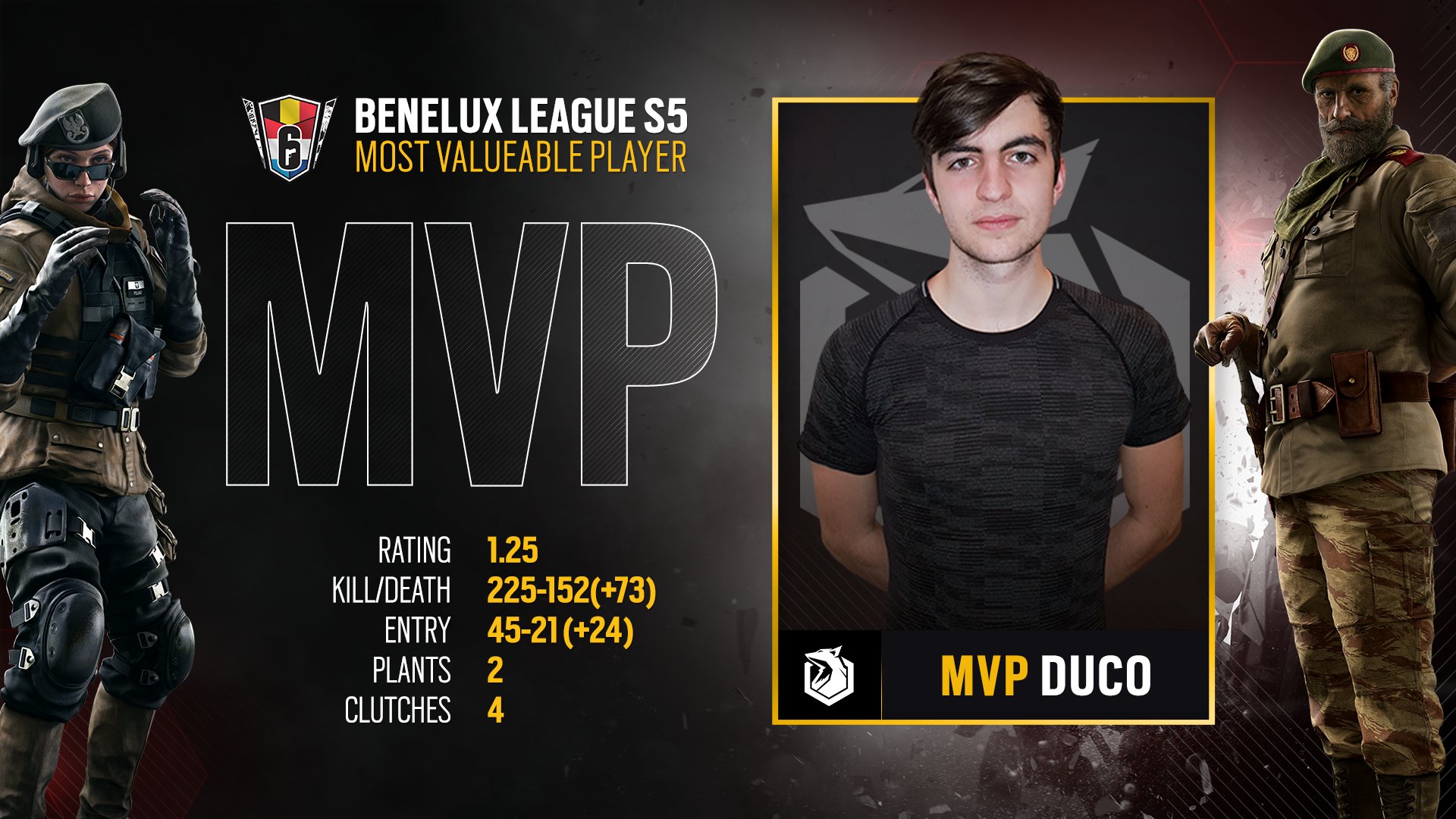 Probably most crucial is Sector One's qualification to the Challenger League, as they become the second-ever Benelux team to do so. As such, the four confirmed teams are as follows:
PENTA -- ENEMY, RevaN, BlaZ, Kaktus, Alive, Janixs and BiOs (their substitute and coach)
LowLandLions -- Leonski, Avaiche, Deapek, Next1, blas, Sternab and Phenomene (their coach and analyst)
forZe -- SmashByAsh, Leri, eXoduSS, ViKiNG and Neky
Sector One -- WishMaster, MXKX, SE7EN, BaasheD, Duco, HughesDS, Darjetii and Okidokie98 (their substitute, coach and analyst)
The league kicks off in Stage Two in a few months' time. To find out more about the tournament and qualification to it, read our article about it here.
---
That's all from our coverage of Season 5 of the Benelux League! Stay tuned for Season 6 and Challenger League 2020 updates when they come.