With all that has been going on in the world, it is easy to forget that it has been a few months since Season 11 of the Pro League ended, with Rogue becoming European champions for the first time. The off-season is now complete and changes have accompanied it as per usual.
Both IziDream and OrgLess, who were promoted from the Challenger League, were signed to the new organisations of Tempra Esports and Team Secret, respectively, while the forZe roster was signed by Virtus.pro. At the same time, Rogue and Team Vitality have made some serious roster changes and a new on-screen talent team was also announced.
We are now on the verge of starting the new 10-team European League on the 22nd of June, when Team Empire faces Virtus.pro, and with this new league come new stories to be played out. Throughout this post, we will take a look at some of the key storylines that will be the most interesting to watch unfold throughout the season.
Can Tempra Esports and Team Secret step up?
Tempra Esports and Team Secret rounded off the ten-team European League by finishing in the top-two of Season 11 of the Challenger League and while one team had it easier than the other, it will be interesting to see just how the two organisations -- one new and one old -- fare.
IziDream completely dominated last season's European Challenger League by going 10-2-2 (W-D-L) and looked miles ahead of anybody else. The entire roster sported a rating of 1.04 or higher and was led by Nicolas "P4" Rimbaud, who recorded an impressive 1.21 rating, 0.98 Kills Per Round (KPR), which was the highest on the team in both categories. Furthermore, he showed consistent ability to win in the clutch with four 1-v-X wins during last years championship season.
The IziDream players did their first taste of life in the top-flight when they lost 1-2 against Team Empire in the European Open Clash round-of-16, though. That said, they were probably unlucky to have not won Villa to make it further and showed that they can hang with the region's big boys.
The roster was then signed by Italian sports organisation Tempra Esports on June 10th and its new roster is somewhat reminiscent of BDS Esport in-game -- specifically, the way the Tempra players funnel their game plan through P4, like BDS does it with Stéphane "Shaiiko" Lebleu.
However, unlike the previous BDS Esport rosters, we have seen, Tempra Esport's executions seem a lot cleaner and while P4 may be the star on this roster, it is important to point out their support player of Axel "Shiinka" Freisberg on this roster as well. With a 1.06 rating, he proved to be incredibly valuable with a KOST (Kill, Objective, Survival, and Trade) rating of 73%. His ability to successfully execute on offence with 16 plants and ability to secure rounds with five 1-v-X wins, both of which was the highest in the European Challenger League.
Shiinka has every opportunity to make a case to be classified as one of the best up-and-coming support players in the region. As such, it will not be unsurprising if the Tempra roster does well and achieves a comfortable mid-table finish.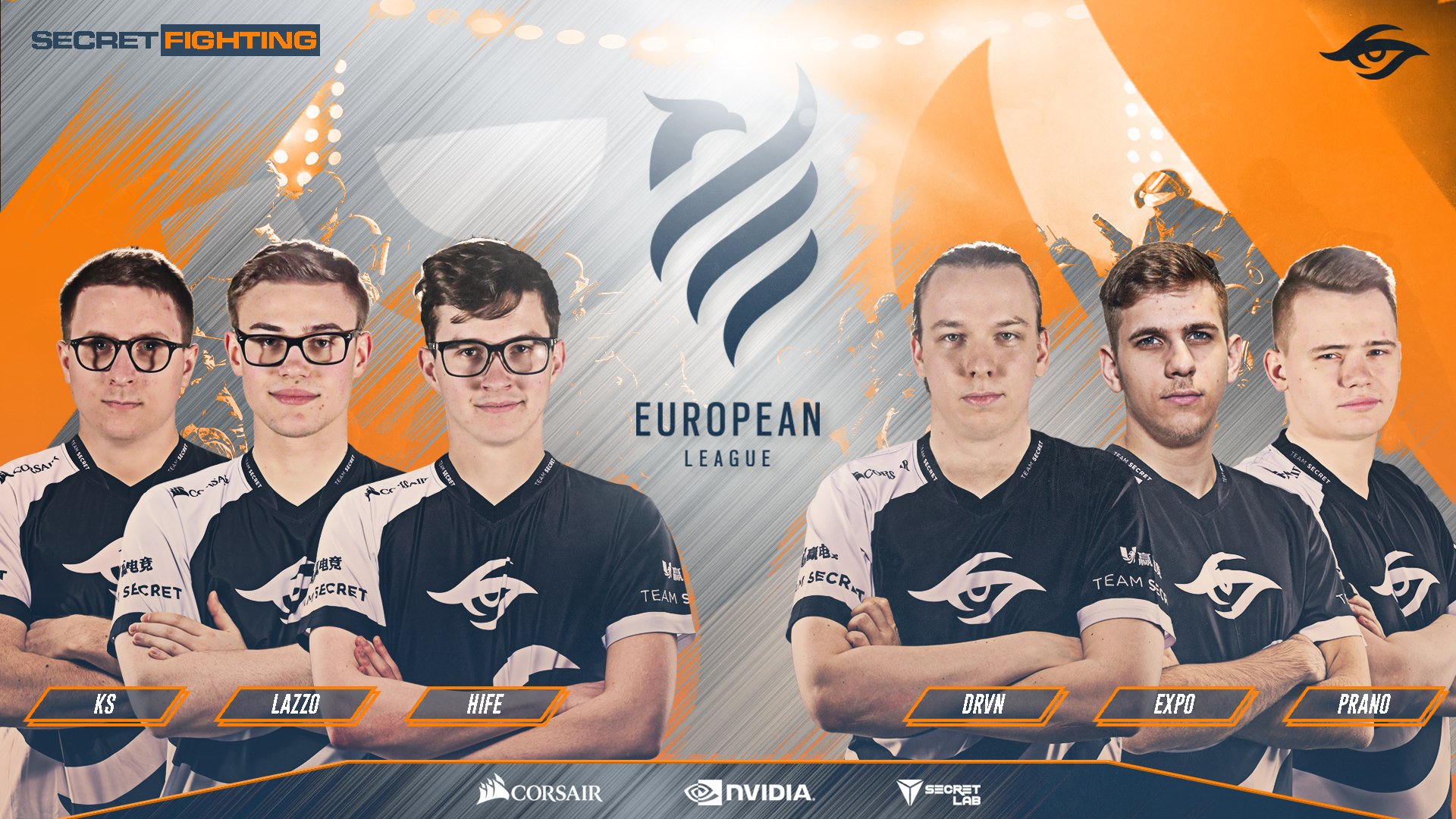 Team Secret, on the other hand, made its return to the top-flight after signing the all-German OrgLess roster. Its former team was relegated from the Pro League in Season 9 and then failed to return the following two seasons, causing its players to go their separate ways. But OrgLess did not have the same easy ride through the Challenger League in Season 11 that IziDream did, having had to secure their spot by beating DefuseKids in the final game of the season.
With Kevin "Prano" Pranowitz, Niklas "KS" Massierer and Fynn "Drvn" Lorenzen finishing with 1.14, 1.12, and 1.10 ratings respectively, the trio can turn around and win rounds they should lose when one of these three players are still alive. Like Tempra Esports, Team Secret did not have it easy in the European Open Clash, after they were 0-2 by eventual winners Virtus.pro.
After releasing its entire roster and signing OrgLess to enter the European League, there is a lot of pressure on this new Team Secret lineup to perform. While they can not be relegated until the end of the European League season, Team Secret's players are going to want to prove that they deserve to stay in the top league in Europe.
Will Team Empire strike back?
After a highly-successful 2019, the Russian side of Team Empire will be disappointed in its recent run of results. Team Empire originally entered the scene with a bang and is arguably one of only two teams that could be considered as having had an era of dominance (the G2 era being the first).
The Russians had dominated the scene up until their Raleigh Major victory in 2019, winning multiple Russian Major League titles, the Pro League in Season 9, the Euro Cup, and had finished second at the Six Invitational. Their only losses during that time had been to G2 Esports at both Dreamhack Winter 2018 and at the 2019 Six Invitational. 2020 has not been so kind to them, however, as they were surprisingly eliminated in the group stage of the Six Invitational and only managed third in Season 11 of the European Pro League.
Having benched team captain and flex player Eugene "karzheka" Petrishin, who had been one of the team's most reliable players and Team Empire brought in a big prospect from Russia in Dmitry "Always" Mitrahovich, after he had spent just 10 days on forZe's roster. While we do not know the in's and out's of the decision, karzheka was not the weakest link on this roster and he may have chosen to leave.
Now, it will be interesting to see if Always can help Team Empire return to their dominant form, seeing as Always is being touted by some as a potential star of the future and Team Empire are likely hoping Always follows a similar path to that of star player Dan.
Vitality is where Fabian's Career Will Be Defined
Considering that Fabian has won two world championships, a Six Major, and three Pro League titles, the fact that this is now the most important part of Fabian's career might be seen by some as an incredulous. However, after spending the first three years of his career playing alongside former teammate Niclas "Pengu" Mouritzen, this is the first time he will be going 'solo' and it is a significant moment in his career.
Team Vitality might be the most interesting team to watch this year, not only for Fabian's arrival but the fact they were already only a few moves away from being an elite team in Europe. Having brought in Fabian and former player Valentin "risze" Liradelfo to replace Loïc "BriD" Chongthep and Teemu "Stigi" Sairi, they will both provide valuable experience. This is in addition to the legendary support player of Daniel "Goga" Mazorra Romero, with whom Fabian had won every one of his titles, which should let Bastien "BiBoo" Dulac and Lucas "Hungry" Reich shine.
This is now a roster that should be contending for a top-three spot in Europe and how Vitality will play, especially with the reunion of Fabian and Goga, makes its progression an arguably more interesting story than how G2 and Rogue's super teams will do.
Can anyone take over Shaiiko's Fun House?
Just after the 2020 Six Invitational, I had posted an article about how I believed Stéphane "Shaiiko" Lebleu was the best player in the world and that this was going to be his year. Despite BDS Esport's drop in form towards the end of Season 11 of the European Pro League, Shaiiko's form continued and he finished the year as SiegeGG's Year 4 Player of the Year.
Through the year, he was the best player offline with a LAN rating of 1.22, the best kill differential per map of +3.32, and an incredible 1.05 kills per round. Shaiiko showed just how good he was since he returned from his ban and Shaiiko more than deserved the award.
However, he was the best player of Year 4, Europe is stacked with incredibly talented players who are ready to lock him out of his 'Fun House'.
Rogue's star fragger Maurice "AceeZ" Erkelenz might be in the best position to challenge him, after a placing sixth in the SiegeGG Year 4 player rankings. Through Year 4, he had an incredible set of offline performances with the joint-fifth highest LAN rating of 1.14, the second-best kill differential per map of 2.63 (which was only behind Shaiiko), and the joint-fifth highest headshot rating. While Rogue's LAN performances were lacking at the time, Aceez and Rogue were a force to be reconded with, in online tournaments.
Team Empire's Danila "dan" Dontsov is also another a challenger for this crown. After being SiegeGG's MVP for the Season 9 Finals, he was also the second-highest rated Empire player at the Raleigh Major. Dan's LAN performances were incredible, with a joint-eighth highest rating of 1.18. He was one of the best players in high-pressure situations, too, with the second-highest number of clutches per map of 0.29, and eighth-best LAN kills per round of 0.86.
As the SiegeGG Rookie of the Year, Dan is set to improve in his second year of competitive play, and if Team Empire's roster changes work as they expect, Dan could well place higher than third in 2020.
Finally, you have G2, as any of their five players could be linked with this title as "The European Super Team" is stacked at every position. Juhani "Kantoraketti" Toivonen placed fifth in our Year 4 Player of The Year ratings and showed just how good he is offline with the fourth-best LAN rating of 1.15. He was also deadly in first blood duels and was fifth in Opening Duels Won at 61%, plus he was tied first in LAN KOST at 71%, providing G2 with a reliable player in major tournaments.
His now-teammate Ben "CTZN" McMillan was also rated as one of best fraggers in the world on Na'Vi, Pengu is one of the best and most consistent players of all time, and Jake "Virtue" Grannan, who had an incredible Six Invitational for Fnatic, has had the off-season to cement his place within this roster.
---
With so many great matches and storylines to play out, these are just a few that you will be remiss to overlook coming into the European League and the new format. Mondays and Wednesdays will be well worth the watch from 22nd June.