Note: The following responses were made a week before the start of the league.
The very first season of the North American League's Canadian Division will be kicking off next week, with four teams playing in a best-of-three, double round-robin format league over five weeks. At the end of this, the top placed team will progress to the Regional Playoffs alongside three US Division teams to play for a spot in the Six Major in August.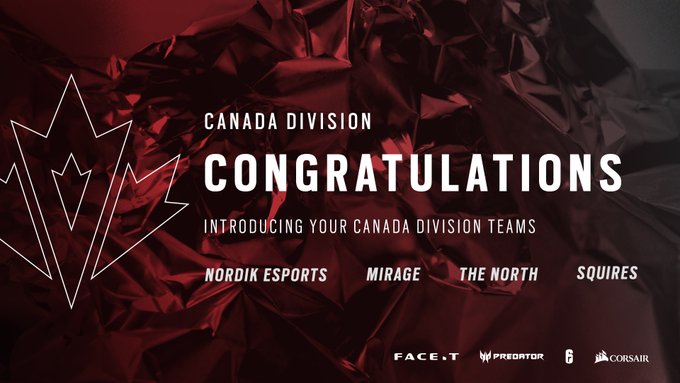 After a 55-team open bracket and a closed bracket which saw three initial disqualifications, four teams came out on top. Here's a quick rundown of what you can expect from each team.
Squires
SzymaTwo, Misio, Guns, DotDash, and Spiritz
Led by the ex-CCS champion of DotDash who played alongside the current and ex-Pro League players of Hyper, GhxsT, and Beaulo, he is best known for his performance two years ago at DreamHack Austin. There, his team had finished fourth after defeating Evil Geniuses and Beastcoast. Joining him are a number of relatively unknown players who took down Bryan and Euphoria's new team of "Team name" during the CA Division closed qualifiers, establishing themselves as a sub-regional force.
We spoke to Mason "DotD4sh" Brasher about the team, the league and their opponents:
Congratulations on making it to the Canadian Division! Could you introduce your team to us?
My team consists of:
DotDash - Mason Brasher (me) - The Captain and IGL
Spiritz - Zachary Dionne - Secondary Entry
Gunz - Wilsan Daher - Entry
Szyma - Daniel Szyma - Flex
Misio - Michal Gutkowski - Flex

Szyma is clearly the most well-known on this team for his fast paced game play on YouTube, has tons of potential for competitive play, and I personally see bright futures with him.

Spiritz is freshly 18 and has a large amount of underage experience and insane aim and game sense, which adds up to a really solid player to play with.

Gunz comes from PS4 and has an average Twitch following due to his incredible aim on entry.

Misio, being Szyma's long live friend, grew up alongside Szyma in Siege, gaining skill along with him. Really good to see crisp teamwork between the two.

I have a long lasting competitive experience and I'm bringing all I can to the team to tie us together to be the best.
You, personally, have played with and against some pretty accomplished players. How are you planning to translate that experience to your team?
I am known as being quite a strict person in competitive. I can get heated, but I feel as if the way I do it, is not negative. I just want to be the best, so I choose the quickest way to do so, even if that means becoming akin to a Drill Sergeant. Joke, but not really.

I take my teammates' ideas and construct them to be ideal while also complimenting them on things that they do correctly. While gaining competitive experience takes time and I can not force it into these players, I am dry running and taking a role as leader to form them to be the best they can.
How would you estimate your team's strength in this league and who do you anticipate being your main rivals?
Our strength in this league is probably just our sheer skill and added experience. Those two things outright will 100% land us first place in this Canadian Circuit. Our rival, I anticipate will be Mirage. However, my personal rival is RowdyOwly, due to private reasons in the past (no bad blood).
What is your opinion of the new esports structure, especially regarding North America?
I respectfully do not agree with subdividing regions especially with the rules that they added in along with that. I also find the point system to be really good in theory but I am curious to see how confusing and how well it actually holds up in play.

My final point is that the Canadian league should be required to be 3/5ths Canadian and not 4/5ths due to the large lack of experience in Canada to start with. Two Americans on one team can drastically increase the skill of that team and this change would be a complete benefit to the Canadian League.
Nordik Esports
Bosak, S4, Stormz, LakQii, and Skvz
Next, we have Nordik Esports, which is the only fully Canadian lineup to make it. The team is the longest remaining lineup in the League, with it having played together well before these qualifiers. The Canadian North American League analyst of Jesse Chick gave a good rundown on the team's history.
We spoke to "oGrievous" further to get a feel on what we can expect from the team going forward:
Congratulations on making it to the Canadian Division! Could you introduce your team to us?
Nordik Esports consists of five starting players and two support staff. We have Bosak the entry, Stormz the gunner-flex, Skvvvz the hard support, Lakqi the.... Jager, then our IGL and support-flex, S4. The core of this roster has lasted roughly 6-7 months going back to just before the S11 Challenger League Qualifiers.

I like to joke that they are a French Canadian super team as they all come from an assortment of Canadian National teams such as PsykoPaths, Grizzlys, and Super Nova. When they came together as a group they instantly looked promising. They missed out on Challenger League, however they have used the past few months to refine and improve their skills as individuals and as a team.

In regards to the support staff, we have Fame the analyst and myself, oGrievous, the coach. We don't have much to our names but we've both been around for a long time and have built up plenty of success from behind the scenes. Not many people have heard of our team, but when the dust clears and the season ends, people will know and respect Bosak, Stormz, Skvvvz, Lakqi, and S4.
Your team has been around for a long time. How vital do you think this combined chemistry will be in getting a headstart?
The team has been together for longer than most teams at our level. Because of that, they are friends, comrades, and brothers going into the new Canada Division. Outside of competitive games, you can see them playing ranked together daily or hopping on Warzone or ten mans when there are enough people.

By connecting as individuals, they know each other's strengths and weaknesses as well as how to work together. For example, Bosak and Stormz are practically inseparable and will ride or die until the end. Or if S4 and Skvvvz are in a 2vX clutch scenario? You better watch your back because they can tear down whatever you put up against them.

Overall, when I think about the rest of the squads going into CAD, I believe we have the best chemistry and synergy which will give us the edge to overcome our competition.
How would you estimate your team's strength in this league and who do you anticipate being your main rivals?
Truly? I believe we are the best team walking into the Division purely because of our tenured roster. These guys, whether separated or as a team, have put up massive numbers against some of the best teams and proven time in and time out. In the last CL quals, for the most part, the team's only losses were against future CL teams that they barely lost to. (7-8 Joe Esports, 6-8 Okami, etc.)

On top of that they have played on LAN during Canadian Nationals, small Quebec hosted LANs that they've won, and even DreamHack Monreal where they lost to the NA Rogue roster 5-7.

Nordik may not be a known roster, but I promise they are one of the best NA squads that you have never heard of. Plus we have our analyst, Fame, who is hard at work dissecting the numbers to figure out what needs improving, who is slacking, and overall things that might not be noticed without a microscope. To top it off, not to brag, but I am now a part of Nordik and with me working 10+ hours a day in order to prepare my guys, we aren't going to lose.
What is your opinion of the new esports structure, especially regarding North America?
Personally? I'm a fan because it gives North American talent a chance to thrive beyond the very little room we have to work with. To put it into perspective, I said on Reddit that there are 3 Tiers to competitive teams, T1= Pros, T2= CL/National Teams, T3= Everyone else. Then the R6ProLeague king himself told me there are 4 Tiers where T3=National teams.

I quickly realized that in North America we don't have National teams, hence me not believing an entire Tier dedicated to them. With Ubisoft and FACEIT's new league structure, the Canadian predominant teams have the chance to grow to the level of say, US teams. Three weeks ago if you asked me to book a scrim with a pro team, I would say get out of here because I will get egoed faster then Rogue going out in the Group Stage. Now? We are getting pros asking us to scrim, or I've got pro captains responding to me within a minute flat of asking.

I think the new structure is perfect because without it teams like Nordik wouldn't be taken seriously. Give us a season, and I promise all of the Canadian Division teams will be fighting for their place on top. And within the next two Invitationals, you will see a CAPL team making their way to Monreal for the World Title. Our division is currently a massive controversy within the scene, and rightfully so, but once everything is said and done we will be taken seriously as a threat, just like the APAC teams.
The North
Zigalo, OmegaProject, Spektrum, Coughee, and RowdyOwly
Disclaimer: Zigalo also works as News Staff at SiegeGG
After making a last-minute roster change to bring their coach of Zigalo onto the team as their new fifth, The North took down the two-time Canadian champion of EhhDannn's team of RAT CORNERS to qualify for the North American League. Included in this team is last season's Canadian Nationals runners-up of RowdyOwly who brings some regional experiences to the promising lineup.
We spoke to Zigalo about the journey to the Canadian Division and what to expect from them from here on:
Congratulations on making it to the Canadian Division! Could you introduce your team to us?
Thank you very much! This roster is comprised of myself, the sole American, and the core four hailing from British Columbia - Coughee, RowdyOwly, Omega, and Spektrum. While I've known Omega ever since I first started playing competitive Siege back in 2018, the rest of the squad I met along this crazy journey to qualifying for the Canada Division.

What's even crazier is that all of my teammates knew one another for at least a year, competing in collegiate R6 under the SFU (Simon Fraser University) banner prior to these qualifiers. They placed in the top 3 of pretty much every collegiate league for the past year and, around a few weeks before the just-announced CAPL qualifiers, the four decided to start a qualifier team under the name "The North". Of course, they decided to pick up a 5th that was not from their Collegiate roster, but it wasn't me to start! Instead, I talked to Omega and agreed to originally join the roster as their coach.

Of course, it didn't end up that way. An unforeseeable situation arose the day before the qualifiers which resulted in the roster's original 5th being unable to play. Thus, with no substitutes on the roster, I stepped in and played every match of the entire CAPL Qualifier.

Before we even made it to Day 2, I was asked by the rest of the squad to stay on as their permanent 5th, and from that moment forward I've been on the starting roster. I know Andrew, Brian, Mitch, Nate and myself are beyond motivated to show the R6 Community - whether it be our homies, our naysayers, or anyone else in between - what we are capable of achieving.
Tell us your journey transitioning from coach to player and then making it through the qualifiers.
It was around a year ago where, faced with an immense workload and a self-imposed responsibility to with the highest distinctions in my field of study (Computer Engineering), I began prioritizing the analytical side of Siege versus simply playing and scrimming. I always knew I had a knack for making strats and counter-stratting/scouting the competition on the many rosters I've been apart of, and I thought, "why not just hone these skills in so I don't have to dedicate as much time to playing".

Yet, after going to the Six Invitational 2020, which was the most fantastic trip/event I've ever been apart of, I had a renewed, burning desire to get back to the grind and see if I could make it to the big leagues. I know it may seem insignificant, but I personally have to thank Bosco from Spacestation Gaming for being one of the major reasons I even decided to get back into playing competitive Siege.

Meeting him a day before the finale, listening to his advice upon inquiring, and hearing how he managed to grow into one of the best players in all of Rainbow Six while studying full-time at college inspired me so much to set out and prove to myself that I could do it as well.

So, to be honest, landing as a Coach on The North was not something I anticipated would have me speaking to you from the position I am in today. In fact, after SI2020, I joined and played on a multitude of teams (Shoutout to all of the great players on UB Alpha (my collegiate team), Valkyrie, and the team Omega and I competed on for a few weeks before "The North" was formed).

Yet, I still accepted Omega's offer to work with his new roster as a Coach because I was honored to team up with a good friend and see if we could attain the PL Dream together. Obviously, things changed from then until now, and I can't say they weren't for the better!

As for the Qualifiers themselves, each matchup we had in our bracket was pretty decisive. It was a shame that we didn't get to display our talents and triumphs on stream to everyone that followed the Qualifiers, but at least to me it truly was a spectacle to behold.

We rose up to every challenger that awaited us, and managed to qualify for CAPL without dropping a single map. I even had my own special moment (a 7-7 clutch in the final match) that will stay with me forever. Since then, we've been scrimming, stratting, and preparing for our eventual opponents in the Canada Division, where I know we'll be ready to rekindle that same magic.
How would you estimate your team's strength in this league and who do you anticipate being your main rivals?
There isn't any way to say this without sounding unbiased or, conversely, dismissive of my team and our accomplishments, but I truly believe we have what it takes to be the top team in the Canada Division. Nonetheless, what I do know is if we are playing our game and we execute to our best ability, there is no reason why we shouldn't be able to take the Division and compete for Major slots against the US PL teams.

However, that is not to say that we don't have a tall task to overcome in our own league first. Nordik Esports are definitely a team to look out for given their success and longevity as a roster, and on the flip side, Mirage and Squires are very green rosters, each with five great players that nobody has VOD on playing together. We are going to need to be adaptable and thorough with our executes, while also ensuring we have multiple viable holds to throw off the competition in the coming playdays.

I don't hope to make many rivals with my fellow players, but I do anticipate Nordik Esports will be our most difficult matchup based upon what we already know of them and what we have yet to see from their play in the updated map pool.
What is your opinion of the new esports structure, especially regarding North America?
I gotta say, I'm stoked for every alteration brought about in the FACEIT-directed Siege Esports, and especially with the US Division. Watching the Draw event was both fascinating and hilarious (gotta hand it to Supr, he always lives his opportunities up). Playing in a non-Bo1 setting also, in my opinion, makes matchups that much more competitive and proves who the better teams are.

Even the new whitelist system for cosmetics is a plus. Unfortunately, both leagues are being played "online" for the time being, but once the COVID-19 Pandemic is behind us, it will be great to see the US Division competing on LAN as well.

In terms of the Canada Division, I'm ecstatic to get going! The brief Stage lengths + CA Finals, generous prizepools, and exposure on the main R6 Twitch/Youtube will provide every team in the inaugural season many opportunities to showcase/prove they can compete with the best. I genuinely hope our league ends up being very close and appealing because I foresee immense growth to the region and to the competition in the greater NA Pro League coming by the time Stage 2 concludes.

I can't wait to see where my teammates and I stand in a few months and even further to Six Invitational 2021 - it would certainly be a dream come true to be sitting on the main stage, competing against my idols as a true competitor to the crowns that are the Hammer and the title of the best Rainbow Six: Siege team in the world.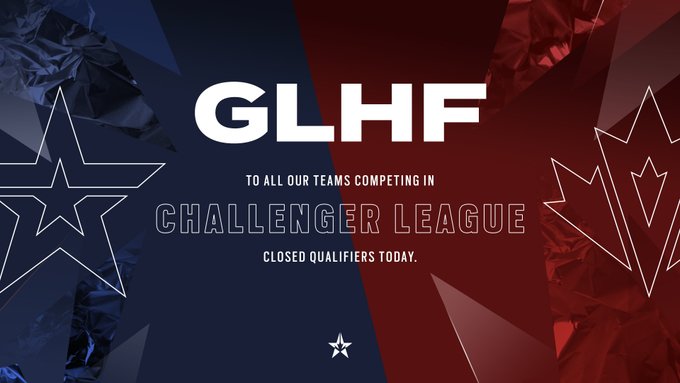 Team Mirage
Flynn, NotLoading, zilchy, Silent, Quartzy, and Forceful (their coach)
The league favourites qualified for the tournament in straight maps, following an overturned disqualification at the beginning of the closed qualifiers. Now, they enter the league with an ex-Pro League player in Kyle "zilchy" Wrigglesworth, three ex-Challenger League members in Robb "Flynn" Flynn, Chase "NotLoading" Neely and Tanner "Forceful" McHattie, and two breakout stars in Alexandre "quartz" Moranta and Peter "Silent" Christie-Cnossen, who both just turned 18 years old.
We previously spoke to Flynn about his new team when they were picked up by the Mirage organisation on May 21st:
Could you introduce your team to us?
Mirage is a roster you could probably all relate to. A lot of us have taken runs in competitive leagues previously and come up short, and I think we've all taken different lessons from those losses.

I'm Flynn, you may have seen me on a desk casting or being made fun of for my incredibly awkward arm placement while playing. I'm a support player through and through, my aim is trash and everyone knows it. But, I pride myself on my communications and teamwork and, with this team, I feel right at home knowing they have my back in the fragging department while I hold F and try not to die.

Loading is one of my best friends in the world, and a grossly underrated player in NA in my opinion. He's our rock, our IGL, my support duo, the definition of consistency, and I couldn't imagine playing on a team without him.

Zilchy is a name many may recognize from Flipsid3 in 2016, and he's become a very good friend of mine through our mutual friend z1ronic. Zilchy is our team dad, keeps us zoomers in line whenever we step out, and fills any hole in our lineup as the flex.

Quartz is the team's wildcard for sure, I've only known him for a few weeks now, but he surprises me daily, whether it be through humour or gameplay. I've been incredibly impressed with his ability to navigate challenging situations in game and turn lost rounds into wins.

Silent might be the most talented player on the roster, and being so young in comparison to the rest of us I can only imagine how high his ceiling truly is. I'm looking forward to seeing him have triple my kills every day, should be real good for my ego.
You can check out the full article, including the interview with Flynn, here.
Schedule
These teams will kick off the Canadian Division on Friday next week, on the rainbow6 channel, starting from 18:00EDT and cast by the same names which will be covering the US Division:
Keep an eye out for all the action in the Canadian Division here at SiegeGG when the tournament kicks off next week!