The latest Polish national season sees eight teams play best-of-one matches every Thursday as part of a double round-robin format league. With just one week played so far, the tournament is anyone's to win, so here's everything you need to know to catch up.
Jump to:
The Teams
Invicta Gaming - Deep, Optyk, Sovvy, Derius and Kimuin
One of the top Polish organisations in R6 returns after previously competing in Europe's very first Challenger League season and all three Masters League tournaments. Joining the roster comes Derius from the Season 4 Invicta Challenger League lineup which finished two rounds from making it to the Pro League.
Since then, Derius teamed up with his current teammates of Deep, for Seasons 8 and 9, and Optyk, for just Season 9 of the Challenger League, where they finished third and eighth and were crowned the 2018 Polish champions.
Finally, Sovvy and Kimuin remain from the most recent Invicta lineup, which competed in all three of the Masters League Finals and finished last season as the runners-up.
Time for a new chapter in the history of our 4-year adventure with
@Rainbow6Game
Say hello to the new squad for this year and the upcoming Masters League season from @UbisoftPL
AVEZ - CriZz, Janko, Magic, Verines, Jessie and TOUDix
Best known from AVEZ comes Magic, who competed in every single Challenger League season for the first two years of its existence. Across this tournaments, he finished third, fourth, first, seventh, third and eighth alongside players such as Derius, Deep, Saves, Kendrew, ShepparD, REDGROOVE, and Shockwave. He now joins Verines and Jessie from last season's joint-last place lineup, as well as number of fresh faces to the tournament, making them somewhat of a wildcard.
Izako Boars - Ryba, Denio, Royal, Foster, Yoin and Durawix (their coach)
This team shot into the limelight a few weeks ago, following their victory over the Challenger League team of Defusekids in the EU Open Clash qualifiers. Despite this, however, only two players have any real experience at this level of play, as Foster finished last season of the Masters League in third place on SLAVGENT, while Denio finished joint-last during the online portion of the same season. With a victory on the opening play day of the season, they're looking to be the breakout stars of the Polish region.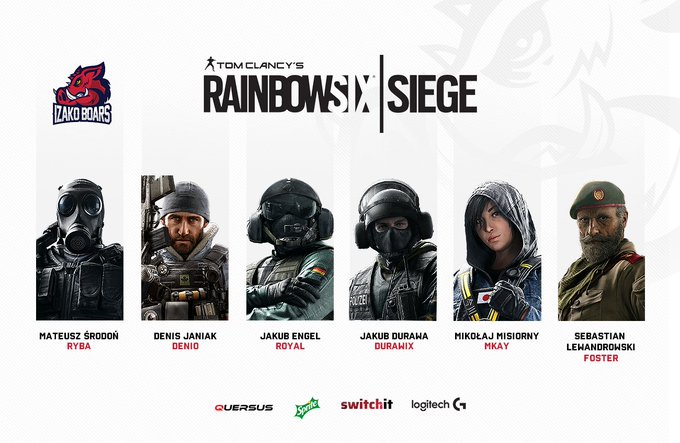 PACT - nejciik, eMc, LUXI, Paplisek and VerSuchy
Easily the best known Polish organisation in R6 returns to the scene after competing in Seasons 8 and 9 of the Challenger League, winning Season 1 of the Masters League, and finishing in the top eight at DreamHack Winter after taking LeStream Esport (now known as Rogue) down with a 2-1 scoreline in the groups stage. Their new lineup includes two players from these achievements in nejciik and eMc, with the two joined by another ex-Invicta player, Paplisek.
PRIDE - Krzok, Fajder, Ziaro, Litix and KingVader
One of only two returning reigning Polish champions of KingVader joins the core of the old Lynx roster, which re-united after around three years. Krzok, Fajder, Ziaro, and Litix initially competed in the second-ever Polish tournament -- the ESL Mistrzostwa Polski 2017 -- before largely splitting up for qualifiers since.
Best known out of these four players is Krzok who was later crowned the Polish champion in Season 2 while on Team GamerLegion. Now, with two ex-champions and a fairly long history together as a team, they're hoping to at least best their last performance three years ago.
TEETRES SLAVGENT - sbt, Z777A, iqorex, Mefisto, Jagzy and Tyrrell (their coach)
Similarly, two more ex-champions from Seasons 2 and 3 of iqorex and Mefisto join a largely inexperienced lineup and the old coach of Epsilon in the Benelux League of Tyrrell in yet another mixed team of regional veterans and up and coming players. With a game against their ex-teammates in PRIDE tonight, this should create quite a matchup between the two challengers.
devils.one - JiN, Boogie, Grzegorzu, Izi and Qvo
Hummingbirds - Cysiek, mafia1930, mulan, El Tox1co and KX
Finally, we have two teams who don't have a single returning player from a prior season, making them the biggest wildcards yet. While this usually means the teams would need a few games to get used to the new high-level of the tournament, the devils.one roster (previously known as .PS4) have already found their opening league victory, with these two teams set to meet tonight.
The Broadcast and What's Next?
The games are broadcast on the Rainbow6PL Twitch account and on national TV both in Polish and cast by the following casters: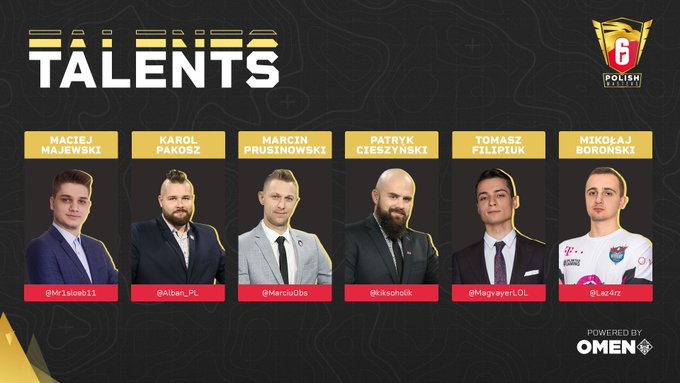 Tonight will see the second day of games as we get another look at the competitors. The four victorious teams from last Thursday will each face different teams, making it hard to judge who will end the day on top. However, with the tournament so open at this stage, every team has the ability to surprise.
Prior Seasons and Victors
The Polish Masters 2020 tournament is effectively a rebranding of the Masters League national event which ran for three seasons and saw a number of foreign teams dominate. As well as the core of the British national champions of Na'Vi competing, the tournament also saw altered lineups of the Italian national runners-up, Samsung Morning Stars, and the mixed-European GamerLegion lineup take the title.
Prior to this were the ESL Mistrzostwa Polski tournaments, which ran as the national tournament for 2016 and 2017.
ESL Mistrzostwa Polski 2016 - Patokalipsa

Derius, F4HIIM, DieWoodys, Typerek and Magic

ESL Mistrzostwa Polski 2017 - Sawdust Team

Jockermann, Mr.Nobody, eMc, nejciik and Swirus

Masters League Season 1 - PACT

Derius, Magic, Deep, Saves and Nathan

Masters League Season 2 - Team GamerLegion

Saves, iqorex, Krzok, namea, Rotko4 and morxzas (their coach)

Masters League Season 3 - Samsung Morning Stars

NoAir, j3n4, Mefisto, Mekses and KingVader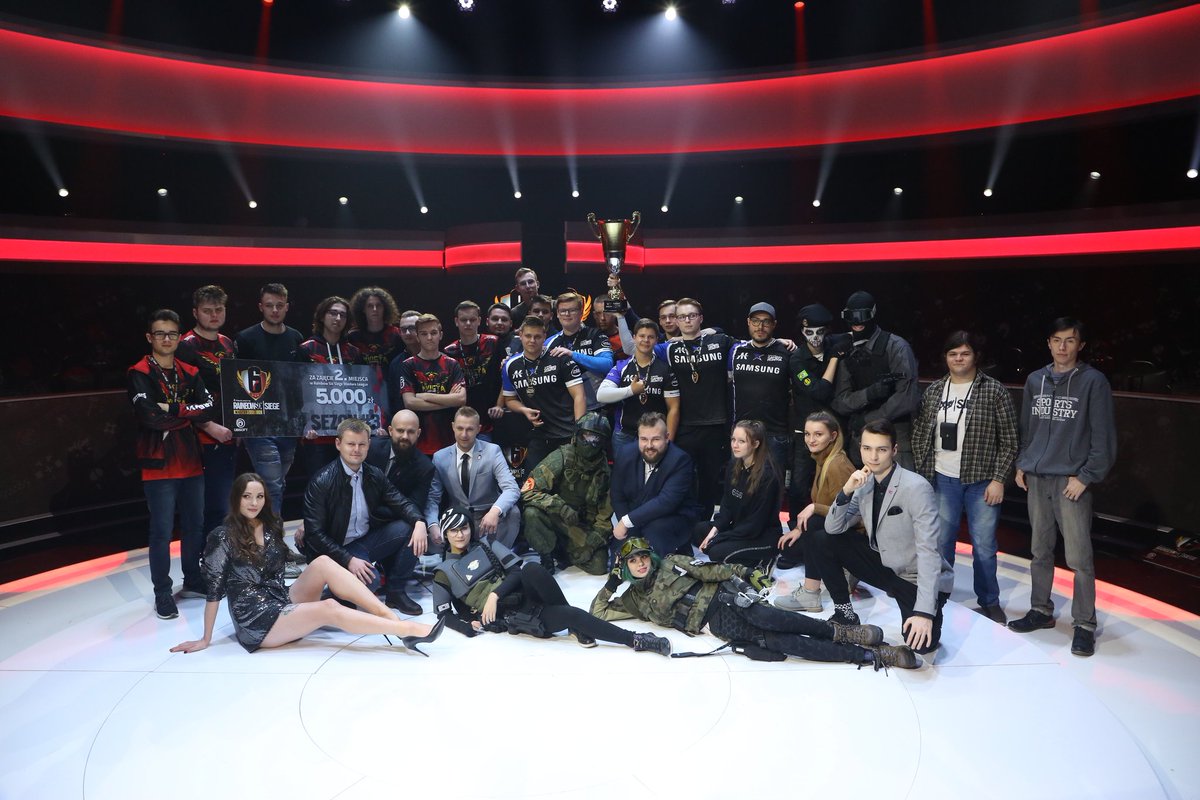 This season, there's no foreign force dominating the league with every single player and organisation competing being Polish. As such, be sure to catch the all-Polish action when play-week two kicks off tonight as the season continues.