With the Challenger League and Pro League now over, we saw a number of national tournaments in action over the last week in action as well.
Jump to:
Six Masters 2020 - Wildcard Keeps Flawless Streak
After a strong opening week, Wildcard followed up their victory against Team SiNister with a closer win against Ferox (ex-FURY). After three round wins running on the defence, a close 1v3 loss by Ethan against Warden put Ferox on the board, allowing them to end the half with a 2-4 foothold -- a scoreline they could salvage on their own defences.
Ferox quickly managed to tie up the scoreline to 5-5, before a triple kill by Ethan put Wildcard on map point which was then closed out by Ethan in a 2v1 against Shade, with 10 seconds remaining, to take the map, 7-5.
Next up was Consulate, which was kicked off by another standout play by Ethan as he clutched a 1v1 against Warden using Ash's Breaching Round to win round two. The very next round, Shade won a 1v3 on time by downing Pat during a defuse attempt which, along with an almost identical win on round six, meant that Ferox ended the first half down 2-4 once again.
Another 1v1 between Ethan and Warden once again went to Ethan to kick off the second half, as Warden's triple kill was outdone by Ethan's 4k before Ferox fought back with another 1v2 by Deptra as he defended their planted defuser. This clutch kicked off a comeback from Ferox as they went from 2-5 all the way back to a draw at 5-5 before, unlike the map prior, they held off defeat by winning round 12 and forcing overtime.
Overtime continued the offensive advantage as the game was pushed to 7-7, with round 15 being a Wildcard defence of the Lobby/Press Room objective. Here, a rush onto the site was cut down by two headshots from Pat with one magazine of the Vector, leaving Shade in a 1v3. Shade killed both Diesel and Pat to put the final round in a 1v1 situation, which he lost against EmoRin as Wildcard took the map, 8-7.
Also of note was the game between the two org-less teams of TBD and LFO. TBD finished last season's Pro League in third place, while LFO has never played in the Pro League before and made it to this tournament via the open qualifiers. Despite this, with LFO already taking a map off of Elevate last week, they were certainly an impressive challenger, making this a game to watch.
The opening map of Villa seemed to show just how strong LFO were, as they won five attacking rounds in the defensive-sided map of Villa, only for TBD to fight back with five rounds of their own, leading to a 6-6 draw going into overtime. Included for both teams was a 1v1 victory instrumental in taking their offensive lead, as Hills took down JKR for LFO's fifth attack win followed by JackDaddy taking down Hills in a 1v1 three rounds later.
This map, once again, also came down to a round 15 finish with TBD on the attack. Despite Cutie getting a triple kill to push into the Dining Room objective, he ran out of time in a 1v1, allowing Hills from LFO to simply hide and win both the 1vX and the map, 8-7.
The next map was much less of a barnburner as TBD fought back with a 7-4 victory of their own to win three points themselves. Elsewhere, Kanga suffered yet another defeat against Elevate in a one-sided 7-3, 7-2 scoreline, while the fourth game of Team SiNister vs the Pittsburgh Knights saw a third 15-round tournament as SiNister followed up their 8-7 on Clubhouse with a 7-2 thrashing on Coastline to take all six points.
As such, Wildcard has now taken control of the top spot, with TBD and Elevate both close behind. Team SiNister and LFO are just one win away from tying for second as well, while Ferox and Pittsburgh Knights have been struggling a little more and Kanga is still searching for its first win.
Benelux League: Season 5 - Defusekids Retake Control
Last week once again saw each team play two best-of-ones in the league across Wednesdays and Thursdays, with the two league leaders of Sector One and mCon esports meeting on the latter. The game on Kafe was a close one throughout, with the first 1v1 coming on round two as PRiSM denied BaasheD's ace. With this putting mCon on the board, they briefly took the lead before another 1v1, this time won by SE7EN over drateR, put Sector One back on tied up, leading to a 3-3 half.
While the second half continued the trading of rounds, none were close, with all but one coming down to a 1v4 situation or worse. This continued all the way until the final round, as the game ended in a draw with the standout players of drateR and SE7EN both securing 13 kills to eight deaths.
This draw, coupled with Sector One's draw to sixth placed El Whiz Wranglers the day prior, gave the ex-Challenger League team of Defusekids an excellent opportunity to jump up from third place to first following their surprise defeat to Epsilon on week two.
To do this, Defusekids had to defeat both UX Gaming and Team XY, both of who had yet to get a single victory this season so far. The first of these games against UX ended in a 7-1 stomp on Border in which Deapek secured 12 kills to just four deaths. There were, however, a number of close rounds in this game as Leonski won both a 1v1 and a 1v2 situation, while Deapek won a 1v2 of his own.
Their second game was a closer affair, largely thanks to the standout performance of AliB, who was the only player on his team to secure more kills than deaths at 15 to nine, compared to his teammate of Ilias who ended with just a single kill to 10 deaths.
Three of four of XY's round wins to their 4-7 defeat came on their own defensive rounds on Coastline, thanks to a round one 1v1 victory by P1xelpeekz over Cry1n and a double kill on each round by AliB.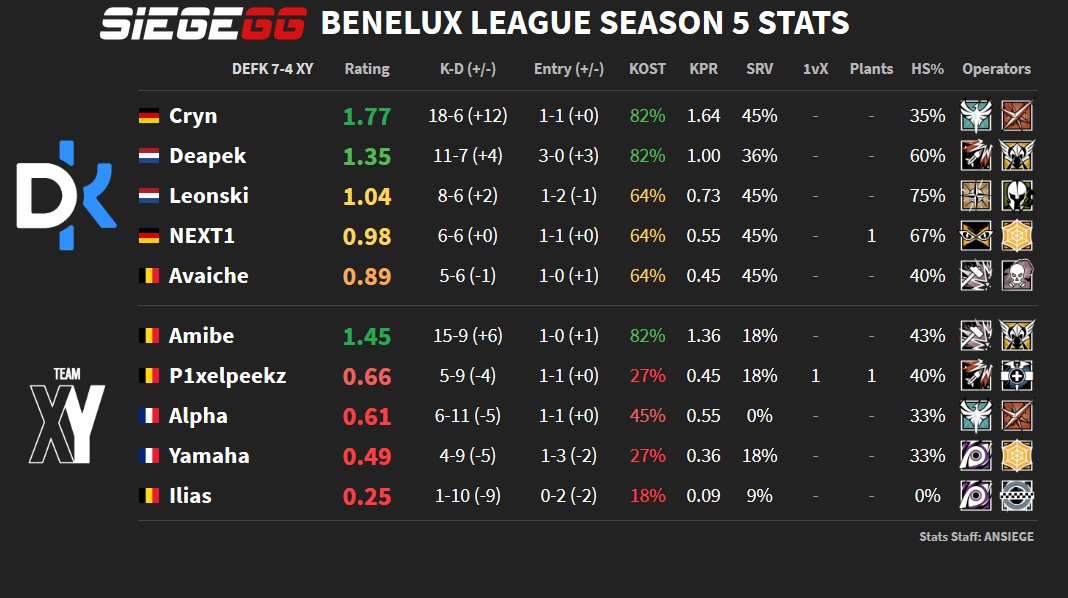 These two wins put Defusekids back on top of their own subregional league with 15 points -- just a single point ahead of mCon esports who they face on Wednesday.
Finally, the league saw Epsilon double their point count with two wins over Mouseplayz, whereas UX Gaming pushed themselves above Sector One into third while also due to face mCon this week.
New League Announcements - GSA, DBNO, and APAC North
Firstly, this week saw two more teams qualify for the APAC North league -- the region's Pro League replacement tournament.
Team Notorious made it through as the Taiwanese representative, while Xavier Esports won the Thai qualifier. This means that the SEA champions four seasons running -- QConfirm -- likely will not be playing in the region's "pro-tier" tournament, as the last two SEA spots are expected to go to Giants Gaming and the winner of the Operation League MY/SG/PH/ID tournament.
You can read more about the format, games and new teams here, with these being the confirmed teams for the league so far:
NORA-Rengo

Cyclops Athlete Gaming

GUTS Gaming

FAV Gaming

Cloud9

Talon Esports

SCARZ

Xavier Esports

Team Notorious
Next up, details concerning the GSA (German, Swiss and Austrian) League were announced. Eight teams including the Pro League lineups of G2 Esports, Rogue, and OrgLess will face off for the €40,000 (~$43,900) prizepool over the next 14 weeks starting from this Thursday. The tournament acts as the first centralised league for the subregion, which you can read about in more detail here.
Finally, the CCS league announced a three-day-long tournament, kicking off next Monday, to raise money for the charity "Modest Needs". The tournament will include the three Pro League teams of Spacestation Gaming, Tempo Storm, and eUnited, as well as a team of streamers including Lonnie Lighting, Cob, YumiMain, YoBoyRoy, and anthonypit1. You can learn more about the charity and the tournament's format and schedule right here.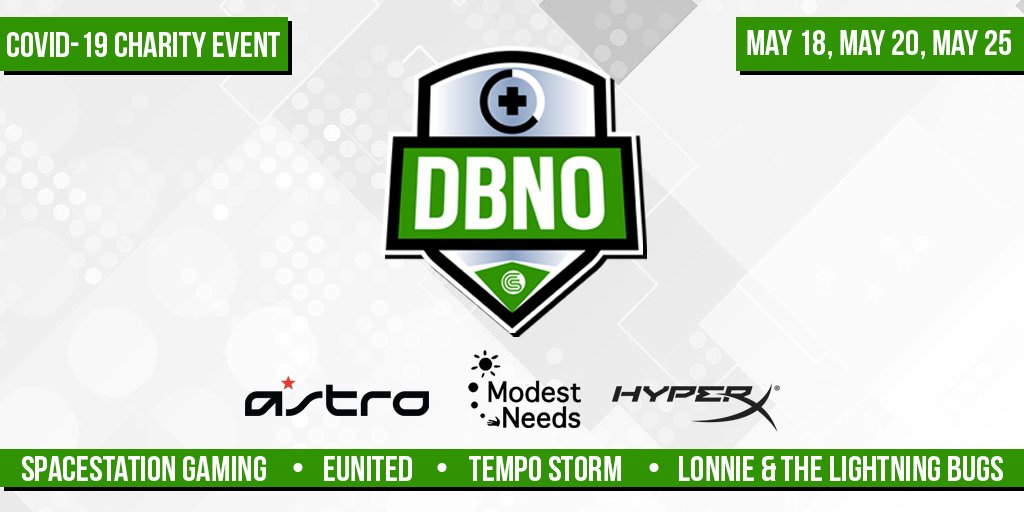 Elsewhere in R6 - Operation League Thailand, MNEB, and the ACS League
Just a day prior to the previously mentioned APAC North Thailand qualifiers were the Finals of the Operation League Thailand Season 2 nationals between the two Pro League teams of QConfirm and Xavier Esports.
Unlike the qualifier, which was a real slog of a matchup (7-3, 7-8, 7-4, 4-7, 7-2), this game was a much more one-sided affair, as the undefeated Qc throughout the season took the game 7-4, 7-3 to win the top share of the ~$9,300 prize pool. However, they were unable to stave off the loss the next day in the APAC North qualifier and will thus not be playing in that league for the 2020 season.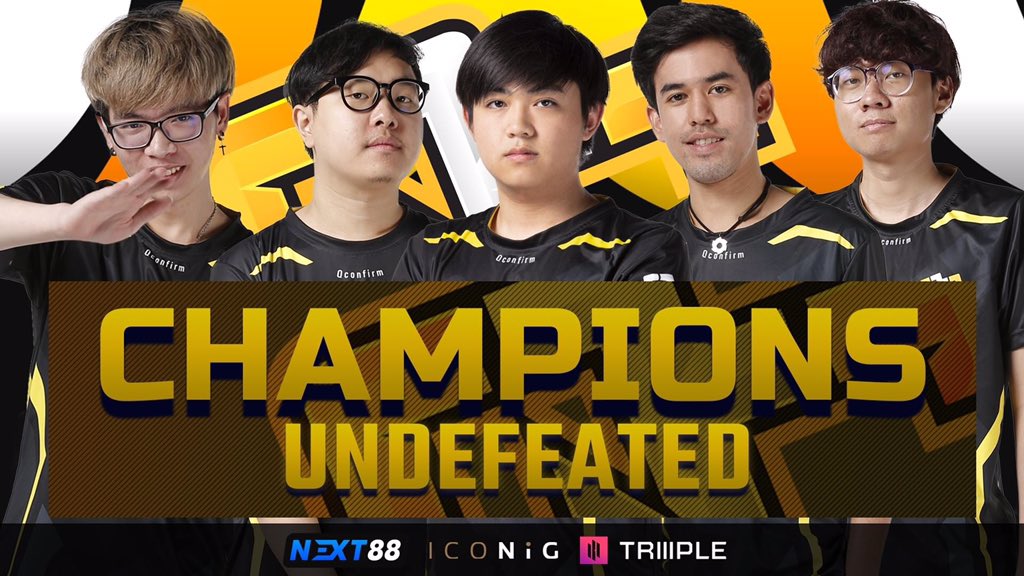 The Hungarian nationals this week saw Salamander prove to the league who's boss despite their disappointing performance in the Challenger League. The team took down Hungary's second-placed team of WiLD MultiGaming in a complete 7-1 stomp as they won every one of their gunfights throughout the map.
The game eventually ended thanks to the 1v1 victory below to increase Salamander's lead at the top of the table to eight points, with a game against third-placed Budapest Five coming up next week.
Finally, the European tier-three league of the Atlas Championship Series this week saw 12 maps in total be played, including two between the largely altered seventh-placed Premiership lineup of Enclave Gaming and the third-placed Hungarian team of the Budapest Five, which ended almost completely even, 6-6, 7-5.
Outside of this game, the other five matchups all were relatively one-sided, which will hopefully not be the case next week as the third and fourth-placed teams of Lucendi and Enclave meet, followed by a matchup between the only two teams in the league without a win so far -- Regnant Esports and Enviik.
Must Watch Games of the Next Week
Keep an eye out here at SiegeGG for coverage of all ongoing leagues during the ongoing off-season. For now, these are the five must-watch games of the next week around the world:
Flamengo Stars vs AION e-Sports in the Spain Nationals tomorrow at 17:00CEST
Elevate vs Team SiNister in the Six Masters on Wednesday at 13:30CEST
Defusekids vs mCon esports in the Benelux League on Wednesday at 20:00CEST
G2 Esports vs OrgLess in the GSA League on Thursday at 19:00CEST
Rogue vs DIVIZON in the GSA League on Thursday at 21:00CEST