With Pro League coming to its close last week, here's a rundown of the last ever Pro League playday:
Jump to:
Europe - Day 14
Natus Vincere had stood the chance to claim second place in Europe and become the first Pro League champion to do such in the season since PENTA Sports in Season 6 if they just tied Chaos Esports Club to kick off the playday.
The game on Clubhouse saw Na'Vi start out on the defence and kick off an extremely frag-heavy matchup as triple kills by Renuilz and Panix on rounds three and four were topped by 4ks by Saves and SHA77E the following two rounds as the two teams were virtually neck-and-neck. The difference in the first half was made by SHA77E as, despite the Saves 4k in round five, this wasn't enough to take the round, with SHA77E winning a 1v1 against Saves in a post-plant situation.
Secretly gave Chaos another round thanks to another triple kill to put Chaos up 5-2 before Na'Vi attacked the Master/Gym site successfully twice in an attempted comeback. While Chaos pushed onto match point, one point was all that Na'Vi needed, so a technical 1v2 victory by Doki was key to keeping them in the game at 6-5. However, an early double-kill by Renuilz on Jager 20 seconds into round 12 effectively slashed these hopes as Na'Vi lost the game, 7-5.
With this game lost, it was now an open four-way race to second-place, and included all of the previous three Pro League champions. To keep themselves in the running, Empire needed to defeat Rogue who had lost just one game in the 13 prior games in the league which, despite a 1v2 and a 4k by Hicks and a 1v2 by ripz, Empire pulled off with a 7-5 victory on Consulate.
This meant that Na'Vi was out of the running, and the following game between G2 and forZe would decide the spot, with the victors taking it or Empire keeping the spot if they drew. Three triple kills opened up the first three rounds as forZe were keen to make G2 fight for the position. Despite this, following a 1v2 retake by CTZN and the sites swapping to give G2 the offensive side on Kafe, momentum shifted as G2 took control.
After a dominant push into the site on round seven and a lost round eight, a 1v1 by Virtue put G2 up on 5-4 at which point they ran away with it with two more rounds in a row as a 4k by CTZN on Ash ended the season and gave G2 their best performance in the league since Season 8 back in October 2018.
This is the first time this Rogue roster has finished as the top-seeded team in Europe after two seasons in second while BDS are the clear losers of the second half as they dropped from fifth to the last place since their SI20 performance as they secured just four points in the second half of the season.
North America - Day 14
Evil Geniuses began the day by ending their nine-seasons of Pro League with a final victory over eUnited in what was their second win of Season 11. The win was primarily thanks to Modigga, who could not be stopped. Across Clubhouse's nine rounds, he secured 10 kills to just three deaths, while the team's newest player of Spades also secured a quadruple kill. This win wasn't enough to change EG's standings, but meant that eU slipped from a fifth to a seventh-place finish in their debut Pro League season.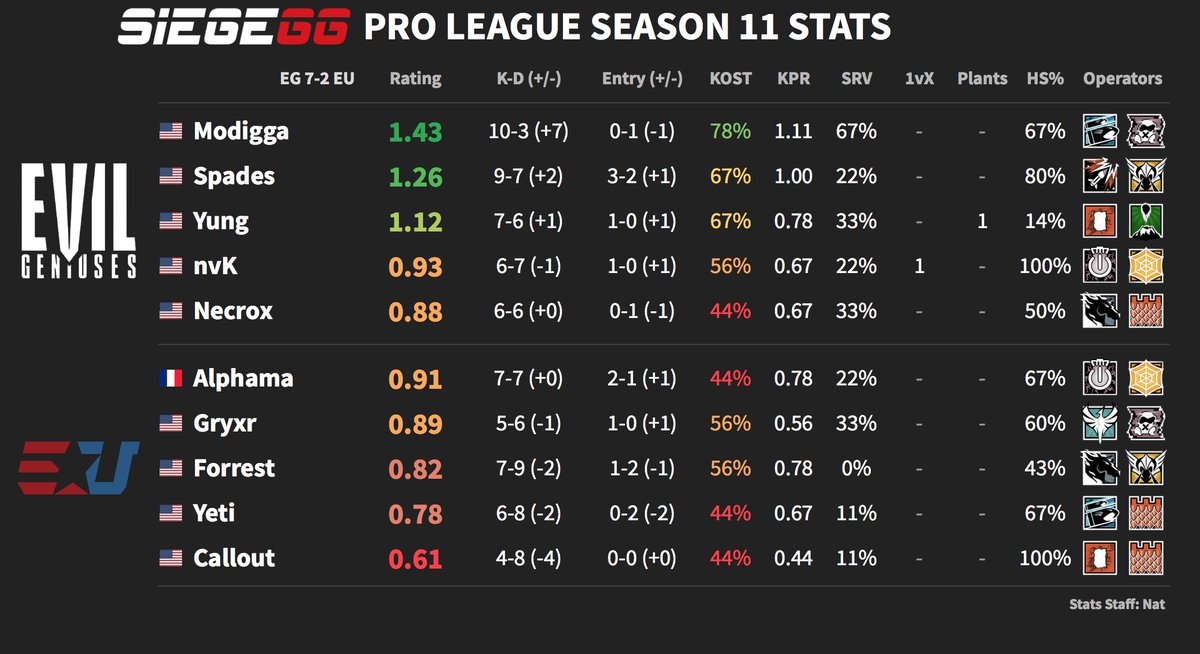 With the bottom of the table sorted, eyes turned to the SSG vs TSM matchup to decide who becomes the NA champions. TSM began Theme Park on defence, with both Maverick and Thatcher banned giving them the early advantage but they eventually squandered it. Their only round wins came due to a 1v2 victory by Pojoman and a 1v1 by Geo, both on time, putting them down 4-2 as they swapped sides. TSM came back with two rounds wins on their attack to tie up the scoreline before a quadruple kill by Fultz took round nine.
At this point, SSG was up 5-4 despite TSM consistently getting the opening pick in eight rounds in a row. This continued in round 10 as Achieved both secured the first kill with his Capitão asphyxiating bolt and successfully got the plant down allowing Beaulo to win a 1v1 against ThinkingNade to tie the scorings up again.
At this point, TSM needed to win just a single round to win the regional Pro League title, however, a successful post-plant retake on round 11 followed by a triple kill by Canadian on Pulse won the game in their fifth 7-5 scoreline of the half.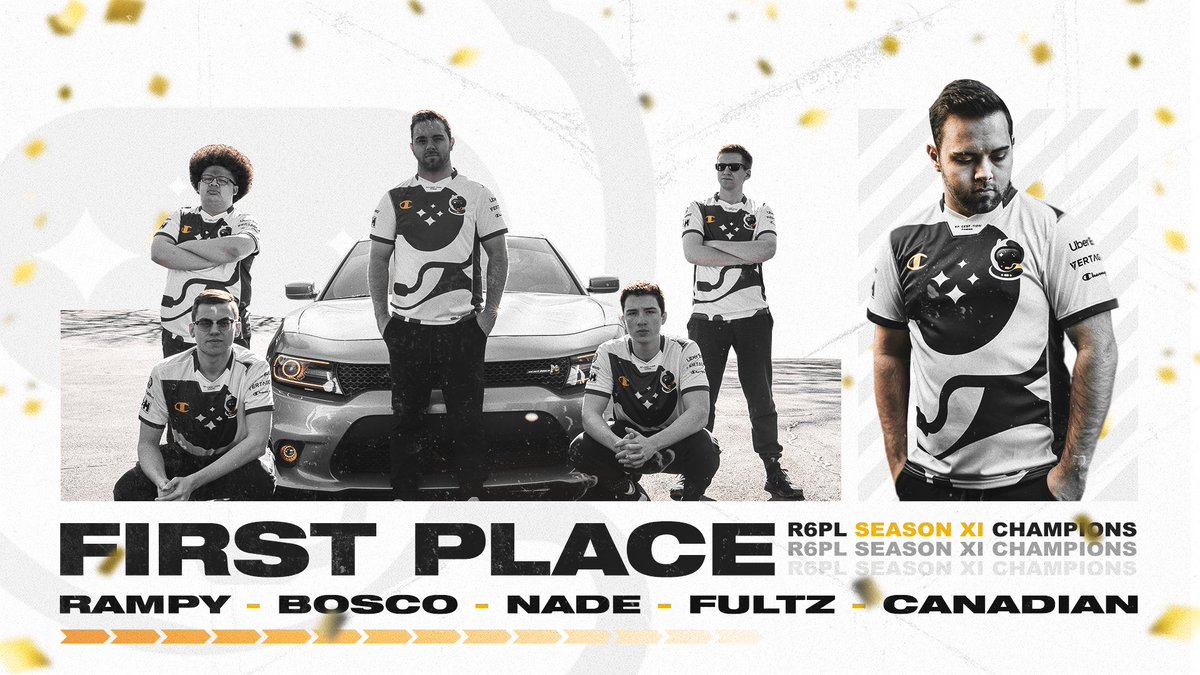 The final two games saw Team Reciprocity and Luminosity Gaming lose their final game under their organisation with the former losing in a surprising 1-7 scoreline to end the North American season. With these results, the huge gap in points that opened up at around playday eight can be seen to have continued throughout with Rec right in the middle of the top three and bottom four teams.
With this, we say goodbye to both the LG and EG lineups from the Pro League while Rec continues to look for a new organisation before their next appearance in a few months time.
Latin America - Day 14
The battle for first was also raging in Latin America between NiP and Liquid as Liquid aimed to get their first top-two finish since Season 7 when they went on to win the Atlantic City Finals as well. To guarantee first place, Liquid needed to beat INTZ, a matchup which INTZ had won 7-4 during the first half of the season on Clubhouse.
For this matchup, the teams opted to return to Clubhouse as Liquid's attacks looked much more organised than previously with INTZ getting on the scoreboard thanks to their fragging prowess. A quadruple kill by Drunkz in the space of 15 seconds and a triple kill by Vnx accounted for two out of three of INTZ's round victories as they tied up the first half as went to and lost the Master/Gym objective twice.
After a frag-heavy first half, the second half of the match was somewhat tame as we saw no multi-kills bigger than a 2k and no clutches as the game went back and forth all the way to its conclusion at 6-6, a result neither team would be happy about as it meant neither team were safe from being overtaken.
With this draw, NiP now needed to defeat FaZe to claim first on head-to-head points (6-0), a result which seems somewhat likely as FaZe showed up to that game playing with their coach of Sn4rFx to replace ion who missed the game due to his father passing away the week prior. Sn4rFx's highest competitive experience as a player was a second-place finish at the 2017 Six Invitational qualifiers alongside Julio, ninexT, mav and wag.
7-2 against @NiPGamingBR, happy to see my mates playing loose and having fun. I didn't play today because last week my dad passed away, his last action was to watch my game in PL and unfortunately he's gone, but I know he went to a better place 🙏🏻
Despite this substitution and despite FaZe playing operators such as Kapkan and Tachanka, FaZe smashed their opponents 7-2 as NiP's only round victories coming thanks to a Pyscho triple kill in round three and a rushed plant attempt on round seven.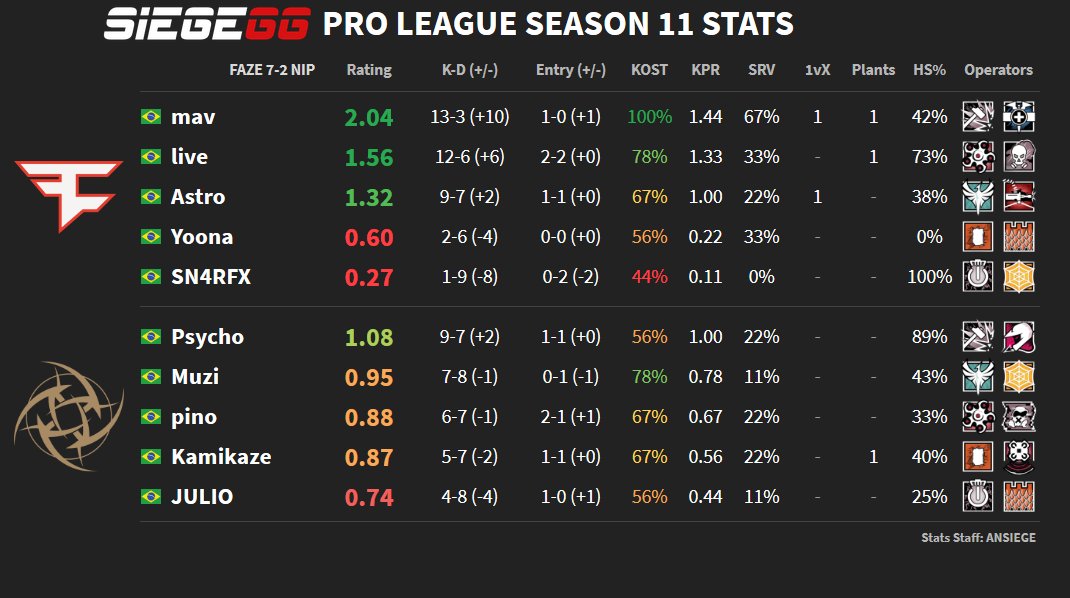 With this win, Liquid was confirmed as the Season 11 LATAM champions with this being the first time since Season 4 that the FaZe lineup failed to make it into the top-two in the region.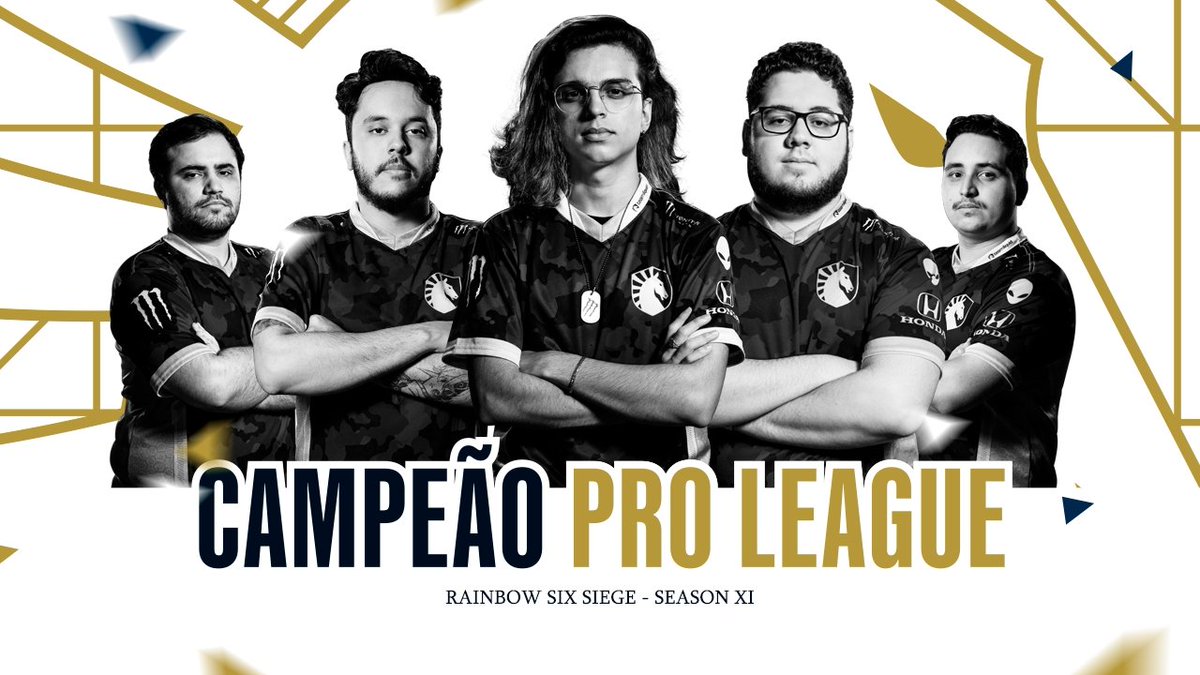 Elsewhere, BD defeated Singularity to overtake them into sixth place in what was SNG's last game in the Pro League as they haven't qualified for the 2020 BR6 league, the local Pro League replacement. Finally, MIBR defeated oNe two days before the oNe roster left the organisation which kept MIBR ahead of FaZe and oNe right at the bottom of the standings.
Caster Predictions - Final Results
And so at the end of the season, Flynn takes a very clear victory in the SiegeGG Caster Predictions after finishing lasts season in fourth:
Prior winners include:
Season 9 Online - Hap
Season 9 Finals - Velly, toldersma and Demo
Raleigh Major - LuKid
Season 10 Online - SiegeGG
Season 10 Finals - Uzumaki and SummerRain
Six Invitational 2020 - FuriouSG
---
Check back here at SiegeGG for more coverage throughout the remainder of Season 11, including weekly updates, statistics, and highlights as the race for the Challenger League titles nears its end.