Note: These results are as of April 6th
With the Pro and Challenger League already in action, we saw a number of national tournaments in action over the last week in action as well:
Russian Major League: Season 4 - Empire Rises as forZe Falls
This week there were a number of close calls for the big names starting off with the second-seeded CrowCrowd lineup who looked to have a top-two position in the bag, falling to WinRequest in their first victory of the season. While a number of WR players achieved high kill-death ratios, the standout player was Kszar, with 14 kills to just four deaths across 12 rounds, while CrowCrowd's only positive player was KaMa with nine kills as they lost, 7-5.
The more important game came later that day as the unbeaten roster of forZe was taken down by promising eighth-seeded lineup of 43rti in an equally tight 7-5 scoreline as their new player of Amision disappointed and finished the map with a -6 Kill-Death spread.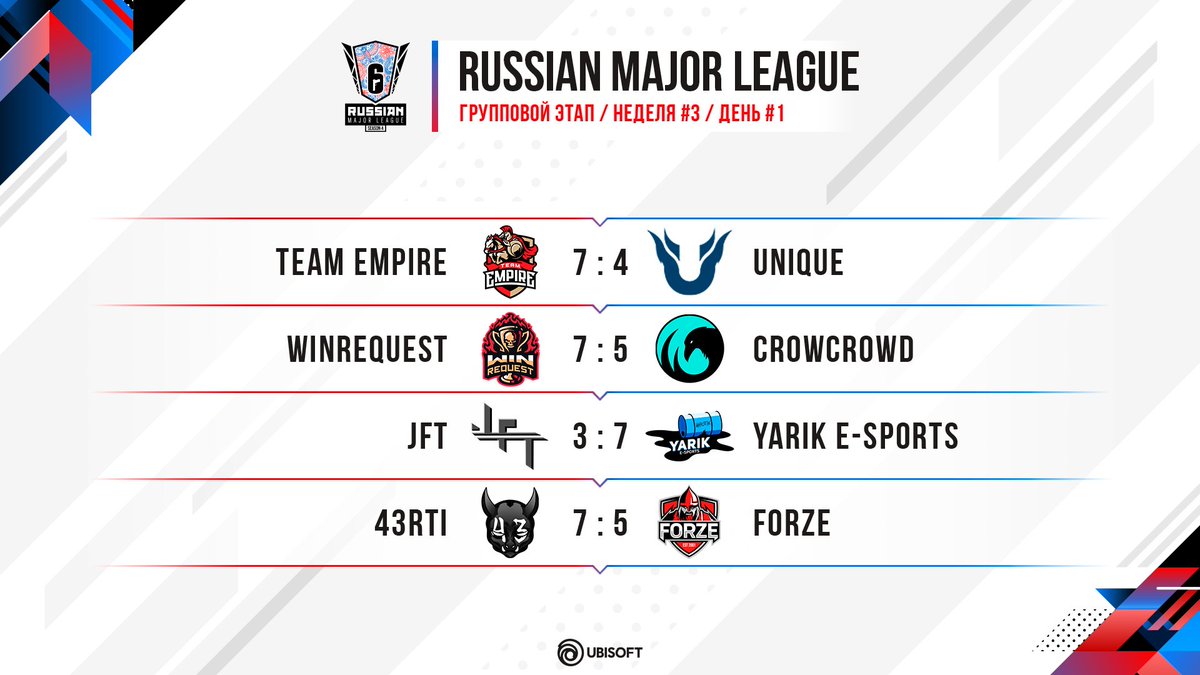 With these results above, Empire managed to push from the fifth place all the way back up to second place, narrowly above 43rti on head-to-head points. These standings were then reinforced as each of the top four teams faced and found victory against one of the bottom four teams to create a notable gap in the table as we pass the mid-seasonal point.
With Empire's two victories here and victory against Chaos in the Pro League yesterday also, it seems as if Empire have lifted themselves out of their performance slump for now, however, with three points and a head-to-head lead over them, forZe are in an excellent position to ride out the remaining four play days at the top of the table and to enter the presumably online Finals as the top-seeded team.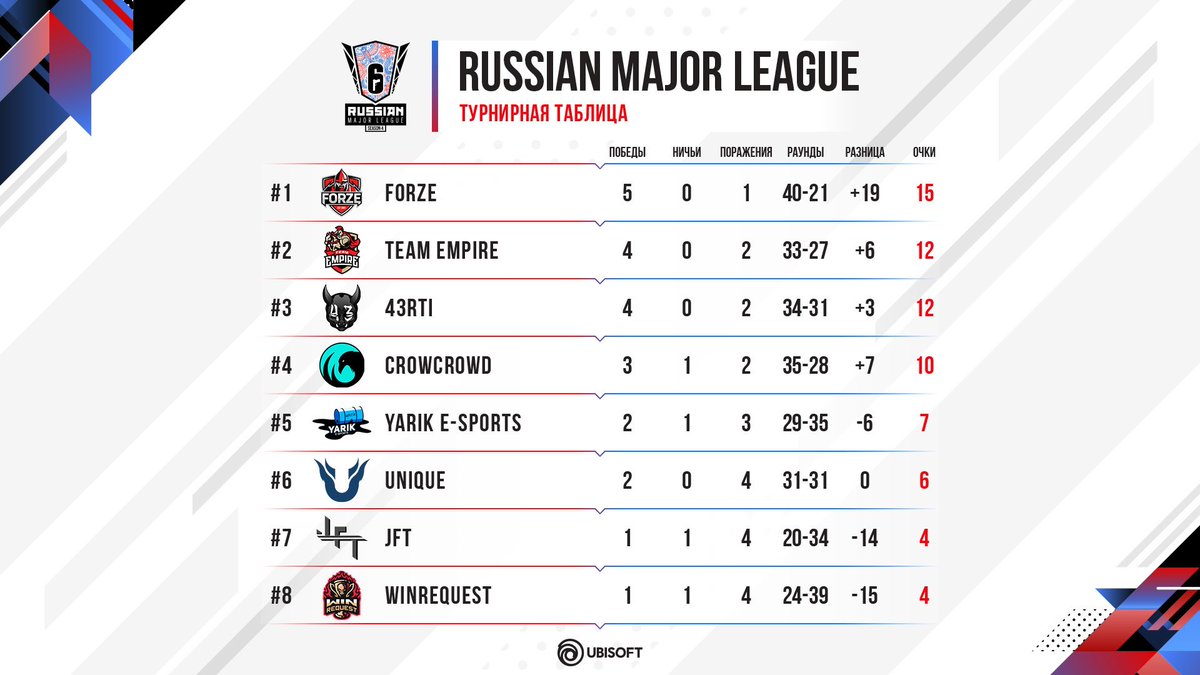 Nordic Championship: Season 5 - Chaos Defeats GiFu
This week saw two key matchups between teams two and four -- GamerLegion vs FACT -- and teams one and three -- Chaos vs GiFu -- as last week's victors try to take an early lead in the league.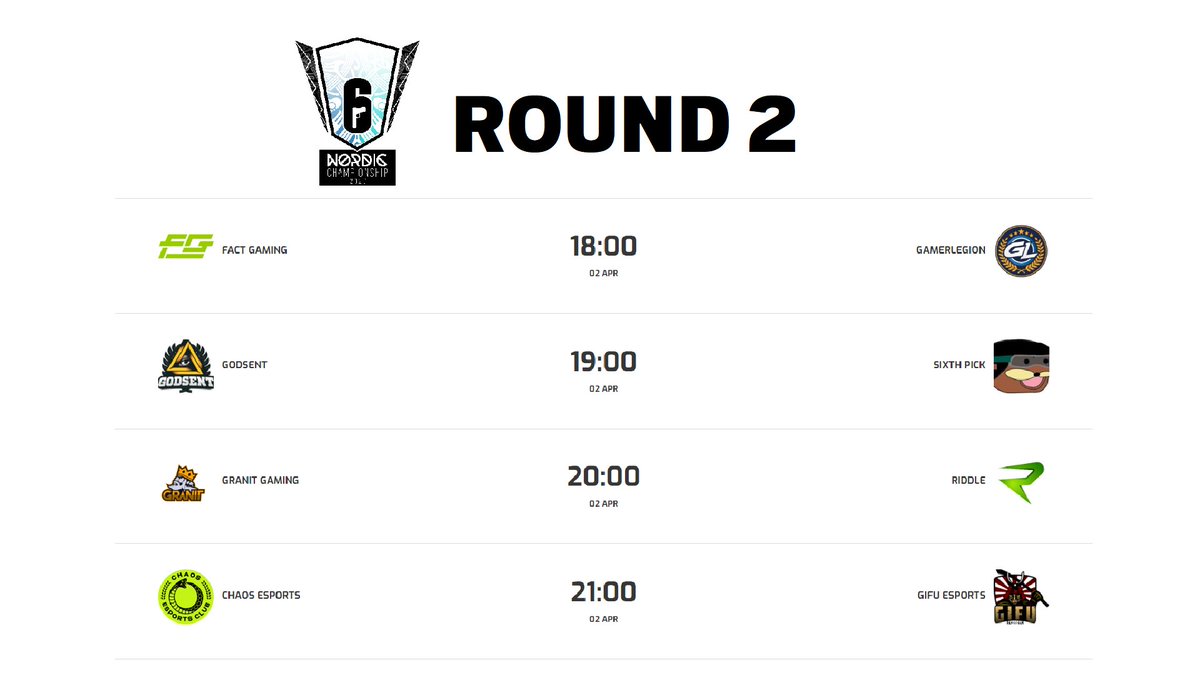 The first game saw the Danish majority FACT Gaming team start on defence on Villa against the mixed Finnish/British/Norwegian/German lineup of GamerLegion. This game saw FACT take an early lead as to be expected with their Clash play, in particular, leading to a number of locked-out rounds. This early dominance, however, did lead to them getting fairly sloppy as we approached the end of the half, allowing Rotko4 to get a fairly simple 1v3 victory as FACT failed to create an effective crossfire.
A 2-4 offensive half on Villa put GamerLegion in a somewhat good position as they swapped sides. They looked to reinforced this with two dominant defences of their own as they were about to tie up the scoreline 4-4 only for FACT's Hippo to secure a 1v3 of his own as GamerLegion fell to the exact same mistakes they had benefitted from two rounds prior.
FACT closed out the following round in a 3v1 post-plant situation to guarantee themselves at least one point before they pushed the site to leave a Clash in an unwinnable 1v4 situation to win the matchup in a very strong 7-3 scoreline to push themselves to be one of the league's favourites.
Next up the fully Finnish lineup of Sixth Pick faced the mixed Spanish, British, Dutch, French and Swedish GODSENT lineup with their new player of Quadzy (best known for his time in Trust Gaming) joining to replace Treiko. After both teams suffered 0-7 losses last week, they both were eager to get points on the board on Clubhouse, however, neither team looked particularly coordinated throughout.
The first half ended with GODSENT, on defence, winning just three rounds despite both Hibana and Maverick being banned, which ultimately was their downfall. While the second half did kick off well for them, they eventually fell 7-5 to Sixth Pick in their second loss of the season.
Next up, we had the promising roster of Granit who took four rounds off of the Pro League team of Chaos last week against Riddle who very narrowly lost to FACT last week. Despite technically playing with their substitute, Granit looked like the better team throughout as they lost just two rounds on Consulate and JTc secured a three kill-death ratio with nine kills to three deaths.
Finally, we had the big match of the day between the Pro League team of Chaos and the new-look Challenger League team of GiFu before their campaign back to the Pro League kicked off the following day.
GiFu began on the attack on Border with both Thatcher and Thermite banned putting them at an early disadvantage, however, that didn't hinder them in getting an early win to take round one with three players left alive. GiFu followed this up with two more by-the-numbers attacks to end the first half 3-3 with one of their lost rounds coming down to a close 1v1 between Bounssi and VITO:
As Chaos moved to their attacks, they began by taking the lead once again winning three rounds in a row, the second of which included a successful Frost trap injure by OSKAMOSKA and, crucially, a 1v2 by Renuilz.
With Chaos now on match point, GiFu went to the primary Armory/Archives site which they lost once again as VITO secured a double kill and Renuilz won a gunfight while rappelling in to from Armory's window to end the map, 7-3.
The standout player from the match was clearly Renuilz as he secured 15 kills to just six deaths while GiFu's longest remaining player of Bounssi was the only player on his team to earn a positive kill-death spread.
With this, the weekends with Chaos and FACT joint in the lead with four points, Riddle and GODSENT with zero points and the six remaining teams all in the middle with two. With this in mind, next week's matchup of Granit vs FACT will be one to watch as the unbeaten FACT roster tries to keep their record intact against Granit whose sole loss was against Chaos.
6 Open Cup: Quarter-Finals - IziDream and PENTA Struggle
The first stage of the 6 Open Cup -- the most recent French tournament which was initially planned to be a LAN event -- took place this week with the quarter-finals before the semis and grand-finals in two weeks time. The competition saw the Pro League team of BDS as the favourites with the Challenger League contenders of PENTA and IziDream not far behind. Also of note comes the promising up-and-coming lineups of Team Valor and OrbitGG who both impressed in the qualifier stages: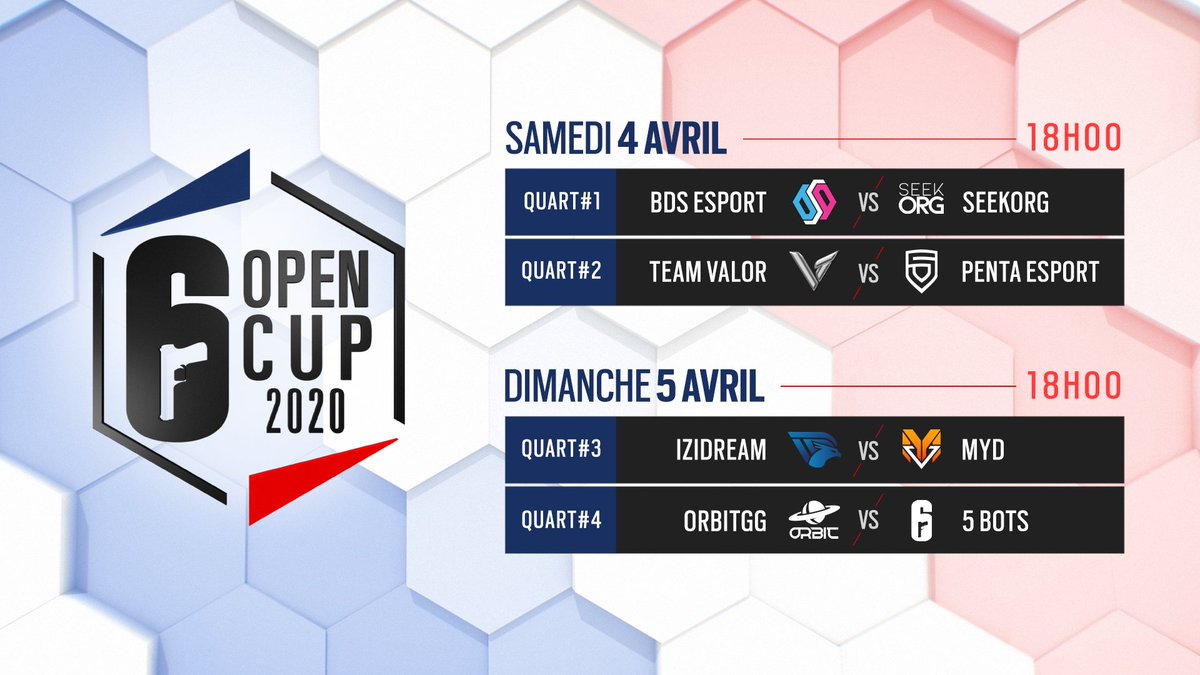 To nobody's surprise, BDS took their game with almost no opposition in a 7-2, 7-0 scoreline and was quickly joined in the semi-final by PENTA who also took their game in a somewhat closer 8-7, 7-4 scoreline. While Shaiiko is their usual star, it was rxwd who led his team to victory this time, with a total of 18 kills to just nine deaths to finish second in his team across both Villa and Clubhouse.
PENTA, meanwhile, saw themselves down for most of Coastline as Valor went up 6-3 and looked to close out the map before Alive and RevaN started fragging out and Kaktus achieved a 1v2 victory on time to help claw the game into overtime.
From here, after going down once again, PENTA won two clear victories to take the map before squashing Valor's hopes once again the following map by running away on their offensive half after an initial 3-3 split losing just the 1v4 situation below as PENTA got overconfident:
Sunday then saw a number of lesser-known rosters face-off beginning with another close game between IziDream and Make Your Destiny. With Izi being one of the favourites to qualify for next seasons Pro League it was a shock to many when they were stomped on Border -- a map they haven't lost since last November against the current-Rogue roster -- by a relatively unknown lineup.
The player of LuuLuu secured eight kills to three deaths on this map while CHILE secured five kills to single death compared to IziDream's top performer going negative with four kills to six deaths. This shock was definitely felt by the team also as they woke up over the next two maps to take the game 2-1 (1-7, 7-3, 7-1) to ensure they don't squander one of the biggest tournaments they've ever played in.
2-1 victory! Congratulations to @teamMYD who did not dissapoint!👏
We reach the semi-finals of the #6OpenCup.
#DreamTogether
Finally, we saw the third 2-0 victory in four games as the 6 French League 2020-qualified lineup of OrbitGG fell against the completely unknown lineup of Otterworld eSport (ex-5 Bots) showing the depth of talent in the French scene. With this, the following semi-finals have been determined which will be played in two weekends time in what will be PENTA's first game against a Pro League team in over five and a half months, and the very first one with this lineup: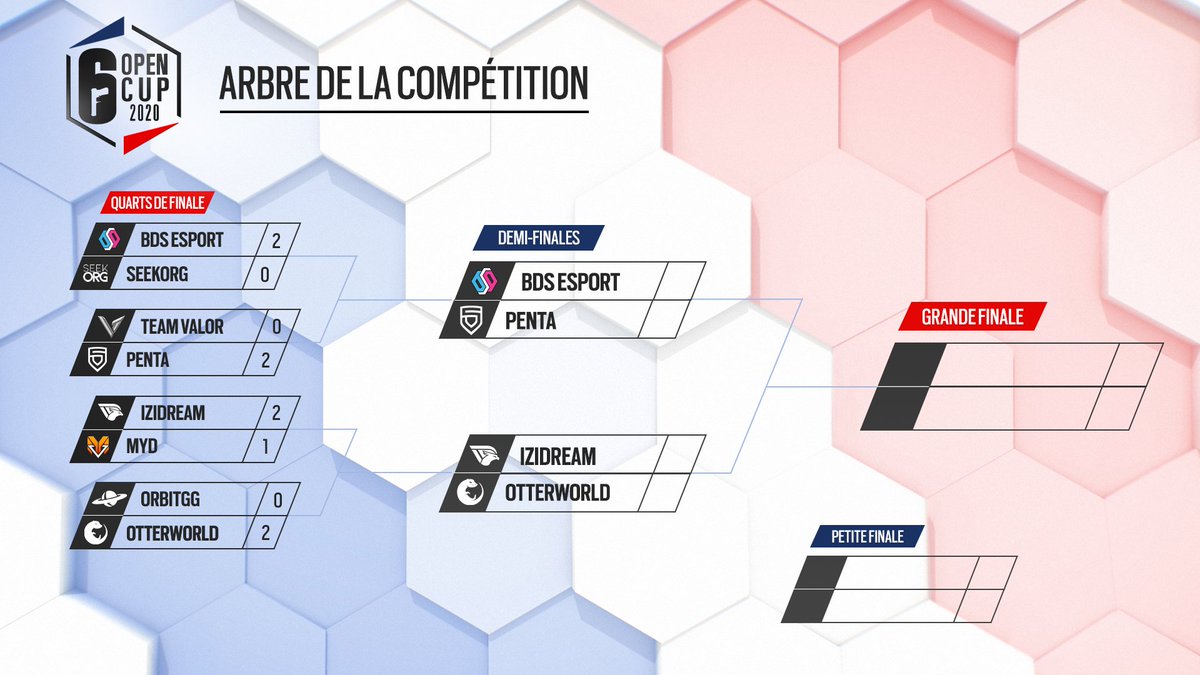 Spain Nationals - Season 2
Spain Nationals - Superweek
After a month and a half of competition, the Spain Nationals celebrated the first of two Superweeks, which means that there will be 14 matches instead of 10 between the 31st of March and the 10th of April. The first seven games were played on Tuesday, Thursday and Friday and the same days will be applied for the next week.
March 31st - Giants and Heretics Tied at the Top
The first game of the week was played in the newest addition to the map pool, Theme Park. Vodafone Giants faced Wygers with the intention to defend their first place and succeeded: after a close defensive half (4-2), the Spanish roster outplayed their rivals in attack and won three out of four offensive rounds.
Next game faced Movistar Riders against Wizards. Playing in Consulate, this was very one-sided. Although Wizards won the first round, it was the Blue roster who dominated and won the following five defensive rounds. The script was the same in the second half as they easily won their only two attacks.
The last game of the day was supposed to be Week 7's toughest match and it was between Team Heretics (1st) and Cream Esports (4th). The match was played in Border and, against all odds, Team Heretics won five of the first six attacks, being the second round the only one that they didn't win. As Movistar did against Wizards, Heretics didn't give a chance to their opponents and won their two defensive rounds after Juk4 and Kuriboh defended the infrequently used Customs/Supply site in the final round.
Giants' and Heretics' results, 7-3 and 7-1 respectively, meant that the two teams would begin the eighth week in the first place as they had the same number of points, the same head-to-head difference (6-6) and the same round difference (+14).
April 2nd - Two Fights Between the Four Promoted Teams
The second day of the Superweek saw the four promoted sides -- AION e-Sports, Electrify, Flamengo Stars and Team SinOrg -- fighting for three highly valued points, as the four teams are fighting to avoid the relegation zone. Surprisingly both games were between a represented team against a roster with no representation. This time, the teams with no face were the winners.
The first game of the day was between AION and Team SinOrg, AION's start to the league was very good after winning their first three matches; however, since then, they have lost pretty heavily all their encounters -- 2-7 against Cream and Heretics and 1-7 against Movistar Riders. Meanwhile, Team SinOrg has shown a good level of play as they have always got close results -- except their 1-7 loss against Riders. Nevertheless, they lost 5-7 against Heretics and drew against Giants Gaming.
The match was played in Kafe and Team SinOrg controlled the map since round one. Lead by Th3Al3xD, Team SinOrg won the first half by two rounds (4-2), which was a very good result as they started attacking. Their defensive half was even better as they quickly won three out of their four rounds. This was Team SinOrg second win in the tournament, after winning Wygers in the first round of the league.
The second match of the day was played, again, in Kafe. Electrify was once again the favourite to win as the crowd expected this roster to be fighting against the biggest teams of the league and not to avoid relegation. The script was similar to the previous game, as the Brasilian roster won three of their six attacks and finished the match by winning four of their five defensive rounds. This was Flamengo's second win in the Spain Nationals after winning Team SinOrg during the previous week.
April 3rd - The Beginning of Week 8
The first match of the game week was supposed to be between Electrify and AION; however, the match was postponed due to personal reasons. Giants and Wizards faced off on Villa and although Wizards won the first offensive round, DriD's roster won the following five. Wizards tried to overturn their situation but Giants quickly made it to match point.
The green roster tried to surprise the Giants' with a very offensive defence, as four of five members had C4's. They were constantly making run-outs which seemed to work out sometimes. This aggression quickly turned the situation to a 2v2 that Iluzjonist put to an end with the last two kills, which gave him an Ace.
The last match of the week was a big one. Playing in Clubhouse, Cream Esports started on defence against Team SinOrg. The two defensive maps were quite impressive in the Spanish scene as Goyo and Smoke were banned. Cream got the initial lead after the first half after winning five of their six defensive rounds; however, Team SinOrg woke up and made the comeback as they won the same amount of rounds during the second half. This meant that the match ended in a tie.
The standings are still really close. Giants Gaming (20) are alone at the top now as Heretics (17) only played a match this week, so they still have a game in hand. Riders and Cream follow them with 14 and 12 points respectively, and Team SinOrg got to surpass AION in fifth place after their positive results, which seemed impossible two weeks ago. Flamengo's last two wins put them in seventh place, while Wygers and Wizards are tied with five points in eight and ninth place respectively. Electrify is at the bottom of the table with three points, after drawing three and losing four matches.
EPS - Season 4
Play-week 5 of EPS saw the top three teams continue to solidify their position for the ensuing Season IV Playoffs with victories against other playoff hopefuls. Cr9ck, who leapfrogged over Team Oblivion last week, remain flawless on the season (5-0-0) with their win over Coronavirus.
Meanwhile Team Oblivion remain close on their trail (4-1-0) with their close bout versus Ranked Stars. Elsewhere, Meta Gaming dropped just one round in their rout of a match against #5 Halfway Crooks; Bonk! and Brazilians from the Favelas end in a draw; and Ferny's Tacos remain in sole possession of third place (3-1-1) with their victory over last place Original Esports.
The highlight matchup of Play-week #5 was between Team Oblivion and Ranked Stars. The former, one of the top T3 teams in NA, once again saw strong competition in their pyrrhic 7-5 victory on Coastline.
Despite losing four out of their six attacking rounds, Team Oblivion managed to overcome the odds and win all but one singular Defense round to rally and complete the comeback victory. Njr, Lags, and Iconic each attained double-digit kills, which together was enough to equal the entirety of Ranked Star's despite how close the matchup felt on the scoreboard.
In the final round, Team Oblivion pulled off the quick retake of site following Ranked Stars's plant in Hookah Bar, and J90 quickly began defusing while Njr shut down each and every Attacker who tried to stop the defuse.
Be sure to tune in for Playweek #6 this upcoming Saturday and Sunday on EPSesports Twitch channel, where we'll be certain to see another contested set of matchups!
Elsewhere Around the World:
The Benelux League Qualifier Playoffs, XP Women's League, LPL Pro League and MNEB Hungarian Nationals
The Hungarian nationals this week saw VOLGARE fall from second place right down to sixth after losing in a 7-0 blowout against Salamander allowing WiLD to retake second place as they defeated fourth-place Team Plague, 7-3. With this, three teams now sit in joint fourth place with seven points with Salamander clear at the top with 13 with four victories and a single draw.
The Benelux qualifiers came to an end on Thursday as the six teams to join Epsilon eSports and Defusekids (ex-Trust Gaming) were determined ahead of Season 5 which is due to kick off in two weeks time. The biggest surprise of the games saw the new team of HzDef -- who had played in all four prior seasons -- and the three times Benelux League finalist of Kabouter in Project Benelux fail to make it into the full league after they fell in straight maps against both Team XY and Ux Gaming to leave the following teams to take the spots: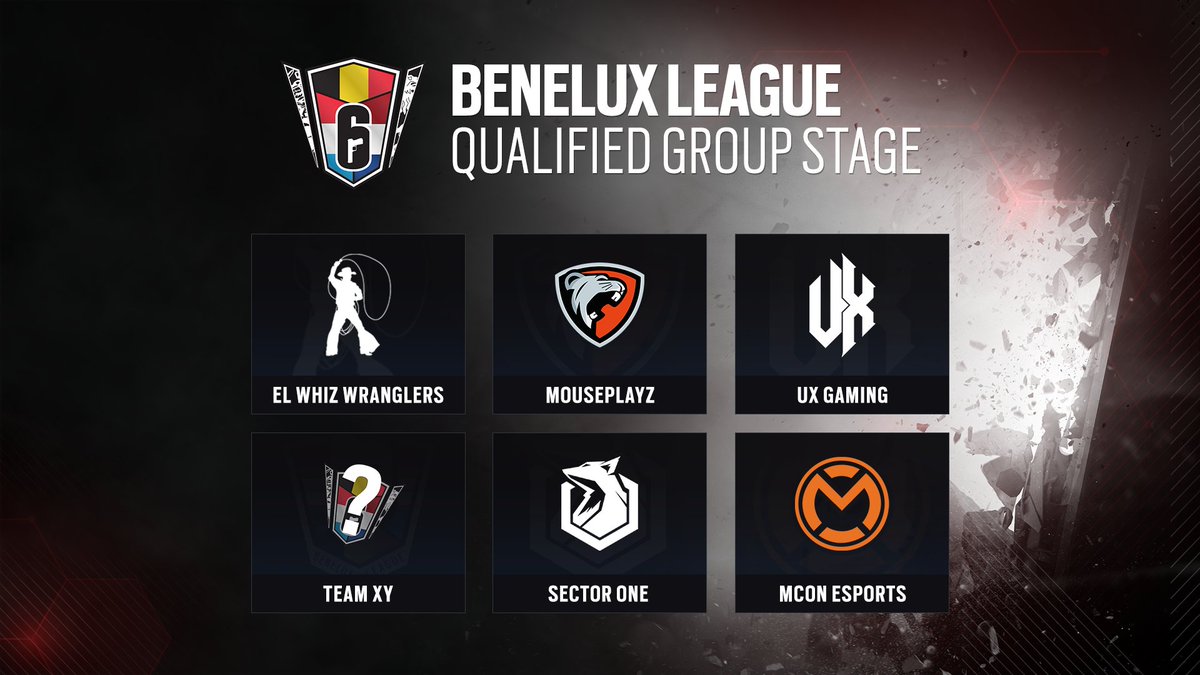 Finally, two lower-tier Australian leagues will come to an end next week as the XP Women's League and the LPL Pro League reach their grand-final stage. The XP Women's League has seen games over the last five weeks to lead to a grand-final between the two undefeated teams of Trinity and Vertex ESC who's seasonal results saw them finish tied at 7-2, 2-7 while the LPL Pro League sees the Pro League team of SiNister joined by Oddity Esports in a rematch of their winners final which SiNister won, 7-2, 7-3.
In total, $6000 is on offer in lower-tier tournaments we rarely see outside of Europe designed to bring up the best the region has to offer and to promote the game throughout.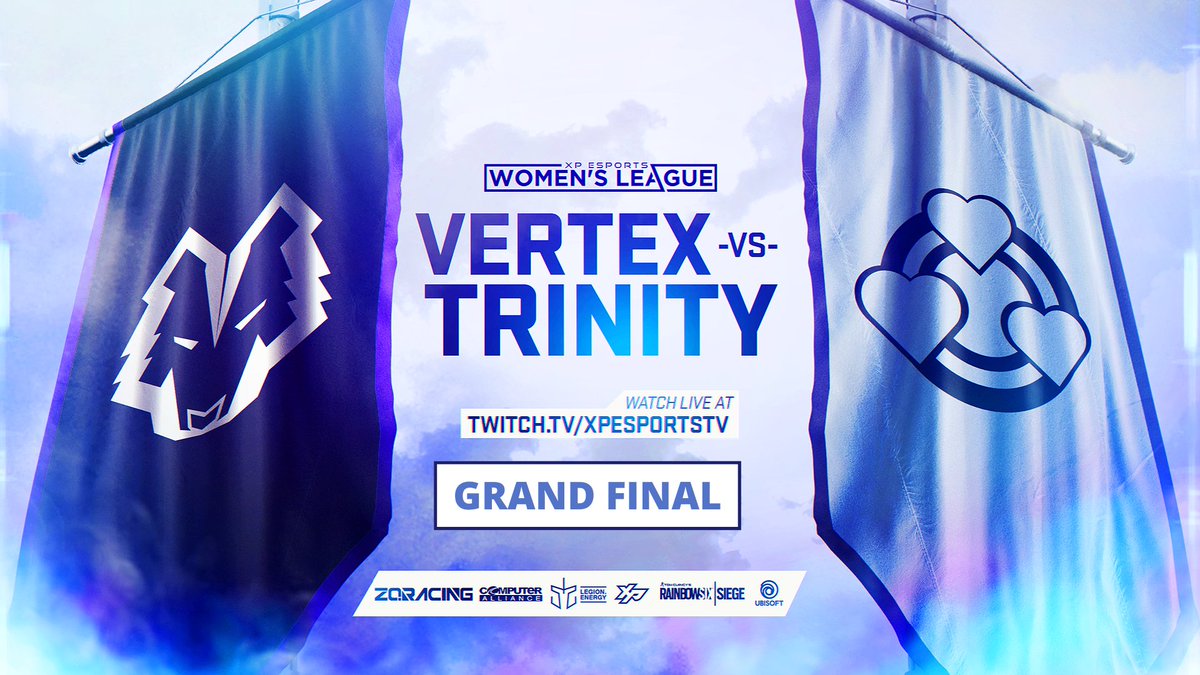 Must Watch Games of the Next Week
Keep an eye out here at SiegeGG for our separate coverage of the Pro and Challenger League games later this week. Outside of the Pro League, these are the five must-watch games of the next week around the world:
FACT Gaming vs Granit Gaming in the Nordic Championship on Thursday at 19:00CEST
Team Unique vs 43rti in the Russian Major League on Friday at 19:00CEST
VOLGARE vs Team Plague in the MNEB on Saturday at 17:00CEST
Team Sinister vs Oddity Esports in the LP Pro grand-final on Tuesday at 8:00CEST