Note: The following responses were made a few weeks before the Challenger League kicked off meaning a few transfers had yet to be made.
As usual, the Challenger League in Europe will see eight teams play in a best-of-one map double-round-robin format tournament. Subsequently, the top two after the 14 playdays will progress straight into the Pro League for next season, without any relegation matches, as the league expands to 10 teams next season.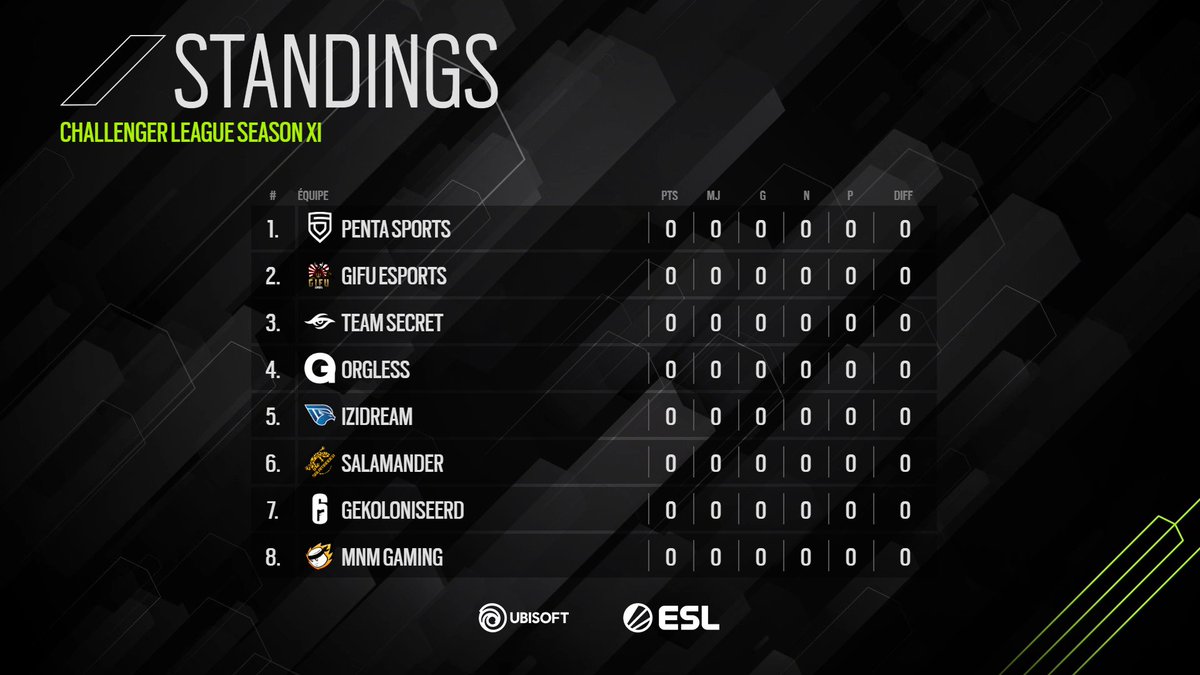 Seeds 1-4
First up, here are the four teams coming in after their Season 10 performances:
PENTA
ENEMY, RevaN, BlaZ, Kaktus, Alive, Janix (their substitute) and BiOs (their coach)
While PENTA is the second most successful organisation in R6 history, with this being the first season not in the Pro League, success has been lacking following the sale of the now-G2 Esports roster. Now, following the pickup of three new players, they will aim to climb back up to the upcoming top-tier European league after having been relegated by forZe in Season 10.
GiFu eSports
Bounssi, Movetaho, jonitr, OSKAMOSKA and Kalenski
Despite being a very different looking GiFu than many are used to seeing, this fully Finnish roster is keen to make it back to the Pro League as one of R6's oldest teams after being relegated by BDS Esport last season. Since then, they merged with the KKona KKopteri roster to form this lineup, with just Jouni "Bounssi" Salo left from their time on ENCE eSports.
Team Secret
meepeY, LeonGids, Fonkers, blas, jNSzki and Helbee (their coach)
Despite being one of just five teams in R6S history to win more than one cross-regional tournaments -- DreamHack Valencia 2018 and the 2019 Allied Minor -- this is now the third Challenger League season for Team Secret in the last five seasons. While Secret did win Season 7 of the league and secured promotion, the team was sent right back down in Season 9 and was pipped to the Season 11 spots by BDS and forZe.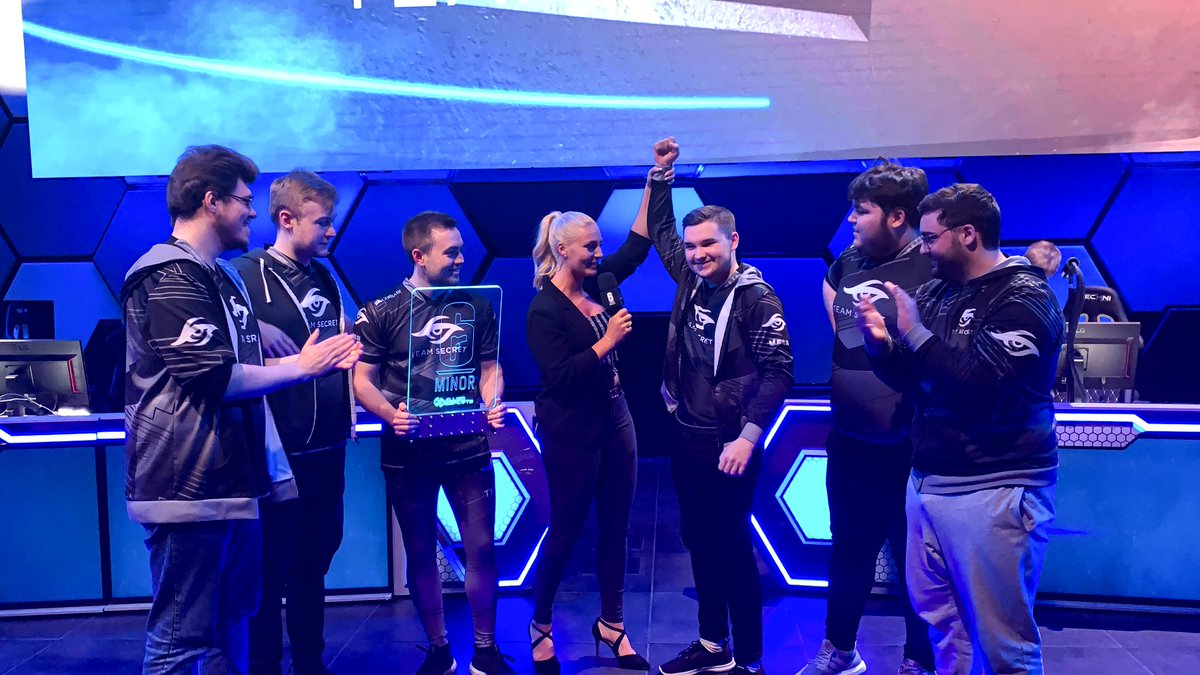 OrgLess
KS, Drvn, Prano, Hife, Exp0m, Omerta and Lazzo (their two coaches)
Just like GiFu, this team is not like the OrgLess many are used to, with just KS remaining from the Season 9 roster that played in the Pro League less than a year ago. Since then, three players have been picked up by other Pro League rosters -- ripz and korey to Rogue and Cryn to G2 -- leading to this fresh-faced lineup made up of primarily inexperienced players keen to break into the top league in Europe for the very first time.
Seeds 5-8
After five initial open qualifiers taking place on January 6-February 6th, the top 16 teams played in a best-of-three map double-elimination bracket to find the top four teams to complete the Challenger League lineup of teams: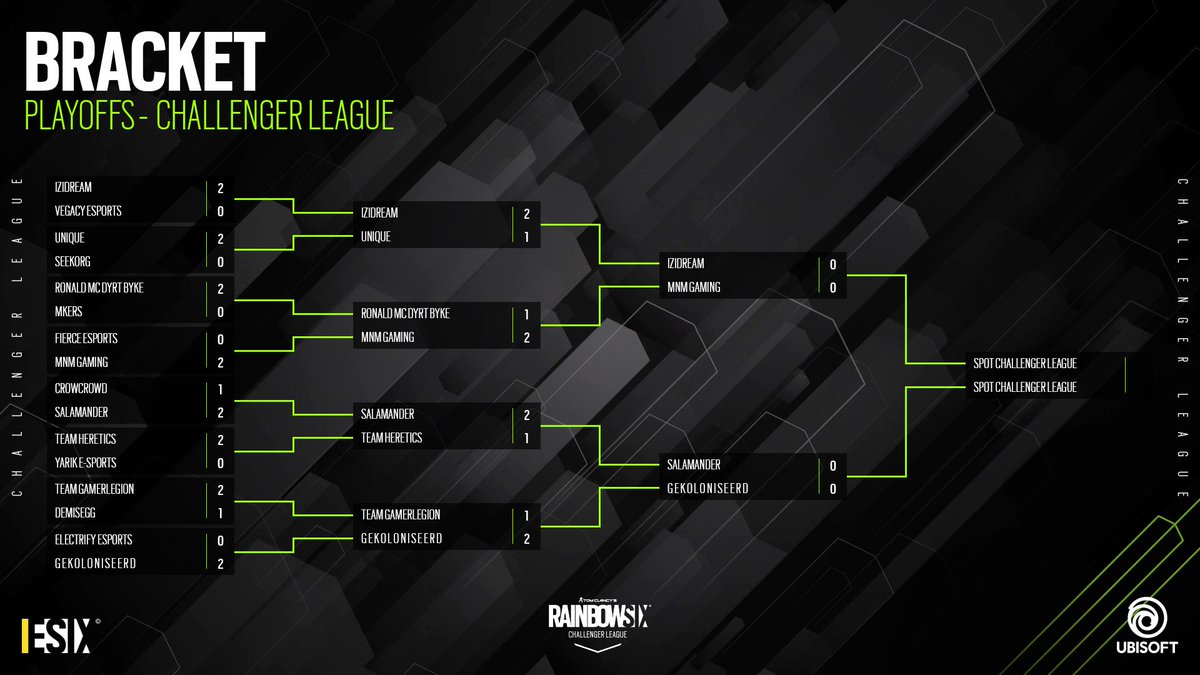 IziDream
Chaoxys, P4, Dirza, Shiinka and Voy
After finishing third in last year's 6 French League national tournament ahead of the Pro League team of PENTA and finishing joint with G2 Esports in the Six Invitational qualifiers, IziDream destroyed their opposition during the Challenger League open qualifiers with a 32-4 win-loss record, before winning the Closed Qualifiers while not dropping more than a single map.
Considering the team's record, and the fact it includes three members of the Pro League Season 6 team of ARES Esport, this makes IziDream the most formidable team entering the Challenger League. As such, we spoke to Christophe "Chaoxys" Soares about the team and their chances in Season 11:
Firstly, can you introduce your team to us?
Yeah sure, our roster is currently composed of: P4, Dirza, Shiinka, Voy and myself.
For me it's just the perfect mix of two experienced players and three angry rookie players.
You've been working with Voy and DraZ (their previous coach) since Year 2 and with this team for eight months, how has this experience together helped the roster?
It's really a pleasure to collaborate with them on a new project not only because I appreciate them as people but also because we know how to work together and achieve our goals! So it helps in many ways but mainly it made us gain so much time in our preparation and because we trust each other so at the end it's really easier.

However, the core of the team has been the same for eight months, but in reality this roster is pretty new. Indeed we kicked KuQuS and brought on Voy only two months ago. The valued added in terms of experience by Valentin (Voy) was immediate. He really brought what missed before to advance to higher level.

Unfortunately, DraZ and the team had to stop their collaboration due private issues on his life. We sincerely thanks him for all the work that he did for the team and all the passion he put into this project. We hope him to resolve asap his personal situation and we also hope our roads will cross each other again in a near future
You played the last of your Challenger League qualifier games at a bootcamp, how did this help and can we expect your team to be playing together like that during the season?
In fact we were not at a bootcamp, it's was just a usual day [Laugh]. Indeed now we are all living in the IziDream training center near Aix-en-Provence, so everyday is a bootcamp for us since December.

Definitely it's helped a lot! We really see the difference when we started to be full time in a gaming house.

We really love to play and live with each other, so for us we are just playing in the best conditions for the Challenger League.
Your team has already defeated forZe and PENTA and was within a few rounds from defeating Rogue at the 6 French League LAN. How have you been able to challenge and defeat Pro League teams with limited top-tier experience together?
In my opinion it's all about our team spirit outside and inside the game and also cause we are five demanding players!

For example on the French League, when we played against Rogue the first map just went to a stomp, they just wrecked us 0-7... But during the break we just said "Ok guys, shit happened, now it's our map, we can do it, no need to stress, 100% we will win this" and it's worked even though we lost the last map 7-8!

So I think our trust in each other and in the level of the team bring us to a higher level, especially when we are facing big team! We love meet challenges, bigger it is more we like it! I think it's just in our DNA to give more than what we got against strongest team than us.
How well do you expect to do this season and which other teams do you think will be the biggest challenge?
Our goal is simple: win the Challenger League. We know that we got the capacity to do it, but it's gonna be hard cause this year as usual the level between the team is really close. I sincerely think that almost all the team got their chances to qualify for the Pro League, so I will say our main challenge is us! Try to keep playing at our best level and don't choke during the decisive matches will be the key point for us.
Salamander
DogeFather, Hedsut, Rep, StriKe, w1oza and F4uW (their coach)
Including one player from the Hungarian national champions of WiLD MultiGaming, and three players from the league's runners-up of RIFT Esports, this team previously qualified for last Season's Challenger League as well before it was disqualified for playing with Ferenc "SirBoss" Mérész.
Since then, they stayed together to defeat PENTA in the Six Invitational qualifiers before very narrowly qualifying for the Challenger League Closed qualifiers thanks to a sixth-place finish in the fourth qualifier. Despite prior difficulties, they then narrowly defeated the top-seeded Russian and Spanish seeds and defeated the top Benelux roster 2-0 to qualify for the Challenger League yet again. We spoke to the team's captain, Gábor "DogeFather" Juhász, about their path here and what comes next:
Firstly, can you introduce your team to us?
Absolutely. The core of the team, Wioza, Strike, and myself have been playing together since March last year, while Hedsut and Rep joined in summer. We actually swapped Rep for Lino in October, but we eventually reverted that change later.

It started as kind of an interesting project, as we wanted to make a Hungarian "superteam" from multiple teams as most of us were on good terms with each other, to reach bigger achievements internationally. We tried and trialed with many more players, and in the end, this is what we could put together.
After being disqualified last season, how have you improved over the last six months to prepare for Season 11?
Nothing too overcomplicated: regularly scrimming on four days of the week over months, while also doing dry-runs and VOD reviews eventually pays off after working with the right individuals.
You initially struggled in the Open Qualifiers before storming through the Closed Qualifiers, what changes between the stages?
We made a roster change for the better. Also we re-evaluated and discussed our situation (and bad performance), changed to a better mindset and how we approached the matches, and quite importantly we tried out a lot of new stuff -- for example we started playing on all of the maps after playing an Empire-ish always-the-same playstyle for a long time.
None of the Salamander roster has extensive experience outside of Hungary, will this inexperience compared to teams like Secret, Trust, and PENTA hurt your chances?
While we are definitely at a disadvantage because of that, I'd say a huge leap in our performance happened when we started playing with SirBoss last summer for a few weeks. His insights and advice from the Pro League level immensely helped us to improve, so I want to give a shoutout to him.
How well do you expect to do this season and which other teams do you think will be the biggest challenge?
It's no secret that everybody is aiming for the two Pro League spots. I don't want to go too much into predictions, but the two teams that I personally fear the most are Team Secret and IziDream. Izi for their exploding, aggressive and extremely dynamic playstyle, and Team Secret for their consistency. They were one match off qualifying for SI 2020, made top four on the last major, and they just barely missed Pro League last season because of the two new exploding up-and-coming teams (forZe and BDS).
Defusekids
Leonski, Avaiche, Deapek, Next1, Cryn and Sternab (their coach)
Best known as Trust Gaming, the three-times Benelux champions are back in the Challenger League after finishing Season 9 in third-place and Season 10 in seventh. To get this far, they secured a 32-4 record during the Open Qualifiers before then losing to Salamander in the closed qualifier winners' bracket and, finally, defeating the Russian lineup of Unique Team to book their spot in the league.
With victories over the Latin American Pro League rosters of Team oNe eSports and Team Liquid and the pickup of two ex-Pro League players -- the ex-Chaos player of Arif "Next1" Keskin and ex-G2 and Na'Vi player of Pascal "Cryn" Alouane -- the team has serious potential to become one of the most successful esports teams in Dutch history. We spoke to the two longest remaining players on the team, Dean "Avaiche" Groenen and Leon "Leonski" Snikkers, about their chances this season:
Note: All the following responses were made prior to them joining the Defusekids organisation.
Firstly, can you introduce your team to us?
Leonski: Our name is Gekoloniseerd, which means colonised in dutch. We decided to take this name because the term has become quite a meme in the Netherlands.

Our team consists of two Dutch, two German and one Belgian player. We have participated in the last two Challenger League seasons so this will be our third. We are also three times Benelux champions.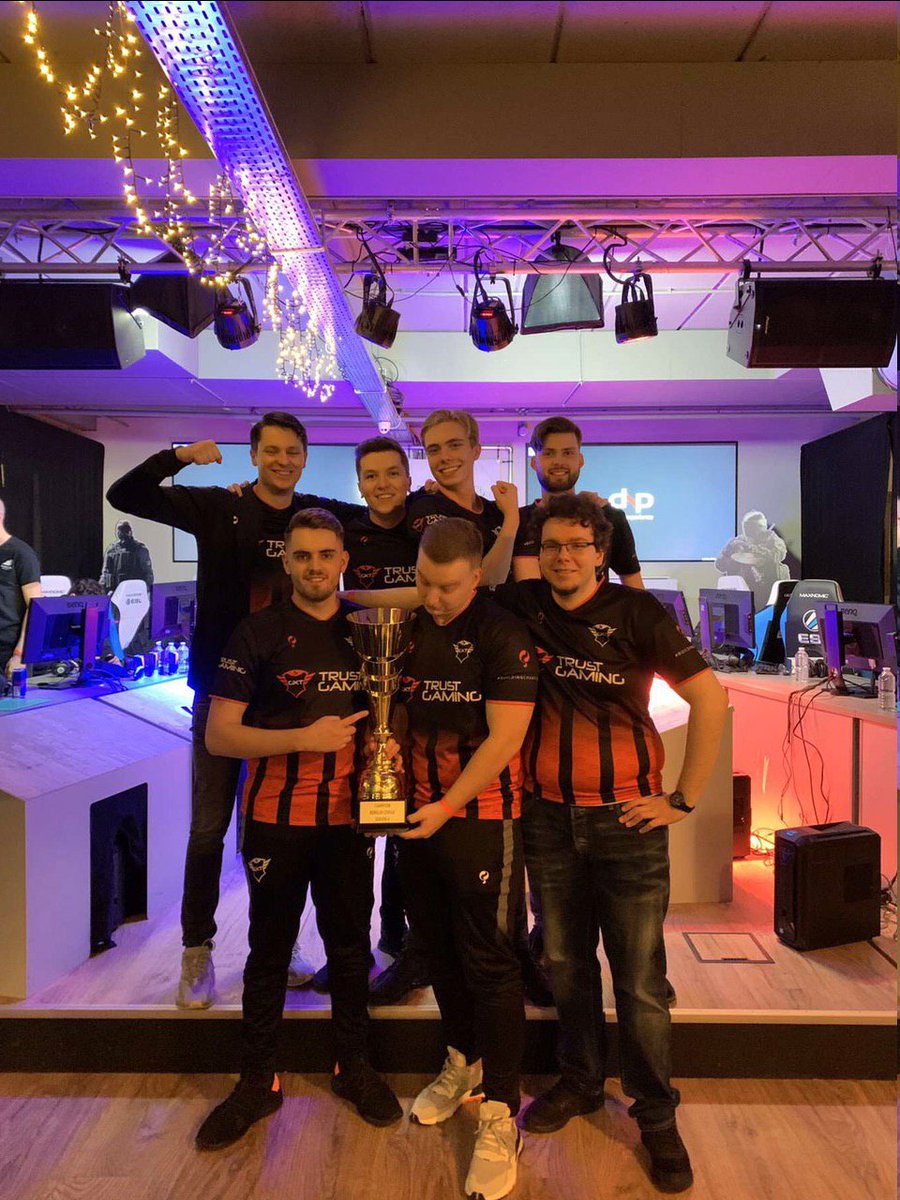 Unlike previous seasons, you currently lack a coach and an org behind you. Do you think this will hurt your chances this season?
Note: The following question and response were also made prior to Sternab joining the team.
Leonski: After our disappointing previous Challenger League season we decided to make some changes. One of those changes was to get rid of our support staff.

We felt like going back to basics, and just focussing on fixing our mistakes ourselves instead of relying on a coach to point them out would be the best for our line-up. We are playing way better than the end of last season and it shows in the results. I do not think not having support staff will hurt our chances this season.

Org-wise we feel the same. Not having the financial backing sucks and creates some difficulties with combining work schedule and playing time but overall we are managing.

Avaiche: We are in contact with a few orgs so we probably will get represented anyway. Not having an org won't change our performance since we are rich af anyway.
What does Sternab bring to the team?
Leonski: The main thing Sternab brings to the team is the lightening of workload outside of the playing. Since COVID-19 we have started scrimming twice per day and all the stuff outside of scrimming became a too much. Also, having another set of eyes to see what's going wrong and give his ideas is great. The main reason we chose Sternab, however, is because we feel like he has the same idea about the game as we do.
Halfway through the Challenger League qualifiers you replaced Meadzzz and JinxedOwl with your previous teammate of Quadzy and the ex-Pro League player of Next1. Why did you chose to make this change so late on and how do you think the team has improved since?
Avaiche: JinxedOwl was dropped way before Challenger League qualifiers due to underperformance. I will not disclose to as why Meadz was dropped though.

It has been an uphill battle but Next1 has quickly adapted to our team since he fit quite well from the start and quadzy has been with us in the past so it wasn't that hard to adapt for him.
How well do you expect to do this season and which other teams do you think will be the biggest challenge?
Avaiche: I don't think any specific team will be a challenge, it's more down to us being prepared in time for the upcoming season. I don't care if we do good or bad since we just got together recently and we've only seen improvement, so as long as we stick together we'll keep going up.
CR4ZY
pacbull, dats, M4DMAN, Jonka, Nathan and rcuth (their coach)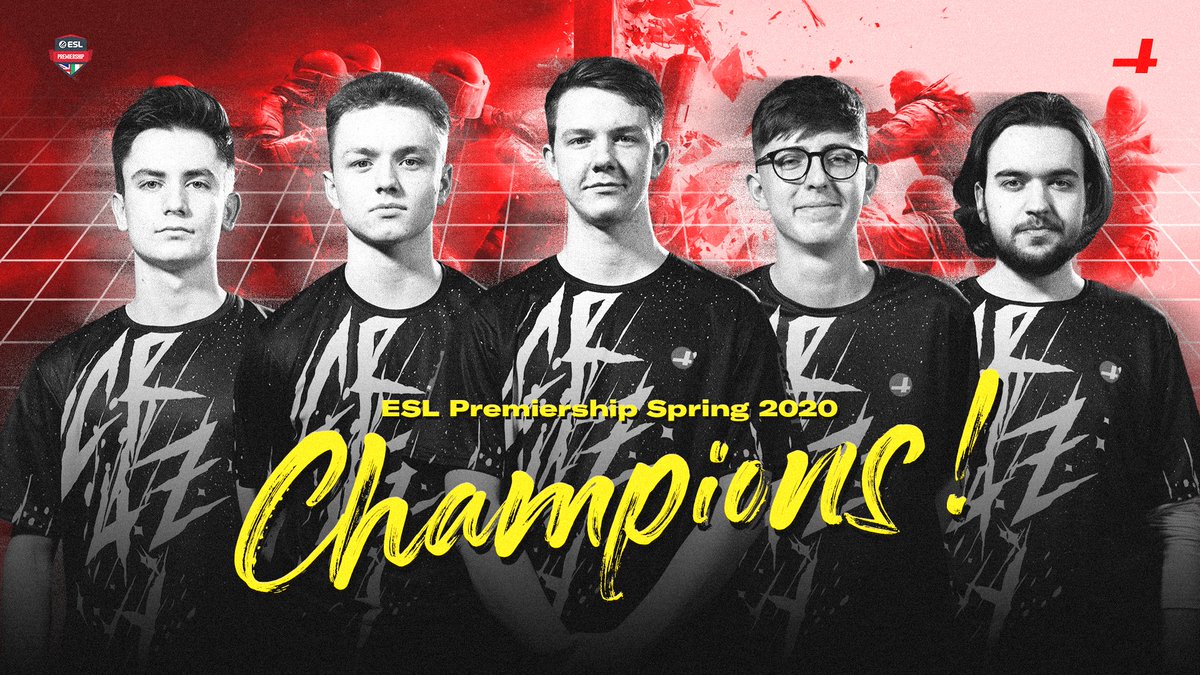 Finally, we have CR4ZY (ex-MnM Gaming), who hopes to follow in the last MnM Gaming roster to qualify for the Challenger League as they went on to win the league, get acquired by Natus Vincere and become Pro League champions six months later.
At the moment, this CR4ZY roster has already been crowned the reigning British national champions after winning the last ESL Premiership season. It also knocked out OrgLess, Vitality, G2 Esports and Chaos in the Six Invitational qualifiers, making it a very strong early contender for the Challenger League title.
In the CL open qualifiers, they struggled initially before achieving a second-place finish in the third qualifier to finish fourth overall. Then, in the closed qualifiers, they beat Ronald Mc Dyrt Byke by a single round and lost to IziDream, before finally defeating GamerLegion to become the last team to qualify for Season 11 of the Challenger League. We spoke to the team's coach, Ramiz "rcuth" Cuthbert, about their prior successes and hopes this season:
Firstly, can you introduce your team to us?
Hey! We are CR4ZY! You may recognise us more recently from our time under the MnM banner. We are a young, UK-based team who have recently qualified for this coming season of Challenger League, as well as participating in this season of the UK Premiership.
CR4ZY defeated three Pro League teams including G2 at the Invitational qualifiers but struggled in the Challenger League qualifiers. Why was this?
I wouldn't say we struggled in the CL Qualifiers, however playing over 30 games against random opponents, every team is bound to drop some points against lower-tiered teams, especially with the Bo1 format. That being said, there was a drastic improvement in the level of T3 teams during the CL Quals compared to before in the Invitational Quals. Teams like ex-Trust and CrowCrowd seemingly came out of nowhere and proved to everyone within the first week of CL Quals that they were one of the top teams competing.

On top of this, during the CL Quals we were in the middle of making a roster change, and so for the first few weeks we were continuously trialing players in scrims outside of the qualifiers before settling on M4DMAN, so the inconsistency in the lineup would have contributed to some of our more questionable results at that time.
You previously coached OrgLess and the core of GiFu, how does working with CR4ZY compared to those other two teams?
It's amazing to finally work with an English speaking team! Being able to actually understand in game comms has been a luxury to me that I never had. One of the other huge benefits of working with a roster like CR4ZY is the sheer motivation and drive the guys have to reach the goal of Pro League, and CR4ZY as a team is working much harder than other team I have been working with before.

That being said I know that both ORGLESS and GiFu will be extremely strong in this upcoming season and it's going to be interesting to go up against some ex-teammates.
What has the support from the CR4ZY organisation been like?
With the support of CR4ZY, we really will be reaping the rewards of a larger organisation. CR4ZY has offered us tools that we did not have access to previously, such as regular bootcamps, a sports psychologist and a dedicated manager. On top of this we have been amazed by the organisation's attention to media and the high standard in which this media is produced.

We are confident that with CR4ZY's backing, we can reach higher levels of play, which will hopefully be demonstrated by our performance in the upcoming season of Challenger League.
How well do you expect to do this season and which other teams do you think will be the biggest challenge?
Obviously for us the main goal is Pro League, and anything lower than that will be a disappointment to us, however the road to PL will be extremely tough, even with the absence of the PL Playoff games.. The bigger names this season are IziDream and Secret, both of which we know are very capable teams.

In recent history we won versus Secret 7-2 in the UK Premiership, however with the addition of Blas to the roster I don't think it will be as clear-cut as before. We lost to IziDream in the CL Playoffs but again it's a team we know we can trump if we are playing at our full potential.

I think a team that is going to surprise a lot of people is ORGLESS. We haven't seen them play officially at their full strength as of yet and I am really excited to see how our matches play out. Also the ex-Trust roster with the addition of Next1 seemed unstoppable in the CL Qualifiers, and now with the recent addition of Cryn (who last season was one of the top performers in CL with ORGLESS) that roster is sounding extremely strong.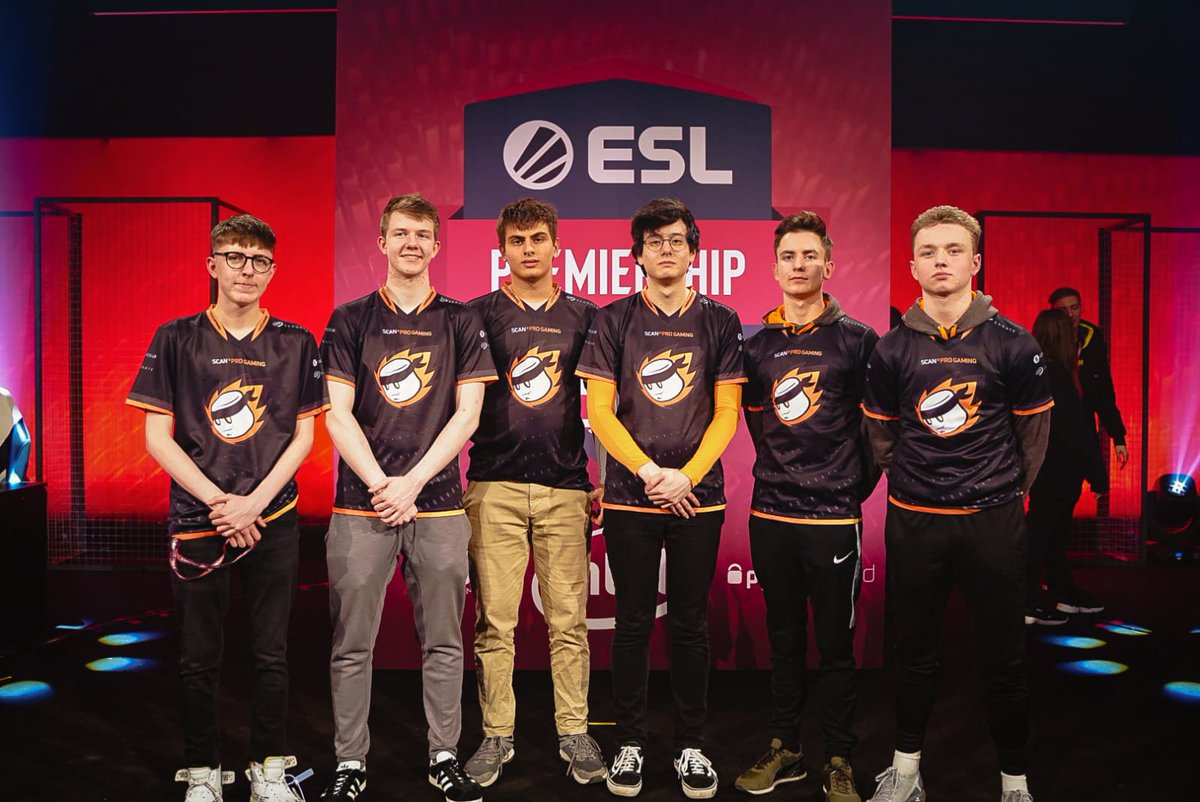 Schedule
These teams will kick off the Challenger League tonight presumably on the rainbowsix_uk and rainbow6 channels starting from 19:00CEST where we will see the following games: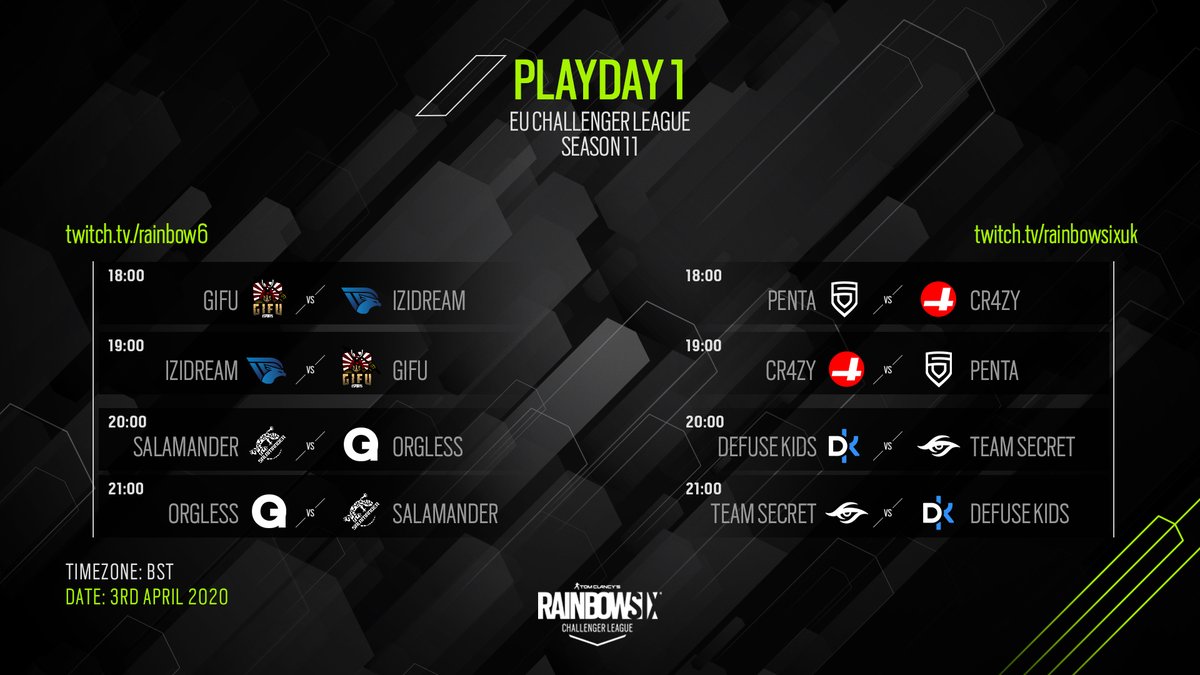 The following names will be casting the games in English while Nicolas "Swish" Bouhier and Paul "Frenchi" Droal will cast the games in French on the rainbow6fr Twitch and RainbowSixFrance YouTube channels.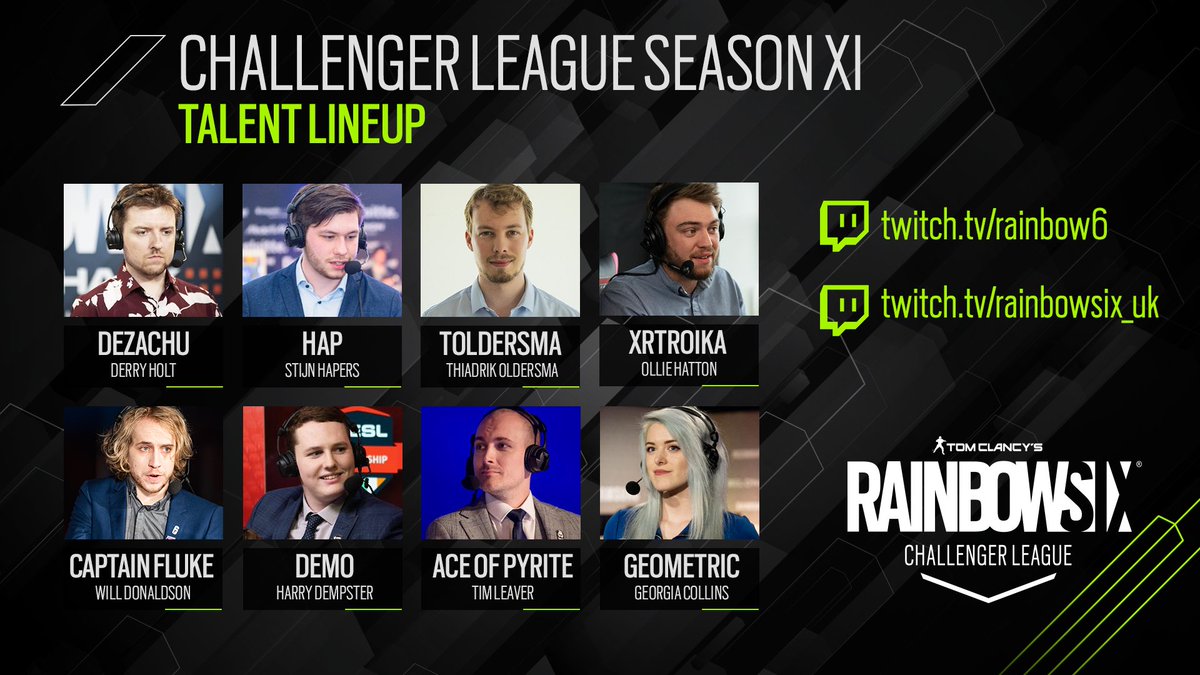 Keep an eye out here at SiegeGG for full coverage of all three Challenger League regions over the next week.