While the main region's Pro League doesn't kick off for another week, a number of national tournaments have been in action around the world:
Jump to:
Alienware Japan Championship - CYCLOPS Crowned Champions
The very first Japanese national tournament took place in Tokyo last weekend with a limited crowd as CYCLOPS athlete gaming and NORA-Rengo NRG (the organisation's national lineup) met to play for the title and the top share of the ~$28k prize pool. You can read more about the leadup to the tournament including its six-stage qualification system here.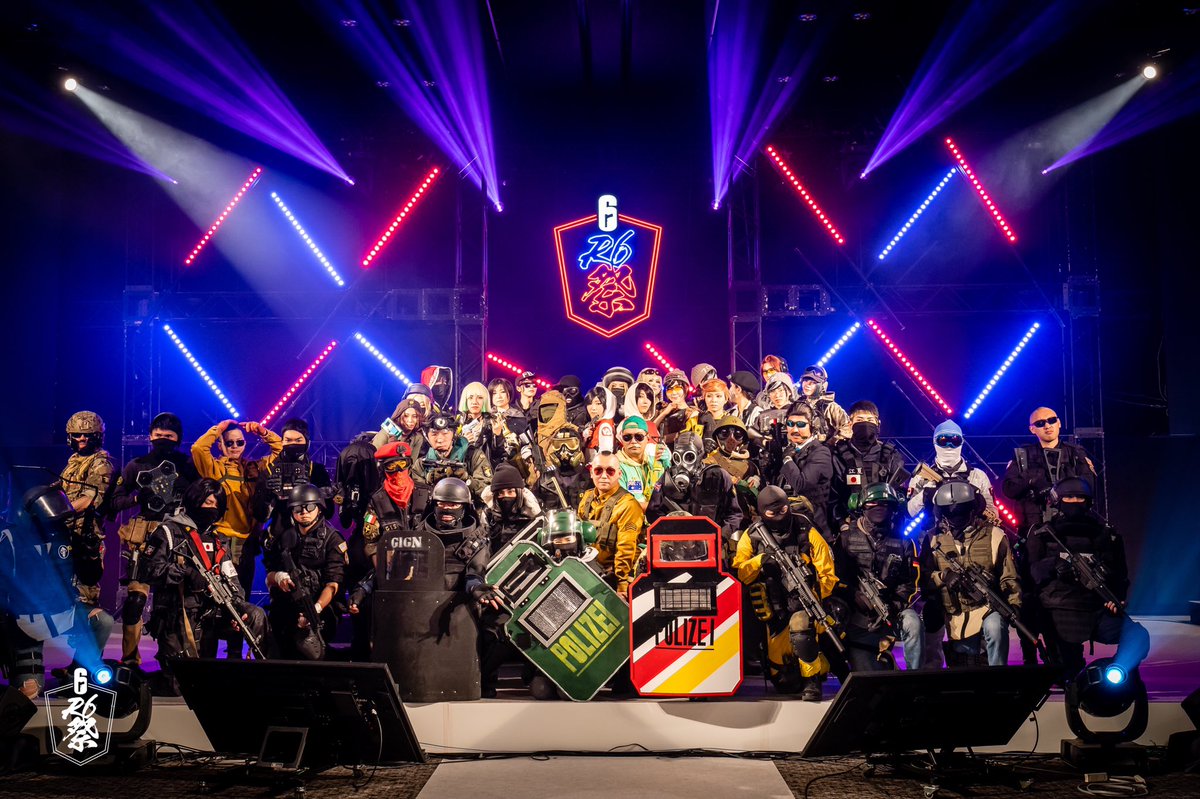 With five wins against Pro League calibre teams already under their belt, many had high expectations of NORA-NRG coming into this matchup, however, they were not to be realised as CYCLOPS showed exactly why they're undefeated in Japan's Pro League at the moment with a dominating performance. In total, NORA took just five rounds across both maps as they made some very amateur mistakes and seemingly couldn't win any of their gunfights.
As well as this, earlier in the day, GUTS Gaming defeated DetonatioN Gaming, 7-5 to secure third place while replacing Giants Gaming's cancelled showmatch saw two teams of pros face-off with Team Okayama besting Team Frieda 7-5, 7-4.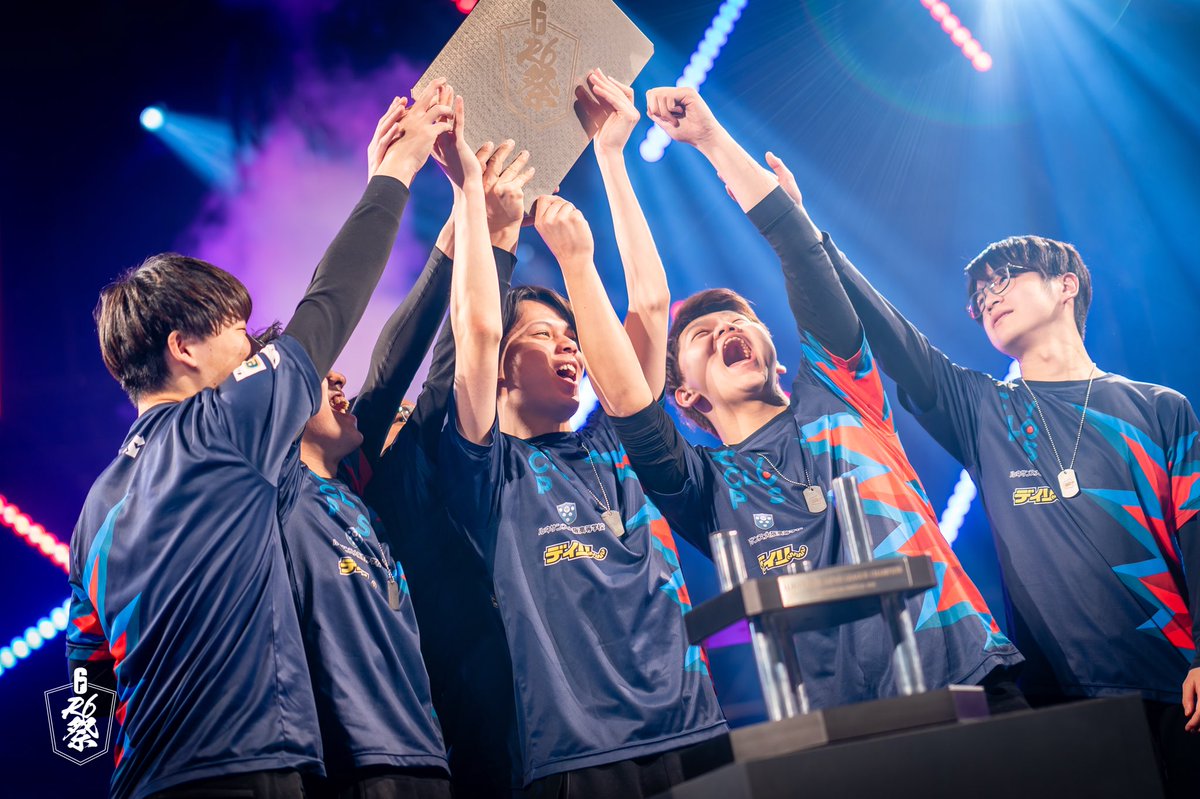 ESL Premiership Spring 2020 - Secret Quits
Just before their game on Wednesday, ESL UK announced that Team Secret has withdrawn from the ESL Premiership three weeks in. This comes after two back-to-back losses against MnM Gaming and the Burning Foxes with no word being mentioned by the Team Secret organisation and the players keeping their reasons quiet. This meant that all of Secret's upcoming and already played games have been forfeited to level out the points and not to give teams an unfair advantage going forward:
The first playday of the week on Wednesday, therefore, saw just three games be played, which continued the run of one-sided games. The ex-MnM Gaming roster took their game against last-placed Enclave Gaming in an extremely dominating 7-1 scoreline on Clubhouse in their debut under the CR4ZY organisation. Elsewhere, the third-placed lineup of Demise found a relatively simple victory over Audacity Esports while the Burning Foxes began their climb up the table with a 7-4 victory against Randy's -- a team which began the day four points and three positions ahead of them.
The following day saw the big game between the two undefeated rosters of CR4ZY and Fierce with the winners becoming the clear favourites for the ESL Prem title. While this was billed as the match of the season and a huge rematch of the first round of the Challenger League Closed Qualifiers in which CR4ZY won 2-1, the game was not what anyone expected with CR4ZY securing another 7-1 domination. While they did get very close to taking a round earlier in the map, the lone round Fierce won came down to a late push onto the Double-Bars site by CR4ZY which Blurr shut down very easily. For the rest of the map we saw a very similar story as the day previous as CR4ZY showed everyone why they made it into the Challenger League with Dats and Pacbull achieving massive 5.5 and 3 kill-death ratios respectively (11-2 and 15-5 kill-death spreads).
Just preceding this was the battle for relegations as Enclave Gaming, who sat with a 0-0-4 record, faced Audacity Esports who, excluding the forfeit victory against Secret, had earnt one draw and two defeats so far. With both teams eager to earn their first victory, it was almost comical as the match ended in a draw after the two teams traded rounds in pairs of two from 2-0 to 2-4 before eventually drawing it up at 5-5 on Bank. Enclave took match point following one of the messiest CCTV/Lockers executes seen this year before a double kill by Xumi ended their chances on round 12 as both teams came away with a single point.
Finally, we had the third and fourth-placed teams of Demise and Burning Foxes face off in another close match which ultimately fell in the favour of Demise. Despite finishing the first half tied 3-3 and eventually losing the map, the Foxes spent most of the map ahead as they went up 2-0 initially before Demise climbed back before once again taking the lead at 5-3 in the second half. A strong defensive half allowed them to come back right into it with three round wins running to put themselves on match point. The final round saw a very late Construction-side push onto the Clubhouse CCTV site be halted by both a lack of manpower and a seemingly bugged breach hole leading to Demise taking the map, 7-5.
With these results CR4ZY are now very clearly the Premiership leaders with strong victories over both their closest opponents. The battle for second, therefore, becomes the focus as, while Demise currently leads by three points, Fierce has a game in hand against Randy's where they'll be expected to win and meet Demise at 15 points before the two teams face off on the final league play day of the season next week.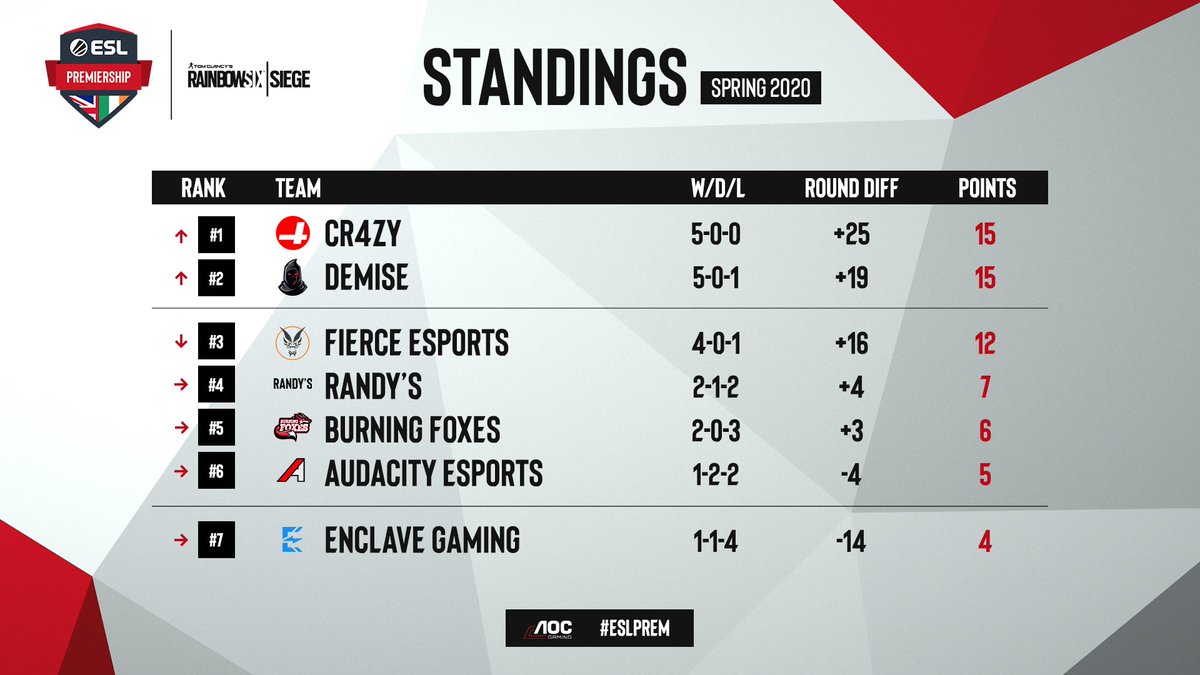 Spain Nationals Season 2 - Giants and Heretics Remain Undefeated
A bad week for the leaders. Giants Gaming and AION e-Sports started the fourth round of the competition as the two leaders of the league, both with nine points and closely followed by Team Heretics, with seven points. However, things would change massively by Thursday night.
Electrify 5-7 Team Wizards
The first two matches of the week were played on Tuesday and the first one featured Electrify and Team Wizards. The match was played in Clubhouse, a very defensive map. The first half of the match probably decided the final result of the game: Wizards, against all the odds, won four out of six offensive rounds with extreme fashion as three of these were 1v1 clutches, two with the defuser planted.
Although Wizards won their first defensive round, Electrify got to win the next two but were stopped in the tenth round by Uve, Wild and Flama, who overturned a 3v4 situation, making it to a 3v0 in the last ten seconds, securing at least a point. Electrify survived to the eleventh round after planting the defuser in Gym, but the defenders secured the bag in the last round as JU4MP4 was left alone without the defuser in a 1v3 situation. This was Team Wizard's first win in the competition and Electrify's fourth game that was decided in the twelfth round.
AION e-Sports 2-7 Team Wizards
The next and last match of the day was played in Villa, featuring AION e-Sports and Cream Esports. This, without any doubts, was the surprise of the week as AION was one of the two leaders of the league -- nine points alongside Giants -- plus they started defending. Everyone expected them to win, but Cream had something different in mind.
The first round was played in Meeting and Library, in an attempt to surprise the offensive side. However, the attackers planted the defuser in a 2v2 situation, winning it after Hibana successfully defended the defuser, killing the last defender. Cream won the following round comfortably as they finished it in a 3v1 situation, killing the last defender in Aviation Room. Now, in Trophy, the attackers won their third consecutive round by killing all the defenders, this time ending in a 2v1. AION seemed to react in Kitchen as they won the fourth round in good fashion and closed the gap with another defensive win. However, Cream won their last offensive round.
Things looked bad for AION, who had to overturn a 4-2 from the offensive side. Cream didn't give a chance to their opponents and won the following three rounds, which were very close.
Flamengo Stars 5-7 Team Heretics
Day two of the week was played on Thursday, and it began in Theme Park. Yes, that's right: this was the first competitive match played in Theme Park and it faced Flamengo Stars against Team Heretics. The Brazilian roster was looking to surprise the heretics with a change in their squad: their IGL, Thunder, was replaced by Almeida. For those that are not familiar with the Spanish league, this roster is made out of three Brazilian and two Spanish players, being Couto the only player that speaks both languages, so he usually plays in a Flex position, giving call outs in both languages.
The Flamengo Stars roster lead the match-winning four out of the six first rounds, Heretics only two wins coming to Kindergarten attacks. Heretic's player, ch0i, used Montagne in all the six rounds in an attempt to surprise the defenders, and his information role was vital in their two wins.
Heretics started things right with a successful defence in Office, however, Flamengo Stars won their attack to Kindergarten. This meant that, if the Brazilians won another round, they would leave Heretics with no chances to assault the top of the table. However, the Spanish roster finally woke up and won two consecutive rounds (a 3v1 and a 4v1) and got a third after baroz killed the last three Flamengo Stars members with Maestro's ALDA.
With the match point in Heretic's hands, the defenders won the last round of the game in comfortable fashion.
Team SinOrg 6-6 Giants Gaming
The second match of the day featured Team SinOrg and Giants Gaming. This game was crucial as the red roster was looking to maintain their lead in the standings. However, a great start by Team SinOrg put them 4-1 ahead, highlighting an ace by Nubaii, who had an impressive performance.
The first half ended with a 4-2 and when Team SinOrg were leading by 5-3 but a very well-coordinated rush by Giants to Kitchen closed the gap. Giants' expectations were extinguished when TSO survived the attackers push to Sunrise and Blue Bar when there were only ten seconds left in the clock. This meant that Giants could only fight for a point. And that's what they got. Two plants in the eleventh and twelfth round, Billards and Kitchen respectively, secured a point for both sides. Nubaii was the best player of the match -- and the week -- after scoring 17 kills.
Movistar Riders 7-3 Wygers
The last match of the week was, once again, played in Theme Park and it encountered Movistar Riders and Wygers. This game was one sided, as Riders got to win four out of the six defensive rounds, which was a good result for Wygers; however, the White Tigers were dominated by the attackers, winning only one of their four defences. At the end of the match, Movistar Riders won 7-2, which puts them in the 4th place of the league. Meanwhile, Wygers is 10th, with only one point and a -10 round difference.
The Spain Nationals has seen 223 rounds out of a possible 240, this is a 92.9% of rounds possible. Twelve matches out of twenty needed to go to the twelfth round, this is a 60% of the games. All these stats reflect the level of the league and the equality that exists in the Spanish scene.
This week matches will be massive, starting with AION Esports taking Movistar Riders (third against fourth), and will be followed with two important clashes that feature the three teams that still have to win a game (Electrify, Flamengo and Wygers). Team Wizards and Team SinOrg, both with four points, will play their game just before the match of the week, Giants Gaming vs Team Heretics. With both teams at the top, this game could mean more than just three points.
MNEB: Season 1 - Salamander Held to a Draw
This week saw one key game in the Hungarian nationals as the remnants of last season's champions in WiLD MultiGaming faced last season's runners-up and current Challenger League team of SALAMANDER. This match was a pretty big indicator of the skill level the rest of the region possesses as many wondered if Salamander could run away with the title due to their greater experience and Europe-wide success compared to all their competitors, however, this was proven wrong as WiLD showed that Hungary is more than a one-team scene. While the underdogs couldn't take a victory, they ended the map of Kafe in a draw showing they could keep pace with their opposition possibly opening up the league much wider. As teams such as WiLD will be giving their full attention to this league while Salamander prepares for the Challenger League, they may be able to improve further and push to defend their title.
Following this, we saw three incredibly one-sided games as ending 7-1, 7-1 and 7-2 to the Budapest Five, Nevermore Gaming and Team Plague meaning their draw this week pushes the two favourites down behind B5, something Salamander will be eager to correct when they match up next week.
EPS: Season 4 - Cr9ck Debuts Strong
This week (play-week #2) in EPS action brought us a slate of five highly contested matches, three of which resulted in a draw. As you may or may not know, EPS is a tier-three North American league, showcasing 10 highly talented and young rosters aiming to take home the lion share of a $2500 prize pool. The two decisive matches this week were Team Oblivion versus Five Guys and Cr9ck versus Ferny's Tacos, the former going in favour of EPS's Season III champions. This week also featured a play in Swiss Qualifier, as Arial Arise disbanded - their spot was won by Cr9ck, who made certain to start off their EPS debut strong.
In the highlight matchup of play-week #2, Cr9ck started off strong on the defensive split, building a resounding lead that they would never forfeit. Their victory, 7-3 on Kafe Dostoyevsky against Ferny's Tacos, sees them improve to a tie in the 1st place position. Despite Ferny's Tacos putting up a total of 31 kills, Cr9ck managed to pull the win from underneath the opposition with better clutch plays, finishing with a total of 28 kills as a team. One of the best plays of the evening came from Dscovr of Cr9ck, who played the situation perfectly with Echo in a 1v3 to go up 4-0 in the match.
Be sure to tune in for play-week #3 this upcoming Saturday and Sunday on the "EPSesports" Twitch channel, where we'll be certain to see another contested set of matchups!
Coronavirus Impact - Gamers' Assembly Among Other Events Cancelled
With the Coronavirus pandemic now infecting around 190,000 people and leading to over 7,500 deaths, a number of R6S-related events have been cancelled or delayed to protect attendees from contagion.
Firstly, due to public gatherings of over 1,000 people being banned in France, the annual Gamers' Assembly LAN tournament has been cancelled for this year. Last year, this tournament invited 46 R6 teams including LeStream Esport, Team Vitality, Supremacy and Trust Gaming to compete over a weekend in April for a €7,500 prize pool with BDS, Rogue, Vitality, IziDream and Grizi Esports all expected to attend this year. As well as R6, the event included 21 other tournaments across five platforms including LoL, CS:GO, and Overwatch attracting 2,500 players and 25,000 spectators over the weekend hence the decision to call the event off:
The 21st edition of the Gamers Assembly is officially cancelled in order to comply with safety regulations and to preserve the health and integrity of our fans, visitors, partners and teams in this sensitive period.
For similar reasons, the DreamHack Tours 2020 event in France has also been cancelled. This event saw planned R6 tournaments in their last two showings in 2019 (which was cancelled) and 2017 (which was won by meepeY, Panix, Elemzje and ENEMY), however no R6S tournament had been confirmed for the 2020 edition prior to its cancellation.
As well as this, with the announced cancellation of E3 last week, Ubisoft announced that their annual conference would likely be moving to a "digital experience" where we'll likely see some announcements regarding R6S:
Last week's Alienware Japan Championship Finals have already been impacted with the Giants Gaming showmatch being cancelled while it is currently unknown if upcoming LAN events such as the ESL Premiership Finals, the Season 11 Pro League Finals, the Spanish Nationals Finals or the 6 Open Cup will go ahead. With confirmed cases in Sao Paulo, Leicester, Paris and Madrid, some changes are likely, however.
Finally, while nothing has been announced yet, the R6S spin-off game of Rainbow Six Quarantine will possibly be delayed once again to avoid negative press and unfortunate parallels being made at a time when multiple countries such as Italy and Denmark are under a very real quarantine themselves.
Elsewhere Around the World - Nordic Championship, LPL Pro League and 6 Open Cup Qualifiers
The LPL Pro League -- a tier-two ANZ League -- continued this week with a single game in the semi-final stage between Ferox and the newly acquired Oddity Esports roster, previously known as 1NE eSports. In an incredibly close game, Oddity eventually came out on top, 8-7, 8-6 to book a spot in the upper bracket finals against the Pro League team of SiNister which will take place in two weeks time.
The Nordic Championship, meanwhile, determined its final two teams this weekend as its double-elimination, best-of-one qualifier came to its end. While all the games were offstream as teams wished to hide strategies for the actual league, the qualifiers eventually saw the teams of FACT Gaming and Sixth Pick finish on top to form the following lineup of teams:
Finally, the 6 Open Cup qualifiers took place last weekend as 24 teams competed to join BDS Esports and IziDream in the tournaments playoffs before a €20,000 LAN event on April 18th. In total, two teams will qualify in each of the three open qualifiers with teams such as BeKind, Grizi, seekORG, OrbitGG, SYZYGY and ToZeDrop competing in week one. While Grizi's lineup of ex-Pro League players made them the clear favourites, it was OrbitGG -- the organisation best known for their Pro League Season 2 team which included KiXSTAr -- and Team Valor -- which includes the two ex-Supremacy players of DjuZ and KSiiX -- who made it through: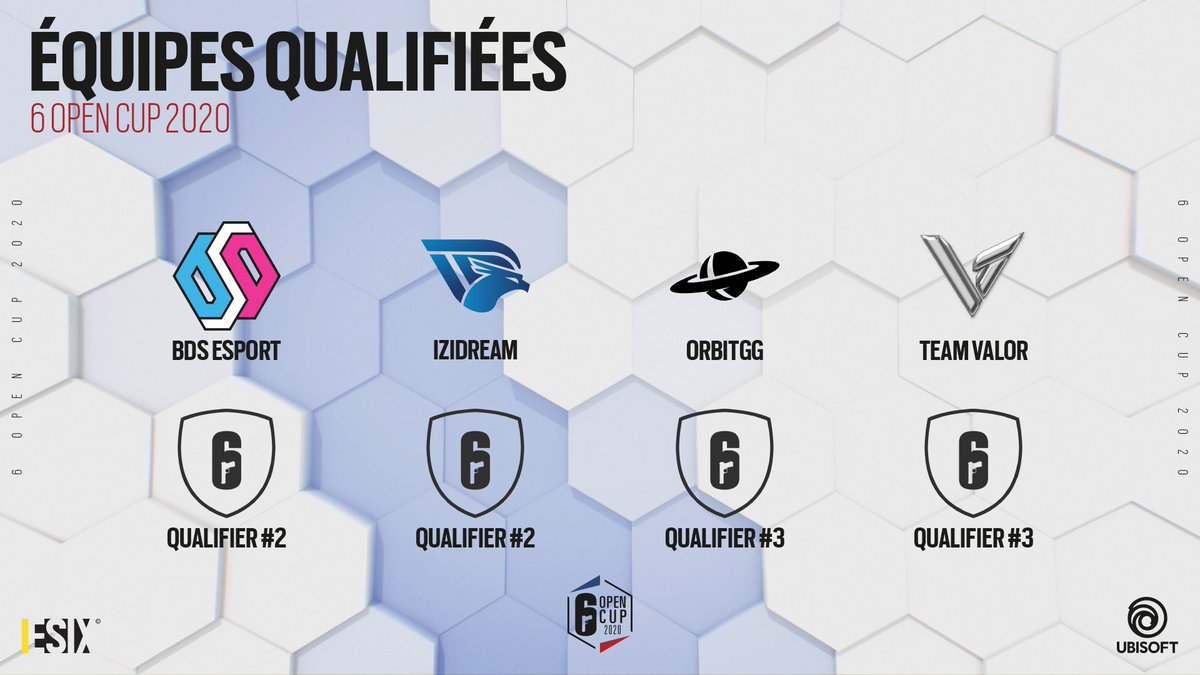 Must Watch Games of the Next Week
By this time next week the Pro League in all but LATAM would've kicked off so be sure to keep an eye on separate coverage of these games. Outside of the Pro League, these are the five must-watch games of the next week around the world:
Fierce Esports vs Demise

in the ESL Premiership on Thursday at 8pm CET

Team Heretics vs Giants ES

in the Spanish Nationals on Thursday at 8:15pm CET

CrowCrowd vs forZe

in the Russian Major League on Friday at 7pm CET

Salamander vs Budapest Five

in the MNEB on Saturday at 5pm CET

The

ESL Premiership playoffs

on Saturday (time TBA)