Competitive Rainbow Six as we know it is dead. Following the Season 11 Finals, the entire structure of the Rainbow Six pro circuit will be changing, with highly exciting additions and shifts in the structure. Before that, though, it has also been announced that the Season 11 Pro League Finals will be returning to São Paulo, Brazil after five seasons following a glitch-plagued Season 6 Finals.
Furthermore, the summer Major in August will be returning to the United States as well (pending further details) after it had been held in Raleigh in 2019, and this year will see Europe play host to a new, annual November-held winter Major.
However, as mentioned, changes are aplenty. Read on to find out everything announced so far at the Six Invitational!
Post-Season 11: The Major Circuit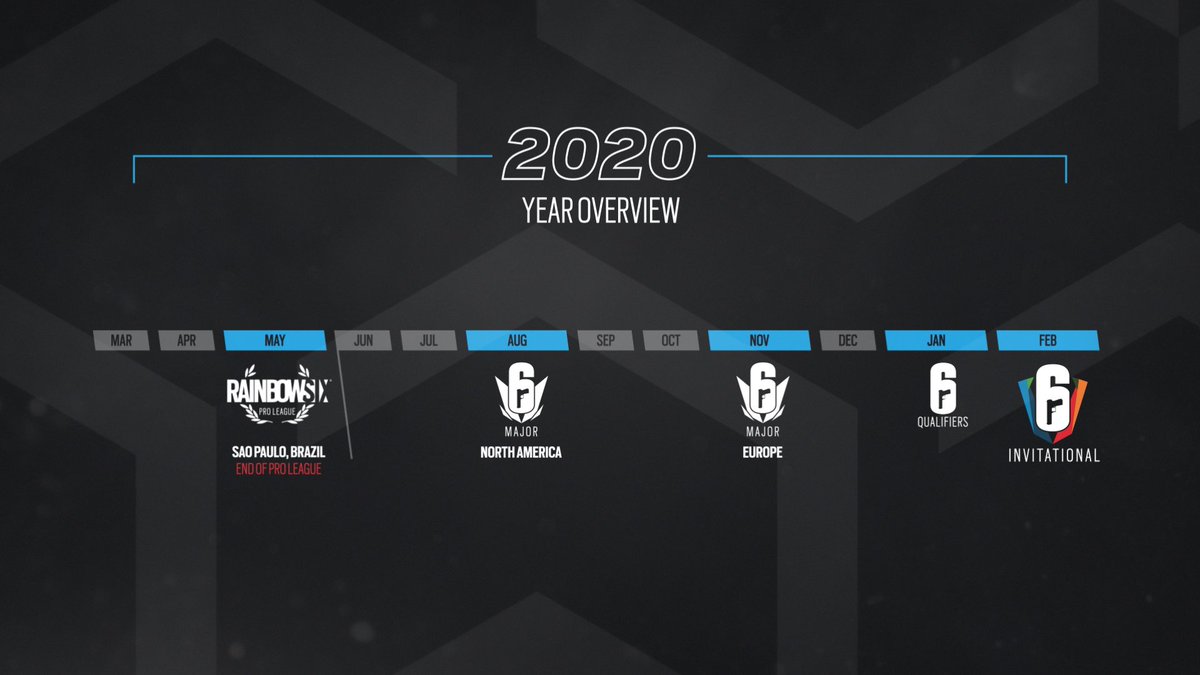 Once the Season 11 Finals end, the "Pro League" will be reorganised into another league system with an unannounced name, with this new league acting as a feeder system for Majors. The system of Pro League Finals will be abolished instead. A full in-game year will be known as a "season", with each of the first three quarters being defined as "stages" and culminating in a Major.
Teams that finish top three in this league will qualify for the Majors (excluding the Six Invitational and be joined there by a team from each region making its way through a direct qualifier.
The fourth quarter, on the other hand, will be dedicated to regional Finals and relegations to a lower-tiered but unannounced league, presumably functioning similarly to this top-tier league but replacing the current Challenger League instead.
Games played into this league and at national and Major events will also earn circuit points, awarded across three stages in a full competitive year and the top-16 teams around the world (according to these circuit points, weighed equally across all regions) will qualify for the Six Invitational. Furthermore, winning a Major (or the Six Invitational) will not see teams automatically invited to the next Major or Invitational, though it will give a significant amount of circuit points.
As mentioned, 2020 will see the addition of a permanent November-held winter Major, to be held in Europe this year. In 2021 and beyond, though, Siege will have three Six Major events outside of the Six Invitational in February. With the third Six Major being slated for May each year, this will mean that the two additional Six Majors will effectively be replacing the May and November-held Pro League Finals.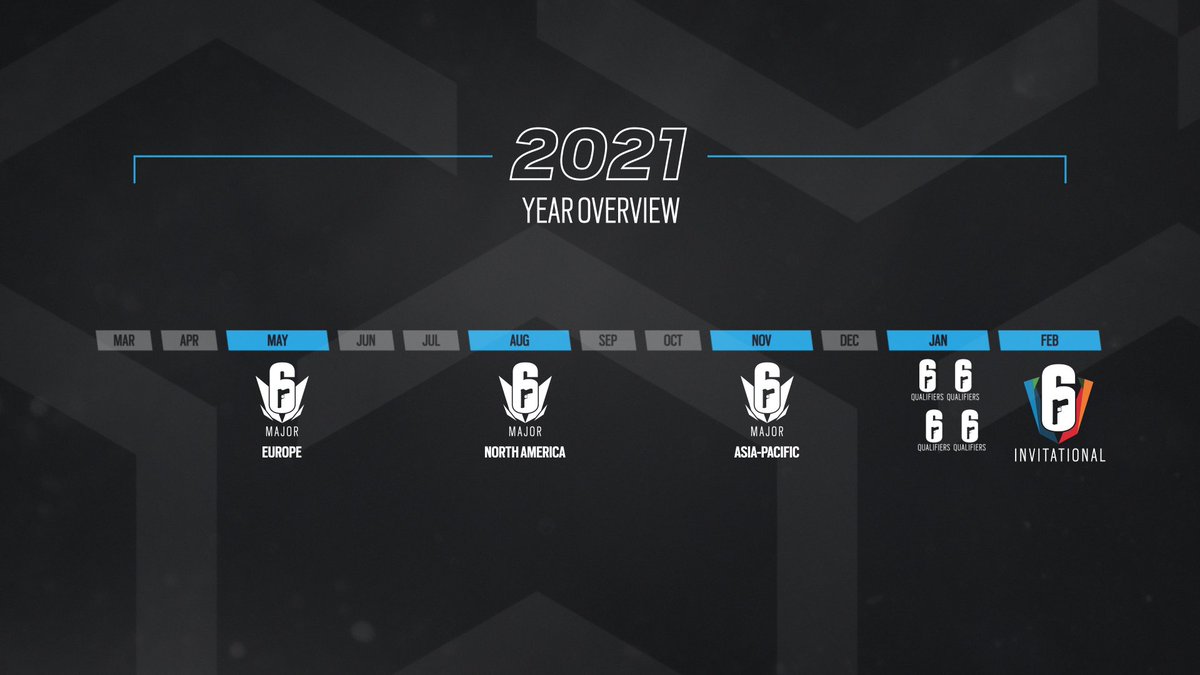 For the year of 2021, LAN events will kick off with the Six Invitational in Montreal in February, followed by the May-held Major in Europe, the August-held Major in North America, and the November-held Major in Asia-Pacific. This will mean, however, that Latin America will only get its first chance at a Major earliest in May 2022, having waited at least two years for another international Rainbow Six LAN event.
New League Locations and Structure
The new league system will also see a geographical change for all the regions. The USA division of North America (NA) will be shifting to a LAN league in Las Vegas, for starters. On the other hand, Latin America (LATAM) has a confirmed Mexico-held LAN league -- separate from the other LATAM Brazilian and South American leagues, for which any potential LAN locations are unannounced -- while nothing of the sort has been confirmed for Europe.
The Brazilian league will invite the ten BR6 2020 teams to the league, meaning Elevate will be replaced by Looking For Org, ORGLESS BR, and N/A ORG, while the Mexican and South American leagues will invite the remaining teams from their respective national leagues -- the Mexican Championship and the Giants Showdown. North America and Europe, however, will continue with the eight Pro League teams currently, in addition to two teams that will be promoted from the Challenger League this season.
The EU league will be run by FACEIT (famous for Counter-Strike) and Live Nation (famous for hosting concerts), LATAM will be run by Ubisoft and contracted vendors, while ESL Asia-Pacific will continue to run Asia-Pacific (APAC). Nothing yet has been confirmed for North America, but it is likely that FACEIT will be running it as well, having already been contracted for Europe.
As far as teams go, NA, EU, and LATAM will be having 10 teams each, while APAC will be having somewhat of a unique structure. The subregions of Japan, South Korea, and Southeast Asia will be combined into an "APAC North" region, played with 12 teams online, while South Asia (i.e. India, Bangladesh, etc.) and Australia-New Zealand will play in what is likely to be a LAN-based "APAC South" division.
LATAM will also be expanding countries, with Mexico now moving to the region from NA, and Argentina, Peru, Chile, and Uruguay will also be included. These three major subregions in LATAM -- Brazil, Mexico, and South America -- will thus the key focus for Ubisoft, instead of just Brazil as it stands. Similarly, NA will be split into the US division and the Canada division.
Replay System
In further exciting news for the esports community in particular, Rainbow Six will be adding replays in-game from Year 6 onwards. These replays, functionally similar to the Counter-Strike demo system or Halo's much-vaunted Theatre mode, will allow teams to re-watch their games from any of the 10 players' perspectives and the top-down camera.
Further details are scant, though it was announced that the feature will be available on the Technical Test Server (TTS) in the first half of Year 5, prior to the Year 6 launch.
Pilot Program Phase Three
Finally, also included in the esports panel was information about the third phase of the Pilot Program Revenue Share. The program will now be expanded to 44 teams split across three tiers for the next four years. The top tier (Tier 1) will feature 10 teams, the next tier will feature 15 teams, and the third and final tier will feature 19 teams.
A tier will be assigned to each team based on player support by the organisation, game viewership for the team, coverage of the scene, community engagement, participation, and revenue earned. As per usual, though, teams will get to choose their operator, weapons, and design for the uniforms, weapon skins, and charms.
---
Catch the rest of the Six Invitational in action as it comes to a stunning conclusion and stay tuned in here at SiegeGG for more news, statistics, and photo and video coverage of the event.