BDS Esport as a team and organisation is fairly new in the esports scene. Having entered Rainbow Six only in May 2019, the organisation made waves primarily because it was signing a team with Stéphane "Shaiiko" Lebleu -- a highly exciting player that had been on beGenius ESC back in Season 6, and then had been banned for two years after it had been found he had been using macros in-game.
Of course, the rest of the team was of note as well, with Nolan "Joghurtzz" Crouzery, Olivier "Renshiro" Vandroux having been on the top French squad of Millenium, and both Vincent "Masdemort" Masdebail and team captain Morgan "rxwd" Pacy having played with Shaiiko on beGenius as well. Not only that, team manager Alexandre "TPEX" Koenig had also been a beGenius player.
Joghurtzz, however, left the team a week later and was replaced by former PENTA player Dimitri "Panix" de Longeaux. After a shaky start, BDS qualified to the Challenger League for Season 10 and then set international screens alight with a searing run at DreamHack Montreal 2019, beating G2 Esports on the way to finishing third behind Team SoloMid and Team Liquid -- two of the hottest teams in the scene right now.
The Challenger League was a relative breeze as well, and the French finished top, edging out the exciting Russian squad of forZe, and then beat GiFu eSports with ease to make it to the Pro League for Season 11. While waiting for the season to start, the team found itself lucky to qualify for the OGA PIT Minor, despite losing to G2 Esports in the online qualifier, given that a second invited APAC team was unable to travel. However, a first-round exit at the hands of Liquid followed, and it was clear that more work was needed.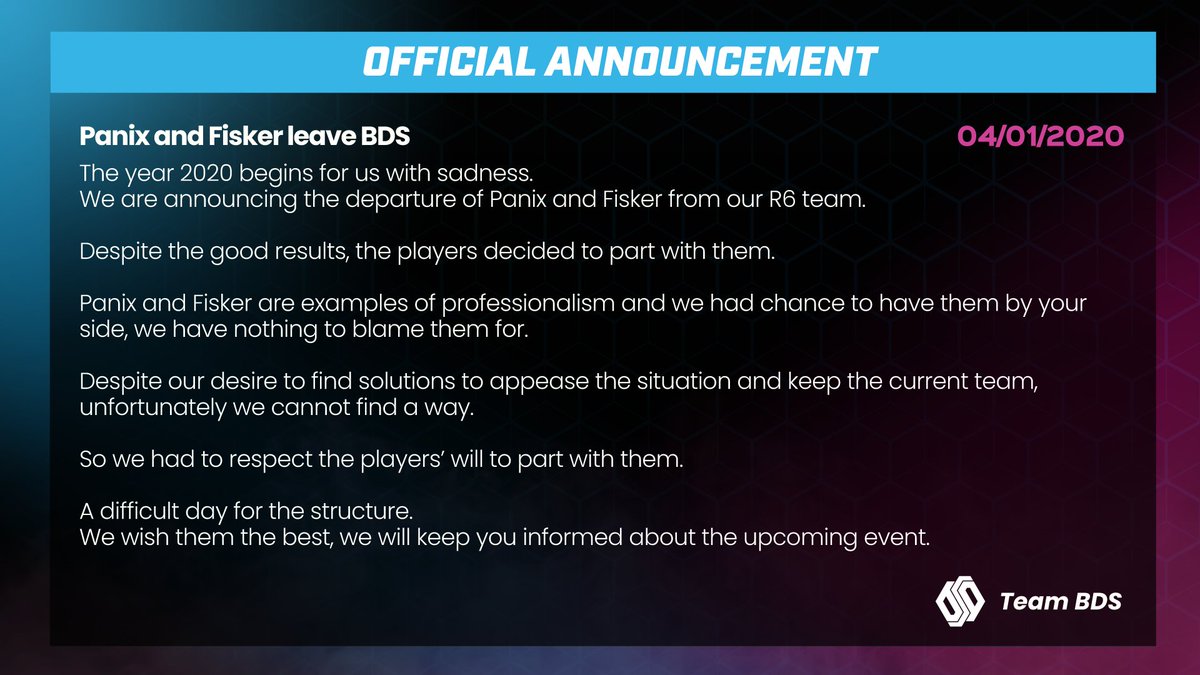 Days before the start of Season 11, however, BDS dropped Panix in favour of former Team Secret player Bryan "Elemzje" Tebessi in a highly unpopular move. Despite the change, though, BDS has been doing fine in the Pro League. Though in fifth place, the team is only five points behind leaders Rogue and three points behind second-placed Team Empire.
To know more about his team's preparation for its first Major, SiegeGG spoke to captain rxwd:
All things considered, your team has been having a fairly good Pro League season so far. Is this somewhat of a surprise given the strength in EU?
No, I'm not surprised. I know what we're capable of.
How has Elemzje been fitting into the team, and why did you choose to bring him in in place of Panix?
Panix was dropped after the OGA PIT Minor.

Elemzje is fitting very well into the team. We chose him because he's an impact player regarding the strategies and the mid-game calls. Moreover, he has been bringing the cohesion we needed.
Is your team going to be signing a coach for the Six Invitational and beyond, to replace FiskeR?
No, we don't really need one at the moment.
Despite your recent success, your team has yet to achieve proper consistency internationally. How are you working to fill this gap?
There are no secrets: just work, work, and work.
With your team being the only French-majority one in the Pro League now, do you feel that the French scene has somewhat shrunk compared to the past?
I don't think the French scene has shrunk, there are still very good players in France, but they are now split across different EU teams.
Much has been said about the seeding process for the groups. Does your team have any gripes with it?
No, I don't have any reproaches. This is a Major, and if you want to win you need to beat everyone.
How do you think that the double-elimination playoffs will change the dynamic of the event, and what is your opinion of the one-map advantage in the grand final?
I think the double elimination is a good thing because it will bring some reversal of situations in the play-offs. We could see a team losing on the first day to win it all at the end.

The one-map advantage in the grand final is a normal thing if you came from the upper bracket, you should have this advantage.
Do you have anything else to say to your fans?
I would like to thank everyone who is supporting us and especially BDS for the trust and the good working conditions.
---
BDS Esport plays Wildcard Gaming as the opening match, with matches against either G2 Esports or Team Reciprocity scheduled afterwards. Check back here at SiegeGG for more Invitational Insights and full coverage of the event as it comes.