By the Numbers is an article series breaking down each group with a statistics-focused analysis. This iteration covers Group B of the Six Invitational 2020, in which the sixteen best teams meet in Montreal for the title of world champions. To jump to a specific team, click on their name below:
---
Group Overview
Group B has two representatives each from Europe and North America: Natus Vincere, Rogue, Team SoloMid, Spacestation Gaming. During the past six months, the teams have met four times as a result of their regional Pro League and five times in total. Na`Vi and Rogue's two meetings in Pro League resulted in a draw and a 7-3 win in favor of Rogue. TSM has gotten the best of Spacestation in North America, defeating them 7-2 and 7-4 in their past two matchups. Spacestation also has recent experience against Rogue (as Giants Gaming), defeating them handily in the Six Major Raleigh group stage.
The four teams took spots #3 through #6 in the most recent SiegeGG Ranking update and, interestingly, were in the opposite order of the group stage seeding (Spacestation Gaming first through Natus Vincere last). Each team's past six months map record in the Six Major, Pro League Finals, and online Pro League tells a different story, though, as Spacestation has just a 45% winrate. Na`Vi enters with the highest map winrate at 64%, followed by Team SoloMid at 61% and Rogue at 52%.
---
Natus Vincere
Natus Vincere enters the Six Invitational with a chip on their shoulder as they fell from #2 below all of their group members at #6 in the SiegeGG Ranking. After a shaky first half of the Pro League season, they ended up in sixth place in Europe. Their initial jump to the top level in the ranking came after their run in Season 10. They were crowned Pro League champions after defeating Wildcard Gaming, Team Reciprocity, and DarkZero Esports as CTZN earned the SiegeGG MVP for the event.
CTZN has continued to play at a high level for Natus Vincere, but was the only member of the squad earning a rating of 1.00 or better this season. No player on the team reached the top ten in Europe for rating or KOST%, a feat only achieved by one other team: 7th placed Chaos. neLo and Saves, sharing a 0.77 rating, tied for the third worst in their region at the midseason point.
Since the squad's Pro League Finals run, neLo and Saves have dropped statistically across the board. Their ratings have decreased by 0.32 and 0.21, respectively, and both of their KOST% have fallen. Some have attributed the overall fall in performance to the loss of coach GiG, who recently joined Giants Gaming. Regardless of the cause, Natus Vincere needs to better support CTZN if they hope to make another deep run in international competition.
---
Rogue
Rogue have remained a perenial contender in Europe, and they currently hold the top spot at the midseason point of Season 11. Even while struggling in recent international competition, they have remained within the top fifteen of the SiegeGG Ranking for the past six months. As Giants Gaming, they were first rounded in the Pro League Season 10 Finals, and they went 4-4 in their maps during the Six Major Raleigh.
Domestically, the squad has fared much better. They placed second in Europe in Pro League Season 10, easily took down their 6 French League competition, and currently hold the first postition in Season 11. Their success has largely come from AceeZ, who earned the top rating over the second-rated player by 0.07. He also placed highly in KOST% while Hicks was one of the premier support players in the region.
AceeZ is joined in the high rating by risze, who had a shaky start to the season but has been consistenly climbing up the scoreboard of late. In Rogue's Season 10 Finals loss, risze failed to earn a rating of 1.00 or better, and AceeZ was instead leading the team alongside Korey. To make it out of what may be the most competitive group, Rogue will need all three to show up and play as they have in the last few matches of the season.
---
Team SoloMid
Team SoloMid have made a huge splash in North America this season, winning all but one of their matches, in which they drew. This performance has granted them firm control of first place at the midseason mark and the fourth position in the SiegeGG Ranking. They jumped up to #6 last September after having a flawless run in DreamHack Montreal capped off by a grand final victory over Team Liquid. In their highest placement in the SiegeGG Ranking so far, TSM hopes to advance over #3 Spacestation Gaming, a member of their group, and past Group C's Team Liquid and Group A's Team Empire.
Team SoloMid has had one of the most consistent rosters this season, with every player earning a spot in the top ten for either rating or KOST%. Even when put in a clutch position, TSM feels comfortable with geoo and Achieved combining to have the most succesful clutches (9) as a duo in North America. Pojoman has excelled in his long-time role as a support player, planting the second-most in the first half of Season 11. Merc, geoo, and Achieved all earned spots in the top five for rating in North America, but they are joined by two group members from Spacestation Gaming.
In their sole match that did not result in a victory, Team SoloMid was facing a 6-2 scoreline before running the match back to a draw. Pojoman struggled in his support role, geoo had just a 50% KOST, and just two players earned ratings at or above 1.00. This rare misstep for TSM should serve as a warning for TSM and as a template for other squads of how to defeat them.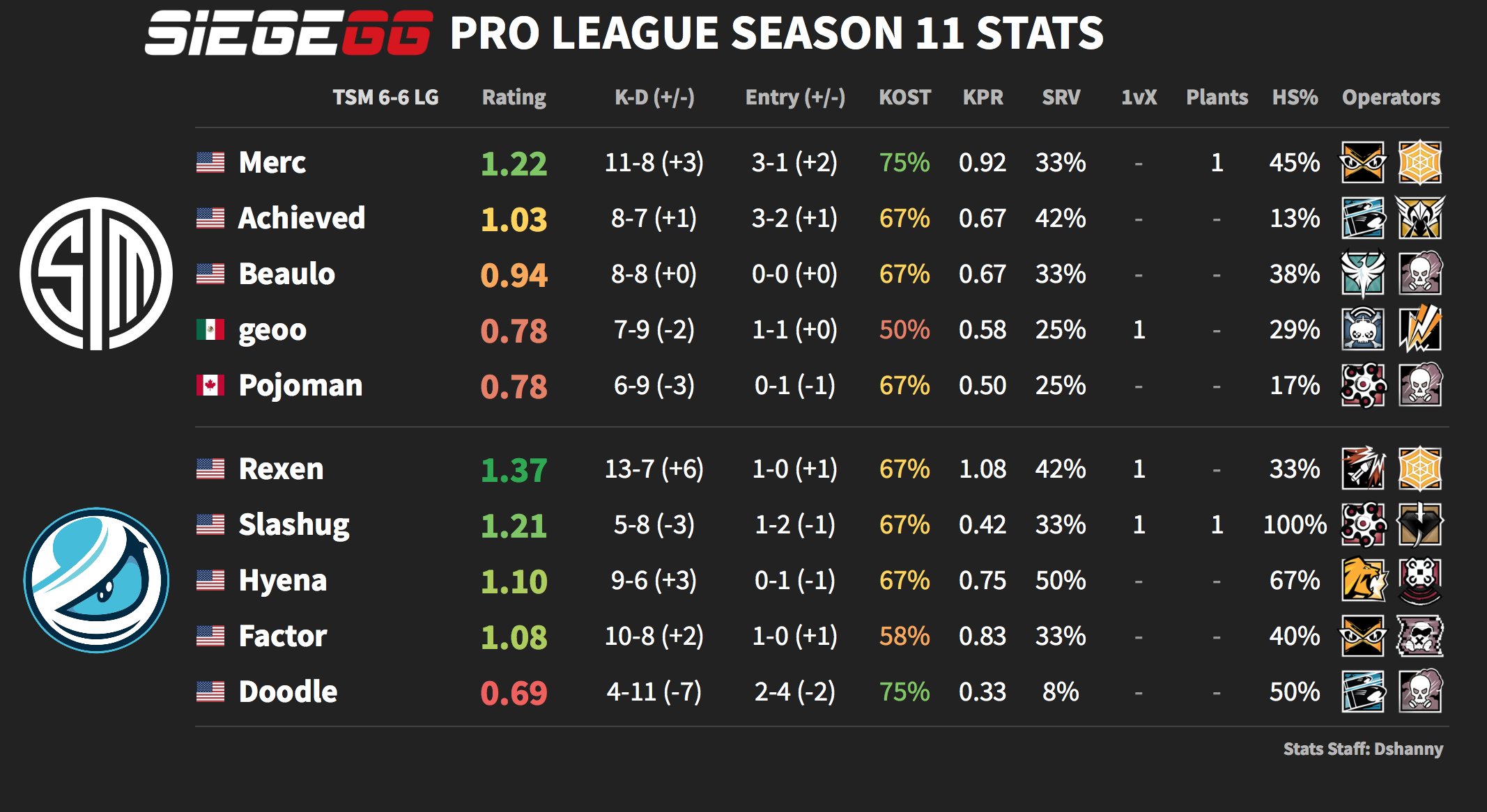 ---
Spacestation Gaming
Spacestation Gaming, after a lull in the SiegeGG Ranking at the end of last year, have regained a position in the top five. They failed to qualify for the Season 10 Finals after placing fifth in North America and fell to #11 then had a solid run to the grand final in the OGA PIT Minor to jump back to #8. At the midseason point of Pro League Season 11, they are in third place, eight points behind fellow group member TSM.
Spacestation Gaming's two young stars Fultz and Rampy have been the key factors in their season so far, earning the second and third best ratings in North America. Canadian has adjusted to the support playstyle with the third-most plants in the region, but his KOST% leaves something to be desired at 56%. Luckily, three of his teammates have earned spots in the region's top ten for KOST% so far in the season.
In their most recent international event, the OGA PIT Minor, Spacestation Gaming came in second behind Team Liquid. Compared to this season in Pro League, Fultz has shot up the scoreboard as Bosco, ThinkingNade, and Canadian have cooled off. If Spacestation can harness the Pro League performance from Fultz and Rampy with support from the rest of the team, they will be dangerous in Group B and beyond.
---
Stay tuned for Six Invitational 2020 coverage here on SiegeGG, including interviews, predictions, recaps, and more! Visit our partner Midnite and use entry code "SiegeGG" to place bets on all matches during the event (Bet Responsibly).