The top teams from the Giants Showdown, a tournament for LATAM teams outside of Brazil, and those from Season 1 of the Mexico Challenger league will meet at a LAN event in Mexico City to crown the first "LATAM champions" next month.
Jump to:
The LATAM Region So Far
While the LATAM region usually includes all countries in the Americas south of the US/Mexico border primarily made up of the Spanish and Portuguese speaking countries on the continent (seen below), the Rainbow Six region ends in Central America, with Mexico instead included in North America alongside the US and Canada due to ping issues.
For this tournament, however, Mexico will be included in the LATAM region once again, to compete alongside their fellow Spanish speaking nations in an attempt to bolster both the NA and LATAM region's often forgotten and underperforming sub-regions by giving them further experience on LAN and against new opposition.
Prior to this, Mexico had seen just two notable R6 players in the Rogue, Evil Geniuses, and now-Team SoloMid player of Emilio "Geoometrics" Leynez Cuevas, and the Challenger League player of Luis "Art" Maldonado. However, this doesn't mean there isn't a huge community in the country, as the majority of R6S players instead play on the Xbox. This community means that there's a huge demand for local tournaments on both the Xbox and PC, which created the best tier-three scene in the Americas in the Mexican Championship.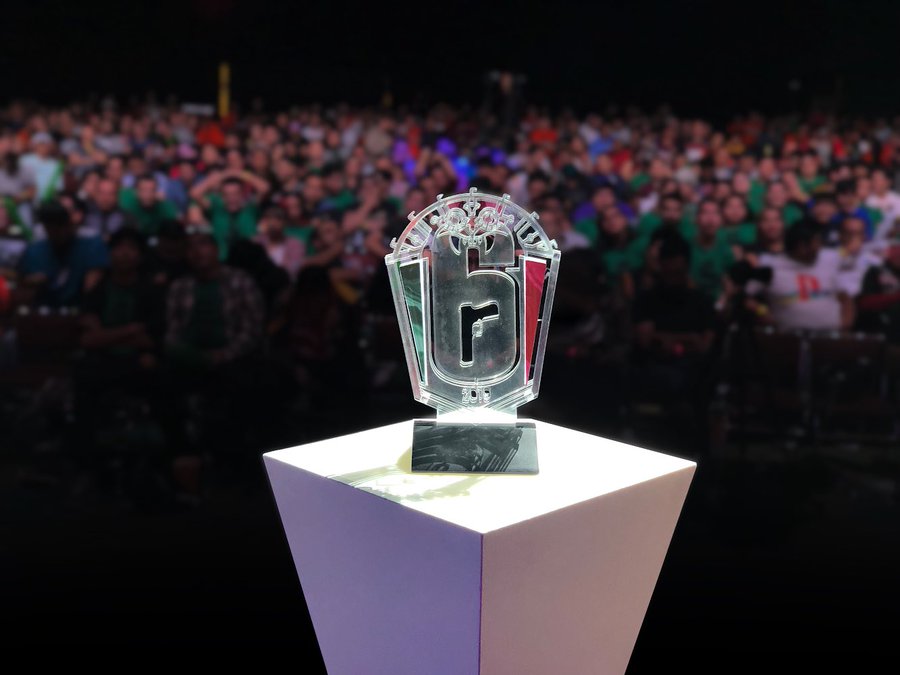 With $26,000 on offer in the 10-month long Campeonato Mexicano league last year, eight all-Mexican teams played a total of 119 maps across every Saturday in a format that mirrored the BR6 Brazilian national tournaments format. Following this, the top two teams then travelled to the eventual LAN Final at the World Trade Center in Mexico City where Infinity Esports took the title in a 1v1 on the final round of map five against Atheris Esports.
Chile and Argentina, meanwhile, has had just three teams ever make it to the Challenger League, with not a single player ever making it further. Despite this, these nations have been able to shine in their own tournaments -- the Giants Showdown.
Despite just $1,000 being on offer in each season, Seasons 1-3 of the Giants Showdown has seen fierce competition between eight teams as the two mixed-Argentinian/Uruguayan teams of Nocturns Gaming and Undead Gaming won Seasons 1 and 2.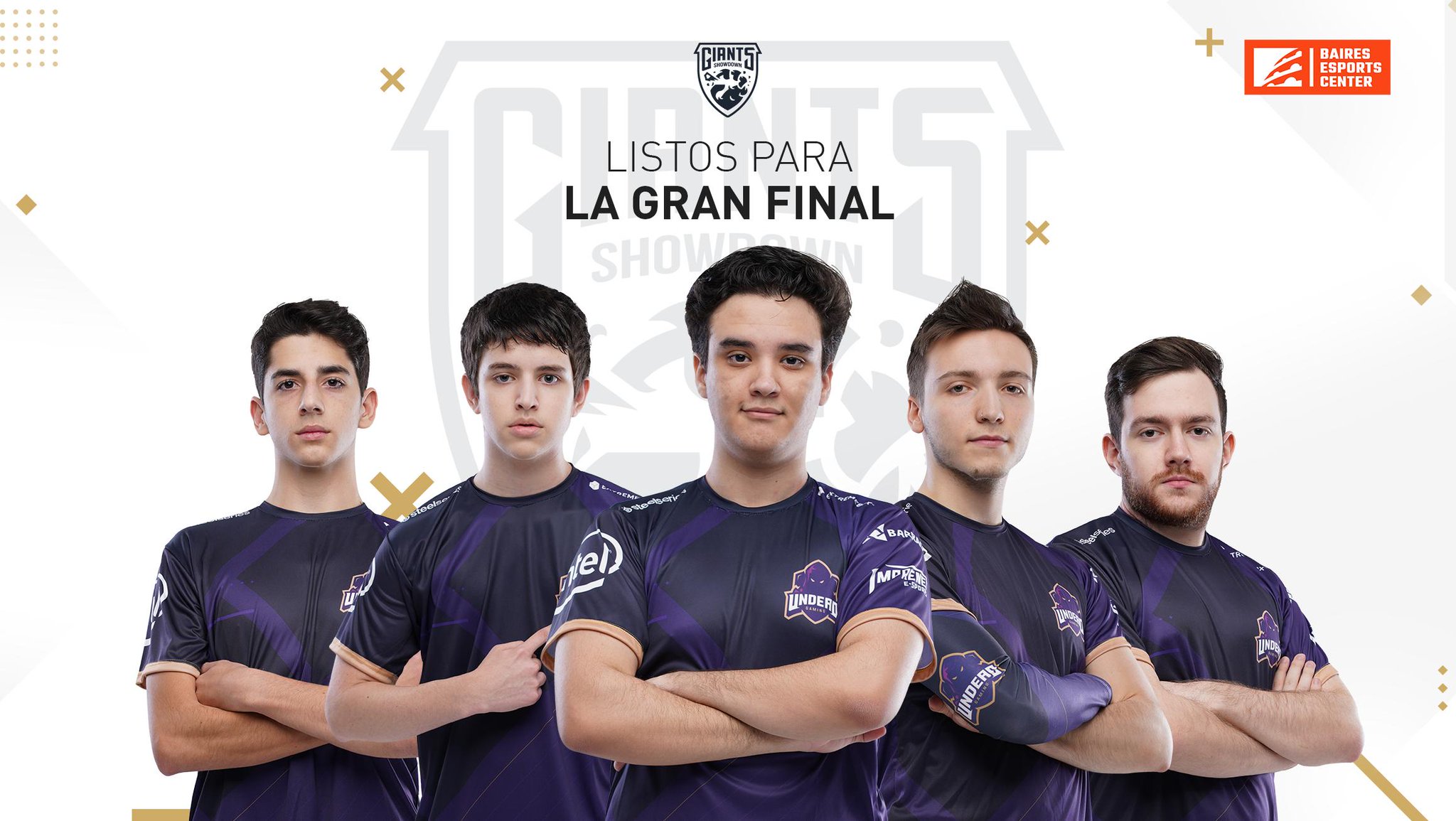 Each of these seasons saw a LAN Final on offer in Buenos Aires, and each saw a more consistent lineup of teams with no disbands or disqualification, unlike a number of much bigger European nationals. Now, this season offers the top two teams their very first international LAN experience as the top Season 3 teams travel to Mexico for the LATAM Masters LAN.
Mexico Challengers: Season 1
1-2nd: Estral E-Sports and Infinity Esports
3-4th: Timbers Esports and Atheris Esports
5-8th: Team Aze, XTEN Esports, Synergy-MeT and Pixel Esports Club
Made to specifically be a qualifier event for the LATAM Masters event, the competition saw the eight Mexico Championship teams join four open qualifier teams in an initial qualifier stage with eight of these teams then progressing onwards to the playoffs.
Probably most notable out of the group stage games was the fourth-seeded team of Timbers Esports taking down the reigning Mexican champions of Infinity in their first domestic loss in over 15 months, with Timbers mounting a 7-5 comeback on Kafe. Despite this, and another loss to Estral E-Sports, Infinity still came out on top of their group while Mexico's second-best team of Atheris topped Group B and the open qualifier roster of Team Aze upset Anáhuac Esports and Pixel Esports Club to top their own group too. These results, therefore, seeded the following brackets for the event's playoffs: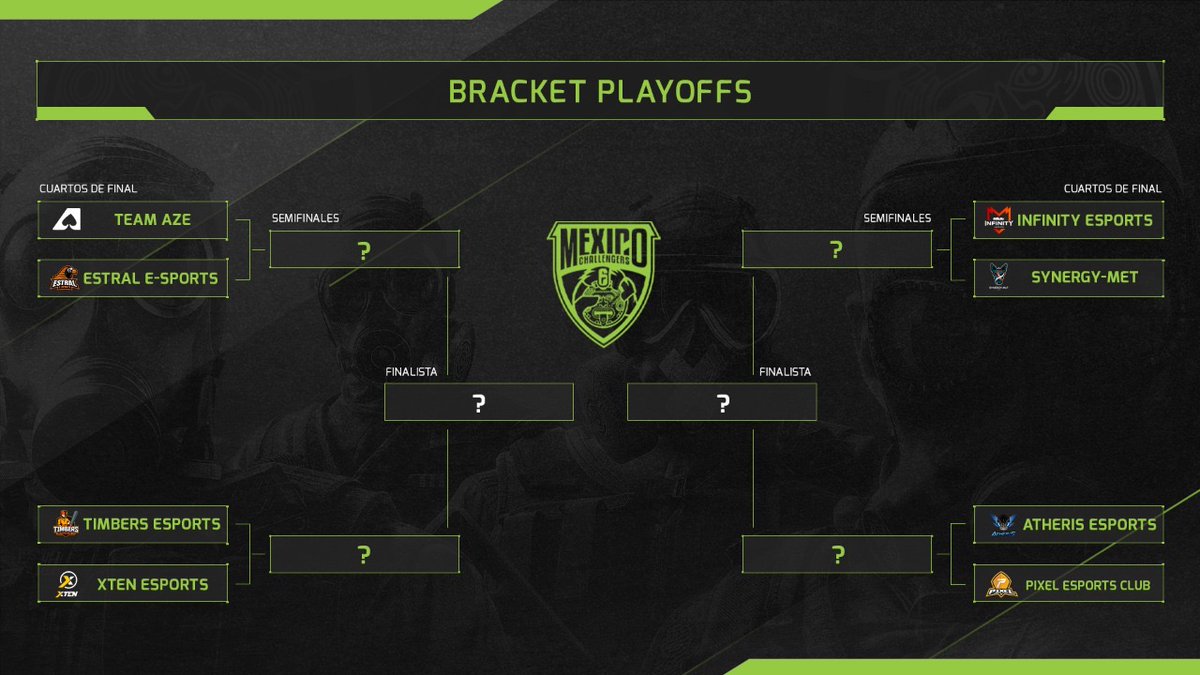 While the groups saw a number of surprise turnouts, the quarter-finals went predominantly to the favourites with the tournament's top three seeds of Infinity, Atheris, and Timbers being joined by the wildcard roster of Estral E-Sports. All ended up making it through with relatively simple 2-0 scorelines to set up the semi-finals of Estral E-Sports versus Timbers Esports and Infinity Esports versus Atheris Esports, with the winner of each qualifying for the Finals.
The first of these saw a rematch of a group A matchup in which the two teams each took a map each, 7-2, 3-7. With both of these maps of Border and Clubhouse banned, however, the competition was taken to Bank and Coastline. Map one saw Estral storm past an even first half to win four rounds running to secure a 7-3 win and continued this momentum on the second map, having corrected many of their mistakes from the quater-finals, taking it 7-4.
The second semi-final saw another rematch, this one of the 2019 Mexican Championships grand-final, making this the highest anticipated game of the tournament. While last season came down to a 1v1, and Infinity had already shown weakness in this tournament after losing to Timbers, they clearly had prepared for this game, cementing themselves as the biggest team in the Mexican scene going into 2020. The maps of Bank and Border that were played were the only two maps not to have been played in their prior performance, while Clubhouse, which Atheris had taken easily (7-1) previously, was the decider. This meant that Infinity needed to take this in straight maps if they wished to win, and they did so with few issues. 7-5, 8-6 was the eventual scoreline, as a single offensive win tipped the scale on Bank and, after keeping even throughout Border, Infinity swept overtime, pushing them to yet another LAN Finals.
Giants Showdown: Season 3
The league's format saw a best-of-one double round-robin tournament with the top four then competing in a best-of-three map playoff with the top two then qualifying for the LATAM Masters LAN.
The regular season, which took place from September to December, saw a huge gap in quality as two of eight teams failed to get a single win, while the two ex-season champions and one ex-Challenger League team (who were disqualified from the league before it began) finished as the top three and were met by LBS Esports in the playoffs.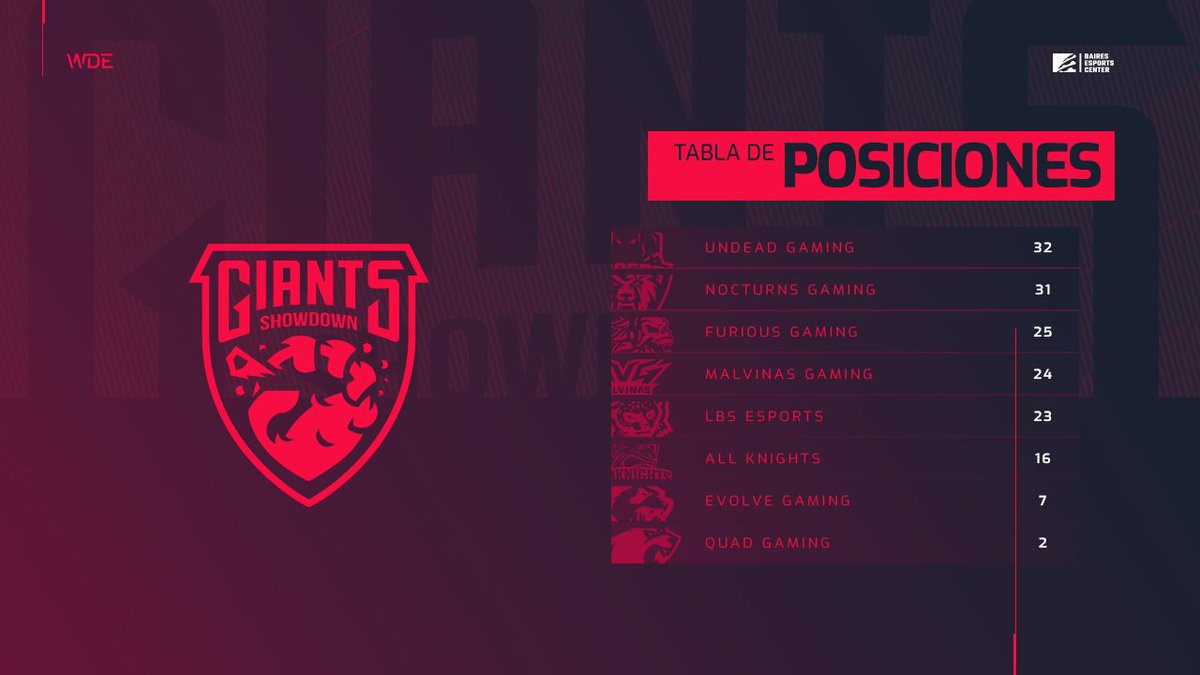 These playoffs then saw two of the hottest anticipated games of the season as we began with seeds two and three of Nocturns Gaming and Furious Gaming facing-off. Starting with Bank, Furious took the initial lead, going up three rounds on their defensive half before ending the half 4-2. While the second half saw Nocturns get on the board early to draw it up, Furious was clearly the better team on this map, managing to end it just before overtime in a 7-5 scoreline to take map one. Map two of Clubhouse was a more one-sided affair in Nocturns' favour as Furious got a single round win on each half to end in a 7-2 map score with Furious' second-round win coming from what's possibly one of the worst rush attempts seen:
Finally, Nocturns locked out Border in an even more dominant scoreline, 7-1, to become the first team to book themselves a spot in the LAN Finals in Mexico.
The winning moment of our Wolves to send us straight to Mexico to play the #R6LatamMasters! They are beasts, thanks so much!
The next game to decide who would join Nocturns in Mexico saw the reigning regional champions of Undead Gaming face the newcomers of Malvinas Gaming in what many expected to be somewhat one-sided but in reality, was decided by a 15-round thriller on Coastline. This is as Malvinas took Clubhouse in a dominating 7-2 scoreline (which included the extremely rare interaction shown below), while Undead secured Bank for themselves, 7-3 meaning map one of Coastline was the only remotely competitive matchup.
Coastline started out with Undead on the offensive side, with them taking three rounds to finally get on the board, with Malvinas seeming to be masters of their defences, ending the side with a huge 5-1 lead. With the sides swapped, Undead responded right back with five rounds of back-to-back wins, pushing themselves all the way to match point before Malvinas took it to overtime. Here, the momentum switched -- after 10/12 rounds had been won by the defensive half, three rounds in a row fell to the attackers in overtime, giving Undead the map. This massive comeback thus meant they were the second finalist to be travelling to Mexico this month.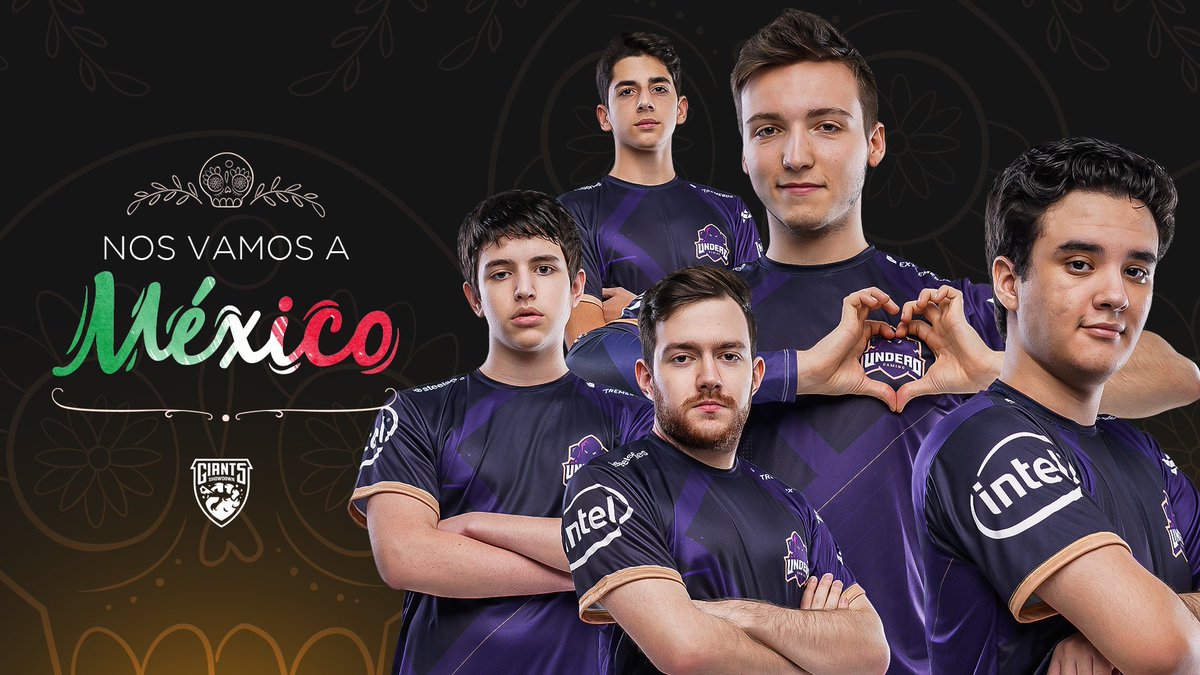 LATAM Masters 2020
Mexican Representatives:
Estral E-Sports

- FUNGI, Prime, Larzt, Abner and Brave

Infinity Esports

- XigmaZ, Morphed, P1XIE, RE4PER218, Toski and InfinityG7 (their coach)
Argentinian Representatives:
Undead Gaming

- VJ, Jager, WeTz, Ragn4r, PePe and RICK (their coach)

Nocturns Gaming

- Dennis, Yekko, ZETA, F0rb1, TomHagen and DAddonaFranco (their coach)
In what amounts to the first-ever cross-region tournament outside of the Pro League, Minor, Major and show matches, these four teams will meet this month in a rather unique Finals.
The games will take place this Saturday at the BlackBerry Auditorium in Mexico City and will include the following casters from each of the regions involved: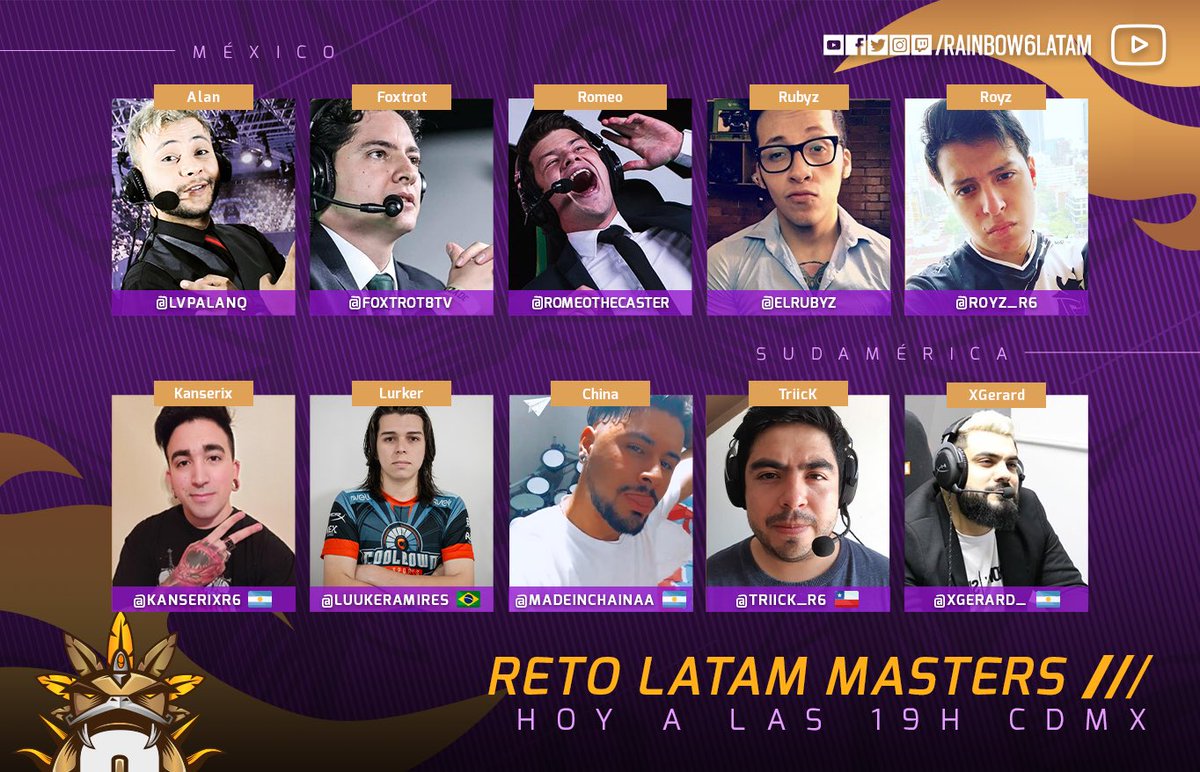 We spoke with two of the main casters from each "sub-region", Alex "Romeo" Déleon and Jorge "Kanserix" Azubel, about what we can expect from the event:
Firstly, can you introduce yourselves to our readers?
Kanserix: Well, my name is Jorge Azubel. I'm 22 years old, I was born in Buenos Aires, Argentina, and I still live there. It's been one year and a half since I started my journey as a caster and part time streamer.

Romeo: Hello everyone! My name is Alejandro Déleon, but in esports everyone knows me as Romeo. I have been a R6 caster here in México for over 3 years. I have casted the México Nationals, PL Finals, Majors, Invitationals and other international tournaments. Nowadays I'm casting the México Challengers and I'll be casting the LATAM Masters.
The LATAM Masters will be the first time NA and LATAM has faced off outside of Majors/PL and Minors, how do you think this will help your own "sub-region"?
Kanserix: I truly believe that the LATAM Master will help a lot both regions, NA (México, in this case) and LATAM (Argentina, Chile, Uruguay, Perú, etc.) as we have always stayed under Brasil's and United States' long shadow. I think that this tournament will help both sub-regions to show their true potential.

Romeo: It's a very big step forward for both hispanic scenes. It's the first time that a continental final will be held for hispanic teams. It's a huge chance to show everyone that NA and LATAM are more than the United States and Brasil. The four teams that will participate in the LATAM Masters have shown that they are capable to cause troubles to some teams in the international scene. Both regions have been growing and I'm happy to be part of this.
Out of the teams which failed to make it to the Finals, which one team impressed you the most?
Kanserix: Sadly some good teams from both México and LATAM will not be able to participate in this tournament. The two teams that have surprised me the most and won't be playing this weekend are Atheris Esports, from México, and Furious Gaming, a team that showed up a great performance with an almost-full Chilean roster.

Romeo: Overall, I think that all the teams pleased their fans. However, the team that surprised me the most was Atheris. Although they did not reach the Final, they were one of the fan-favourites for their aggressive style. The signings of Royz (ex-México Nationals caster) and Mexicnn (ex-Shrug member, a team that competed in Challenger League) helped them to remain unbeaten until the semifinals, were they got knocked out by Infinity Esports. Without any doubt, it's a team that gives hope to the Mexican scene. They just need time.
Who do you expect to win this tournament?
Kanserix: I think that LATAM will win this event. We have an aggressive style that Mexican teams normally feel uncomfortable to play against. However, I'm aware of their skill and they will be the host teams, they will give everything to win for their country.

Romeo: It's a question that I already faced previously; I really think that there's no favourite. The four sides have shown great individual abilities and an excellent team work. All the teams have good players. The Mexican teams come to the tournament with less time to rest, however the Mexicans have stayed active thanks to the CL qualies. I'm sure that the winner, at the end of the day, will be the scene.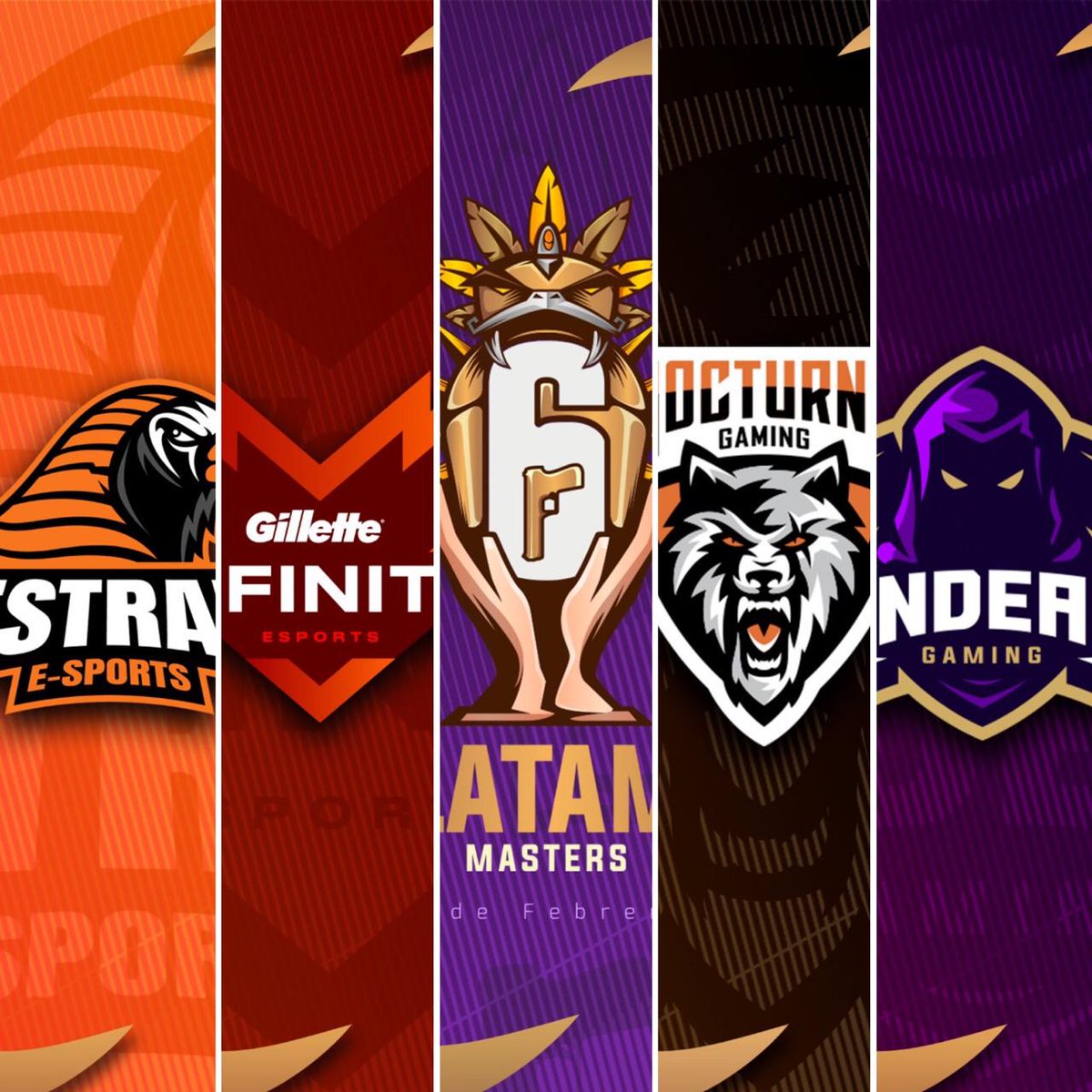 Your sub-region is relatively sidelined within their own regions. Do you see this changing in 2020 and what more can be done to help grow the scene?
Kanserix: I think that Argentina, as Chile and Uruguay, will be able to make a huge improvement during 2020. The potential in the region is incredible, we just need someone to trust in us and people that invest not only in R6 but in Esports in general… once that happens, the sky will be the only limit.

Romeo: Over a year ago most of the fans didn't see the Mexican teams playing in the first level. It's been amazing to see the evolution of the skills since the creation of the tournament back in September 2018. Alvaro Irurita -- Esports Ubisoft boss in Latin America -- already confirmed that the next Mexican league will have 7 teams, which will strengthen the league as all the sides will have more or less the same level. Both regions are constantly improving, you can't compare them to the United States, Brasil or France. But it's good to see how it's growing. With the creation of national tournaments and LAN events, everytime more organizations want to be a part of this. Personally, I would love more casters and fans to watch us and realize how good these players are. In Fabruary, during the LATAM Masters and the Six Invitational, we will announce a surprise that will help our region. I don't have any doubts: 2020 will be a great year for mexican and South American teams.
While day's schedule has yet to be revealed, a significant amount of event exclusive merchandise has been with tickets to the event still available here.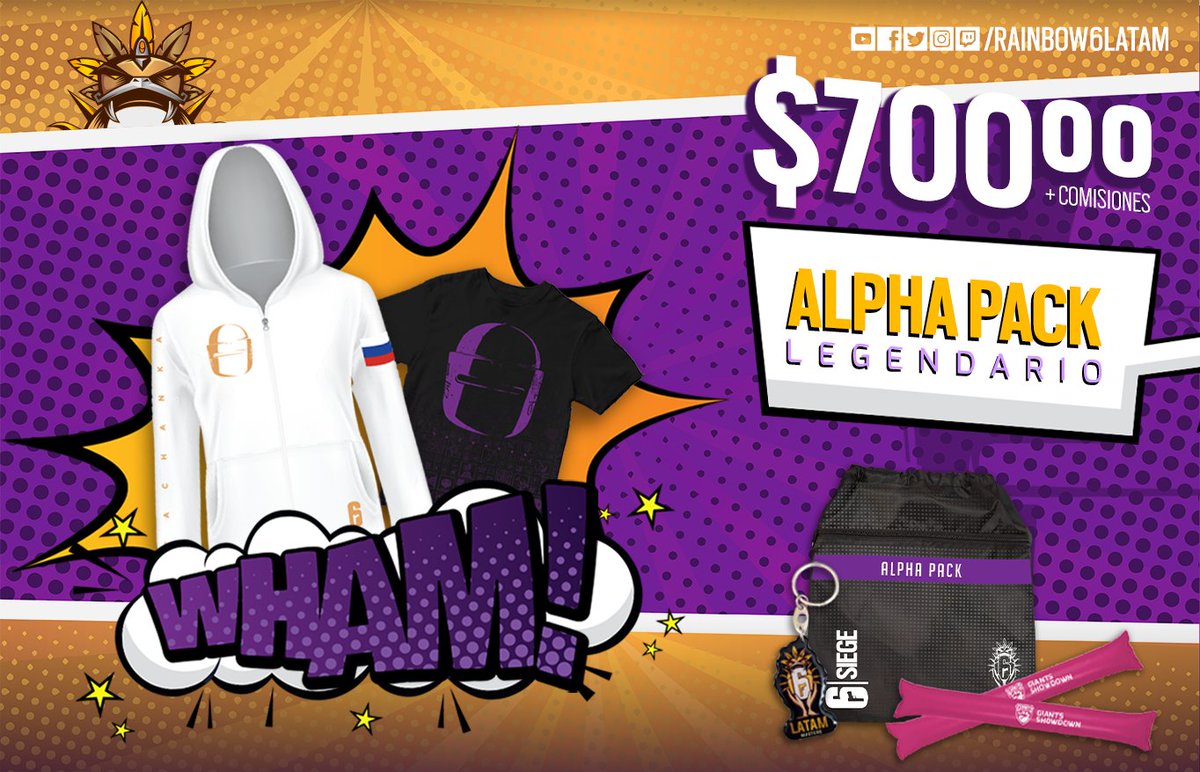 Tune in to catch all the action, and check back here regularly at SiegeGG for updates on all things competitive Siege.