As SiegeGG's hub for all roster changes in the transfer window during the Season 10 mid-season transfer period, this page will be regularly updated with the latest transfer news. Check back here to keep up to date with all upcoming changes in the LATAM region and keep up to date with EU here, NA here and APAC here.
Summary of Changes So Far
Ninjas in Pyjamas - Ar7hur leaves, gohaN retires
Team oNe - rhZ benched, SKaDinha returns
Elevate - roster leaves org, rhZ joins
Roster Changes
February 21st: Elevate Drops Roster, rhZ Joins
Less than three months after signing them, Elevate has decided to leave LATAM R6 and drop their roster as the team failed to qualify for the BR6 2020 league due to miscommunication between the team and ESL meaning they won't be invited to the Major Circuit post-Season 11 or be included in Phase 3 of the Pilot Program. The team now remains as the only org-less team in the three main region's Pro League and so will be looking for one before their next Pro League game against Black Dragons on March 24th.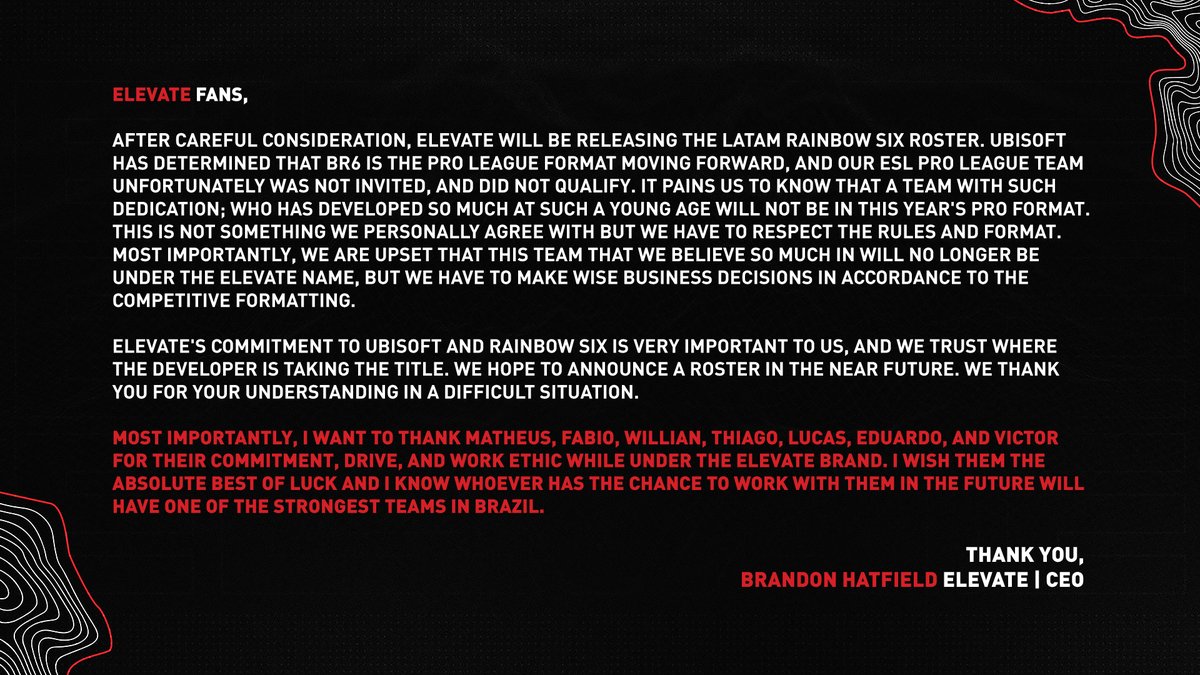 As well as this, the Twitlonger also reveals that the recently benched player for Team oNe of Renato "rhZ" Costa has also joined the team which works as a technical upgrade as ex-Elevate currently sits in sixth place in Pro League compared to oNe's eighth
I was waiting for my official announcement by Elevate but that's it guys, I'm going to play this last split with this line and we're after an org
February 17th: gohaN Retires from Rainbow Six, Plans to Play Project A
February 14th: SKaDinha Returns to Team oNe
Three months after being dropped by the team, Team oNe has picked up Luiz "SKaDinha" Salgado once again to replace rhZ and help the team escape the last place in LATAM's Pro League.
February 6th: rhZ Benched on Team oNe
After winning the Challenger League in Latin America during Season 9 and being the breakout stars of Season 10 as they finished a single point off from a top-two position ahead of Team Liquid and MIBR, Season 11 has been abysmal for the team.
They began the season by replacing the long time player of SKaDinha with the fresh name of FelipoX and has not seen the same success since. The roster currently sits right down in last place with a 1-1-5 record and three points behind their next closest team leading to this change as they have now opted to replace Renato "rhZ" Costa on the team despite him currently having the second-best rating on the team during the first half of Season 11. In a Twitlonger, rhZ explained this was not due to bad performance but as his role clashed with FelipoX's leading to rhZ moving between a number of roles on the team, none of which they were happy with.
Team oNe will now have over six weeks to practice with their new player before the Pro League kicks back off again when they'll be hoping their new player will help lift them out of the relegation zone.
Today we announce that it @rhZ_R6 has been moved to being a sixth player and is open to proposals.
Dedication and commitment to the team was never missed and we only have thanks.
Soon we will announce the replacement for his position.
January 27th: Ninjas in Pyjamas Coach Ar7hur Leaves
The Ninjas in Pyjamas coach, Arthur "Ar7hur" Schubert, has left the team citing family-related reasons. Due to those, he had been forced to return to his home city and could not coach the team for Season 11 and the Six Invitational. Ar7hur was also unable to coach his team at the Season 10 Finals in Tokoname, Japan, after his visa (alongside two players) had been denied. He has not ruled out coaching another team, but pointed out that he would have to coach from his own home, rather than a team house.
---
And so, that's every change within the Latin American region of the Pro League so far in this transfer period. Check back here for more updates over the coming days!