Pro League title-winning coach Ellis "GiG" Hindle has found a new team for himself, as he now joins the new Giants Gaming roster competing in Southeast Asia (SEA). Formerly playing under Aerowolf, the Singapore-based roster finally got its break in Season 10 of the Pro League after countless failures. Defeating Fnatic for the first time, it shot straight to the top by becoming the best team in APAC, before beating the old Giants Gaming roster (now Rogue) at the Pro League Finals.
While the Singaporean players are thousands of kilometers away, and eight hours ahead, GiG will be coaching the team remotely from his residence in the United Kingdom. He will, however, join the team at LAN events and potential boot camps. Unfortunately, due to roster lock rules, GiG will unable to stand behind the team at the Six Invitational, having officially left the Natus Vincere team too late on ESL Play.
To know more about the move, SiegeGG spoke to GiG and team captain Glen "Lunarmetal" Suryasaputra:
To GiG:
While you join the APAC Champions, some might say this is a step down as you were previously with the Pro League champions. What attracted you to this team?
I don't see it as a step down at all, seeing how much they've achieved already, working on their own without much support and all the constraints put upon them. That's what attracted me -- they have a lot they can learn, and if this works, they will become a top, top team. They have all the makings [of one].
How much do you think you can help this team, especially given that Lunarmetal had been the only one strategizing for the team before?
I think I can show them some things that they might not have thought of or ever seen, and -- especially -- having an outside eye come in and give opinions can help massively. I think it'll also help Glen (Lunarmetal) have a weight lifted off his shoulders, and now he will be able to focus on other aspects of his game more.
What is going to be the main area of preparation for the three LATAM teams (Ninjas in Pyjamas, Team Liquid, and MIBR) you will be facing in the Invitational group stages?
Well, we scrimmed against Liquid and MIBR when I was with Na'Vi, so I know how they play, I know what maps I want to take them on, and I have lots of ideas on how to shut them down, and if I can translate that correctly to the team, I think we'll surprise a few people.
Having watched the teams in SEA and APAC as a whole, what would you say the level of the region is right now?
After Japan, I realised that I had massively underestimated Wildcard, in particular, and watching them and Aerowolf at the time... they surprised me with just how good they are. The teamwork most of these teams have is of the highest level and I'm sure all the APAC teams at the Invitational will show that they can beat top teams.
To Lunarmetal:
With the new organisation, presumably, came the chance to sign a coach. How will this help elevate your team further?
It honestly remains to be seen, though it's looking very positive so far. For one, it's the first time I've had such an experienced coach so I'm able to take a step back from fixing team errors and focus a bit more on myself during scrims.
How did the search for a coach go for your team, and how did you arrive on GiG?
A large part of it was timing. With his departure from Na'Vi and our options opening up due to Giants, he was the first person I contacted. We also had a good impression of him after a few scrims in Japan, so we're really looking forward to see what we can do together.
What kind of a coaching role will GiG primarily be fulfilling? A more general coach, or someone more towards the analysis and counter-strategising side?
We're still trying to decide how everyone fits in to this new system, but I want to let him do as much as possible so I can focus on more player-specific things. I say that, but I will still be very heavily involved in a lot of things in the supportive capacity.
GiG had initially begun his Rainbow Six career in the June of 2018 as a player with Aerox Esports, trying to qualify for Season 3 of the Cyberathlete Championship Series and the ESL Premiership Winter 2018, but had not seen appreciable results. A brief stint with the Premiership squad of Wind and Rain would follow, but it would be a switch to MnM Gaming in a coaching position that would begin a climb to the top.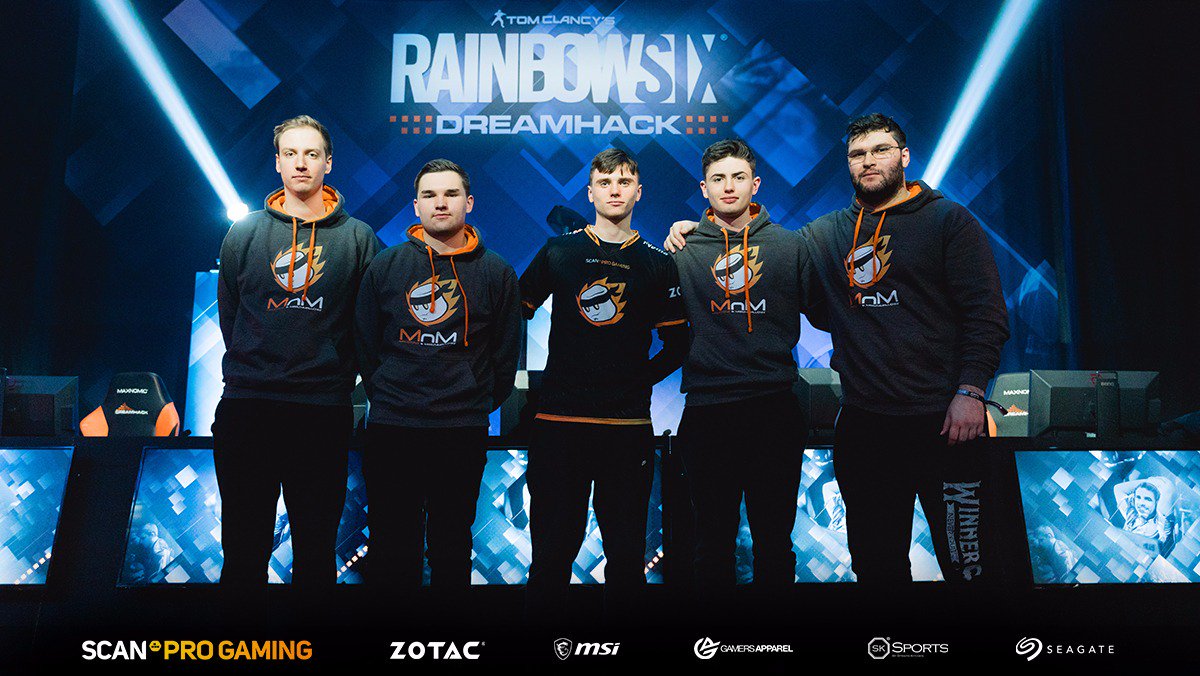 A joint-third at the ESL Premiership Winter Finals 2018 would be followed up by an appearance in the Bring Your Own Computer and group stages of DreamHack Winter 2018, before GiG guided his team to victory over Team Secret at the ESL Premiership Spring Finals 2019. Qualified to the Challenger League for Season 9, the team would just about finish above GoSkilla and Trust Gaming, but beat league leaders Team Vitality in the playoffs to secure automatic promotion to the Pro League for Season 10.
GiG and his team was then signed by Natus Vincere, and thus began the ESL Premiership Summer campaign while also preparing for the first international tournament for the team -- DreamHack Valencia 2019. Na'Vi did not do too well, however, losing matches to both the old and the current Rogue teams. Coincidentally, the only win came against the Spanish Vodafone Giants roster.
Nevertheless, GiG and Na'Vi kept winning, defeating Team Secret at the Premiership Finals again, but stunning all to take the top spot in Europe in the Pro League after having been considered relegation candidates in the season and having always been around mid-table during the season. The streak did not end in Japan, however, as the team narrowly defeated Wildcard Gaming before beating Team Reciprocity and DarkZero Esports to follow Team Empire in winning the Pro League in the debut season.
Another win at the ESL Premiership then followed -- this time against the new MnM Gaming roster at the Winter 2019 version of the tournament -- but that would mark the end of GiG's journey with the team. GiG was then dropped, with Na'Vi citing a foreseeable decline after the team's return from Japan having turned into a prolonged crisis. For his part, GiG had seemed understanding of the move, and now finds himself coaching the APAC champions of Giants Gaming.
The Giants Gaming roster itself was only signed just over three weeks ago, and played its first game under the new banner in a 7-3, 7-3 win over Team Valor in the Southeast Asian Pro League. However, all eyes will be on the team's return to the Six Invitational after three years, with the Singaporeans having been unable to capitalize on every opportunity in the Pro League and Major qualifiers until Season 10.
Catch the following Giants Gaming team in action next at the Six Invitational, with MIBR the team's first opponent:
Glen "Lunarmetal" Surysaputra
Adrian "Ysaera" Wui
Jeremy "HysteRiX" Tan
Matin "SpeakEasy" Yunos
Jordan "jrdn" Cheng
Jose "Histoire" Iman (substitute)
Ellis "GiG" Hindle (coach)