With the first week of the Pro League done and dusted, here's our pick of the action here at SiegeGG in NA, LATAM, and EU, with the weekly APAC Preview and Roundup being released separately.
Jump to:
Europe
Day 3
Over in Europe, the week began with a litany of exciting matchups, but none were perhaps as exciting as the matchup between the two Season 9 European leaders of Rogue and Team Empire.
Playing on Border, Team Empire would start off on the somewhat favoured attacking side and would take the first round decisively and with little difficulty. While Rogue would strike back in the next, karzheka would lead the charge in the third round and secure four kills on the way to restoring Empire's lead. This back and forth would thus form a pattern, with AceeZ getting a triple kill in the fourth round, before running out to get two kills while fully detected -- though Rogue would still lose the round. Rogue though, would come back to tie things up thanks to double kills from AceeZ and ripz, with the new Rogue member doing well.
Hicks and korey would then give Rogue the lead for the first time in the match, but ShepparD would clutch a 1v2 to keep things level. A first flawless round of the game would then go to Rogue, buoying the team's spirits, but a lack of second-floor control onto a Vents-Workshop attack meant that karzheka would get three, and the game was tied once more. Three for JoyStiCK would give Team Empire match point, but Rogue would capitalise on a weak Customs defense and tie things up.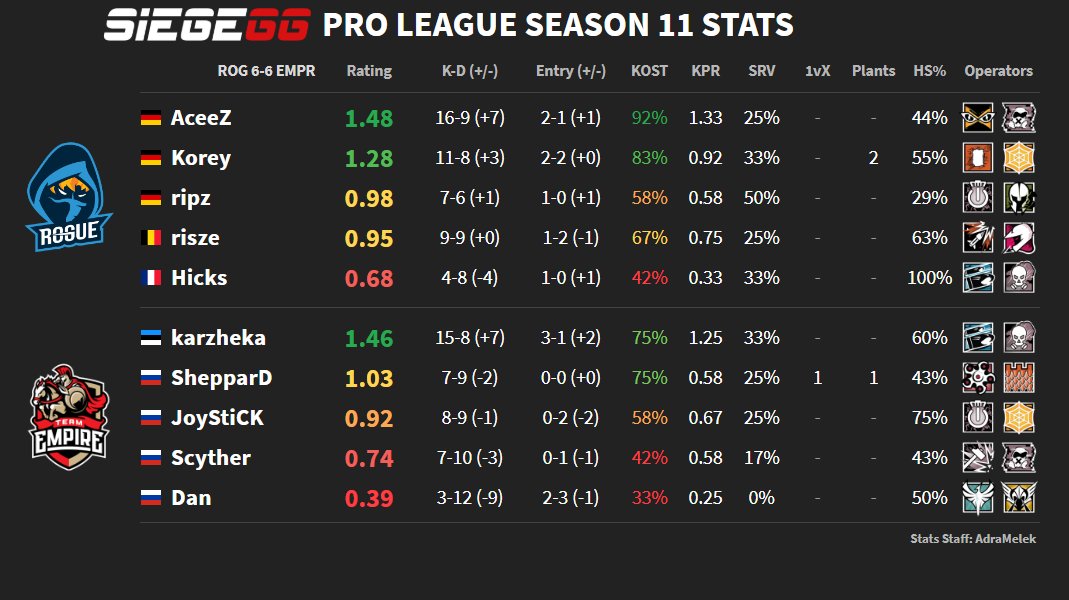 Elsewhere, the French derby between Team BDS and Team Vitality would see BDS win things out by a considerable 7-2 margin, while G2 Esports would mark a 7-4 victory over forZe, and Natus Vincere would resume winning ways with a tense 7-5 win against Chaos Esports.
Day 4
On the fourth play day, there were a few upsets across the region, with one of those upsets being Chaos defeating G2 Esports. While G2 Esports had been shaky for nearly a year, fans had been anticipating a victory at the very least against the Swedish squad.
Playing on Clubhouse, Chaos started off the match on defense. However, it would be G2 to take the early lead on attack, taking the first round. Chaos would hit back in round two though, tying it up 1-1. After a short pause in the match due to technical issues, Chaos would take another round and go ahead 2-1. Yet another rehost, this one taking much longer than the previous, really stalled this match and killed any momentum either roster had, and G2 would win the fourth round following the break, before trading rounds to end what was an extremely lengthy first half, 3-3.
Chaos started their attacking split strong, going up 5-3 and positioning themselves well to win the match. G2 rebounded quickly though, and it looked like the match would end up as a draw when G2 pulled two rounds back of their own to tie things 5-5. Good things came in a pair for Chaos, however, and won another two rounds straight for the second time this half, and would win the match 7-5 and pull off an upset. Topping the scoreboard for Chaos was Pengu and Fabian's former teammate of SHA77E, who looked to be much more like his old self, as he really put in a solid and complete performance for his team.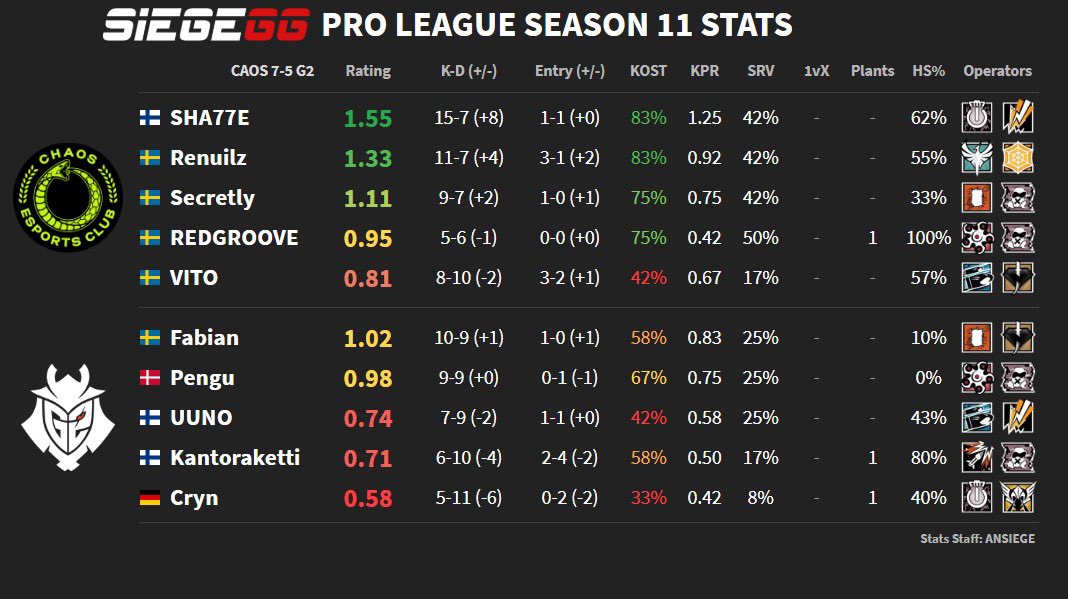 Throughout the rest of Europe, Vitality defeated a struggling and underperforming Na'Vi, 7-4. Rogue, on the other hand, continued to tie, this time against Team BDS in a tight contest. Finally, in a very large upset, forZe toppled Team Empire, who had traditionally been the more dominant team in Russia and Europe as a whole, winning with a 7-2 scoreline to shock viewers.
North America
Day 3
With largely comfortable victories on the third day of the Pro League in North America, DarkZero's tense victory over Tempo Storm would provide the best viewing for neutral fans. Of particular interest was the strong attacker-sided behaviour throughout the match and an Ash ban.
Starting off on attack on Villa, DarkZero struck first with a convincing attack onto Trophy-Statuary and did it again onto Kitchen-Dining, before Butterzz would help his team get a flawless round with a quad-kill. DarkZero, though, kept marching on with a flawless round too to restore the two-round lead before making it three as it seemed the win was all but confirmed, being on attack. The lead nearly became 5-1, but Butterzz once again stood tall to clutch out a 1v2 and keep his team in the fight.
Butterzz once again stood tall, slicing the DarkZero defense apart in Tempo Storm's first attacking round, securing three kills, and nearly helped his team level things in the eighth round, but DarkZero would hold on to regain the two-round lead. Filthy would then join in the fun as Butterzz would yet again find a double-kill opening, and a Creators triple would level things as attack seemed to be the name of the game. A frantic final 20-seconds trade-fest would then give DarkZero the lead once more, and the Season 10 top North American seed would close out the game with a flawless round to survive a nervy 7-5 game against Tempo Storm.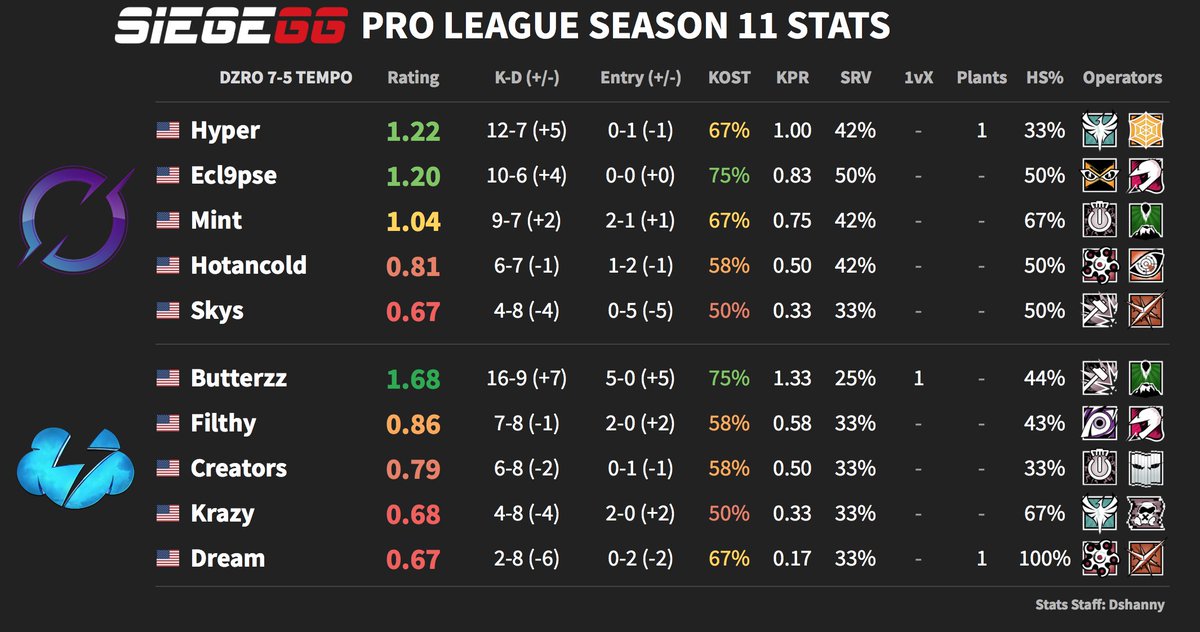 Afterwards, Spacestation Gaming completed an easy 7-3 victory over Team Reciprocity, Luminosity Gaming won 7-4 over an eUnited still having to play with Read, and Team SoloMid also completed a comfortable 7-3 win against Evil Geniuses.
Day 4
The fourth day of play in North America once again featured DarkZero, with the team up against eUnited this time around.
Playing on Consulate, DarkZero would start on attack, and eUnited on defense. DarkZero struck first, before trading rounds back and forth with eUnited. This would continue until round 5, where eUnited managed to string together two round wins and go up 3-2. In the final round of the split, eUnited had a disappointing collapse.
After going up 4-2 in player count with 20 seconds left in the round, poor map positioning allowed DarkZero to string together a series of 1v1 gunfights, leading to a final 1v1 with the defuser planted, between Gryxr and Hyper. Hyper wisely rotated down below the defuser into main lobby, and Gryxr could not disable the defuser as there was a drone on him and Hyper, playing Zofia, had impact grenades which could finish him off as he tried to disable. The round ultimately stalled out, Gryxr ran out of time, and DarkZero and eUnited entered the split tied, 3-3.
In the second half of the match, DarkZero again struck first, going up 4-3. Again though, they would trade round back and forth with eUnited, to a scoreline of 5-5. In the final two rounds of the match, DarkZero were finally able to find the separation they needed at the most critical time in the match. DarkZero would pull together two back-to-back wins to triumph, 7-5.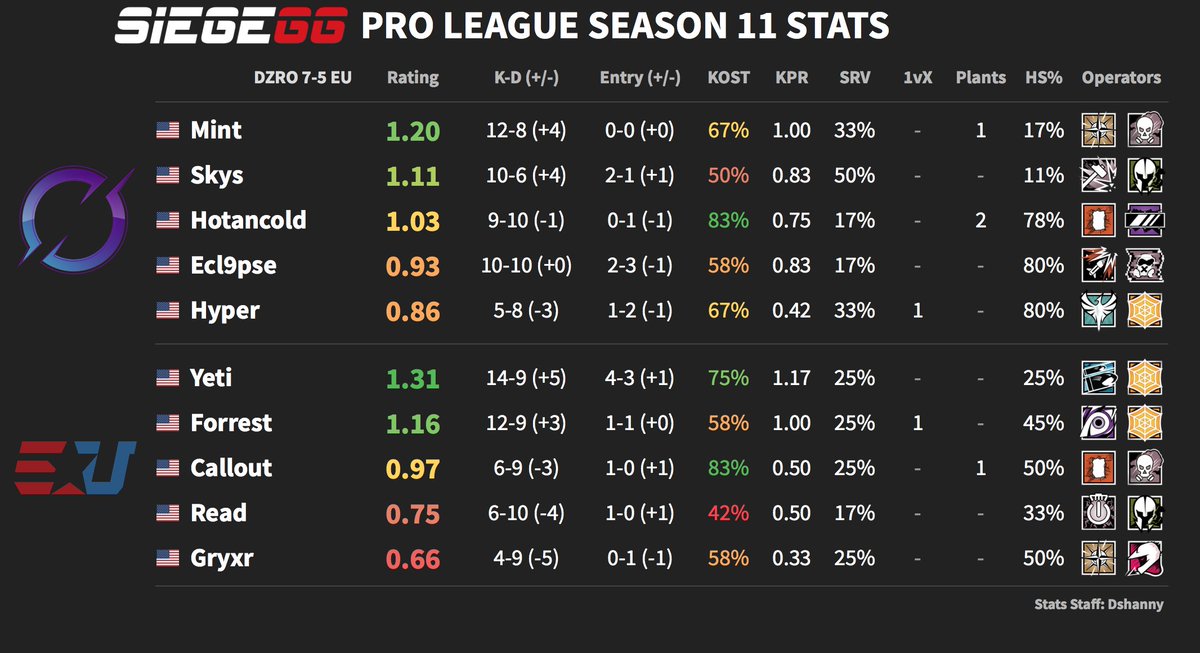 Across the rest of North America, TSM drew against Luminosity, which should hopefully give Luminosity fans a bit of hope that their team will begin to meet their raised expectations for this season. SSG put up a dominant performance against Tempo Storm, winning 7-2. Team Reciprocity followed suit, pulling out their own 7-2 win against EG.
Latin America
Day 3
With two close matches on the day, and two upsets, the best viewing to be found was in the one match that had an overlap with both -- in the game between FaZe Clan and Black Dragons.
A decision to start off their Consulate defences on the split bomb site backfired, as Black Dragons assumed the lead, but FaZe would tie things up after being able to run the clock down. Black Dragons, though, went back into the lead after pulling a 2v3 back, with Hornetao being a chief architect in the comeback. A near-flawless shutout from FaZe would be followed up by another successful Black Dragons basement take, but the half would end up tied as mav would clutch out a 1v3 with a C4, denying the plant with no time left.
Debutant Lagonis would then be the hero, denying FaZe Clan a chance at a lead, clutching out a 1v2 himself to get three in total for the round, but the back-and-forth would continue as FaZe would get a fourth round too. An extremely well planned execute from FaZe would finally net the titans a lead, but the Black Dragons players would put their collective feet down immediately after. Hornetao would clutch out a 1v1 against mav before pzdd would do the same after a strong yellow stairs hold by Live, and Lagonis would then net two kills with a C4 to turn a 3v4 into a 3v2 and lead his team to its first win of the season.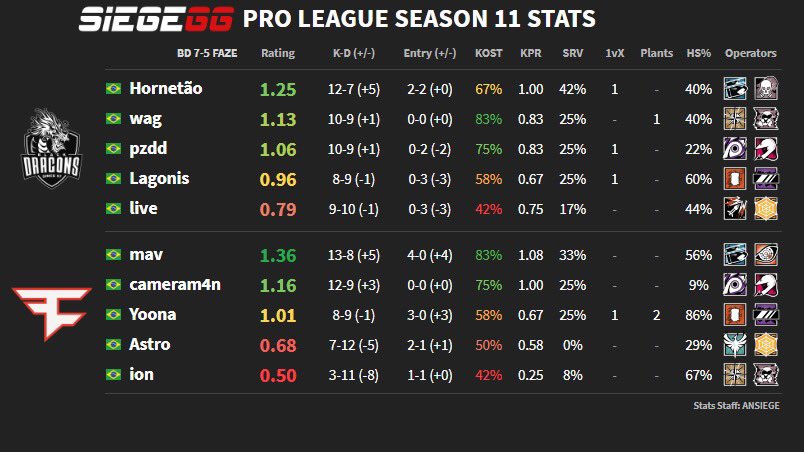 Elsewhere, Elevate pulled off a stunning 7-3 upset over INTZ e-Sports, Ninjas in Pyjamas was run close by Team oNe in a 7-5 win, while Team Liquid swept MIBR aside in a 7-2 win.
Day 4
The LATAM region was particularly volatile this playday, with a number of upsets and close contests across the board. MIBR defeating NiP holds probably some of the largest implications in the region however, as they are two teams with top 2 aspirations.
Playing on Consulate, MIBR started the match on attack. They would manage to win the first two rounds, going up 2-0, before NiP would stop the bleeding and get two rounds of their own. MIBR would continue the 2-round streaks, going up 4-2 at the split.
In the second half, MIBR took the first round, but NiP won the next two, and it appeared that NiP may be able to pull of a comeback, as they were only down 5-4 now. In round 10, despite being up 3-2 in player count at the end of the round, NiP were unable to secure the round win, and that was enough for MIBR to get their momentum back. MIBR would then win round 11 as well to secure the win, 7-4. With this result, both teams are sitting narrowly outside of the top two with six points each, one point shy of Liquid in second.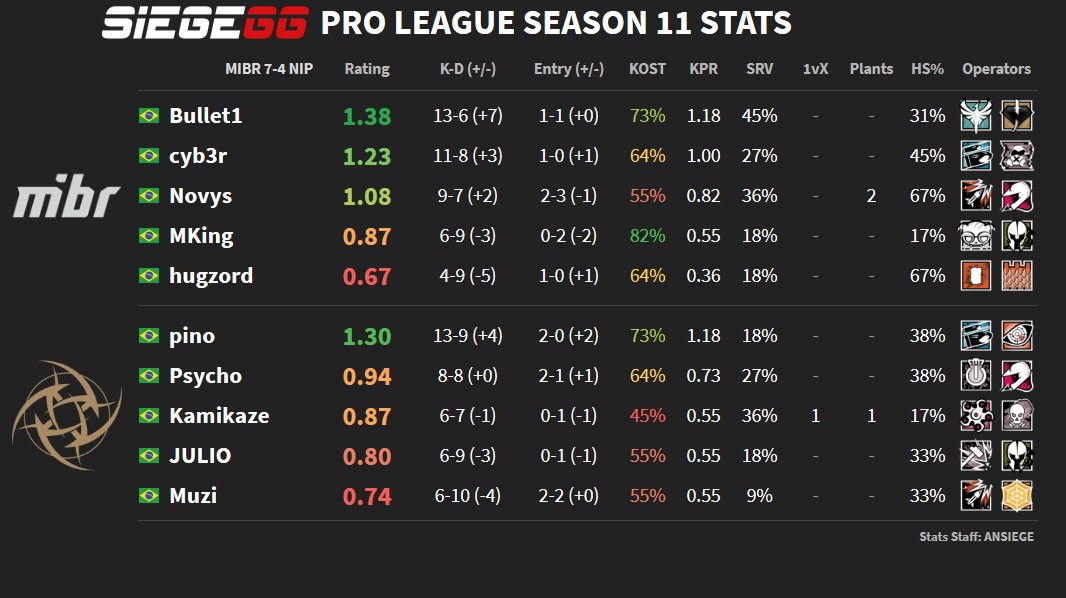 The rest of Latin America also had some interesting results. Elevate, who many predicted to place in the bottom two, drew against Team Liquid in what was a hard fought battle. Last place Team oNe defeated FaZe, 7-5. It is very likely that those are big dropped points from FaZe, and can be a major confidence booster for oNe as the season moves forward. Finally, INTZ continued their string of results in the region, defeating a disappointing Black Dragons team, 7-3.
Must-Watch Matches This Week
This week, keep your eyes peeled for a set of highly exciting matchups, starting with the European special of G2 Esports against Natus Vincere, with the defending Six Invitational champions then scheduled to play last season's second-placed team of Rogue the next play day.
In North America, DarkZero's match against Evil Geniuses will also be one to watch out for, followed by the absolute firecracker that is Spacestation Gaming versus Team SoloMid the next play day.
Finally, in Latin America, don't miss the clash between FaZe Clan and MIBR, and then Team Liquid and Ninjas in Pyjamas the next day as the pre-season top four candidates all go up against one another.
Caster Prediction Results
| | | | | |
| --- | --- | --- | --- | --- |
| Participant | EU Score | NA Score | LATAM Score | Total Score |
| Flynn | 6 | 9 | 6 | 21 |
| KiXSTAr | 6 | 7 | 7 | 20 |
| Verdi | 6 | 5 | 8 | 19 |
| Meli | 6 | 7 | 6 | 19 |
| Devmarta | 5 | 7 | 6 | 18 |
| Interro | 5 | 8 | 5 | 18 |
| Retalha | 6 | 6 | 6 | 18 |
| mzo | 7 | 6 | 5 | 18 |
| SiegeGG | 6 | 7 | 5 | 18 |
| Alex Polo | 4 | 5 | 8 | 17 |
| FuriouSG | 3 | 7 | 6 | 16 |
| Patreons | 4 | 6 | 6 | 16 |
| Hap | 5 | 4 | 6 | 15 |
As always, here is an update on how our casters and the SiegeGG ranking predictions did for this week. Think you can do better? Join in the prediction fun with us on Twitter, or become a Patreon and have your predictions reflected above.
---
Check back here at SiegeGG for more coverage throughout the Pro League season, including weekly updates, statistics, and highlights as the race for the two spots at the Finals goes on.