In what was to be a controversial announcement whichever way it swung, Ubisoft has announced the reigning world champions of G2 Esports as the final team for the upcoming Six Invitational 2020.
This news comes after weeks of speculation after confirmation that the final team at the Six Invitational 2020 would be directly invited to the event. Social media had been rife with posts arguing for various teams, with names such as Team Secret, Luminosity Gaming, and even Xavier Esports being bandied about as potential invitees.
YouTubers, players, and casters -- most notably Parker "Interro" Mackay -- had all made cases for and against the invitation of G2 Esports, with Interro having pointed out that a poor year for G2 was still considered to be a greatly successful one despite the lack of trophies.
In 2019, G2 Esports kicked off the new year with a title defence at the Six Invitational -- becoming the first team to win the Caber back-to-back -- but a spirited second-half run in Season 9 of the Pro League was not enough to make up for the team's first-half missteps, and G2 finished third and missed out on qualification to the Pro League Finals. Despite that, having won the Six Invitational had qualified the team for the Six Major Raleigh.
Shaky as Season 10 had begun for the team, with three losses from seven matches, G2 came alive in Raleigh. Making it to the Grand Final, it seemed that another Major win was in order. However, Team Empire stood tall and dealt the G2 roster its first defeat at a LAN event since DreamHack Valencia 2018. Despite this failure, the worst was yet to come for G2.
A failure to make it out of the group stages at DreamHack Montreal 2019 at the hands of Team BDS and Team Liquid followed soon after, and missing out on the Pro League Finals after finishing in third place yet again meant that another chance to make it to the Six Invitational 2020 went begging. Nevertheless, G2 still qualified for the OGA PIT Minor -- but was knocked out in the first round by a resurgent MIBR.
With one last chance to qualify left, G2 Esports faced tough opponents in the Six Invitational online qualifier, and Team Secret proved to be one of them as the British roster knocked G2 down to the lower bracket. However, few would have expected another British roster -- that of MnM Gaming -- to deliver the knockout blow, leaving G2 with no chance save for a then-unannounced direct invite.
Now, G2 Esports will have to prove to the world that it is worthy of having received the invite as it gears up for a title-defence with an outside chance of securing its first title in a year by winning the Six Invitational a third time.
When G2 Esports' coach, Thomas "Shas[O]Udas" Lee was asked about how his team planned to prove that it deserved the invite amidst the controversy that surrounded it, his answer was simple:
Beat everyone.
As such, the 16 teams set to feature next month at the Six Invitational will be as follows: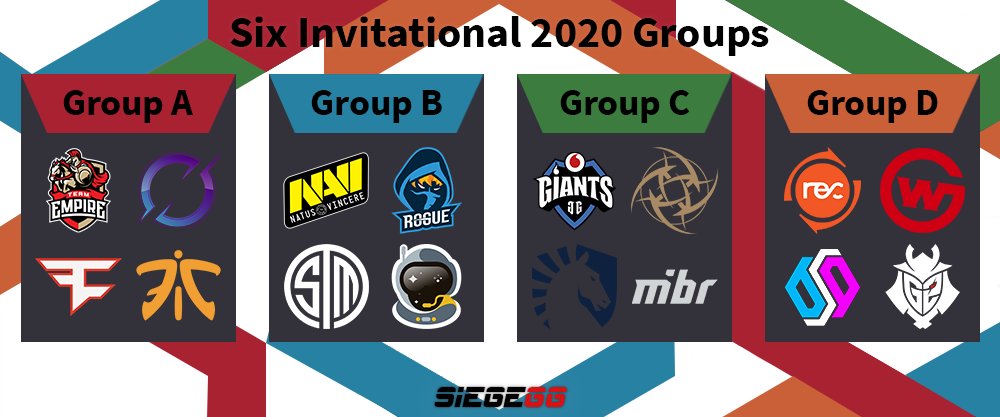 Group A
Team Empire
DarkZero Esports
FaZe Clan
Fnatic
Group B
Natus Vincere
Rogue
Team SoloMid
Spacestation Gaming
Group C
Giants Gaming
Ninjas in Pyjamas
Team Liquid
MIBR
Group D
Team Reciprocity
Wildcard Gaming
Team BDS
G2 Esports
Catch all the action as it comes, starting from the 7th of February and lasting until the 16th, and be sure to check in here at SiegeGG for full coverage of the event.