With the first week of the Pro League done and dusted, here's our pick of the action here at SiegeGG in NA, LATAM, and EU, with the weekly APAC Preview and Roundup being released separately.
Jump to:
Europe
Day 1
With relegation no longer a factor for Season 11, and the Six Invitational just a month away, the fight was on for qualification to the Pro League Finals. With Europe raising the curtain on the Pro League Finals, the best viewing was to be found between G2 Esports and Team BDS in one of the most anticipated grudge matches of the season.
Playing on Bank, a map less perhaps less often seen in EU, G2 Esports got off to a strong start with a lockout on the bottom floor after whittling away the time for BDS and forcing them to drop the hatches as Pengu won a 1v1 before Fabian followed it up with one of his own. Having lost two close rounds, BDS would strike back right after with a near-flawless attack. The two teams would begin trading rounds back and forth, with a Shaiiko triple kill followed up by a swift and concerted BDS take, thus closing out the half 3-3.
Switching sides, G2 quickly laid down the law with a flawless take onto the basement before a greatly damaging Shaiiko roam net him a three-piece as Renshiro locked the other two kills down on site. Despite his skills, Shaiiko would be unable to rescue a 1v4 situation as G2 once again eked out a lead -- only to have it erased as Shaiiko pulled out another three kills from his locker. G2 would be uninterested in allowing a loss, however, going back to the basement twice with two more highly successful attacks and holding on for the 7-5 victory.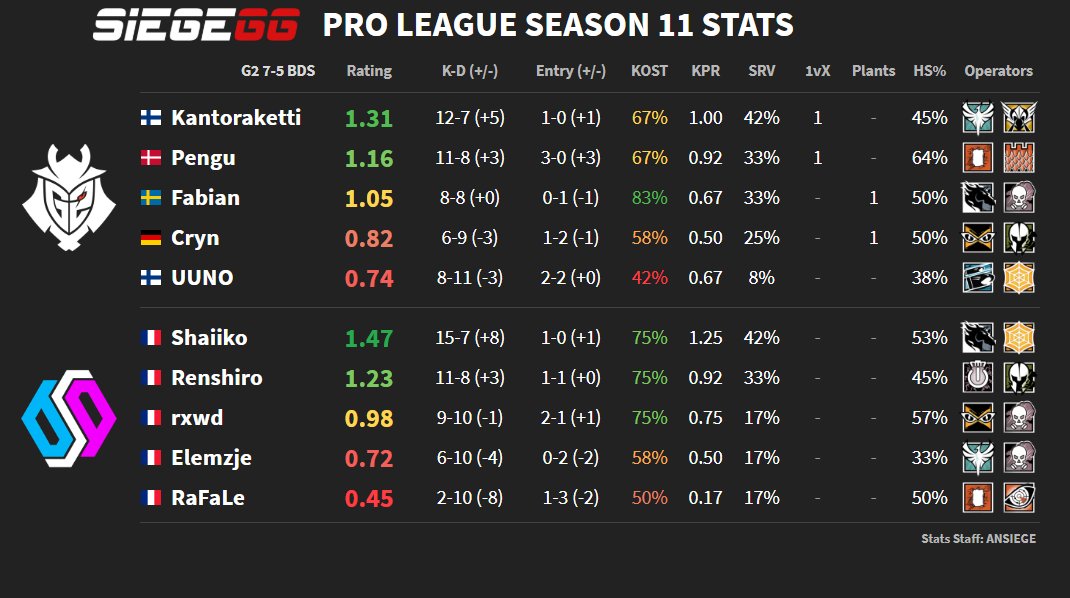 Elsewhere, forZe and Team Empire kept the Russian machine marching on, defeating Natus Vincere 7-3 and Team Vitality 7-1, respectively, while the newly signed Rogue players found a narrow 7-5 victory over Chaos.
Day 2
The second European play day had a few interesting matchups across the board, much like the first. With some results that would surprise more than a few viewers, the most important and best match to watch was between Team Vitality and G2 Esports.
The two teams went to battle on Kafe, one of the more popular maps in EU at the moment. Vitality struck first on a Bar/Cocktail attack, managing to gain a man advantage late in the round after poking and prodding at the tight defensive setup from G2. However, G2 rebounded after this first-round loss, stringing together three rounds in a row on defence, which included an aggressive and well-coordinated run out play from Kanto and UUNO.
After putting together two more attack wins, Vitality and G2 entered the split 3-3 before switching sides. Trading one round each way, G2 and Vitality were still level at 4-4. From here though, Vitality were able to pull two defensive wins together to go to match point, 6-4. It was anything but comfortable for Vitality closing out the match, though, in the next round, Pengu pulled out a little magic with a 1v2 clutch to make it 6-5. Despite G2's best efforts, however, an opening pick was unable to secure the round win as Vitality held on and took the win 7-5.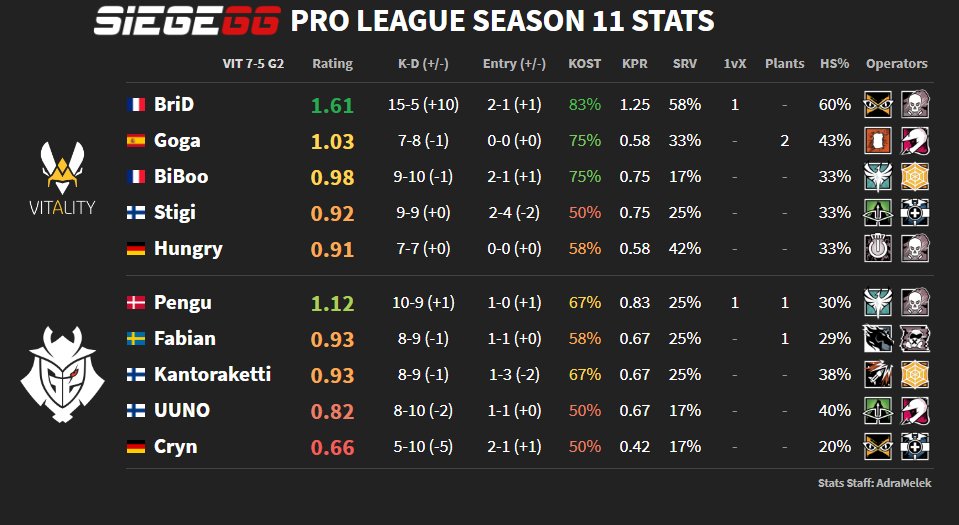 Across the rest of the region, Empire continued their strong form to start the season, winning 7-3 against BDS, a team who many had higher expectations for at the start of the season. Rogue and Na'Vi drew 6-6, and Chaos battled to a win against forZe, 7-5.
North America
Day 1
As with Europe, relegation is a non-issue for the North American region this season, and all teams have their sights set on the Pro League Finals. With many exciting matches to be watched, it seemed like the region had saved the best for last with DarkZero Esports (DZ) going up against Spacestation Gaming (SSG). With the two teams having met at the US Nationals Finals, and DZ having lost 0-2, many expected the result to be the same.
Going to Villa, DZ got the early advantage by starting off on defence and capitalised upon it well, taking two rounds to start things off -- albeit with a dicey second round that came down to a 1v1 -- though SSG struck back with a near-flawless round right after. DarkZero quickly reestablished the two-round lead, with Mint coming up big with a triple-kill, but could not do too much with SSG taking his team to the cleaners right away. Things were soon tied up despite Mint's best efforts to clutch a 1v4, and DZ looked like they would lose the map after having had only secured three rounds on a Villa defence.
A roaming Maestro from Rampy netted him three kills to push his team into the lead for the first time in the match -- with the lead doubling with another near-flawless round from SSG, but DarkZero was far from ready to lose. While Bosco and Fultz pulled things back from a 2v4 to a 2v2 after a strong Hyper entry, time ran out on the defuser to give DZ a way back into the match. Skys and Hotancold would then come alive, pulling off two flawless attacks in a row to get to match point, and Skys would close things out with a 1v2 post-plant clutch to start DZ's season with a 7-5 win.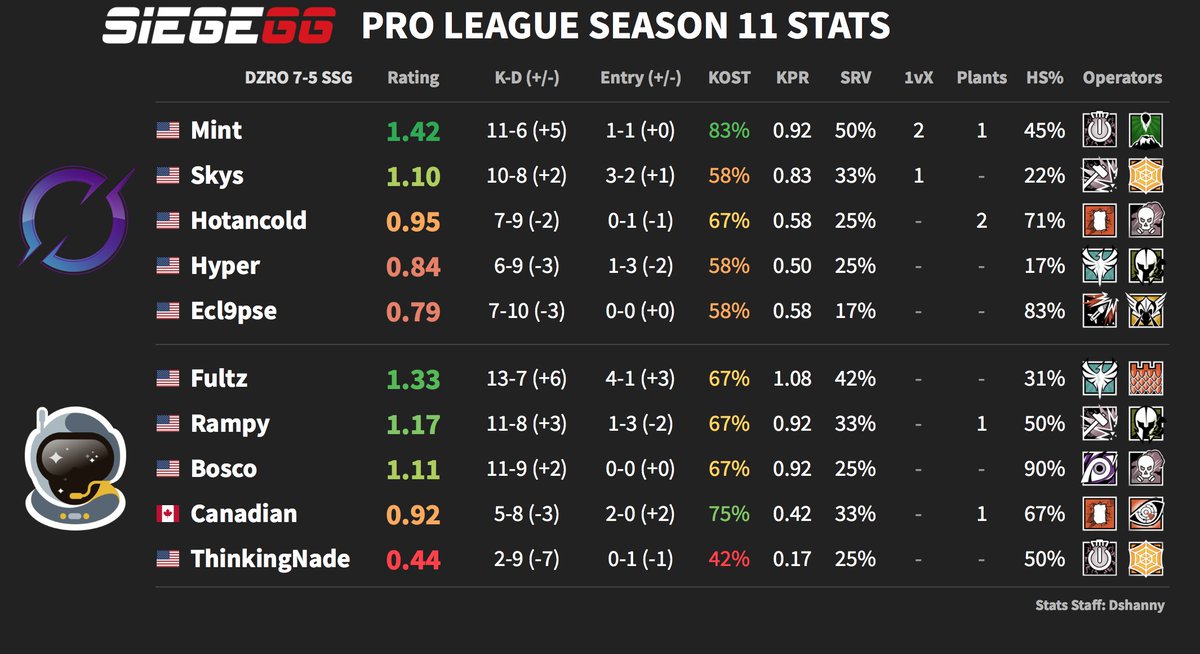 Elsewhere, Evil Geniuses also narrowly edged out Luminosity Gaming 7-5, while Team SoloMid ran amok against Team Reciprocity in a 7-2 victory, and Tempo Storm fell 3-7 to an eUnited playing with Read instead of Alphama.
Day 2
Day 2 in North America brought about some results which may be concerning for some teams' fans, and a bit relieving for others. The matches were overall sloppy, punctuated by a few plays which managed to greatly influence the games, with the best candidate for this description being the game between Luminosity Gaming and Tempo Storm.
Playing on Bank, Tempo Storm was able to gain the upper hand in the very first round of attack. After going down two to four in player count, Filthy stepped up to find a greatly important triple kill and effectively shut down the retake from Luminosity. Following this excitement were some largely uneventful rounds, though, leading to a 3-3 split at halftime. Again, the teams traded rounds back and forth, with neither team able to give themselves the decisive advantage over the other.
This eventually led to Luminosity sitting at match point, 6-5. They had one shot to close out this long and sluggish match with a win. Unfortunately for LG, they did not anticipate Dream waking up from his match-long slumber. While to this point his performance had been overall poor, Dream managed to find three major impact frags in the final round to secure the draw for Tempo Storm. This result is a bit of a relief for Tempo fans, as the team has now found its first points in the Pro League, and it was a better performance from the team as compared to the first day. For Luminosity fans however, they must be beginning to worry about the team's performance early on, as they have yet to live up to the slightly higher expectations following some strong showings in the off-season.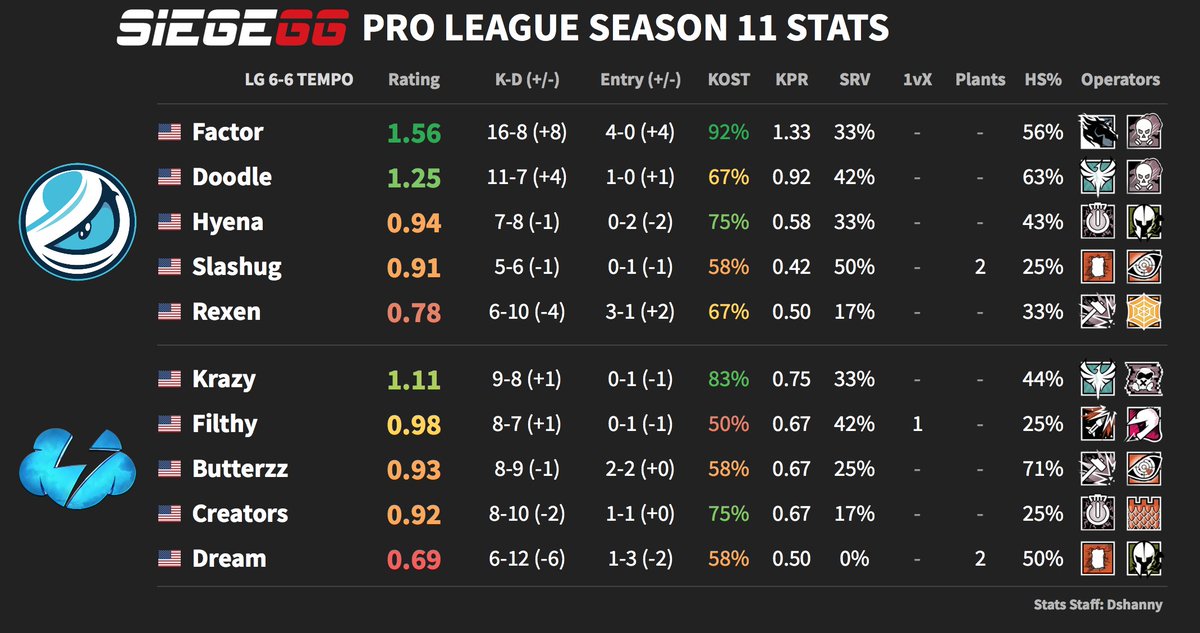 Elsewhere in North America, DarkZero drew Team Reciprocity in a result that left both teams unhappy after an overall sloppy game. DarkZero coach BKN afterwards called it "an absolute slopfest" and promised it would be "the worst game we play all season". After falling behind early due to some mistakes, trash talk from Callout seemed to wake TSM up against eUnited to dominate 7-3, while EG made the grave misjudgement of taking Spacestation Gaming to Clubhouse and lost 2-7.
Latin America
Day 1
Over in Latin America, with relegations still very much present, all eyes were on the clash of the titans -- Ninjas in Pyjamas (NiP) versus FaZe Clan. With both teams having run into visa issues at the Season 10 Finals, fans were eager to see both back in action at full strength.
Having been denied his visa, ion kicked things off with a two-piece on a basement defense on Clubhouse before FaZe bled NiP's time dry in the second round. NiP's players, though, were not cowed and answered back with two flawless rounds on attack to stun their opponents. FaZe would finally stem the bleeding in the fifth round and follow it up with a dicey sixth round to go into the second half with a 4-2 lead.
The first round with swapped roles was incredibly frenetic, with kills flowing back and forth, though NiP managed to hang on on time, but FaZe immediately answered back to regain the two-round lead. It seemed that match point was imminent, but an incredibly important double-kill from Muzi stopped the plant in its tracks to allow his team to win on time, but that only delayed the inevitable. Pino would get a three-piece to give hopes for a draw, but a chaotic 4v5 plant with 10 seconds left to go saw FaZe come out on top and take the win 7-5.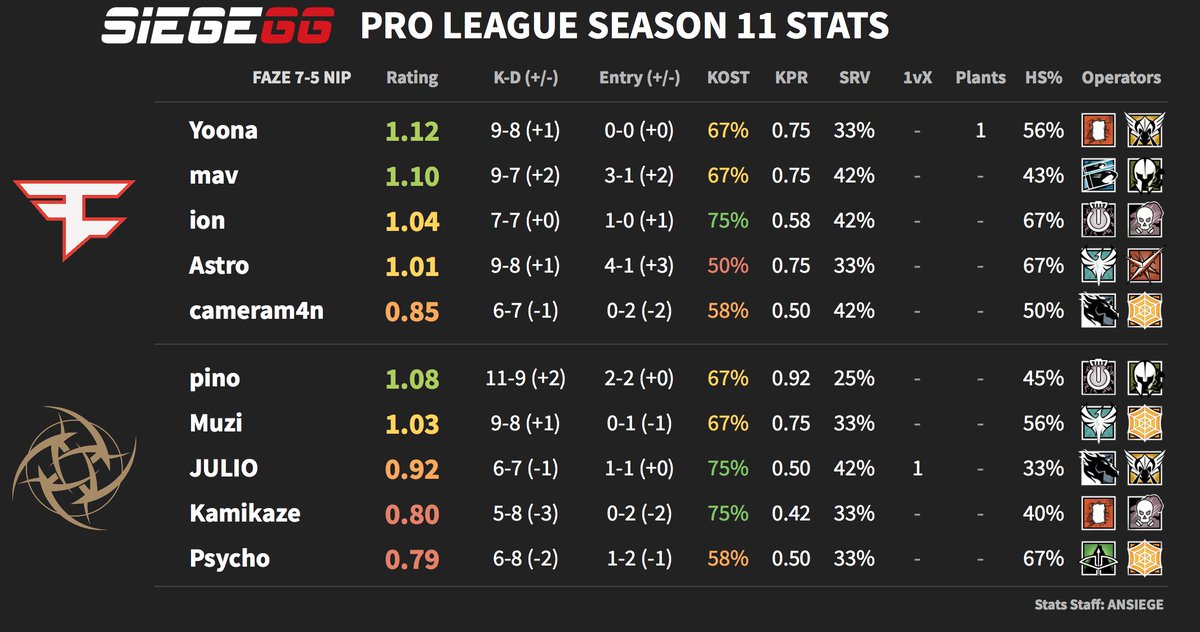 Elsewhere, newly promoted Elevate held Black Dragons to a draw, while INTZ e-Sports stunned Team Liquid 7-4, and MIBR continued to climb upwards with a 7-5 win over Team oNe.
Day 2
INTZ has been the surprise story of the LATAM region thus far. Perennially in the bottom half of the region, the team has gotten off to a 2-0 start, with wins over two favorites for the season -- first against Team Liquid and now against MIBR.
Playing on Consulate, INTZ struck first and second, going up 2-0 before MIBR could stop the bleeding in the third round to make it 2-1. That was all MIBR could do in the attacking half of the split, though, struggling greatly and seeming disjointed. At the halftime swap, the scoreline was 5-1 in favor of INTZ.
On defense, MIBR looked much more comfortable winning the first round on defense to make it 5-2, and then again to make it 5-3. After some wonderful audio improvisation by casters mzo and Milosh, INTZ managed to push the game to match point. MIBR fought back as hard as possible, with Cyber finding a 4k the following round to make it 6-4. In the end, though, the poor first half of the split was too much for MIBR to overcome, and INTZ won 7-4.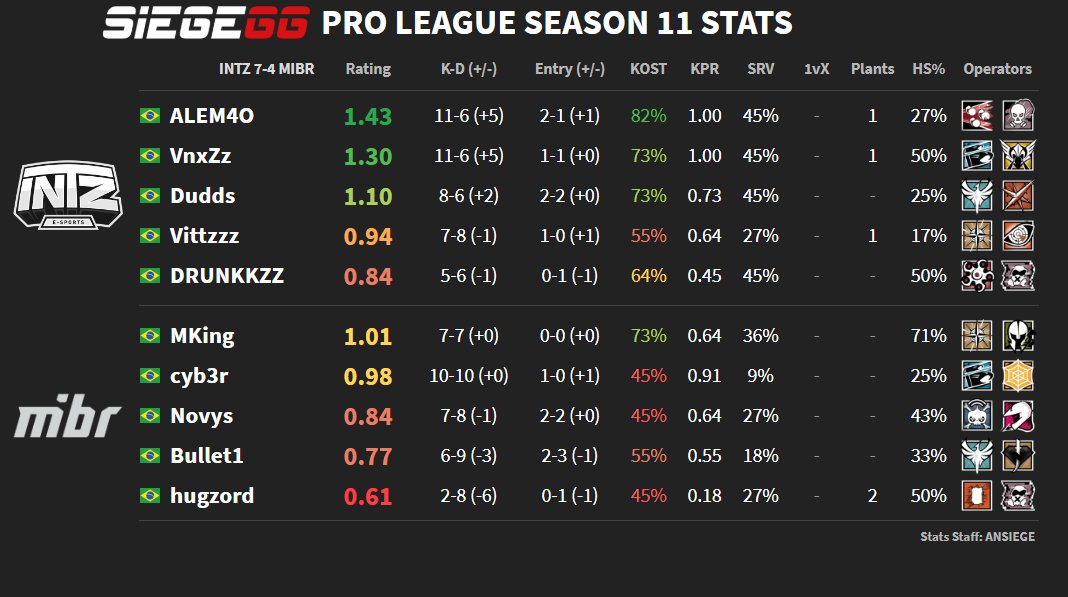 Across the rest of Latin America, Liquid comfortably dispatched Team oNe 7-2, and FaZe strolled to a 7-3 victory over Team Elevate. NiP had a much tougher time with Black Dragons, but was eventually victorious with a 7-5 scoreline.
Must-Watch Matches Next Week
Next week sees a litany of highly exciting matchups, but the most anticipated ones are likely to include G2 Esports facing off against forZe in a battle of the old and new, while the next European play day will see the Russian derby between forZe and Team Empire. Don't miss Rogue's matches as well, first against Team Empire and then against Team BDS.
In North America, keep an eye out for the game between Team Reciprocity and Spacestation Gaming, with Evil Geniuses' games against Team SoloMid and Reciprocity also ones to watch out for in a bid to get an early look at the top teams this season.
Latin America features a great deal of top clashes as well, with the Team Liquid fight against MIBR certain to get hearts pumping, alongside the FaZe Clan and Team oNe matchup. Also keep an eye out for Team oNe taking one Ninjas in Pyjamas, with the second week of play really ramping up the excitement.
Caster Prediction Results
| | | | | |
| --- | --- | --- | --- | --- |
| Participant | EU Score | NA Score | LATAM Score | Total Score |
| Alex Polo | 3 | 5 | 6 | 14 |
| Flynn | 4 | 5 | 4 | 13 |
| Devmarta | 4 | 4 | 4 | 12 |
| Verdi | 4 | 3 | 5 | 12 |
| KiXSTAr | 4 | 3 | 5 | 12 |
| Meli | 4 | 4 | 4 | 12 |
| Interro | 4 | 4 | 3 | 11 |
| Hap | 3 | 2 | 5 | 10 |
| FuriouSG | 2 | 4 | 4 | 10 |
| Retalha | 4 | 2 | 4 | 10 |
| mzo | 4 | 2 | 4 | 10 |
| SiegeGG | 3 | 3 | 4 | 10 |
| Patreons | 3 | 2 | 4 | 9 |
As always, here is an update on how our casters and the SiegeGG ranking predictions did for this week. Think you can do better? Join in the prediction fun with us on Twitter, or become a Patreon and have your predictions reflected above.
---
Check back here at SiegeGG for more coverage throughout the Pro League season, including weekly updates, statistics, and highlights as the race for the two spots at the Finals goes on.