Season 10 ended in Tokoname, Japan where Natus Vincere lifted the trophy in their debut season in the league. Now, Na'Vi will begin their campaign to become the second-ever back-to-back Pro League champions with teams such as Team Empire, DarkZero Esports, Team Liquid, and Spacestation Gaming all aiming to finally get ahead and take another major title.
To get this far, each of the main regions -- NA, EU and LATAM -- will see a double round-robin format, best-of-one map league take place as every team faces each other twice in each region. From here, the top two in each region will attend the LAN Finals where they will be joined by the two finalists from the previous APAC Finals event.
---
Jump to:
---
Season 11 Finals
At the moment, no details about the Finals location or dates have been confirmed, but it is very unlikely to return to the APAC region as the last Finals were held there. As for the dates, it is likely to take place in mid-May as Seasons 1, 4, 7 and 9 have been previously.
Assuming it takes the same format as the previous seven seasons, the eight teams in attendance will compete here in a single-elimination knockout tournament over a weekend, with Season 10 having offered the following prize distribution:
1st - $100,000

2nd - $50,000

3-4th - $30,000

5-8th - $20,000
Europe
Competing in Europe are the following teams:
Natus Vincere

-

neLo, CTZN, Kendrew, Saves, Pie and jahk (their coach)

Rogue

-

Hicks, risze, AceeZ, korey, ripz, and Crapelle (their coach)

G2 Esports

-

Pengu, Fabian, Kantoraketti, UUNO, Cryn, Shas and Sua (their two coaches)

Team Empire

-

ShepparD, JoyStiCk, karzheka, Scyther, Dan and RayzerGM (their coach)

Team Vitality

-

BriD, BiBoo, Stigi, Goga, Hungry and Lyloun (their coach)

Chaos Esports Club

-

Secretly, REDGROOVE, Renuilz, VITO, SHA77E, Syred and Hyperino (their coach and analyst)

BDS Esports

-

rxwd, Shaiiko, Renshiro, RaFaLe, and

Elemzje

forZe

-

wTg, Rask, Shockwave, KaMa, p4sh4 and Korben (their coach)
Europe this season will see the toughest competition ever, with every team being in contention with a spot at the eventual Finals. As well as the winners of Seasons 8, 9, and 10 of the Pro League all present in Na'Vi, Empire, and G2, the ex-World Champions of Goga and SHA77E have also joined the contending rosters of Vitality and Chaos.
What's more, we have the newly signed Rogue roster, which attended almost every single major tournament in 2019, ready to continue their march to yet another Finals while the two relegation victors have already proven themselves to be world-class competitors at the Raleigh Major for forZe and DreamHack Montreal for BDS.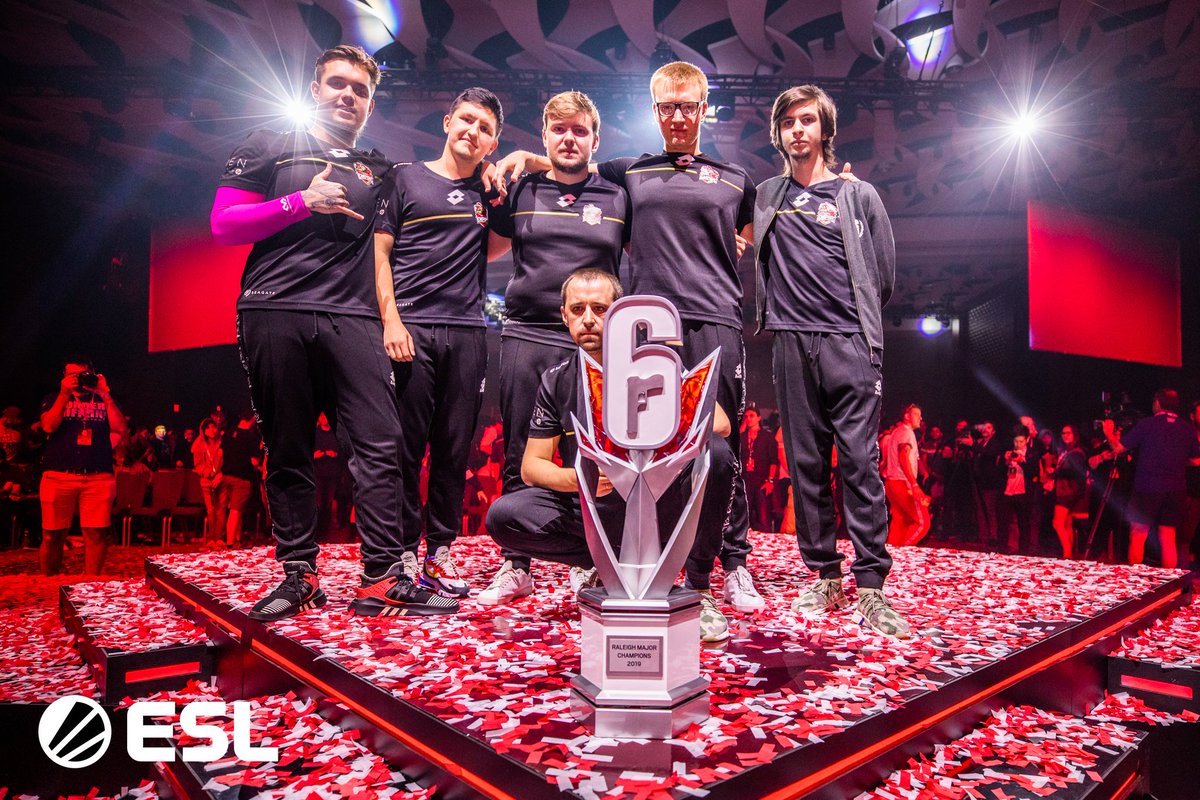 After disappointing performances at DreamHack Montreal, OGA Pit Minor, and the Six Invitational qualifiers, G2 Esports' run will be one of the main focuses of this season. With two of their core players kicked from the team in the last year, their ability to compete with the best has been brought into question. While the roster won four major tournaments in 2018, it has been eleven months since their last tournament win as teams such as Empire, BDS, and even MnM Gaming have knocked the team out of major tournaments since.
While G2's performance has been on the way down, teams such as Empire and Na'Vi have been able to take their spot, winning a Pro League title each while Empire also took the Raleigh Major title. BDS Esports have also shown their prowess, knocking out G2 in a Minor, besting most of the region in the Invitational qualifiers, and winning the Challenger League almost flawlessly. However, their recent decision to kick Panix and FiskeR has cast doubts over their season, with Elemzje being brought in after having left Team Secret a while ago.
This leaves Vitality, Chaos, Rogue, and forZe, the first three of which are teams which have been around in Europe for years now but have recently made major changes. Vitality just lost ifs French-core by picking up the German of Hungry and the Spaniard of Goga and Rogue also lost its French-majority after ripz was added. Goga's ex-teammate of SHA77E, meanwhile, has joined Chaos, forcing them back to English comms, making all three of these rosters real challengers for the title.
Finally, we have forZe who, after finishing the last Challenger League season as runners-up, now seem to have fallen in the shadow of many of their competitors after they failed to make it to the OGA Pit Minor despite being given a lifeline. They were also eliminated by the sub-CL roster of IziDream in the Invitational qualifiers. After shocking the world to a top-four finish at the last Major despite never having played a Challenger League game before, the team will now need to find this spark again if they wish to compete to the level they've previously shown they can.
North America
DarkZero Esports

- Mint, Hotancold, Hyper, Skys, Ecl9pse, BKN, BC and eCentral (their two coaches and analyst)
Team Reciprocity

- FoxA, Retro, LaXInG, Nyx, VertcL and HOP3Z (their coach)
Evil Geniuses

- nvK, Yung, Necrox, Modigga, Gotcha, Ranger (their coach)
Luminosity Gaming

- Doodle, Hyena, Rexen, Factor, Slashug and ViiRuS (their coach)
Spacestation Gaming

- ThinkingNade, Rampy, Bosco, Fultz, Canadian, Lycan, sovsov3 and EkuL (their coach, assistant coach and analyst)
Team SoloMid

- Achieved, Merc, Beaulo, Pojoman and Geoometrics
eUnited

- Callout, Gryxr, Forrest, Yeti, Alphama, Read (their stand-in), XecratioN and Bugs (their coach and analyst)
Tempo Storm

- Butterzz, Dream, Creators, Filthy, Krazy, KenZ, DnA and Forceful (their coach and two analysts)
After over two years of Evil Geniuses' domination over NA and an almost complete drought of international victories, the dam broke in 2019 with Team SoloMid and Rogue taking Minor titles, and both Evil Geniuses and DarkZero contesting the Pro League grand-finals. On the other hand, Spacestation Gaming ended the year with three grand-final appearances in the space of two weeks.
Certainly, it seems like NA's time to finally take its first Pro League or Major title since Year 1 is finally coming in 2020, meaning there'll be a race to the top in NA to be the ones competing at the Season 11 Finals.
With all these successes in 2019, 2020 starts with an attention on the series of roster changes that have created a new look in six of the eight Pro League rosters. DZ and Reciprocity responded to their top-four finishes in Season 10 by introducing two new players in each team, while TSM and EG swapped players in moves which could completely shift the dynamic of the region over the next few months.
Spacestation Gaming, meanwhile, has done the opposite and has made no player changes since picking up Canadian following their top-eight finish at the last Major. Since then, they topped Rogue and Reciprocity at DreamHack Montreal, made the grand-final of the OGA Pit Minor, won the Six Invitational qualifier and, crucially, finally found victory at the 2019 US Nationals -- both SSG first-ever title and Canadian's first in his last seven grand-final appearances. Now, they'll hope to use this momentum to finally get past their constant draws to finally challenge for a Pro League spot through 2020.
Just like SSG, Tempo Storm has also made no player changes following their promotion to the Pro League after they narrowly bested Rogue in their relegation matchup.
Their fellow Challenger League opponents of eUnited, meanwhile, opted to do the complete opposite and make as many changes as possible. As well as an organisation change -- their second in a few months following their break from the Pittsburgh Embers -- eUnited also brought in the Challenger League players of Yeti and Read (as a stand-in) with the latter then being replaced by Alphama, the only non-North American in NA Pro League. For the first play day at least however, Read will be standing in while Alphama's competitive visa is sorted out.
These huge changes have been criticised by many, but regardless of your views, it will be fascinating to see how well both eUnited and TS can challenge in their debut season in the league.
Latin America
Ninjas in Pyjamas

- Kamikaze, Psycho, julio, Muzi, pino and Ar7hur (their coach)
FaZe Clan

- Astro, cameram4n, mav, yoona, ion and Twister (their coach)
Team oNe

- Reduct, Faallz, LuKid, rhZ, FelipoX, Budega and Vivas (their coach and analyst)
Team Liquid

- Nesk, xS3xyCake, Paluh, psk1, HSnamuringa, Sensi and Silence (their two coaches)
Black Dragons e-Sports

- Pzd, live, wag, Hornetao and sSeiiya (stand-in, also coach)
INTZ eSports Club

- Dudds, Vnx, DRUNKKZZ, Vittzzz, Alem4o, JP and igoorctg (their two coaches)
MIBR

- Cyb3r, Novys, Bullet1, MKing, hugzord and Guille (their coach)
Elevate

- LENDA1, Hxnteer, KDS, soulz1, WILL, Ramalho and LowJ4X (their two coaches)
After an explosive initial year in the Pro League, the LATAM region has been extremely dry since Team Liquid's Season 7 victory. Since then, only one team has made it out of each Major's group stages, while just FaZe Clan has been able to challenge internationally at Pro League Finals. However, this may suddenly change as we enter Season 11, as Liquid, MIBR, oNe, and NiP all aim to challenge FaZe Clan's domestic domination of the Pro League.
At this point, FaZe Clan has finished in the top two in LATAM and has qualified for the Finals in the last six Pro League Seasons -- an unmatched record. FaZe, however, will face stiff competition from the team that clinched their title of 2019 Brazilian champions from them -- Team Liquid. Liquid has been on the way up for the whole of last year, finishing joint fifth, third, second, and then finally first across 2019's four Minor events in what was the region's first title since Season 7. This rise is unlikely to end here as their consistent lineup has led to growth seen in just SSG in the rest of the world, finally making them a major title challenger once again.
As well as Liquid, the OGA Minor also highlighted another team -- MIBR. After over a year of impressive online performances, the squad secured victories over multiple international teams. The roster then destroyed all domestic opponents to book a spot at the Six Invitational alongside Liquid, FaZe, and NiP, all of whom will be sure to create a highly competitive Season 11.
The remaining four teams include Elevate -- with all its players being new additions to the Pro League -- as well as Black Dragons, INTZ, and oNe, with the latter two each having brought in a young gun who just turned 18 and jumped straight into the Pro League in Alem4o and FelipoX, respectively. Their performances in all four rosters will determine whether they can rise from the mid-table or fall back down, making these three players the ones to watch in the Pro League.
Asia-Pacific
The APAC region is split into four sub-regions -- Japan, Korea, South-East Asia, and Australia and New Zealand -- each of which competes in the same double round-robin, best-of-one map format seen in the other three regions. At the end of the online segment, the top two teams in each region are then invited to the APAC Finals. Here, the eight teams will compete in a single-elimination LAN tournament, with both finalists qualifying for the Pro League Finals alongside the top two in every other region. In Season 10, the following teams had featured at that tournament:
Japan
Cyclops Athlete Gaming - Anitun, SuzuC, gatorada, BlackRay, Ayagatorz and XQQ (their coach)
NORA-Rengo - Merieux, Papilia, ReyCyil, YoshiNNGO, Maavie and kizoku (their coach)
Australia and New Zealand
Fnatic - Magnet, Lusty, Virtue, MentalistC, Tex and Dizzle (their coach)
Wildcard Gaming - EmoRin, Derpeh, Ethan, Diesel, NeophyteR, syliX and Fluxx (their two coaches)
South Korea
Cloud9 - EnvyTaylor, SweetBlack, h3dy, Nova, x and OniChan (their coach)
TRIPPY - YEONGJI, Templat, WATB, PJH (coach, substituted in), Simple (substituted in) and DongUk (coach)
Southeast Asia
Qconfirm - Lycolis, Hajime, Producerboomer, HealthcareOG, Pxkie, and Funleks (substitute)
Aerowolf - Lunarmetal, Ysaera, HysteRiX, jrdn, SpeakEasy and Histoire (substitute)
With neither of APAC's giants in Fnatic or NORA-Rengo (NR) qualifying for the Season 10 Finals, and with the latter also not qualifying for the Six Invitational, it seems like the tides have shifted in APAC. Major roster changes to the Fnatic and Cloud9 rosters over the last few months, as well as the replacement of Fnatic-bound MentalistC in Aerowolf, will surely throw a wrench in each subregion's games before they meet in April for the APAC Finals.
Japan, meanwhile, sees the competition heat up with the growing strengths of CAG, GUTS Gaming, FAV Gaming, and DetonatioN Gaming, all who will be competing with NORA-Rengo to once again ensure Japan is represented on the international stages. However, with CAG's defeat the Six Invitational 2020 qualifier to Xavier Esports, it seems that the subregion may be beginning to struggle. Kizoku, the NR coach, recently tweeted that he believed it would take a while for Japan to be internationally represented again, and it seems that he could well be accurate in his prediction.
Rising quickly through APAC seems to be the Southeast Asian subregion, spearheaded by the aforementioned Aerowolf. However, the team lost a key component in the form of MentalistC and will be filling their ranks with their Season 10 substitute, jrdn. Xavier Esports is also well on the rise, having performed exceedingly above expectations in the Six Invitational 2020 qualifiers, and the former Xavier roster -- now Qconfirm -- and Scrypt E-Sports are not far behind.
Of course, change is afoot in Australia and New Zealand as well, with Fnatic having significantly changed its roster in a bid to shoot back to the top. Wildcard Gaming is also almost a certain lock for second place, while Onyxian (ex-Oddity Esports), HomeLess, and Mindfreak will be looking to give a strong fight to the incumbents. What's more, the bottom half of the subregion is certain to be exciting as well, with predictions hard to be made accurately.
Finally, Korea seems to be having somewhat of a shakeup, with Cloud9 beginning to struggle significantly on the domestic front after having dominated the region since its inception. TRIPPY, too, seems to be in trouble after a huge roster shakeup with two substitutes drafted in -- and it seems that SCARZ and Axiomatic will be in a prime position to capitalise.
Broadcast and Schedule
The English language broadcasts for the North American, European, and Latin American regions will be handled by the usual four casters of Michael "KiXSTAr" Stockley, Parker "Interro" Mackay, Devin "mzo" Becker, and Ghassan "Milosh" Finge. The famed Brazilian casters of André "meligeni" Santos, Otávio "Retalha" Ceschi, Ricardo "qeP" Fugi, and Victória "viicrodrigues" Rodrigues will also be casting the games in Portuguese.
Catch these games on the main Rainbow6 Twitch and YouTube channels on the following days and times:
EU: Monday and Wednesday, 7 PM CET (UTC+1) onwards

NA: Monday and Wednesday, 8 PM EDT (UTC-5) onwards

LATAM: Tuesday and Thursday, 7 PM BRT (UTC-3) onwards
Over in APAC, the ANZ games will be brought to your screens on the main Rainbow6 Twitch and YouTube channels in English by James "Devmarta" Stewart, Robert "ManicMunday" Munday, Michael "Guzzlightgear" Gurrie, Brandon "Raven" Langiano. Southeast Asia will also feature an English broadcast team on the Rainbow6SEA channel, with Shikhar "InfianEwok" Gupta and Ian "LAN" Seaton primarily broadcasting the games, although Konstantin "Cthulhu" Nuridhzanyan will be filling in for LAN for the first week.
Japan, meanwhile, will have a Japanese-only broadcast with Toshiaki "Frieda" Kubota and Tomohisa "Tomozo" Yamano lending their voices on the Rainbow6JP Twitch channel, and Korea will have a Korean-language cast by Kim "AquaHeartNJH" Do Kun and Park "RockDM" Dongmin on the Rainbow6KR Twitch channel. Catch the APAC games at the following days and times:
Australia-New Zealand (ANZ): Wednesday and Thursday, 7 PM AEDT (UTC+11) onwards

Southeast Asia (SEA): Wednesday and Thursday, 7 PM SGT (UTC+8) onwards

Korea: Wednesday and Thursday, 8 PM KST (UTC+9)

Japan: Wednesday and Thursday, 9 PM JST (UTC+9)
The season will be kicking off with the European game of Natus Vincere vs forZe, with the explosive game of G2 Esports vs Team BDS to follow. Soon after, Evil Geniuses will take on Luminosity Gaming in the North American curtain-raiser, with the tantalising games of Team Reciprocity vs Team SoloMid and DarkZero Esports vs Spacestation Gaming to follow.
A day later, Latin America will see Elevate take on Black Dragons in the first game with the electrifying games between Ninjas in Pyjamas vs FaZe Clan and Team oNe vs MIBR set to come after. Later in the day, ANZ will get APAC proceedings underway with Onyxian (ex-Oddity Esports) versus Team SiNister, with the other subregions' games scheduled soon after.
---
Catch all the action as it comes to your screens live in just a few hours, and check back here on our website, Twitter page, and YouTube channel for statistics, highlights, and news.