Jump to:
North America
Pro League teams - APE, Evil Geniuses, Tempo Storm, Spacestation Gaming, Luminosity Gaming
Challenger League teams - Susquehanna Soniqs and ex-Rise Nation,
Open Qualifier teams - Katsu, Okami, Senshi, PogChamp, OverDOSED, ExG2.0, Gyarados and the Magikarps, Shook Squad, Rat Pack
Monday evening saw the North American open qualifier kick off, with games scheduled to run daily until Friday evening, and will culminate in an exciting match between Spacestation Gaming (SSG) and either of Luminosity Gaming (LG) or Evil Geniuses (EG).
The first round of games largely saw expected results, with the higher seeded team going through, but the second round saw a victory for APE, the former Obey Alliance squad, with the recently minted Pro League team knocking LG down to the lower bracket in a hotly contested, three-map, double-overtime game (4-7, 8-7, 8-6). The victory was made even more impressive by the fact that this was the first game for the team with the new roster, having only recently added Yeti and playing with Read as a stand-in for their future fifth player.
Meanwhile, the Soniqs managed to repeat a victory over TS (8-6, 5-7, 7-4) just as they had over the weekend at the US Nationals Finals, but would fall to SSG (5-7, 0-7) as expected in the next round, while APE fell to EG in a similar fashion (5-7, 3-7). APE's performance, though, cannot be overstated given their situation, pushing the Season 9 Pro League finalists close to a first-map loss.
Down in the lower bracket, some surprises were sprung with Tempo Storm (TS) and LG both dropping a map each against their opponents of Rat Pack (6-8) and PogChamp (4-7). While LG would drop another map in the next round, this time to Katsu (6-8), TS would in fact fall outright to their former Challenger League rivals, ex-Rise Nation with a 2-1 scoreline (7-4, 4-7, 4-7) and be knocked out of the running outright.
The Soniqs, joining in the lower bracket fray after their loss to SSG would find no respite against the supposed "easier" team of LG, who crushed Soniqs 2-0 (7-3, 7-1), while APE would find their mojo to win 2-1 against ex-Rise (4-7, 7-5, 7-4) in another close and exciting matchup to set up a lower bracket semi-final date with LG in a repeat of the second round game.
LG would get off to a flyer, smashing APE 7-0 on the first map of Kafe, but would be pegged back immediately with a 4-7 loss on Consulate. The decider would be the closest of the three, but overtime eluded APE as they fell 7-5 to cap off a very impressive run. LG's own run after their loss to APE has been impressive in its own right, however, and the team will be feeling confident for today's game against EG after the latter was crushed by SSG (7-3, 7-2) in the upper bracket final. Now, with the Best-of-Five lower bracket final set to start the final day of the qualifier, SSG will be eagerly awaiting their own Best-of-Five matchup opponent in the grand final, albeit with a one-map advantage for their lossless streak.
Europe
Pro League teams - BDS, Chaos, forZe, G2 Esports and Team Vitality
Challenger League teams - Team Secret and OrgLess
Open Qualifier teams - Salamander, IziDream, MnM Gaming, Mkers, Yunktis Blue, Patokalipsa, ex-Gameward Team and Pats asleep
The closed qualifier kicked off in Europe on Monday with a play day on each day since which will culminate with a Team Secret vs BDS Esports grand final tonight in a few hours time.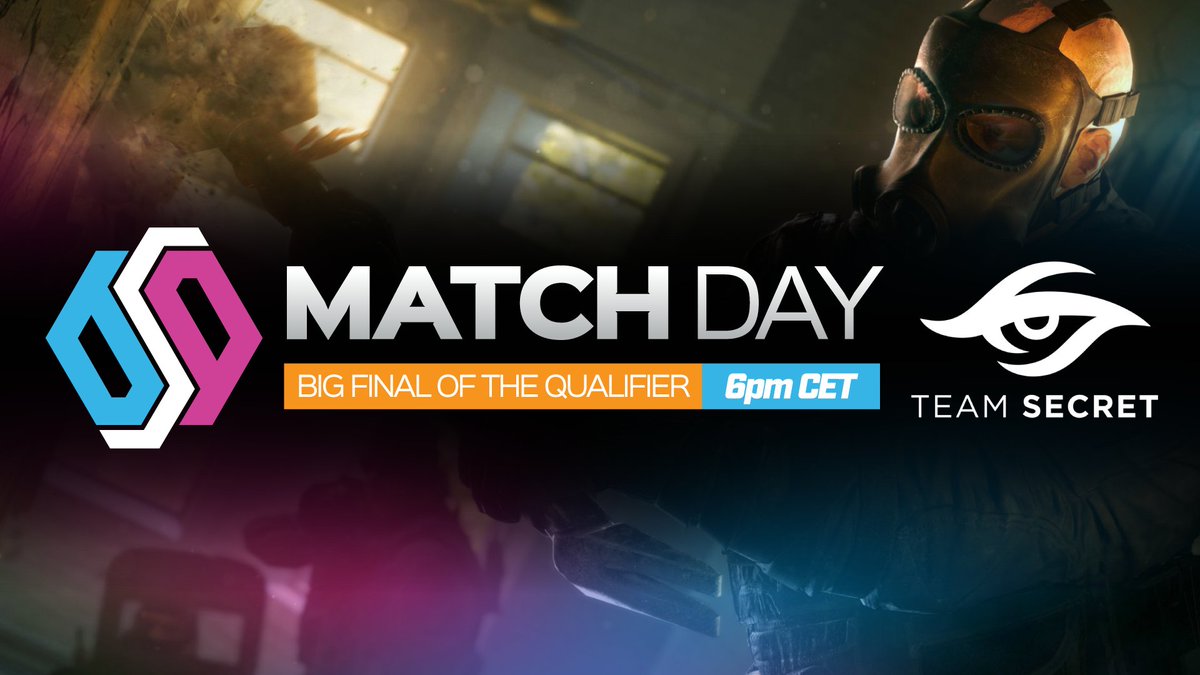 To get to this point, we saw a number of surprise performances as some of the biggest teams in Europe fell short when they really needed to come up big. Included in this is the ex-Pro League team of PENTA who, while playing with the Spaniard of p0Lo subbed-in, went out remarkably early, losing to both Salamander and Yunktis Blue in straight maps (7-8, 2-7, 2-7, 2-7) while both forZe and OrgLess went out a round later with one win and two defeats.
ForZe, playing with their full lineup, were eager to better their performance during the Six Invitational qualifiers last year where they fell to Team Vitality twice, while they were just two games from the Raleigh title after knocking out Team Secret from the event. This year, however, they failed to get anywhere near to a performance such as this after losing to Team Secret in the second round (7-5, 6-8, 4-7) before IziDream, the third-placed team during the 6 French League national tournament, started day two by sending them home in a 2-1 (5-7, 7-4, 7-5) scoreline.
While a much better performance, the most popular team in the R6 world in G2 Esports also fell early, putting themselves at the mercy of the Ubisoft invite if they wish to defend their back-to-back Six Invitational title in Montreal. This defeat here saw them face their nemesis of Team Secret -- the second team in R6 history to knock them out of an event at DreamHack Valencia 2018, which now includes their ex-player of Joonas and ex-analyst of Ferral -- and their loss in the qualifier match (7-5, 3-7, 7-8) drew over 12,000 viewers across four languages.
Following this upset, G2 had the prospect of possibly facing a gauntlet of ex-teammates in KS from OrgLess or Goga from Team Vitality, followed by a possible matchup against SHA77E, and then a rematch against Ferral and Joonas, however this wasn't to be as they met their match while facing the third biggest team in the UK in MnM Gaming. This largely unknown roster not only defeated G2 Esports 2-1 (8-7, 5-7, 8-6), but had also already taken down OrgLess (8-7, 6-8, 7-3), Team Vitality (7-4, 6-8, 7-4), and would go on to beat Chaos (7-3, 7-5), before losing to BDS Esports in the best-of-five loser's final (7-5, 7-1, 7-4) to end one of the best runs from the most unexpected of teams and to set up the grand-final between the only two teams who could best them -- Secret and BDS.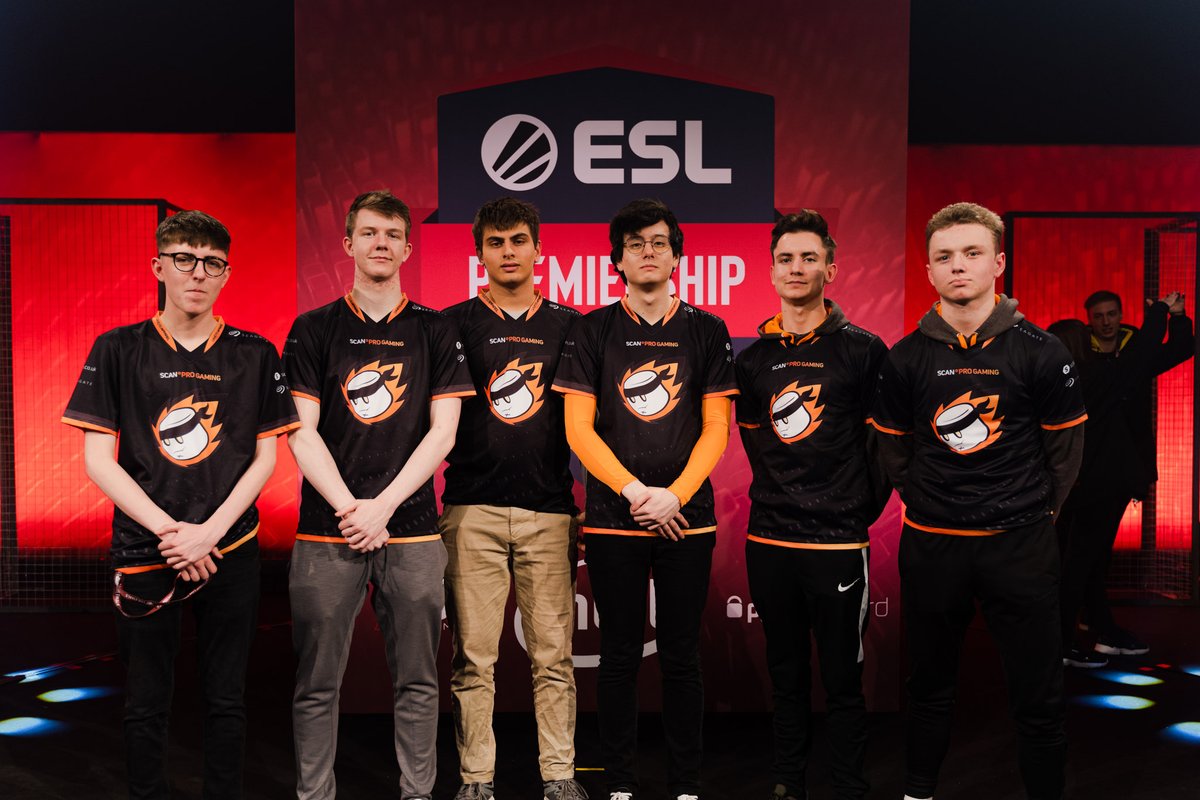 This matchup was the most anticipated of the last Challenger League Season which ended 7-4, 6-6 in BDS' favour, with their only other matchup being earlier in this same qualifier. During the winner's finals, Team Secret took revenge for BDS beating them to a Pro League spot by taking them in a clean 7-1, 7-4 scoreline. Now Shaiiko will fight for a spot in his very first R6 major tonight as they aim to achieve the uphill battle of reversing this scoreline to become France's lone remaining team at the biggest tournament in R6 history.
Latin America
Pro League teams - Black Dragons, Elevate, INTZ, MIBR and Team oNe
Challenger League teams - Falkol, N/A ORG, Orgless and SuperNova Team
Open Qualifier teams - Cruzeiro, Facta Non Verba, Kickados e Injustiçados, Looking For Org, neverXpected, Team Fearow and Team Vortex
Following MIBR's stellar performance at the OGA Pit Minor earlier this month, they were catapulted straight to the joint-favourites of the qualifier alongside Team oNe despite narrowly avoiding relegation last Pro League Season. These two teams met in the semi-finals of the upper-bracket in what was oNe's third-ever official game with their new player of FelipoX and what was effective shutdown by MIBR as they took the game 8-7, 7-3 pushing oNe into the lower bracket.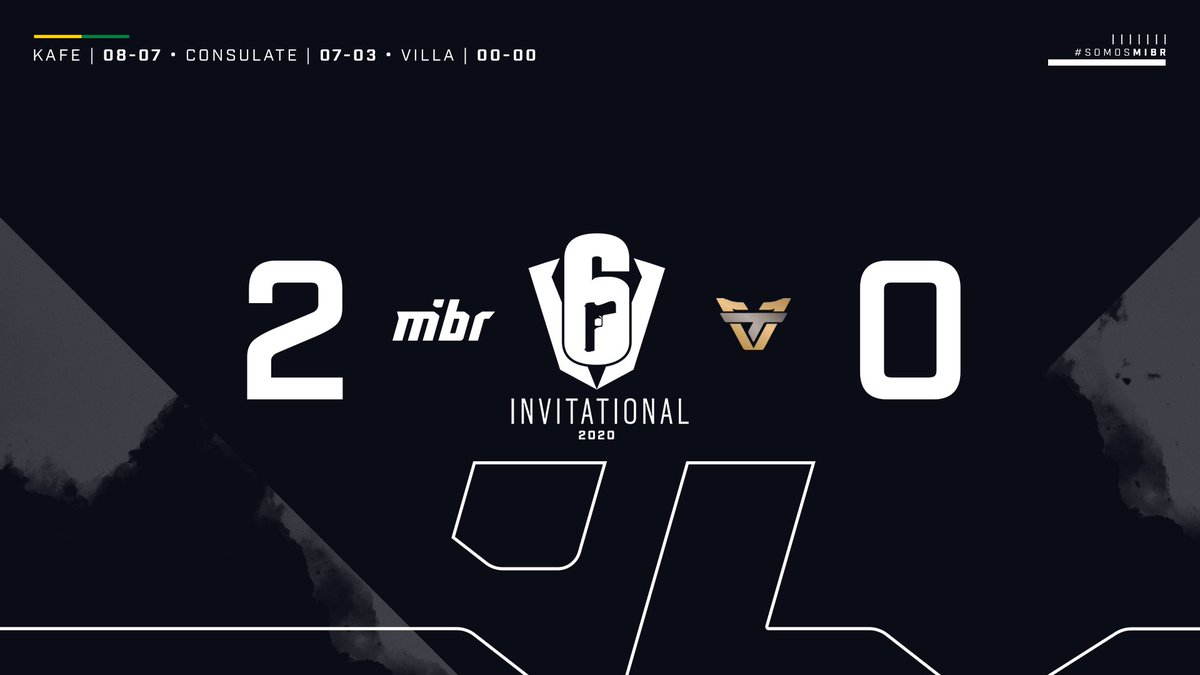 In order to make it now rematch MIBR for the spot in the grand-final, oNe had to knock out the three other Pro League teams participating in Elevate, INTZ and Black Dragons which they started with ease. Their matches against the newly promoted Pro League team now known as Elevate, and an INTZ roster fresh off of two new roster changes in Alem4o and Vittzzz's addition were an effective walk in the park for oNe as they took them down in two 2-0 scorelines in which their opponents never even broke into overtime (7-5, 7-5, 7-3, 7-5).
Next up they faced Black Dragons in the loser's final which likely would've been a much closer game if BD weren't playing with their coach of sSeiiya subbed in as they currently have just four active players. Their new addition of Hornetao who recently joined from Elevate after dominating the last Challenger League season showed his worth, however, with a substitute, Black Dragons simply couldn't hold their own and were just outclassed by oNe for the vast majority of the match which ended, 7-3, 7-3, 7-8, 8-6.
The series was tight and well-matched, with excitement up to the last map. BO5s are always full of emotion and we managed to win 3-1.
@MIBR6 awaits us for another clash/conflict/war.
May Felipox be with you... 🙏
And so that sets up the rematch between MIBR and oNe with oNe at a very clear disadvantage. The winner will join Team Liquid, FaZe Clan and Ninjas in Pyjamas at the Invitational in what, after Liquid and MIBR's performance OGA, many are hoping to be the kick off of a major resurgence in the LATAM scene internationally.
Asia-Pacific
The Six Invitational APAC LAN will take place on January 5th as Fnatic, Xavier Esports, Cloud9 and CYCLOPS athlete gaming each face off to be the third APAC team to qualify for the 2020 Invitational.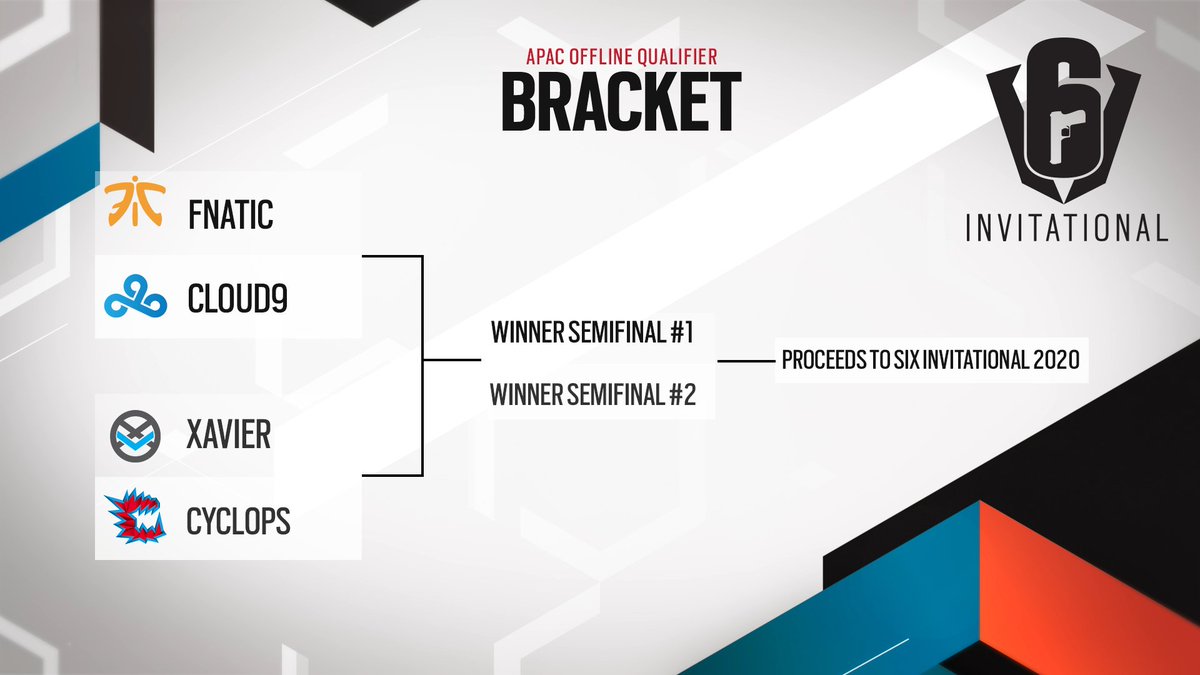 Watch out for more details concerning the brackets, casters and start times closer to the event!
Schedule
And so with these results so far here are the timings for the rest of the games in each region:
Tonight at 12:00EST / 18:00CET - Team Secret vs BDS Esports - EU Grand-Final

Tonight at 18:00EST / 00:00CET - MIBR vs Team oNe - LATAM Grand-Final

Tonight at 20:00EST / 2:00CET - Evil Geniuses vs Luminosity Gaming - NA Losers' Final

Tomorrow at 20:00EST / 2:00CET - Spacestation Gaming vs Losers' Final Victor - NA Grand-Final
All of the above games will be best-of-five map games with the grand-finals giving the winners' bracket team -- Secret, Spacestation and MIBR -- a map advantage. The grand-finals will be cast in the Poland studio by the regular Pro League casters and on the main Rainbow6 Twitch account.
Qualified Teams
These qualifiers will determine which three rosters join the following lineup of teams in Montreal from the 7-16th of February:
Team Empire

- The reigning Major champion

Team SoloMid

- DreamHack Montreal 2019's victor

Team Liquid

- OGA Pit Minor 2019's victor

Natus Vincere

- EU's Season 10 #1 seed

Giants Gaming

- EU's Season 10 #2 seed

DarkZero Esports

- NA's Season 10 #1 seed

Team Reciprocity

- NA's Season 10 #2 seed

Ninjas in Pyjamas

- LATAM's Season 10 #1 seed

FaZe Clan

- LATAM's Season 10 #2 seed

Aerowolf

- APAC's Season 10 #1 seed

Wildcard Gaming

- APAC's Season 10 #2 seed

Wildcard Pick - Currently undetermined