Jump to:
---
Susquehanna Soniqs vs Tempo Storm
Soniqs: Neptunez, supr, Goddess, Gomfi, SlebbeN and jobro (coach)
Tempo Storm: Butterzz, Dream, Creators, Filthy, Krazy, and KenZ (coach)
Maps: Border (TS Pick), Clubhouse (SQ Pick), and Coastline
Despite this being likely the least anticipated matchup of the day, both the Challenger League team of the Soniqs and the newly acquired Tempo Storm roster (previously known as 2Faced) showed that this was to be an action-packed matchup since the very start with Krazy taking a 1v2 victory in the opening round of map one to kick off the action. Creators continued this by shutting down Gomfi's triple kill in a 1v1 in round two before securing yet another 1v1 victory in round four against Goddess in the craziest start to a tournament in ages.
With these two clutches by Creators, Tempo Storm pushed into the lead finishing the first half 4-2 before switching to their defensive half on Border. This turned around very quickly with the Soniqs winning three rounds running (two of which saw the bomb go down) before a 4k by Creators ended the run on round 10 and a 1v2 victory by Butterzz over Supr and Neptunez pushed them to match point. The Soniqs pushed back with a round of their own with both teams then getting clean rounds in overtime to push us to round 15 as a 4k by SlebbeN took the map.
With Tempo Storm losing their own map, things didn't look hopeful for Clubhouse, especially with the Soniqs winning three of the first four rounds and with TS's lone win coming due to yet another 1vX victory, this time by Krazy over Supr. Tempo Storm broke this lead, however, by winning rounds five and six to draw the half, 3-3. SlebbeN secured a 4k on round seven to take the lead once again before a triple from him the very next round was shut down by Dream before two TS rounds were countered right back by two Soniqs rounds to put us on overtime yet again.
Pushing into overtime, Tempo Storm took the lead once again with a flawless round before a 1v1 clutch by Supr which included setting down the bomb kept the Soniqs in the game, pushing them to round 15 once again. Supr then produced another standout play as he secured three kills on Creators, Dream and Butterzz in nine seconds to win the round, map and game for the Susquehanna Soniqs in a 8-7, 8-7 scoreline.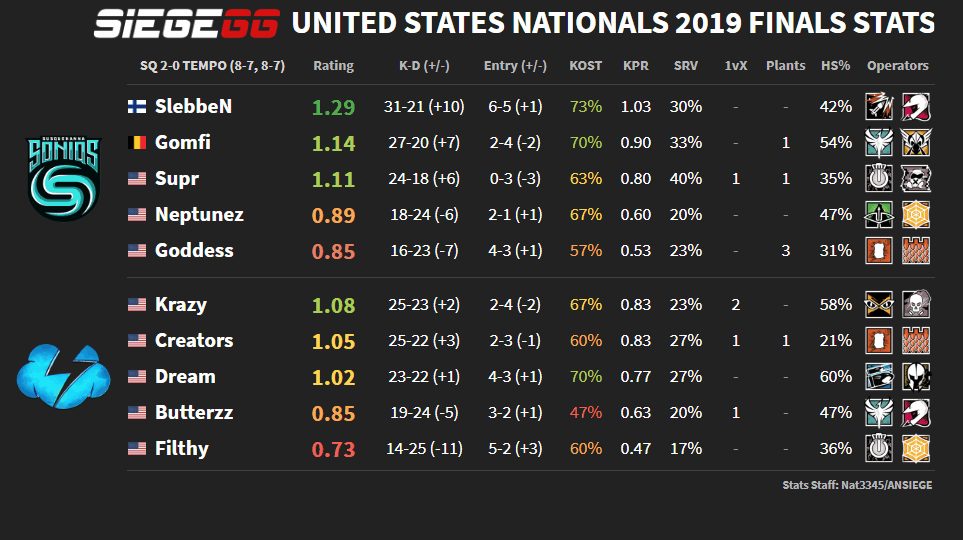 Spacestation Gaming vs DarkZero Esports
Spacestation Gaming: ThinkingNade, Rampy, Bosco, Fultz, Canadian, Lycan (coach), sovsov3 (assistant coach), and EkuL (analyst)
DarkZero Esports: Mint, Hotancold, Hyper, Skys, Ecl9pse, BKN (coach), and BC (coach)
Maps: Coastline (DZ Pick), Villa (SSG Pick), and Consulate
Next up we had the hotly anticipated matchup between last weekend's Minor runners-up of SSG and the new DZ roster that many had been calling an NA "dream-team". Just like game one, map one here saw another 1vX situation as Bosco and Mint were left to tussle it out with the bomb already down in which Bosco got the better of. Unlikely the last matchup, however, rounds like this didn't continue with SSG taking three of the next four rounds with somewhat little opposition before DarkZero ended their defensive half, 4-2.
SSG picked up the second half where they left off with two more rounds to push themselves to match-point thanks to four kills from Rampy. While DZ did secure a flawless round attacking the Blue/Sunrise objective, by this point the map was over. Early entry kills from Hyper and Fultz was added to quickly by a double-kill from ThinkingNade before Canadian got the final kill on Ecl9pse to end the map, 7-3.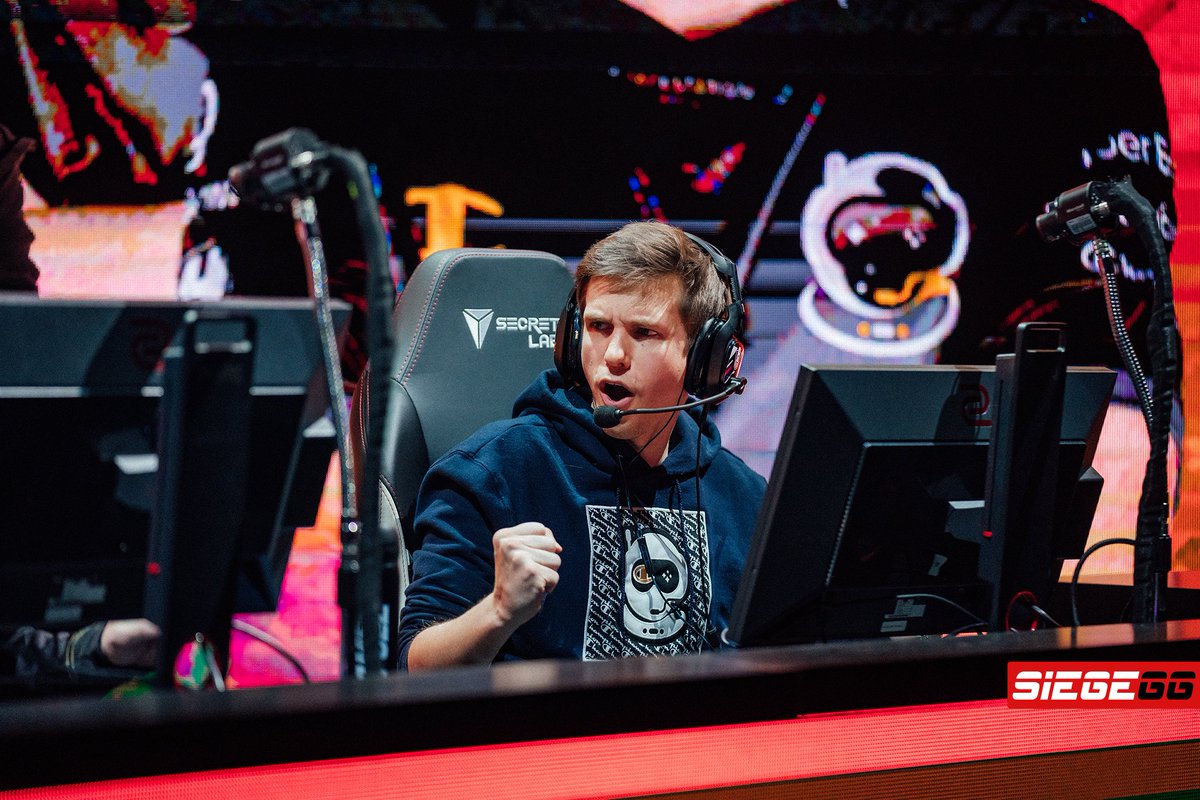 Map two saw DZ begin the map by successfully retaking a planted defuser, losing just Hotancold in the process, before SSG got a round of their own in what was the story of the first half. The first five rounds all saw somewhat one-sided rounds trade from team to team before SSG finally broke the deadlock on round six to take the first real lead at 4-2.
SSG took the first round of the second half as many thought we may see a repeat of map one, however, this wasn't to be as DZ fought back. Four round wins in a row which included six kills from Skys put them on match point before SSG push the game to overtime, the third map to go this far in the four played so far.
DZ and SSG both took their own offensive rounds pushing us to round 15 with DarkZero on attack. After Canadian traded himself out to get the opening kill, kills by Hotancold and Hyper pushed DZ into a 4vs2 situation with just Bosco and Rampy left alive for SSG. Rampy got a kill of his own traded out before Bosco, now in a 1v3, not only killed the three remaining attackers but then successfully defused in the play of the match to win the map, 8-7 and knock out DarkZero.
Team Reciprocity vs Luminosity Gaming
Team Reciprocity: FoxA, Retro, LaXInG, Nyx, VertcL, HOP3Z (coach), and Daeda (analyst)
Luminosity Gaming: Hyena, Rexen, Slashug, Doodle, Factor, and ViiRuS (coach)
Maps: Clubhouse (LG Pick), Villa (TR Pick), and Border
Next up we saw the Season 10 semi-finalist debuting with two new players face off against an LG roster fresh off of a fourth-place finish at last weekend's Minor. Unlikely, the previous two games, it took all the way to round four to see the first 1vX of this matchup as LG finally got on the board thanks to Slashug besting FoxA in a 1v1 situation, however, this seemingly wasn't enough to spur any comeback as Rec took their next two rounds in relative ease losing just LaXInG in the process.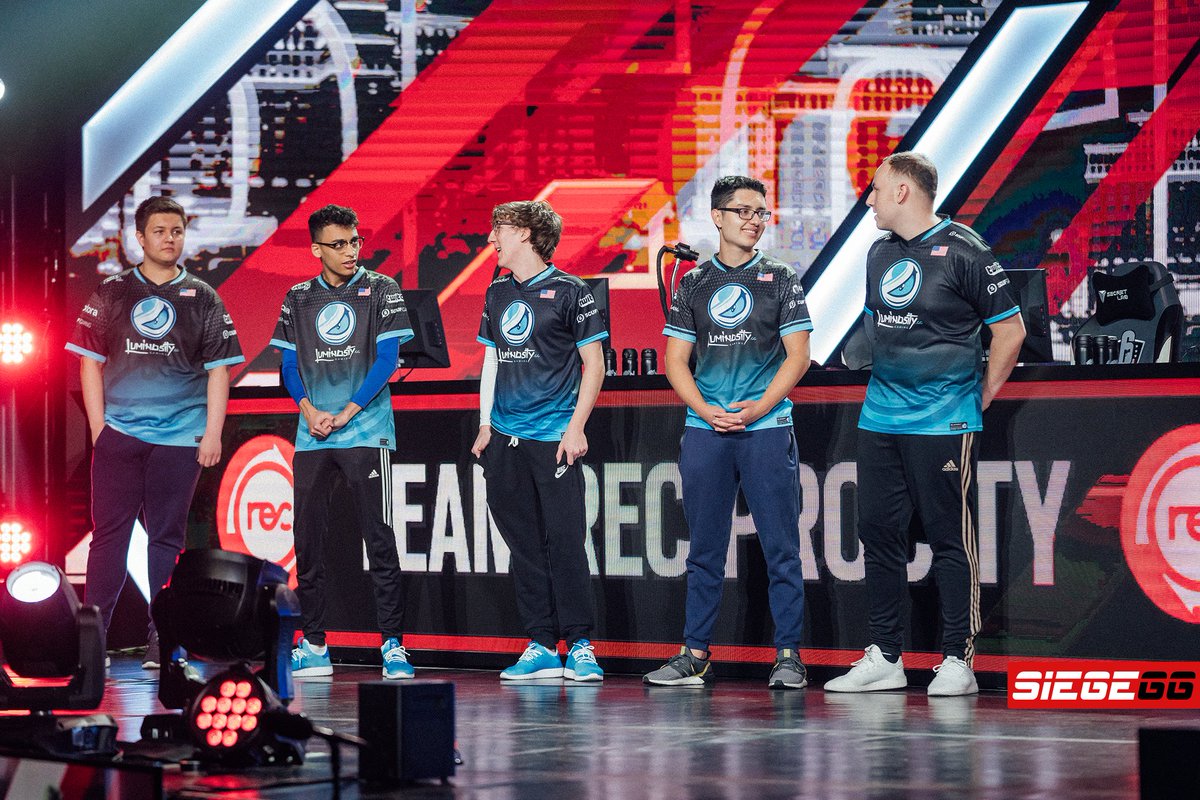 By this point, the map was very clearly in Reciprocity's favour which didn't change as they switched to attack. While LG did rack up some more rounds, they were always responded to by Rec meaning the map ended fairly quickly on a 7-3 scoreline with FoxA, VertcL and Nyx each achieving over a 2kd as VertcL ended with 10 kills to just 2 deaths.
Map two saw a whole new side to LG as they took the three opening rounds with just a single death, however, as they were defending Villa, this is somewhat to be expected. Eventually, Reciprocity managed to secure just a single round on attack in round six thanks to double kills from FoxA and Retro, however, this turned out to be enough. As they swapped sides, rounds were significantly closer but results were not as the defenders won five out of six rounds yet again putting us into overtime, with Reciprocity starting on defence.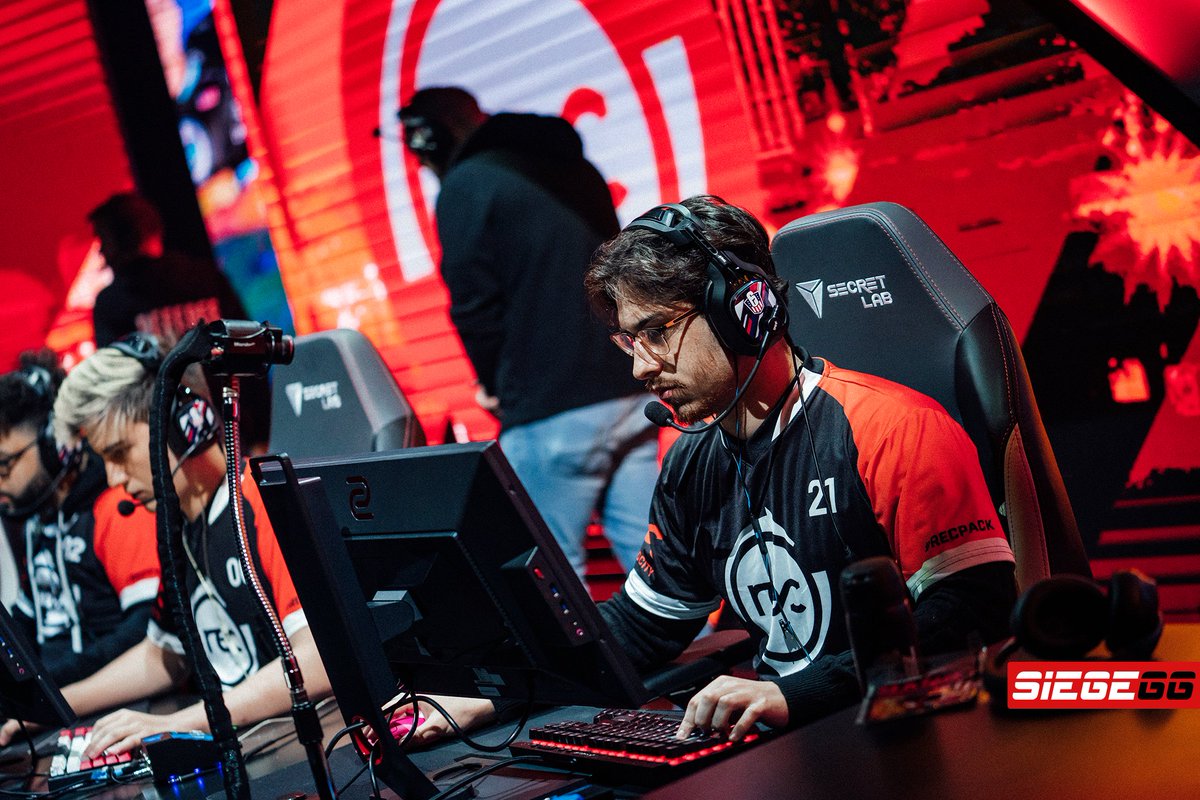 In a break from the previous twelve rounds, the following three rather curiously saw three attack wins as the defenders secured just three kills to the attackers 15 to end the map in LG's favour 8-7.
This left the final map of Border, a map neither side has a particularly good record on. Rec took a quick lead as they went up 4-0 which included the map's third 1vX between Slahug and LaXInG in which the latter both got the kill and defuse to win the round. LG finally got on the board on round five but with the half ending in a 5-1 scoreline, it was very unlikely we'd see much more from Luminosity.
Reciprocity went on to series point as their offensive half began before LG responded with two round wins of their own. TR eventually ended it on round 10 in a 7-3 scoreline thanks to a triple kill from Nyx to win the game 2-1 and progress onwards to tomorrow's semi-finals.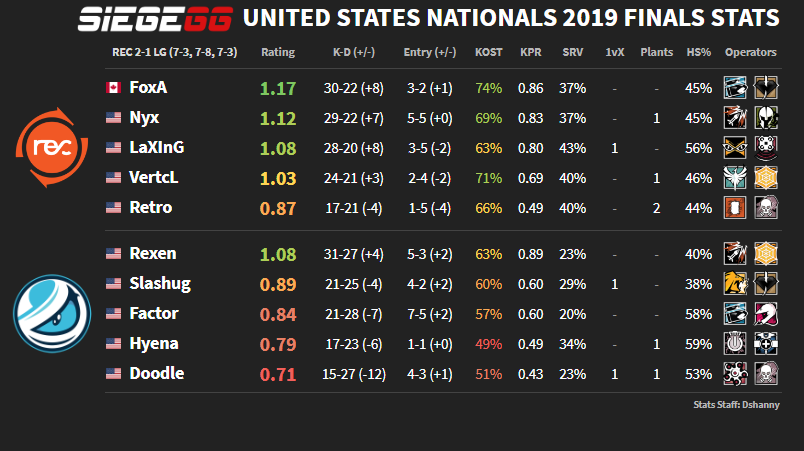 Team SoloMid vs Evil Geniuses
Team SoloMid: Achieved, Merc, Beaulo, Timzy, and Geoometrics
Evil Geniuses: Yung, nvK, Gotcha, Necrox, Modigga, and Ranger (coach)
Maps: Bank (EG Pick), Consulate (TSM Pick), and Coastline
Finally, we had a game between EG and TSM who recently traded their players of Gotcha and Geoo to create what should be a very interesting game.
Map one started out with one of EG's newer players of Modigga showing up with a triple kill to win the round before Geoo, not to be outdone by his old team, secured a 4k in round two in reply. Rounds began trading all the way through the first half with it taking till round six for our first 1vX of the game. The round started with a triple by nvK, followed by a quadruple by Merc and ended with a 1v1 victory by Gotcha in one of the single most action-packed rounds of the day.
TSM responded by gaining the first real lead as they won rounds seven and eight to go up 5-3 as a 1v1 victory by Geoo denied Necrox of his ace before EG secured three of their own, eventually pushing the game into overtime for the fifth time in eight maps. A triple kill by Beaulo won TSM round 13 before another quadruple, this time from Modigga, win EG round 14 putting us yet again on round 15. As we saw in previous matches, this decider round was, unfortunately rather one-sided as EG secured just a single kill and TSM took the map 8-7, largely thanks to Achieved's total of 20 kills across the map.
Next up we saw Consulate in which EG took an early lead despite TSM getting the bomb down on the Garage site. A very early successful push by TSM on round two was followed up by a failed slow one on round three as EG took the lead again before TSM finally pushed ahead on round five thanks to a 4k by Beaulo.
As we swapped sides, Team SoloMid's frag power showed itself with Merc achieving nine uninterrupted kills including an ace on round seven and a 1v2 clutch on round eight including a disable of the defuser giving TSM a 5-3 lead. Merc was finally shut down by nvK on the Piano site leaving Beaulo in an impossible 1v3 situation.
After denying the plant, Beaulo was once again left in a 1v2 situation he lost as the two teams tied it up, 5-5. EG attempted a rush the following round with yet another plant denial delaying them, however, with the amount of time remaining, this wasn't costly as nvK and Yung each got a double kill to push EG onto map point before a triple by Achieved pushed us into yet another overtime.
Each of the last five overtime maps today had all ended in a round 15, 8-7 scoreline, a streak which would end here. Two double-kills by Beaulo and Geoo took round 13 before more doubles from nvK, Yung and Merc left Yung in a 1v3 situation which he clawed back before Achieved finally shut in down in a 1v1 with zero seconds remaining to win the map, 8-6 and take the series 2-0.
Day 2 Action
Tomorrow will see the semi-finals take place from 2:30PST onwards starting with the Soniqs vs SSG. Prior to this we will see the Battle of the Branches 2019 show match as players from the four US military branches of the Army, Navy, Air Force and Marines playoff for the title starting from 11PST.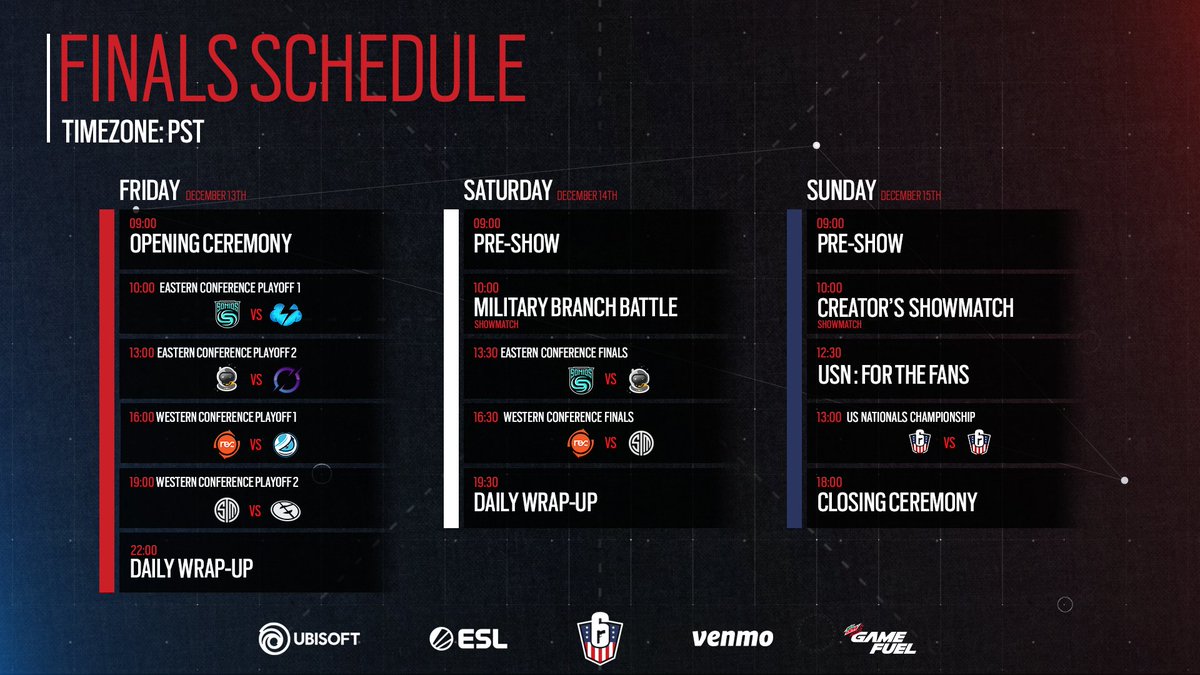 ---
Keep an eye out here at SiegeGG for further updates on the USN 2019 tournament, including photos, highlights, and statistics.