At his very first tier-one event in R6, the British player of CTZN has been crowned the SiegeGG MVP following his team's victory at the Pro League Season 10 Finals in Japan this weekend.
In a story very similar to that of Team Empire's victory last season, Natus Vincere has been on a warpath to this title since they first qualified for the Challenger League in February this year. Since then, they went on to win the Challenger League in their first attempt and replace the ex-Na'Vi roster (now known as OrgLess) in the Pro League. Here, after finishing the first half of the season in mid-table, they jumped up from fourth to first place in the league in just the final three playdays, defeating both Team Empire and G2 Esports in the process and eliminating a seven-point lead Giants Gaming had over them.
They, therefore, came into these Finals as the standout favourites to take the title as they had already defeated both of this year's Major champions and looked like a truely formidable roster despite Ellis "Pie" Pyart stepping in to replace Jack "Doki" Robertson with just a few play days remaining in the season.
Coming to Japan, Na'Vi began their title run with a matchup against Wildcard Gaming, the Australian underdogs, in a game which ended up being their tightest matchup of the weekend. The match, which had standout performances from both neLo and NeophyteR, started off with Wildcard storming to a 5-1 lead on Na'Vi's pick of Kafe which was eventually won thanks to a 1v1 victory by Ethan on round 11 before Na'Vi then won Wildcard's map pick of Coastline in a clean 7-1 scoreline. This left the decider map of Clubhouse, where a lone 1vX victory by CTZN pushed the game to the final round where he was the hero again with a 3k on Nomad to take the game.
Next up Na'Vi faced Team Reciprocity in their semi-final matchup as the American roster was fresh off their victory over a Ninjas in Pyjamas roster playing with two substitutes. Across these three maps, CTZN really showed his prowess as he broke the Pro League kill count record on map one with 23 kills, despite eventually losing the map in another 15-round marathon. Unfortunately for Team Reciprocity, he kept going, also top fragging in map two as Na'Vi took their opponent's map for the second game in a row, 7-1. Map three of Clubhouse was a closer competition as the two teams traded rounds until match point on round 12, where a triple-kill by Pie and a double by neLo killed hopes for an all-NA final.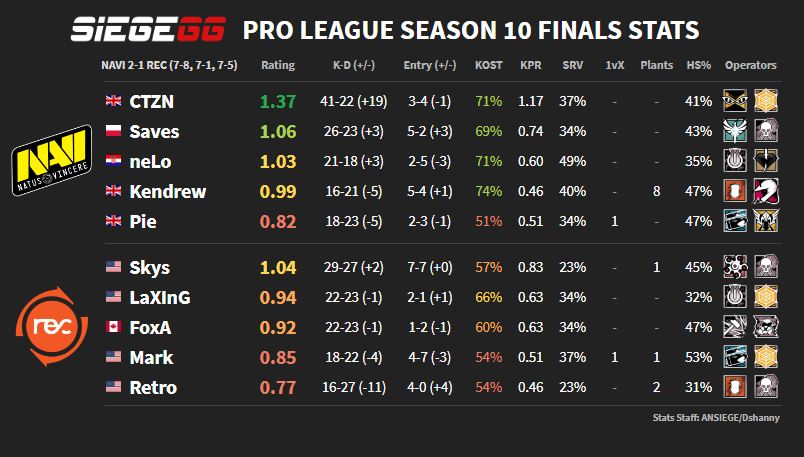 Finally, this left the grand final, something neither they or their opponents, DarkZero had ever played in a major tournament. Despite the game's stature, this was almost the most one-sided affair of the event as Na'Vi got their first 2-0 of the tournament. Map one saw CTZN and Pie top-frag on their team and achieve a 1v1 victory each on their way to a 7-4 win before Na'Vi then took their own map of Coastline 7-3, as 1vXs from both CTZN and Kendrew gave them a 4-2 defensive half, with the Europeans able to continue this momentum through to a map victory.
This, therefore, meant that Natus Vincere became the Season 10 Pro League champions, bringing the trophy to the UK and proving themselves to be one of the best teams in the world despite never beating a current Pro League team on LAN prior to this event. With these results, this also means Pie remains undefeated in the Pro League since his debut game a month ago, and as no player on the team had any prior Pro League history, they also beat Empire to become the biggest newcomers to win a Pro League title in recent history.
While the whole team delivered standout performances, especially Pie at his debut international event, the team's Jager/Ash main of CTZN certainly was the most valuable player at the event as he excelled in all statistics. He finished with the joint second-best rating at the event at 1.18 (behind just AceeZ who went out in the quarter-finals), achieved the second-highest K/D ratio at the event (behind AceeZ once again), and had twice the number of successful 1vXs than anyone else while also being in the top-five for Survival and one of only eight players with any defuses to their name.
With this result, Na'Vi has launched themselves right into the conversation of 2020 Six Invitational favourites in what must be a dream year for the European roster. Since the core first came together in January of this year, the team has won the Challenger League, the Pro League, and two Premiership British National titles, falling in just the 2019 DreamHack Valencia event. Now, they'll look forward towards their third Premiership title in two weeks' time and a possible Major title in three months.
---
Congratulations to Natus Vincere for taking the title and to CTZN for his award. You can view all of the weekend's matches during the event here, see our news coverage of the event here, and watch our highlights of every match on YouTube here!