Jump to:
The Event
This weekend will see the top two teams from each region attend the Pro League Finals in Tokoname, Japan, in what's both the Asia-Pacific region's very first international-level event and the most unpredictable Finals in many seasons. The tournament sees the European representatives of Natus Vincere and Vodafone Giants, the North American teams of DarkZero Esports and Team Reciprocity, the Latin American giants of FaZe Clan and Ninjas in Pyjamas, and the local favourites of Aerowolf and Wildcard Gaming in the following brackets: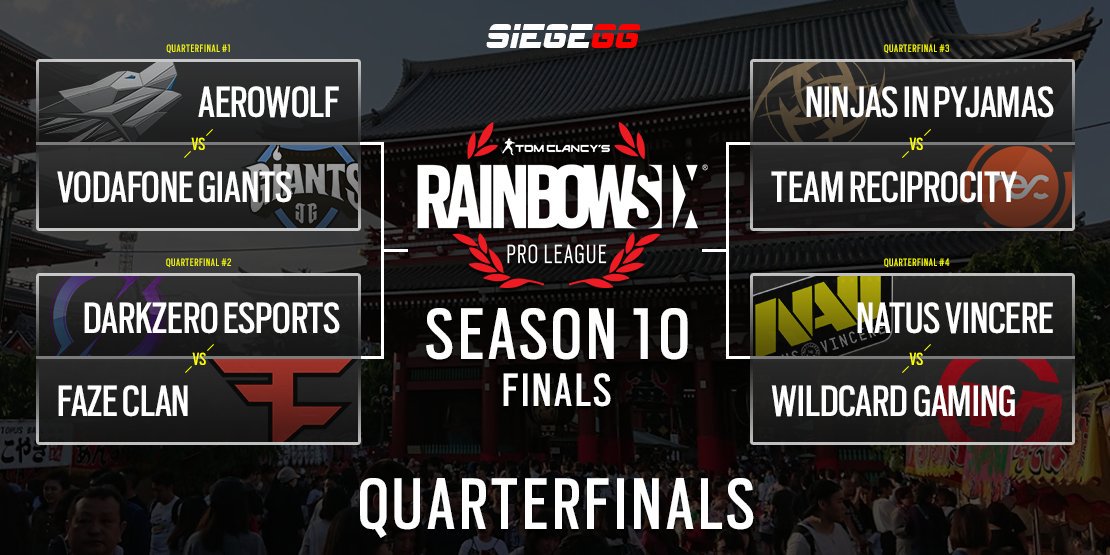 This, therefore, means that a huge number of famous names aren't in attendance, namely G2 Esports, Team Empire, Evil Geniuses, Rogue, Team Liquid, MIBR, NORA-Rengo, and Fnatic, effectively blowing the tournament wide open. Out of all the teams in attendance, none have won a previous Pro League or Major event, meaning we'll be crowning a new champion here with just the Reciprocity player of Alexander "Retro" Lloyd having won a PC title previously on Continuum back in Season 3. Aside from this, Reciprocity's MarkTheShark, Retro, Skys, and LaXInG, have all won Minor events, as well as Hicks and risze from Giants Gaming, making these Finals an extremely important opportunity for all teams in attendance -- even more so than usual.
The games will be played in its usual format starting at 10AM JST (UTC+9) on Saturday with the quarter-finals, and 9:50AM JST on Sunday with the two semi-finals, the grand final, and the Rainbow Six "Production Panel", where we will hear about all the announcements concerning the upcoming season, Operation Shifting Tides.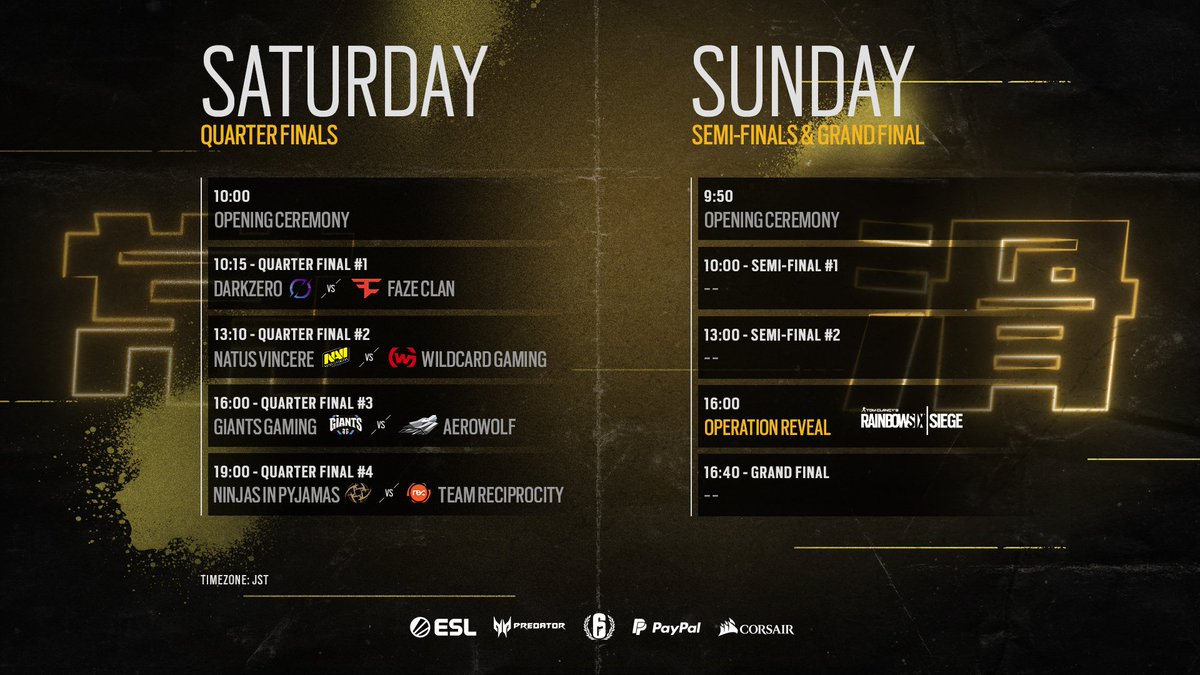 The talent lineup will be identical to the Season 9 Finals in Milan, with the lone change of Devin "mzo" Becker joining the analyst desk after being unable to attend Milan and performing as a standout "weatherman analyst" at the Raleigh Major.
For international casting talent, many of the usual names will be returning once again such as FuriouSG and Scok on the French stream and Okayama and ShiN on the Japanese stream while the Portuguese language stream will see the Brazilian of Viic make her debut at an international event, becoming the first female voice to cast such a tournament in R6 esports history.
Viewers can earn exclusive charms for watching the event by linking your Twitch and Ubisoft accounts here, while those at the event can find the meet and greet schedule below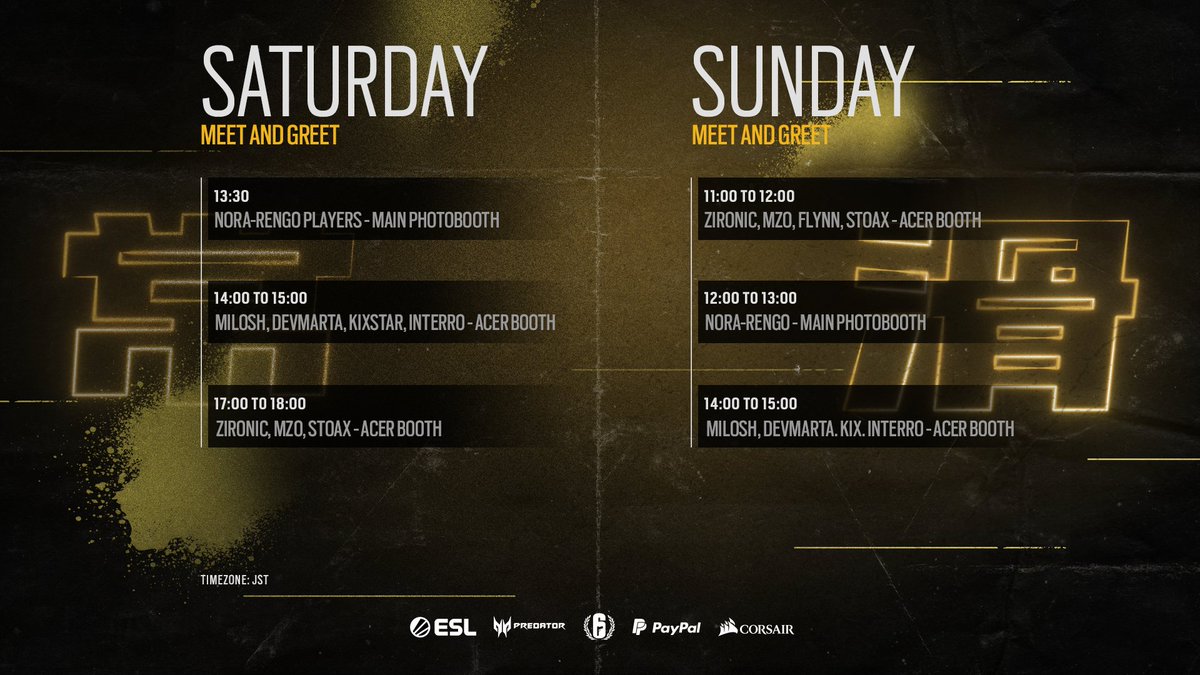 Caster Predictions
Note: A lot of the following predictions were made prior to the recent visa issues becoming public.
To get an insight into what to expect at these Finals, we asked a number of casters from around the World and Pro players from almost every single Pro team not in attendance what they thought would happen in Japan with the following results:
This brings forward the following conclusions:
Quarter-Final #1 - DarkZero Esports vs FaZe Clan
DarkZero Esports - Mint, Hotancold, Nyx, BC, Hyper and BKN (their coach)
FaZe Clan - Astro, cameram4n, mav, yoona, ninexT and Twister (their coach)
The first game of the Finals sees two well-known teams clash, as the top-seeded North American roster of DarkZero (DZ) faces a FaZe Clan roster missing a key player while attending their tenth international event in a row.
FaZe Clan initially was ahead in votes due to their extensive experience at top-tier events, qualifying for every Finals since Season 4, being the only team in attendance alongside the Giants to finish in the top eight at Raleigh, and even beating DZ 2-0 (7-5, 7-5) in the group stages. Their chances, however, dropped dramatically with the announcement that Ronaldo "ion" Osawa will be unable to attend the event due to visa issues and that Nino "ninexT" Pavolini will be replacing him. Despite ninexT's obvious skill, having won the BR6 in its Season 1, he hasn't played R6 competitively since last December, meaning this will be a huge blow to the team.
This will give DarkZero a huge sigh of relief as they become firm favourites to take the matchup. As they come into their second Pro League Finals running, and as the top-seed in North America this time, this will probably be their best chance to take the title. Prior to this, DZ attended the Season 9 Finals and DreamHack Montreal 2019 where they went out in the quarter-finals to Empire and Team BDS, respectively, and only won one game at both the Raleigh Major and Allied Minor. Safe to say, it has been a fairly bad year of LAN performances given their promise, but with many of the big-name teams not in attendance, and three teams playing with stand-ins, they still have a good chance to go far.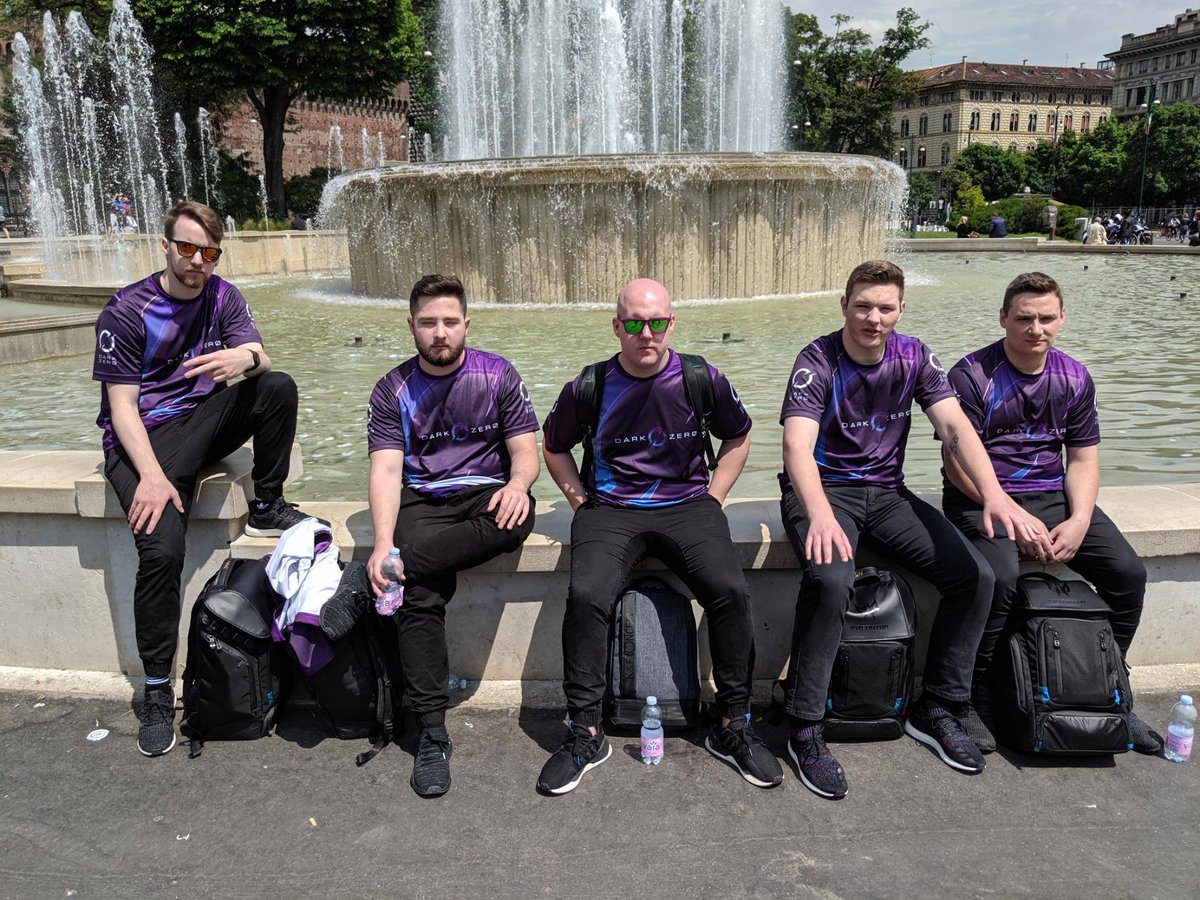 Quarter-Final #2 - Natus Vincere vs Wildcard Gaming
Natus Vincere - CTZN, neLo, Kendrew, Saves, Pie and GiG (their coach)
Wildcard Gaming - EmoRin, Derpeh, Ethan, Diesel, NeophyteR and syliX (their coach)
Next, we have the most one-sided matchup according to players and casters, as the top-seeded team in the most successful region faces the runners-up in the least successful one.
Na'Vi enter these Finals as the favourites to win despite this being their debut season in the Pro League for the entire team. Not only that, they are playing with a long-term stand-in of Ellis "Pie" Pyart, who has been playing for Jack "Doki" Robertson after the latter was banned for six months for in-game toxicity. However, due to Pie having played well in the final four games of the season, and the team having had a whole six weeks practice with him on board, this is a much less serious issue compared to the LATAM visa problems.
Performance-wise, other than having made an eight-point gap disappear to jump from fourth to first in the final four playdays, and defeating G2 and Empire in the progress, Na'Vi has only ever attended three notable LANs as a team. Two of these were the ESL Premiership Finals -- where they defeated Team Secret to win the title both times -- and DreamHack Valencia 2019, where they were knocked out by their fellow Europeans of Giants Gaming.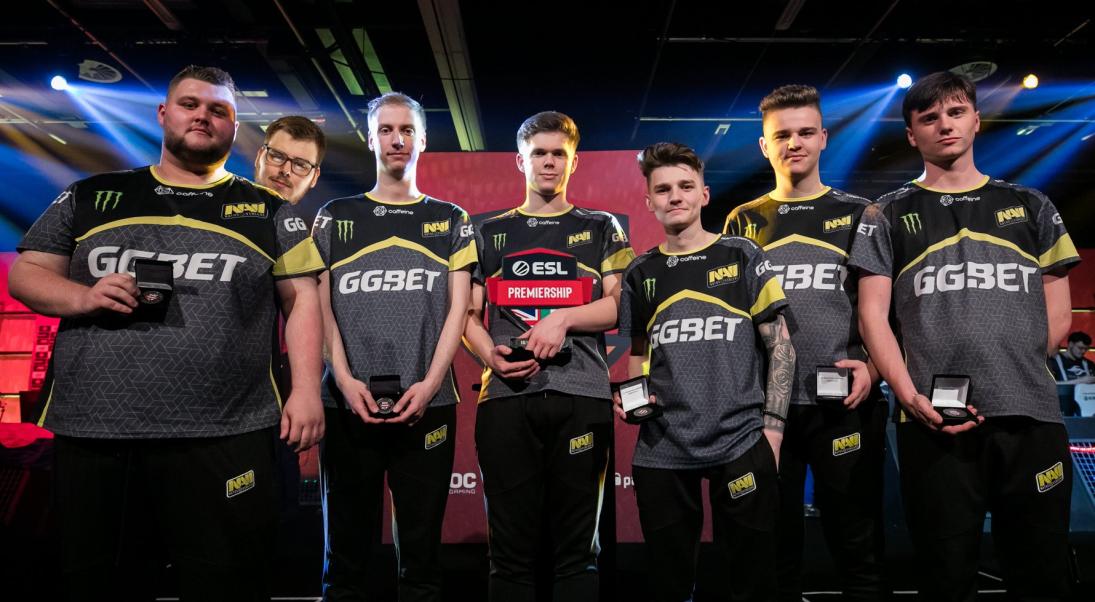 As for Wildcard, this is the very first time the team has managed to win multiple games at an APAC LAN in their six attempts as they defeated both Southeast Asia's and Japan's top-seeded teams of Xavier Esports and CYCLOPS to qualify for this event. Prior to this, they have also played in a number of national LANs, pipping Fnatic to the Oceanic Cup 2019 title and then falling to them six months later in September in the Six Masters 2019 grand final. With so few international games, and none outside of APAC, it is hard to judge this team properly, but with an initial matchup against the tournament favourites, this opportunity will likely be a short one.
Quarter-Final #3 - Aerowolf vs Vodafone Giants
Aerowolf - Lunarmetal, Ysaera, HysteRiX, MentalistC, SpeakEasy and jrdn (their substitute)
Vodafone Giants - Hicks, risze, Alphama, AceeZ, korey and Crapelle (their coach)
Next, we will see the team that finally won the APAC Finals on their ninth attempt face the Vodafone Giants who come in as the second-seeded European team who's achieved a number of top-level performances over the last six months.
As well as finishing in the top eight at the Raleigh Major -- one of only two teams in attendance to achieve this -- Giants Gaming also finished second in two Minors this year (DreamHack Valencia and the Allied Minor), were crowned the French champions a week ago (ahead of Vitality and PENTA), and are one of only three teams returning from the Season 9 Finals in Milan. Despite their reputation of underperforming at LANs, the Giants have the best record in recent history out of all the teams in attendance, putting themselves ahead of the competition in many people's eyes, resulting in about 75% of pros and casters predict they will make it out of their quarter-final.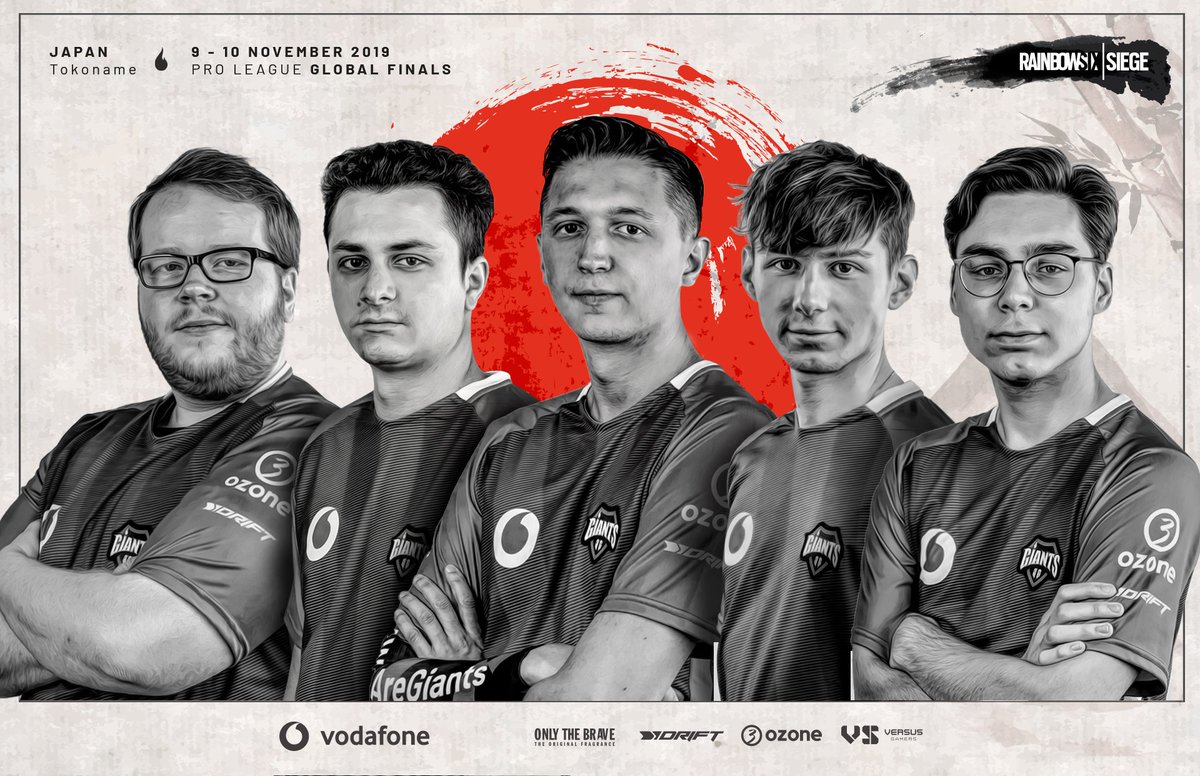 Facing them come Aerowolf, who shocked many when, after two years of disappointments, they escaped a bracket which included Fnatic, NORA-Rengo, and Cloud9 to make it to their very first Pro League Finals. The team previously played at the Allied Minor, very narrowly losing to DZ and the Susquehanna Soniqs, but also capitulating 2-7 to the Giants (then known as LeStream Esport). Other than this, their only other international game came at the 2017 Six Invitational, when their original duo of Lunarmetal and Ysaera lost in three maps to eRa Eternity (later known as Rogue). It is likely this inexperience will be the team's biggest weak point, and the likely reason for the majority believing they won't make it any further this time around either.
Quarter-Final #4 - Ninjas in Pyjamas vs Team Reciprocity
Ninjas in Pyjamas - Psycho, Muzi, pino, baroz, p0lo and Ar7hur (their coach)
Team Reciprocity - FoxA, Retro, LaXInG, MarkTheShark, Skys and HOP3Z (their coach)
The matchup deemed to be the closest with a single person swinging it from a draw to a Reciprocity victory became a disaster for the LATAM roster as they also were denied visas meaning their key players of JULIO and kamikaze, as well as their coach, Ar7hur, will be unable to attend the event. Standing in will be the Spanish ex-pros of Álvaro "baroz" Valero and David "p0Lo" Gómez Urrea, who only made it to Tokoname today. This is a huge blow for the team after it dominated LATAM through the season, but with nothing to lose and at the players' first Pro League Finals since their grand final appearance in Season 6, they will be eager to give Reciprocity a real fight.
On Reciprocity's side, this is the first Pro League Finals for quite some time for most of the team. Skys and LaXInG's last appearance at this level was in Season 5, when their team, Elevate, finished as runners-up to PENTA Sports (now known as G2 Esports). Season 5 was also the last time FoxA's attended a Finals as a player, as he was first rounded by PENTA while playing for eXcellence Gaming. Retro, meanwhile, attended just a single other Finals back in Season 3 on the roster now known as Evil Geniuses, where he won the title. Finally, this will be MarkTheShark's first-ever Pro League Finals, but far from the first international LAN event. Since then, the team has done remarkably well together, having won the DreamHack Montreal 2018 title and having finished as the top North American team at the 2019 Six Invitational after they were knocked out in the semi-finals by G2 Esports once again.
With the team failing to qualify for the Raleigh Major, finishing in the quarter-finals at both DreamHack Valencia and the Allied Minor, as well as joint-ninth at DreamHack Montreal 2019, the last six months haven't been as good for Reciprocity as the six prior to that. However, just like many of the other teams, they'll see this as their opportunity to make their region proud, especially against a heavily wounded Ninjas in Pyjamas.
Winners and Runners-up
Na'Vi are the very clear favourites to take this title home to the UK, as exactly two-thirds of all players and casters thought they'd make it to the grand final, with most of them thinking they'll take it all. In a very clear second place, we've got the Giants, followed by DarkZero in third, with just a single North American caster -- Mexico's Romeo -- having picked them to win it. At the bottom, we have Wildcard with only Meligeni picking them to make the final, and Reciprocity, with not one out of the 57 people asked believing that Retro will be able to regain the Pro League title three years on.
SiegeGG MVP
For the first time this season, we also asked participants who they think would be crowned the MVP of the tournament. This MVP would be the best overall performer, likely on the top team at the event unless there's a massive standout on a runner-up team. This category will be used as a possible tie-breaker in the case of a draw:
As can be seen, the Na'Vi player of CTZN is by far the favourite in this category, followed by the German player of AceeZ, with only four other players getting more than one vote each. It's very clear that the European teams are favoured at the event, following their victories in seven of the last nine seasons and three out of four Majors.
SiegeGG Staff Predictions
As always, we also asked the wonderful staff here at SiegeGG what they thought would happen, which pulled up some much more even results.
While the European teams of Natus Vincere and the Vodafone Giants are still favoured to take the title, there's notably more picks for North and Latin American teams to win, with DZ, in particular, only one pick behind the Giants. At the other end of the spectrum, only a single person, ChankaNewsNetwork, has picked an APAC team to make it to the grand final, while AlainDrone, one of the Japanese translators, was the lone believer in Wildcard to progress out of their quarter-finals.
Moving towards MVP predictions, CTZN and AceeZ are once again favourites to take the spot, but with a much smaller lead, while players such as FoxA, LaXInG, Skys, and cameram4n appear as MVP candidates here, unlike on the caster and pros' list. CTZN has certainly made an impression in his debut season in the Pro League, as he achieved the highest rating (1.26) in Europe during the season, leading his team to the top, and making them by far the favourites to take the Season 10 title.
---
Before the Finals kick-off in less than 12 hours, check out our previous interviews and coverage of the event here and keep an eye out here at SiegeGG for full coverage of the event as it plays out.