Jump to:
---
Europe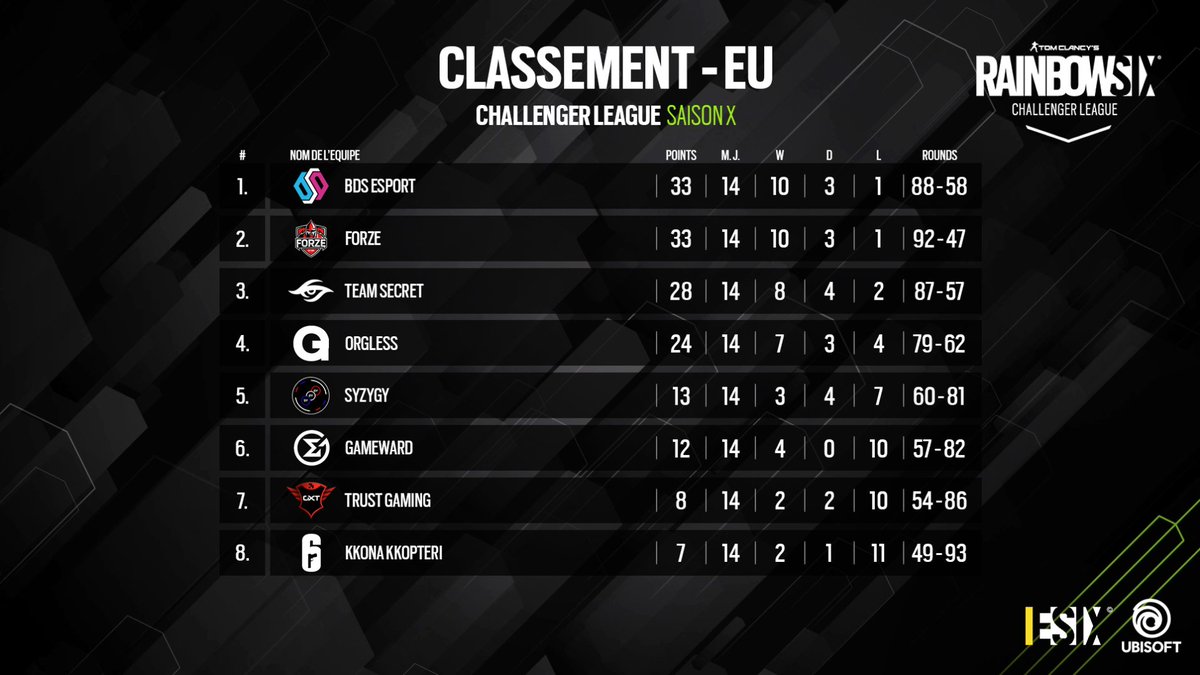 BDS Esports
Shaiiko, rxwd, Renshiro, Panix, RaFaLe, and fiskeR (coach)
BDS was a nigh-unstoppable team over the last few months, having remained undefeated till the final play day of the season. With a total of 33 points from 10 wins, three draws (against Team Secret, forZe and SYZYGY), their only loss came on the final play day in a dead-rubber against SYZYGY. These results are largely thanks to the return of previously banned Stéphane "Shaiiko" Lebleu to the competitive scene as he achieved a massive 1.41 rating across the season, 0.13 higher than the next closest player.
The team includes some talent from the top French teams over the last few years; Renshiro from Millenium, RaFaLe from Team Vitality, Panix from Mock-it Esports, Shaiiko and rxwd from beGenius, and fiskeR from Supremacy, and it is clear to see why many people believe this team can bring French R6 back to the top.
ForZe
Shockwave, wTg, Rask, KaMa, p4sh4, and Korben (coach)
Everyone knew forZe was going to be a giant this season after they qualified for and then finished in the top-four at the Raleigh Major despite never playing a game in the Pro or Challenger League. Since then, the team has truly shown up as they also finished the season on 33 points with 10 victories, three draws against Orgless, BDS and Secret (the other top four teams), and a 7-4 defeat to BDS on Clubhouse, which meant their head-to-head record saw them drop below BDS.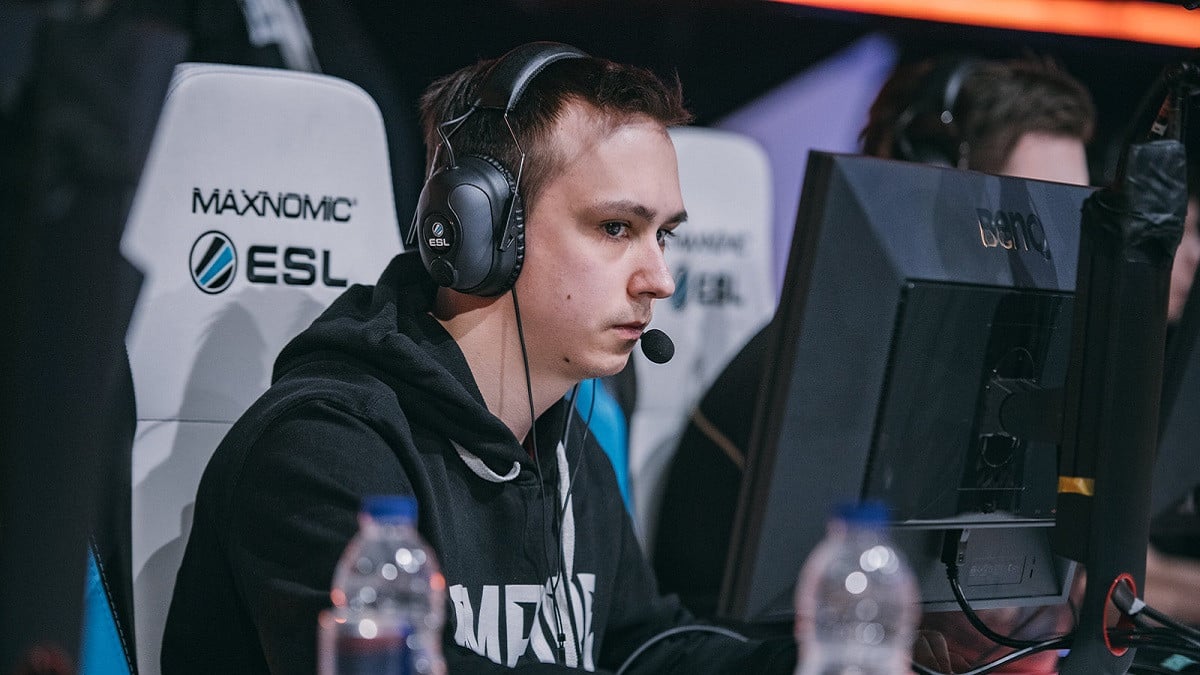 This huge jump in success was kicked off as they brought the ex-Team Empire player of Shockwave into the team which propelled them to Empire-level heights at the Major, at DreamHack Montreal and likely in the Pro League as many expect.
Relegations
The following games will be played on Thursday on the main Rainbow6 Twitch channel:
18:00 CET -

GiFu eSports

vs

BDS Esports

21:00 CET -

PENTA

vs

forZe
GiFu has faced BDS once beforem during the Six Major qualifiers, where the match ended 7-3, 7-5 in BDS' favour. However, there have been three roster changes since on both sides. As GiFu is the only team in Pro League history to fail to win a single game throughout their season since the new round robin format was introduced, and BDS has had one of the most dominant Challenger League runs on record, BDS will be the firm favourites in this matchup.
PENTA and forZe, meanwhile, have never met before, but forZe has defeated three of the teams we'll see at the Pro League Finals -- FaZe Clan, DarkZero Esports, and Giants Gaming -- and has only ever lost to three Pro League teams -- G2 Esports, Team Empire, and Chaos -- making them the favourites to take the game.
North America
Obey Alliance
Callout, Gryxr, Phozzo, Forrest, Abundai, and XecratioN (coach)
The Obey roster -- previously known as the Pittsburgh Embers -- came into this league with not a lot to prove, as a lot of the players had no notable competitive experience. Now, two months later, they have blown the competition out of the water, having finished with 31 points -- nine points ahead of the competition -- with 10 wins, a draw against Rise Nation, and three losses against Disrupt, Akatsuki, and 2Faced.
The one issue the team has right now is a lack of experience, as aside the Challenger League, the only other cups of note the Obey team has played in are four US National open qualifiers, where they didn't progress very far in any. No matter the result of this week's relegation game, though, they're a team to watch out for going forward.
2Faced
Butterzz, Dream, Creators, Filthy, Krazy, and KenZ (coach)
Just like Obey, most of this team lacks any real level of experience, with the very notable exception of Krazy, an ex-Pro League player for Noble, Obey Alliance, and OnSlaught. With his and ex-Pro League coach KenZ's help, the team managed to end the season with 22 points, securing five wins, seven draws (against Disrupt, Akatsuki, Orgless [twice], Shrug, Rise, and Adventure Force), and two defeats against Obey and Shrug.
Despite only losing two games the entire season, the huge number of draws means they ended the season joint-second with Rise Nation, meaning their 7-4 win on Consulate over them on the penultimate playday (as well as a protest going their way) put them in a playoff spot ahead of one of the league's favourites.
Relegations
The following games will be played on Friday on the main Rainbow6 Twitch channel:
20:00 EDT -

Rogue

vs

2Faced

23:00 EDT -

Susquehanna Soniqs

vs

Obey Alliance
The Rogue and 2Faced players have never faced each other in a streamed match, but Rogue has defeated the first and third-seeded Challenger League teams of Obey (7-2) and Rise (7-5) in the last few months. With the pickup of Redeemer on a staff role, recent LAN wins at the US Nationals 2018 and 2019 DreamHack Valencia, they will likely be favoured going into this match.
The Soniqs and Obey Alliance, too, have never met in a broadcasted game, and the only similar team Soniqs has played is Rise Nation at the Vegas Minor last June (where Rise was victorious). Obey meanwhile, has played just a single Pro League team in the form of Luminosity Gaming in the US Nationals qualifiers and lost 7-2. Soniqs will likely be favoured due to their experience and fragging power, but Obey has already surprised many with their impressive Challenger League performance, leaving the final result very much unknown.
Latin America
CHICOS Team
LENDA, Hxnteer, vTnK, soulz1, and WILL
Just like in North America, CHICOS Team is a roster of virtually unknown players who came together for this season's Challenger League and smashed their opposition. Just like Obey, they ended the season with 10 wins, one draw (against Falkol) and three defeats (against Falkol once and YeaH Gaming twice), putting them at 31 points -- one ahead of YeaH.
They spent most of the season in second place and only overtook YeaH on the final play day as CHICOS secured all six points on their end while YeaH dropped three against their fifth-placed opponents in what could be a very costly mistake. The fact CHICOS finished in first while failing to get a single point against the second or third-placed teams really doesn't bode well for their game against Elevate, but the unpredictable nature of the relegations means that the team may yet stand a chance.
YeaH Gaming
Guii, freezao, pdr1n, gCR, yangiii, and THUG-LIFEE (coach)
For YeaH, meanwhile, this is the second season in a row the team has finished second in the Challenger League having fallen 1-2 with two 15-round maps during last season's relegation playoffs against ReD DevilS. This season, the players will finally be hoping to finally make it to the Pro League, which will be a return for both the organisation -- who had a Pro League roster during Season 7 -- and gCR, who played in the top leagues from Seasons 6 to 8.
There season saw them finish 30 points with nine wins, three draws (against GIMP twice and Falkol once), and two defeats (against Falkol and RedWolf, with the latter on the final playday of the season being the reason they dropped to second rather than first). With more experience, and arguably better results than CHICOS, this is a lost map that they will really regret, especially as they now do not get their rematch against ReD DevilS (now known as Elevate) in a repeat of last season's Pro League relegations.
Relegations
The following games will be played on Saturday on the main Rainbow6 Twitch channel:
14:00 BRT -

Elevate

vs

CHICOS Team

17:00 BRT -

MIBR

vs

YeaH Gaming
LATAM has a severe lack of cross-tier games meaning neither of these games have been seen before. The only Challenger League team Elevate has played is RedWolf during the Six Major qualifiers (where Elevate won 8-7, 7-5), while MIBR's last game against a Challenger League opponent in a notable tournament was in August 2018, 14 months ago. On the other hand, YeaH has played and lost to Team Liquid twice in the last six months (7-4, 7-4 in the Raleigh Major qualifiers, and 7-2, 7-1 in the OGA qualifiers), while CHICOS also lost to Liquid in the Raleigh Major qualifiers (7-1, 7-4).
This all means that it is incredibly hard to judge how these two groups of teams stack up against each other as there's a huge separation between the Pro and Challenger League teams. This should make this week's relegation games fascinating to watch as we see a real insight into how the two leagues stack up.
Asia-Pacific - Format and Games
Over in Asia-Pacific, the Challenger League has been underway for two weeks (four play days), with games scheduled to end on the 5th of November for Korea, 20th of November for Southeast Asia (SEA), and 27th of November for Japan and Australia-New Zealand (ANZ).
The format for ANZ, SEA, and Japan is that the bottom two Pro League teams will join the Challenger League for the same season, and the remaining four slots will be filled by teams from open qualifiers. This means that a team that was "relegated" in each season of the Pro League can drop to the Challenger League but still return to the Pro League for the next season -- as seen in SEA when MBT Impetus Gaming was relegated in Season 8, but made its way back for Season 9.
Over in Korea, with just four teams in the Pro League, the top three teams in the Pro League season continue on, while four teams from open qualifiers fight it out in the Challenger League for the one promotion spot to the Pro League next season. With the bottom-placed Pro League team of Team uR having chosen not to contest a spot in the Challenger League this season, there will be a new team in the Pro League next season.
---
Keep up with future Pro League and Challenger League action right here at SiegeGG, and follow us on YouTube and Twitter for more.