Jump to:
Challenger League - YeaH, BDS and forZe Remain Undefeated
Europe's Challenger League saw the key game this week of Team Secret vs BDS Esports in which Secret really needed all six points to stay in the race for a top-two finish.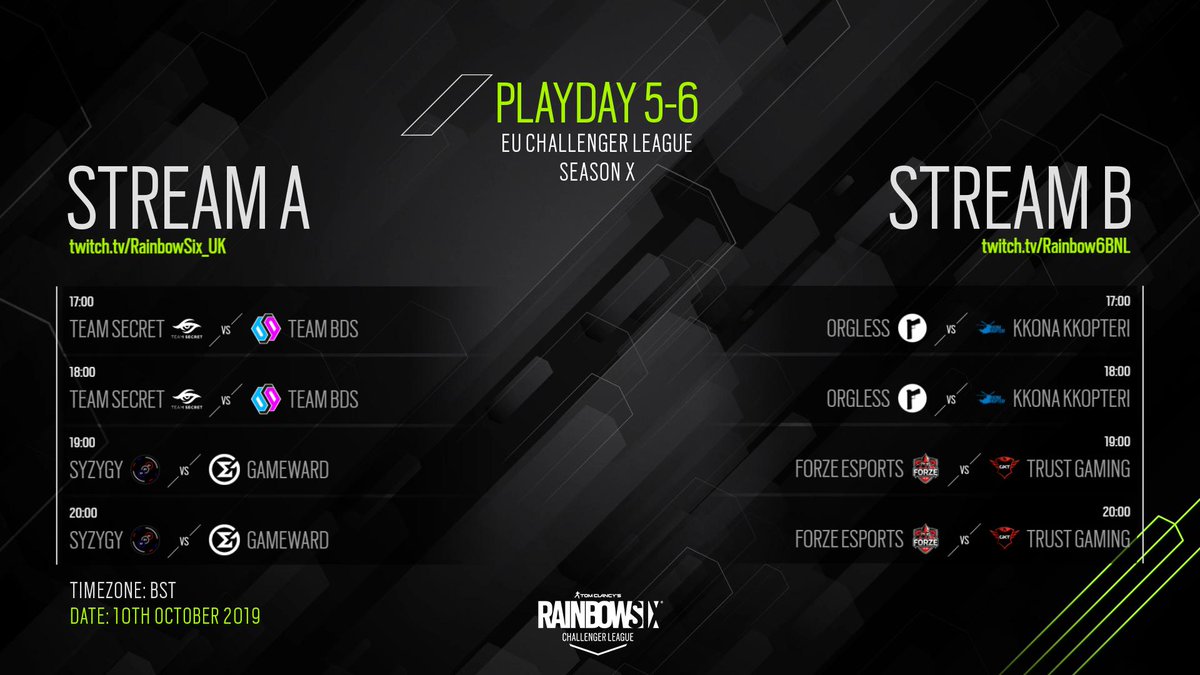 Map one on Consulate started off strongly for BDS as Shaiiko achieved a quadruple kill in the very first round on Hibana. From here Secret went from the CEO site to Garage, and then back to CEO, achieving just four kills across the three rounds before they finally got on the board after a successful Piano/Lobby defence as Ferral found a quick triple kill. Another 3k on the very next round meant things looked up for Secret, however, BDS got their own second flawless round of the map to end the half, 4-2.
As the sides switches, the tempo did not as the following five rounds saw two triple kills from LeanGods and both a triple and another quad kill from Shaiiko, to put his personal kill count up to 13 kills to just 6 deaths as his team won the map, 7-4.
Map two of Coastline was equally as explosive as while we saw just a single 4k, this time from RaFaLe, a grand total of seven triple kills came out from LeonGids, Elemzje, Ferral, Renshiro, Shaiiko and two from rxwd. The map itself was much closer as the first real lead only came on round six as Secret managed to string two rounds together to end the half up 4-2. The second half began with yet another Secret victory to put the British roster in a commanding lead before BDS chained a total of four rounds together -- which included three of four of their triple kills -- before Secret won round 12 to end the map in a draw.
Elsewhere in Europe, forZe and OrgLess found somewhat easy victories over KKona KKopteri (7-5, 7-1) and Trust Gaming (7-2, 7-2) with GameWard Team vs SYZYGY ending in a result neither team will be truly happy with as they each earnt three points for their 7-4, 3-7 scoreline. These results now mean that forZe and BDS remain undefeated in the league and solidifies themselves as the favourites to enter the Pro League relegations as Team Secret falls down to the fifth place with just a single map win in three games: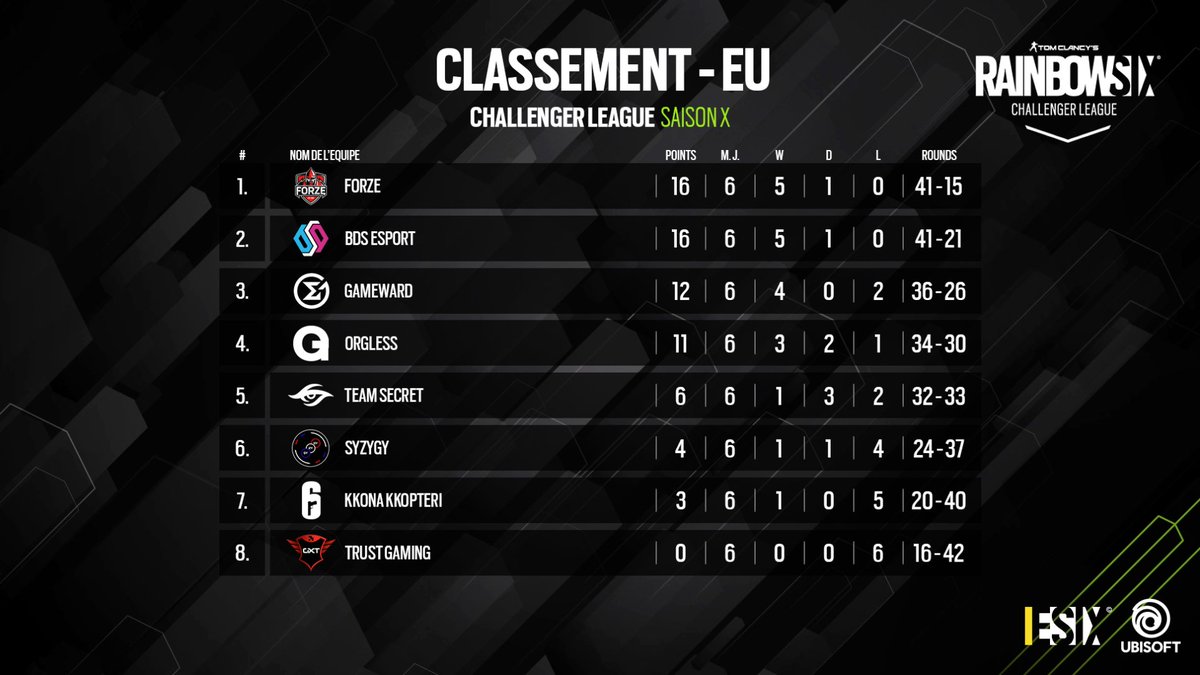 In North America, meanwhile, all eyes were on the matchup between the league leaders of Obey Alliance (who earlier this week were issued a legal notice by their previous organisation) and Disrupt Gaming with their new player of Karnageb who replaced Rainbow on the lineup.
Map one on Consulate included remarkable performances from both Read and Gryxr who achieved 16 and 17 kills between them as well as two triple kills each meaning they were instrumental in keeping this map close. As well as these two, the two Disrupt players of Yeti and Spades helped keep Obey in check with a 1v2 victory each on rounds one and eight to ensure the team never lost their lead and in fact took the map 7-5.
Map two of Coastline, meanwhile, was initially just as close with both teams unable to form a real lead all the way up until round eight when Obey pulled off a quick 2v4 come back to put them ahead 5-3 with this break being what they needed to ride to a 7-4 victory on map two.
Elsewhere in North America, we saw one of the most one-sided matches of the week as Rise Nation took down Adventure Force 7-3, 7-0 while 2Faced vs Orgless (previously known as Parallax Gaming) ended in the closest scoreline possible, 6-6, 6-6. Finally, Shrug vs Akatsuki saw two drastically different maps end 6-6, 7-1 in the favour of Akatsuki. This, therefore, means that Obey loses their unbeaten record, however, does retain first place with Rise right behind them.
Finally, we have Latin America which saw the first and third-placed teams of Guardians Imperium E-Sports and Falkol faceoff on Clubhouse and Kafe. Map one was frankly a walkover by the Guardians largely thanks to StroKer who achieved ten kills to just three deaths across the eight-round map. The lone round Falkol managed to win was thanks to a lone triple kill by mgN which made up almost half of his kills for the entire map which really did not bode well for their chances on map two.
Kafe, however, was a very different story as StroKer was completely shut down with a 0.5kd and consistent individual plays by members of Falkol won them round after round to put them up 4-2 on their defensive half. Guardians showed they had some fight on their own defences however an exceptional performance by LuMyy on Thatcher eventually closed out the map with each team earning three points.

Elsewhere in LATAM, we saw blowouts from CHICOS Team and YeaH (the new league leaders) over RedWolf e-Sports and Looking For Org, both in 7-3, 7-4 scorelines. Finally, Super Nova vs Sem Org saw a pretty similar result as the Shrug vs Akatsuki game in NA as it ended 6-6, 7-3 to iblackZ and oNe's new roster of Sem Org. YeaH now sits three points ahead of the Guardians at the top of the league with a perfect record in six games.
6 French League - Giants and Vitality Locked in for LAN
Prior to this week's games beginning, the Vodafone Giants had already locked in their spot at the Paris Games Week playoffs regardless of the remaining four playdays results with Vitality aiming to do the same this week as they faced the Challenger League squad of GameWard Team.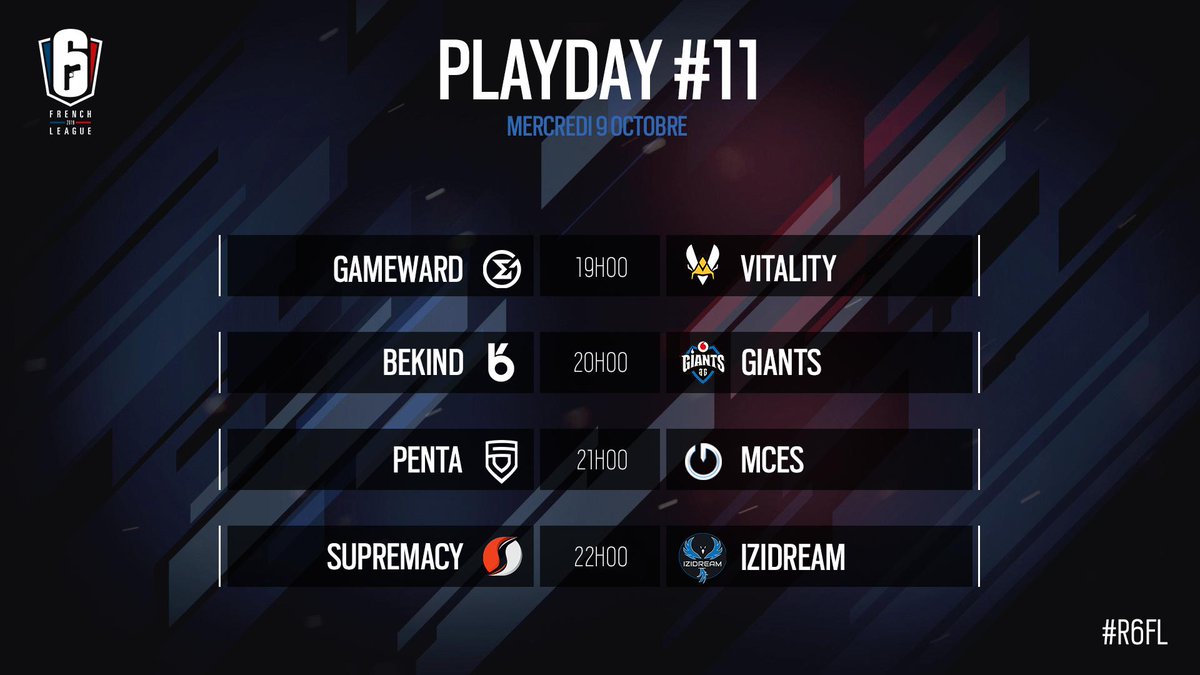 This game on Kafe started off pretty straightforward for the attackers of Vitality as they took the first two rounds with just two deaths while BiBoo alone secured four kills. GameWard got on the board on round three and quickly drew up the scoreline before a traditional last-second push by Vitality -- in which the bomb went down with one second remaining and with seven people left alive -- began a winning streak for the Pro League team. Vitality won five of their next six rounds including the two remaining rounds of the first half with their only round loss coming in a 1v1 situation between Kaktus and Stigi. This 7-4 win by Vitality, therefore, means they also now book themselves a spot at the LAN Finals as they sit 11 points ahead of Supremacy in fifth with just three games -- and so nine points -- remaining.
Elsewhere, the Giants roster knowing they are guaranteed a spot at the LAN Finals clearly weren't taking their game against BeKind -- a team with zero points in ten games -- very seriously, something Vitality have already been penalised this season for. This relaxed attitude led to an eventual draw in what was BeKind's first points of the season and led to the first and only successful 1v5 of the season by Legendz:
Finally, the playday saw two more games as PENTA defeated MCES, 7-2, and Supremacy lost to IziDream (previously known as OrgSeek), 7-5. This means that PENTA needs just a single point in their remaining three games against BeKind, Supremacy and Giants to book their spot at LAN with the final spot realistically being between Izidream and Supremacy: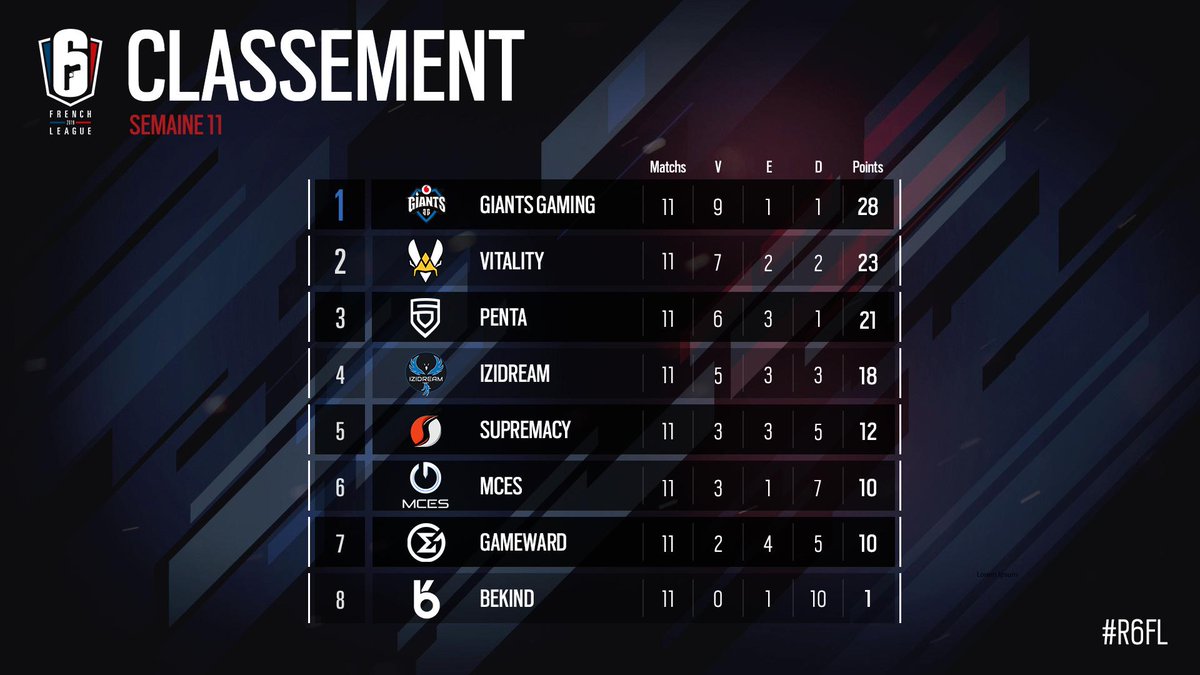 PG Nationals - Great Start for Samsung Morning Stars
This week saw the Italian national league kick off its second season under the management of PG Esports. Previously, the Mkers/EnD Gaming team have won the last five seasons running across the last three years and have won 10 out of 11 maps played during grand-finals making them the most dominant team in any specific nation across the R6 world. This season, however, it looks like they may have some competition as the newly formed roster of the Samsung Morning Stars aided by the ex-PENTA coach and CCS Women's League founder of Jessica "Jess" Bolden has positioned themselves as early contenders.
The league consists of a best-of-one map, double round-robin format league with two playdays each week and no overtime -- identical to that seen in the Pro League -- with the top two teams qualifying for the eventual LAN Finals in December. That means this week each team played two games, one on Tuesday and one on Wednesday with Samsung Morning Star vs Notorious Legion being the obvious game to watch.
The core of this Notorious Legion team last season finished as the second-seeded team with five wins, six draws and three losses, just two points ahead of Samsung in third making this matchup one on paper one the most interesting of the week. It was, therefore, quite a surprise when this game ended as the most one-sided of the day at 7-3 to the technical underdogs as Mefisto top fragging as a Montagne main pushed the team to victory.

To add onto this impressive performance, the following day the SMS roster showed their prowess once again as they defeated Outplayed -- the organisation which came fourth last season but has since seen a complete change in roster -- in a dominate 7-1 scoreline. Mkers, meanwhile, the clear favourites also found two victories against Cyberground Gaming (the roster known as Outplayed last season) and Qlash (who finished fifth last season), however, in much closer 7-5 scorelines meaning Samsung Morning Stars sits ahead of Mkers after week one even after playing higher-seeded opponents than Mkers. It looks like the rivalry between these two teams will shape this season as it goes through.
In the first week of the regular season, the teams of the Rainbow 6 Siege PG Nationals 2019 put on a show with their operators! Did you miss the playdays? We'll take care of it
Elsewhere in the league, GoSkilla Academy and Italian Gaming Project both put on a show of their own achieving a win and a draw each to enter the top four early on with their victories coming against Cyberground Gaming and Notorious Legion who sit with zero points so far.
ESL Benelux League - Trust Held to a Draw
Across the first two playdays, Trust had lost just a single round in two maps against FACT Gaming and LAGr Gaming, however, this streak was to end this week against Aura Esports.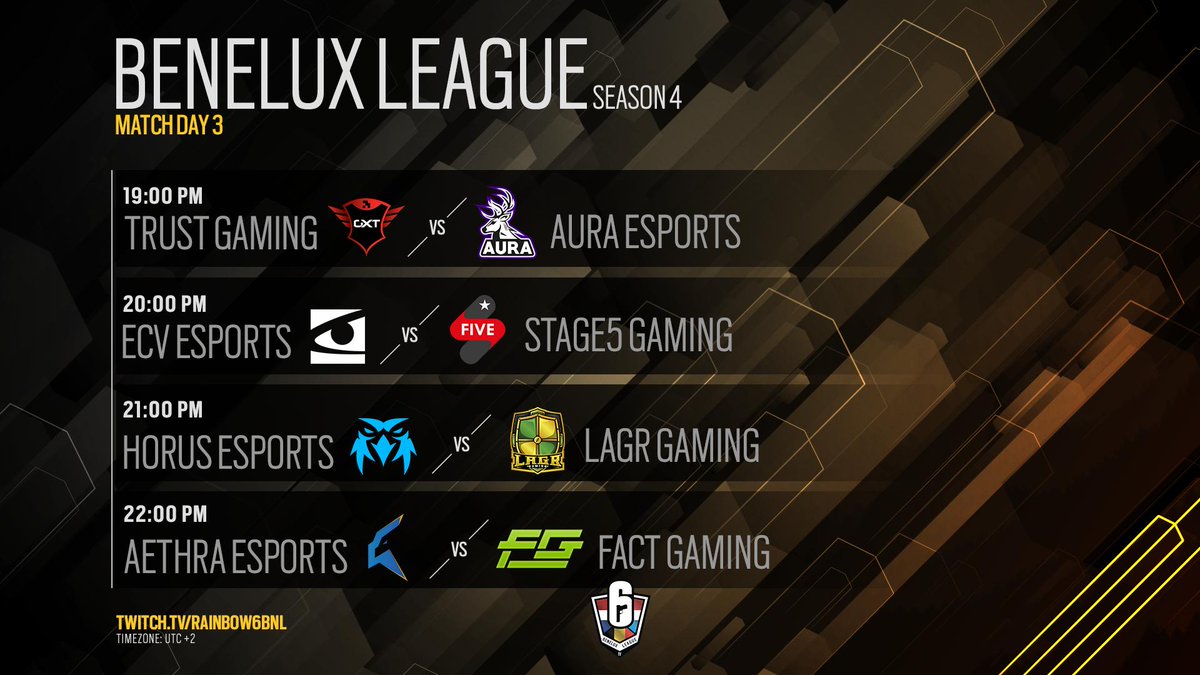 Across the three other games, results came as many expected as both LAGr Gaming and Aethra Esports stayed on zero points as they lost 3-7 to Horus Esports (previously known as Gunners) and FACT Gaming while the fifth and sixth-placed teams of ECV esports and Stage5 Gaming held each other to a draw which saw three quadruple kills from Luke on Sledge and Pagoro on Jager and Zofia.
Going back to Trust vs Aura, this game on Kafe saw much less standout individual plays with the players of Staed, Deapek and Avaiche each reaching just less than a 2KD. The game started strongly for Aura as they successfully attacked the Bar/Cocktail objective twice before Trust moved downstairs onto Service/Cooking and a 16-second triple kill from JinxedOwl completely destroyed the Aura front line. From here Trust's issues seemed to clear up as they lost just two players in the following two rounds before an extremely late attack which saw seven players alive with ten seconds remaining fell flat to Aura to end the half 4-2 to Trust.
This momentum continued on into the second half as Trust won two more points to push themselves onto match-point at 6-2, however, Aura was far from done. In an almost identical repeat of the first half, Aura secured the next two rounds with just two deaths on their part before a teamkill by Meadzz on round 11 and two early kills by Aura on round 12 ended the game after a remarkable comeback.
This now means that Horus now ties up Trust in first with Aura down in fourth after the first show of weakness by the defending champions so far this season. Trust, however, likely won't be phased by this as their main attention will be on the Challenger League in which they currently sit in the last place with zero points in six games.
Elsewhere in R6 - US Nationals, the Russia Major League and the Polish Masters
Firstly, after a week of US National games which included not a single Pro League and just a single Challenger League roster in Shrug (which was playing with a sub in the place of the Canadian of Flynn), we saw two relatively unknown teams in Katsu and Azara Gaming reach the playoffs this following week. Here these two teams now sit just two maps away from being invited to the US Nationals LAN Finals now confirmed to be in Las Vegas from the 13th to the 15th of December:
Next up, this week saw the second week of games in the Russian national league which -- to noones surprise -- sees forZe and Empire sit atop the table with four wins in four games. So far only one team has come anywhere near to upsetting these two rosters as last season's third-place finishers of projectV took five rounds off of Empire on Tuesday. This, however, is to change this coming week as the two Russian giants are due to face off in a game more hotly anticipated and of probably higher quality than a number of next week's Pro League games.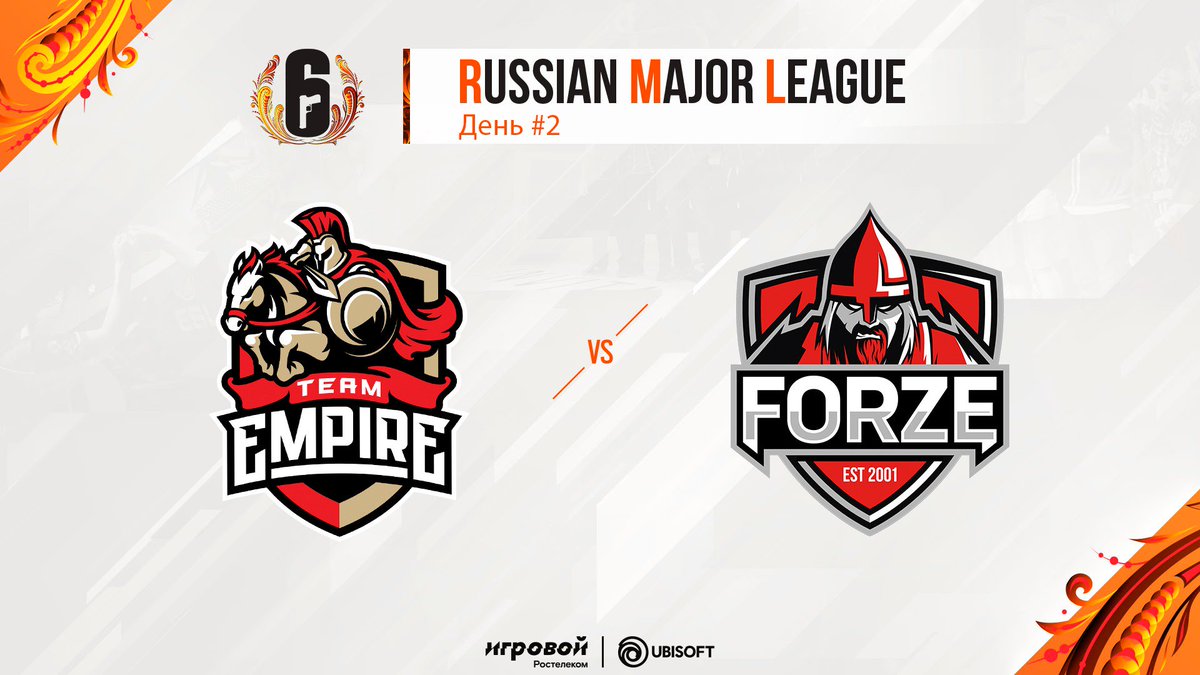 This week also saw the kickoff of the Polish national league -- the Masters League -- which stars the Natus Vincere player of Saves, three ex-Challenger League players from PACT of Deep, Magic and Derius and the core of the Samsung Morning Stars roster mentioned previously with the Italian of Gemini subbed out for the Polish player of iZii to qualify for the league. Curiously, last season's victors of GamerLegion have not returned (with the lone exception of Saves) opening this season wide up to be anyone's game.
The format consists of two GSL-style groups who each play best-of-three map games (as seen in the Pro League Year 2 format) every other week with the top two from each group qualifying for the December LAN. That means this week saw just two games as the longstanding names of Patokalipsa and SLAVGENT defeated ZeRo eSports and Numero Uno meaning each sits just a single game away from LAN.
Next Week's Action
The five must-watch games outside of the Pro League over the next seven days are:
Team Empire vs forZe

in the Russian Major League on Tuesday at 19:00CEST

Evil Geniuses vs Luminosity Gaming

in the US Nationals on Tuesday at 21:30ET

Spacestation Gaming vs DarkZero Esports

in the US Nationals on Thursday at 21:30ET

forZe vs OrgLess

in Europe's Challenger League on Friday at 20:00CEST

Guardians Imperium E-Sports vs YeaH Gaming

in Latin America's Challenger League on Friday at 21:00BST
---
Keep an eye out here at SiegeGG for full updates on these games and check out our Pro League roundup below: