This season, the Challenger League format sees each team play two Best-of-One games against the same team each week which each map getting its own map ban phase with three points on the line, much like the regular Pro League season for each of the four APAC subregions.
---
Jump to:
---
North America
Shrug vs Rise Nation
In our first matchup, Shrug started out on defence against Rise Nation on Villa. The first half was very closely contested, however some slow attacks from Rise Nation put them in some difficult spots. After being down 3-1 on round 5, Rise Nation was able to execute two successful attacks. Throughout the game Rise Nation was usually able to get the defuser down in the closing seconds of the round, resulting in a 3-3 split at the half and would continue to get round after round pulling themselves up from a 1-3 scoreline to a 5-3 scoreline. Most impressively, their fourth round in a row would come from a 2v5 clutch by Acid and Vandal.
From here on out though, Rise Nation's luck began to run out. Shrug began to reel them back three rounds in a row, putting themselves on match point at 6-5. This final round would be reminiscent of the 8th round, as Acid and Vandal once again would be left in a 2v5 scenario, with the chance of a tie all left up to them. While Vandal would take down one, and Acid would get three, Flynn was able to take down a 5 hp Acid in order to secure the win a 7-5.
Their second matchup, Consulate, then felt just as close as the previous one. Once again, Shrug were the ones to start on defence and through an aggressive playstyle were able to thwart a good amount of Rise Nation's attacks. Shrug took the lead firmly at the halway mark, up to 4-2, and then pushed on to get to match point at 6-2, guaranteeing themselves at least one point from this matchup. This was the point when Rise Nation would start to get themselves back into the game, however, stringing four straight rounds in a row to bring themselves to a tie at 6-6. While the latter two of these rounds came at a man advantage to Rise Nation, the earlier two came from a 2v2, and a 1v3 retake by Bexstly.
Obey Alliance vs Parallax Gaming
For the second matchup of the day, Obey Alliance would go to Clubhouse, starting out on defence. They would start out the match strong against Parallax Gaming, putting themselves up on a nice 2-0 before Parallax Gaming would pick up their first round. Obey Alliance would once again string themselves two more rounds, and up 4-1 in the first match of their season, they opted to go to a Bar and Stock defence. The choice proved to be a mistake as Parallax dismantled the setup and put themselves at a 2-4 scoreline going into the second half. While Parallax would take their first-round on defense, it would also be the last round they would take on this match. Obey Alliance, through a strong aggressive playstyle, would dismantle Parallax Gaming three rounds in a row, earning themselves three points at a 7-3 scoreline.
For their second matchup, Parallax Gaming would start on defence on Kafe. Despite being known as a defender sided map, Parallax Gaming was only able to pick up one round during their entire half. Obey Alliance, on the other hand, was able to take the half at a decisive 5-1, winning all but the first round of the map. Once switching to defence, Obey Alliance was able to confirm at least one point for the day for themselves, putting themselves at match point up 6-1. While Parallax proved that they wanted at least one point for the day, winning the next two rounds, Obey Alliance was more than ready. Much like Rise Nation vs Shrug on Villa, a Mozzie and Maestro were left in a 2v5 against the members of Parallax Gaming. Slowly but surely, the Mozzie of Gryxr and the Maestro of Abunai were able to dismantle Parallax Gaming, netting them another three points with a 7-3 scoreline.
Disrupt Gaming vs 2Faced
The third matchup of the day began on Clubhouse with Disrupt Gaming on defence. The match started off with a bang, with the two teams ending up in a 1v1 at only two minutes into the round. While there was a close back and forth between these two teams, the half ended 3-3 with no definitive leader. This would also continue into the second half, as each round was anyone's game. Round after round, either team would pull off either a miraculous clutch in order to save the round. Disrupt would eventually get to match point, 6-5, against 2Faced, but this slim lead would prove to be not enough, as Read would be stuck in a 1v4 while planting, leading to his demise and a 6-6 scoreline for their first match up.
For their second matchup, they would head to Villa, and 2Faced would begin on defence this time. While the last map was quite a close one, this map would become the polar opposite. Excluding Disrupt Gaming's one successful attack onto Kitchen, 2Faced routinely shattered their opponents' attacks time and time again. These wins, however, were achieved with the help of the clock and at some points without a man advantage. 2Faced would then go on to absolutely steamroll Disrupt Gaming with a 5-1 lead at the half. While time would begin to run low for 2Faced on their attack, it was not a hindrance for them. For the two remaining rounds, despite the low amount of time remaining, 2Faced would pull together kills, leading them to a crushing victory over Disrupt Gaming, 7-1.
Adventure vs Akatsuki
For the fourth and final matchup of the day, we had Adventure Force (formerly Buttcheek Bandits) starting out on defence against Akatsuki on Coastline. The first half was very closely contested by each other, with no team gaining a round without the other team immediately firing back. Through a mix of some close, and not so close rounds, these teams would end the half 3-3. With a good start out the gate after the swap, Akatsuki was able to take their first-round on defence, but it was to be their last. Adventure Force was able to gain the upper hand as Suzaku came alive after a largely dormant first half. With the help of a flurry of kills, including an ace from him, Adventure Force were able to gain three points, and win with a scoreline of 7-4.
For the final map of match four, Adventure Force would start out on defence on Border. While this half started off closely contested, the pattern ended just under halfway through the game at a 2-2 scoreline and Akatsuki began to take the lead. Despite an attempt to clutch and ace, Akatsuki was able to steal the last two rounds, putting them up 4-2 at the half. This swap to attack may have given Adventure Force the edge they needed to put these closely contested rounds into their favour, however. While Suzaku was unable to wreak havoc again with the Twitch due to her ban, they were still able to pull out four rounds in this half, leading to a final scoreline of 6-6 as Akatsuki failed to capitalise on match point.
Europe
Within Europe, meanwhile, most attention was given to forZe, Team Secret, and Team BDS as this season's favourites following very successful international appearances from each of them over the last two months. Aside from these three teams, the league saw Trust Gaming and KKona KKopteri return from last season, OrgLess enter after being relegated from last season's Pro League, the ex-Millenium captain of Liven make his return on GameWard Team and, finally, SYZYGY enter the league to replace the disqualified team of Salamander.
Team Secret vs forZe
Starting the very first playday saw the two Six Major 2019 semi-finalists of forZe and Team Secret face off in the most anticipated game of Season 10 of the Challenger League. Map one, played on Consulate, saw Secret initially fall behind on defence due to a triple kill by Rask on the very first round before a late execute on round two ended with an easy cleanup for the British roster. As forZe took round three, it looked as if the two teams would trade rounds back and forth to the end, however an early plant by KaMa on the CEO bombsite led to a quick cleanup by wTg, giving forZe the first notable lead of the map with a 3-1.
As Secret went to the Piano and then Garage sites, they ensured this wasn't to be repeated as Ferral's C4 on round five and LeonGids' triple kill on round six ensured they'd win both rounds and end the half tied up at 3-3. The second half, as forZe went onto defence, went about as bad as it could have gone for Secret as they couldn't find holes they could abuse in forZe's setup and were left stunned in simple gunfights. Across the next three rounds, Elemzje, meepeY, and then Fonkers were all left in 1v4 situations, putting the score at 6-3 to the Russian prodigies of forZe.
Round ten went remarkably better for Secret as an Elemzje triple kill left KaMa in a 1v4 situation of his own with only one Secret player dead thanks to an accidental suicide from LeonGids. Unfortunately for Secret, however, the round was not yet over as KaMa found two initial kills before effectively denying the plant with a Maestro camera to win the 1v4 and the map for forZe, 7-3.
Map two of Bank between these two teams was much less dramatic as we didn't see a single 1vX victory, however the triple kills came in just as fast. On the very first round, Rask achieved a 3k while in a 1v5 situation before Ferral finally shut him down before two more clean round victories for Secret saw forZe finally get on the board thanks to yet another 3k by Rask. Eventually, the half ended 4-2 in Secret's favour as unlike on Consulate, forZe's defences were much less impenetrable.
An extremely late execute on round seven gave Secret yet another round, making their victory look pretty certain at 5-2, but this wasn't to be. ForZe followed this up with three back to back round wins -- two onto Open Area/Kitchen and one onto Lockers/CCTV -- to tie the scores. Round 11 saw a successful spawn peek by Elemzje followed by Rask -- forZe's then top-fragger -- fall early on to secure the round for Secret and guarantee them their first points of the season with a number of failed runouts on round 12, ending the map 6-6.
Team BDS vs Trust Gaming
The other key matchup saw Trust Gaming face Team BDS in what was Shaiiko's biggest online game of note since his game against Millenium back in Season 6. BDS were clearly the favourites going into the match and initially took the lead as they took three of the first four rounds -- all of which had players in 1v4 or worse situations -- before Meadzzz caused the first real play of the game with a successful 1v4 on Smoke, followed up immediately by a 1v3 by Avaiche to end the half 3-3.
The remainder of the map saw the two teams trade rounds back and forth, with the lone exception of round 11 in which a triple kill by Panix to begin the round ultimately earnt BDS a 7-5 victory. This, unfortunately, was the best that Trust could offer. As the game moved onto Coastline, they were unable to keep pace, with their only two round wins coming off of a triple kill by Deapek and a 1v1 from JinxedOwl as Shaiiko led BDS to their second victory of the day.
OrgLess vs SYZYGY
Just prior to this match, the rainbow6bnl channel broadcast OrgLess' game against SYZYGY in a repeat of a Six Major 2019 qualification matchup in which SYZYGY (then known as Don't Panic) were just a single round on map two away from taking down their German opponents (4-7, 8-7, 7-2). In this matchup, the game was just as close, with just a single round on map two making up the difference once again (6-6, 7-5). With almost a 2.0 K/D, ripz was clearly the MVP of this game, while KS's 1v3 quadruple kill was its highlight.
GameWard Team vs KKona KKopteri
The final game of the day saw the French majority roster of GameWard Team face the Finnish lineup of KKona KKopteri and ended with both teams going home with three points each, but with the Frenchmen winning two more rounds overall (7-3, 5-7). This close second map victory by the Finns was only possible thanks to two 1v2 victories by OSKAMOSKA on IQ and Jager, with him also achieving a triple kill in the final round of the day to cap off week one.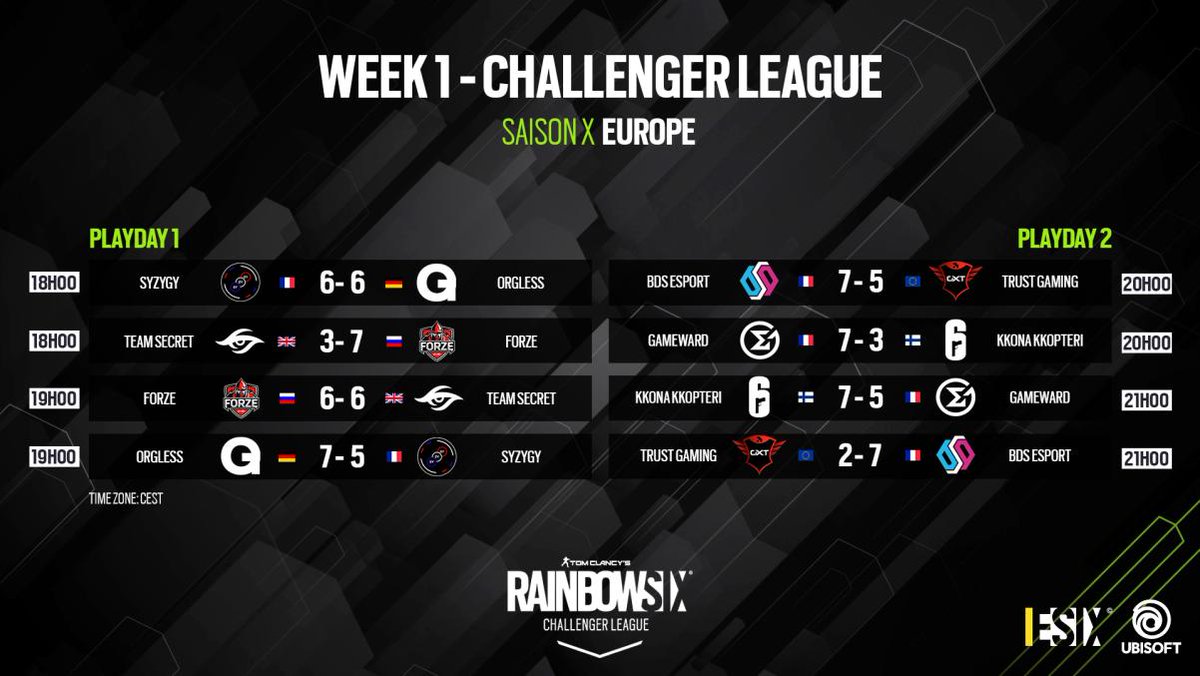 Latin America
Finally, we have LATAM's Challenger League which has seen a huge number of changes over the past few months:
Guidance Gaming → Looking For Org

Pain gaming → SuperNova Team e-Sports

pRoNeTageM → RedWolf e-Sport

Lowkey Esports → Guardians Imperium

Team Zoom 9 → CHICOS Team

time de go4 lala → Falkol

Vivo Keyd → Sem Org
Redwolf e-Sport vs Looking for Org
While Lipezord's competitive return on Falkol just over a year after he left the Bootkamp Gaming roster (now known as INTZ eSports) was unfortunately offstream, the real highlight of the night came as last season's fourth-placed team, Looking for Org (previously Guidance Gaming), played the very last roster to qualify for this season, RedWolf e-Sport.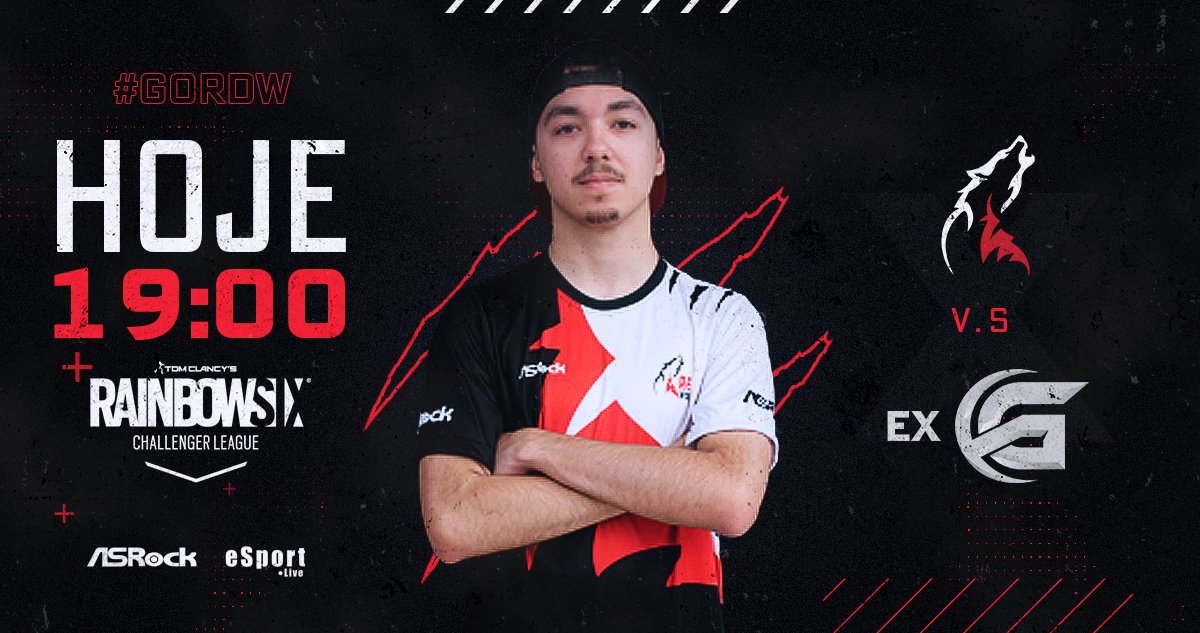 Map one of this matchup on Villa was a fairly one-sided affair on paper, with six out of ten rounds ending in a 1v4 or worse situation. The first half which saw LFO on their defence ended in a draw, a result RedWolf would've been very happy with, before Sn3epyy kicked off his defence with a quadruple kill on Mute to take the lead. This led to four back to back wins for RedWolf with the final round seeing the first and only successful 1vX situation as Bersa won a 1v2 to win the map 7-3.
Map two on Consulate saw three initial round wins from LFO be traded back to tie up the half 3-3 once again. Unlike in the last map, however, the second half was much more of a competition as neither team could generate a real lead. Three plants from St1de were complimented by standout holds by Dreeuz and Destiny to win three rounds, while individual holds by members of LFO led to them able to defend the Garage site particularly well to end the map with a 6-6 draw.

Sem Org vs Guardians Imperium
Another team many people were excited to see play was Sem Org who had finished just behind ReD DevilS during the BR6b 2019 season. Since then, they have made a change, as the ex-Pro League player of iblackZ joined the team, but this clearly has not panned out. Their game against Guardians Imperium went pretty terribly as they won just five rounds across both maps. While map one was offstream, map two saw three 1vXs from the Guardians -- a 1v2 from KDS and both a 1v2 and 1v1 from Cainho -- with KDS eventually achieving a 2.17 K/D across this map.
YeaH Gaming vs CHICOS Team
Finally, we had YeaH Gaming vs CHICOS Team, which was just as one-sided as the previous game. An ace from gCR for YeaH Gaming on the very first round set the tone as he went on to get more kills than the top two fraggers on CHICOS combined, while Guiilherme1, who achieved 15 kills in the second map alone sat just behind him.

---
For full coverage for the Challenger League keep an eye out here at SiegeGG in the coming weeks, and catch our regular coverage on Twitter as well.