To see what happened last week in the Pro League, check out our dedicated rundown article of playday eight and nine's action below and keep an eye out for our APAC and Challenger League rundowns coming out later this week:
Jump to:
US United States Nationals – Life Good for LG?
The USN Stage 3 qualifiers resumed last week as new and familiar faces fought to qualify for the "stage playoffs" next month. A full explanation of the format and the two previous stages can be found below:
Once again, the action began on Tuesday over in the Western Conference as this time Luminosity Gaming (LG) and Draak Esports drew one another. A supposedly 'easy' match for LG soon turned disastrous as Tomas kept experiencing a plethora of technical issues, leading to multiple 4v5 rounds for the Pro League roster featuring newly-acquired player Factor, who made his debut the previous night in the team's matchup versus Team SoloMid (a 6-6 draw). While Draak Esports certainly controlled the tempo of the first and only half, Luminosity still managed to keep pace sans Tomas. The match unfortunately concluded with the entire LG team disconnecting who, having no more rehosts available, then had to forfeit the matchup before it fully concluded.
After that, Evil Geniuses (EG) made their USN debut versus a worthy challenger in 2Faced (2F). With both rosters making recent additions (Modigga replacing Canadian for EG; Krazy replacing Xecration for 2F), the match was sure to be competitive, and competitive it was. Despite Evil Geniuses jumping ahead early in the round count, 2Faced proved resilient as they battled back on their attacking split, which included a fantastic sequence from none other than Filthy.
However, Modigga and fellow teammate Geometrics lit up late in the match to the tune of twelve and fourteen kills, respectively, which was all Evil Geniuses needed to pull away from the talented Challenger League underdogs by the score of 7-3.
EG would then move on to face Draak Esports in the Stage 3 Week 2 Playoff Qualifier in what would be the third match of the night and also the third game on Kafe Dostoyevsky. Draak Esports, however, would see yet another impressive run through USN dashed, as EG simply imposed their will en route to a Stage 3 Western Conference Closed Qualifier (the second through the Western Conference).
Later in the week, we were set for another slate of USN matches. The first bout of the evening was Rise Nation versus Katsu. Rise Nation is, to many R6 fans, a much better known name than Katsu, having a roster of well-known players, namely Vandal, Beastly, England, Adam, and Acid, with a stronger pedigree. The team's combined experience thus showed in its first attack, when Rise Nation scored a flawless round against Katsu.
However, this brand recognition was not enough as Katsu won the match on Clubhouse with a 7-4 final scoreline. Rise Nation's entry fragging was not up to scuff in this matchup, and it really hurt the team as a whole. On the flip side, Katsu was led from the front by their entry fraggers Makarov and Six, both of whom had outstanding performances on the evening. Makarov in particular was lethal on the entry, winning 4/4 of his entry gunfights. Katsu supports Meangreen, Habibi, and Noske all had effective nights as well, with each of them carrying their weight when it mattered. Katsu showed that they may have what it takes to make a serious run and continue to make a name for themselves.
The second match of the evening featured Parallax Gaming squaring off against Obey Alliance. With both also playing in Season 10 of the Challenger League, this match would mark a vital barometer of the two teams' relative skills. Shrines had particularly effective nights for Parallax, while Forrest was Obey's leading performer, both of whom were the team's primary entry fraggers.
What ended up giving Parallax Gaming the edge in the end was Blarne's performance. Despite playing Thermite most of the evening on attack, we often saw Blarne chain together kills and come up big for his team, eventually turning out to be a key component in their 7-4 win on Clubhouse.
The final matchup of the evening was thus Parallax Gaming versus Katsu on Kafe, and it turned out to be the most contested matchup of the evening. Glomoji was able to recover from a fairly pedestrian performance in the previous match against Obey for Parallax -- one particular highlight was his triple-kill round on attack, where he willed his team to a round victory after being down 3-2 in man count.
Parallax Gaming were able to win their first defense by stalling out the Katsu attack long enough to force risky plays. Meangreen on Katsu was almost able to clutch a round on Maestro to save the match, but was shut down by Blarne for the final kill of the match. Both teams finished with three players with ten or more kills, but Parallax Gaming were able to secure their place in the Stage 3 Eastern Conference Closed Qualifier in the end, winning in overtime 8-6.
6 French League - The Giants Cement First Place
This week saw two massive games as the two Pro League teams of the Vodafone Giants and Team Vitality faced off while PENTA playing with a substitute played the new Challenger League side of GameWard Team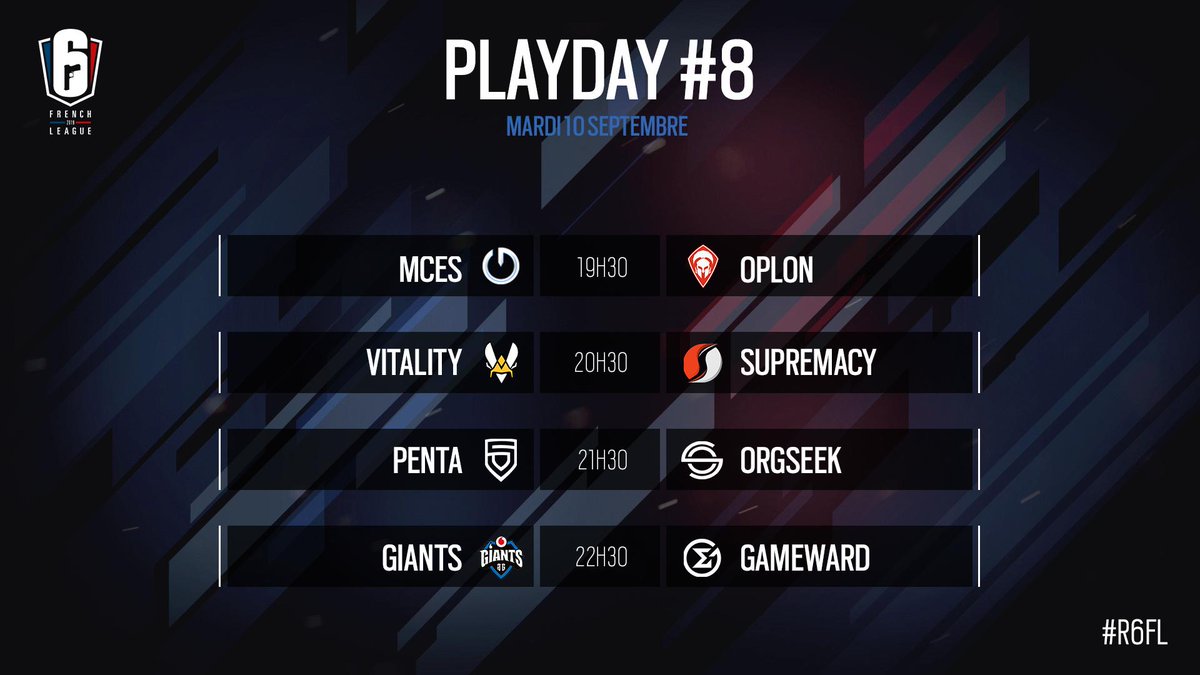 The Giants vs Vitality matchup on Border made it clear that we were all in for a treat of a game as the very first round ended in a 1v1 victory for Hicks over BriD as the clock denied any chance Vitality had of salvaging the round. Vitality drew it up on round two and took the lead the round after thanks to a quick triple by Spark, but the Giants retorted with triple-kills as well, one each from risze and AceeZ, as well as an almost flawless round six to put them up 4-2 at the half-way point.
The second half looked like more of the same as the Giants looked more coordinated and had greater firepower than their opponents as for every triple kill Vitality secured, Giants fired back with a multi-kill of their own to keep their lead intact. By the time the map ended with a 7-4 scoreline to the Vodafone Giants, we had seen a total of two quad kills -- from AceeZ and Hicks -- and five triple-kills in the most action-packed game of the day.
The other game of note between PENTA and GameWard Team was much closer throughout, however, and starred a few top fraggers from each team. After two initial round wins from GameWard, blas and Kaktus both reared their heads on round three, with the former achieving a triple-kill to put his team on the board. From this point on, the two teams led by blas and Kaktus traded rounds right until round 12 where an eventual ace from blas secured PENTA a draw.
The remaining two games saw Supremacy and MCES secure one point each from a draw, while OrgSeek defeated BeKind (previously known as Bastille Legacy and Team Oplon) 7-4 with P4 achieving a remarkable kill count of 18 in just the 11 rounds.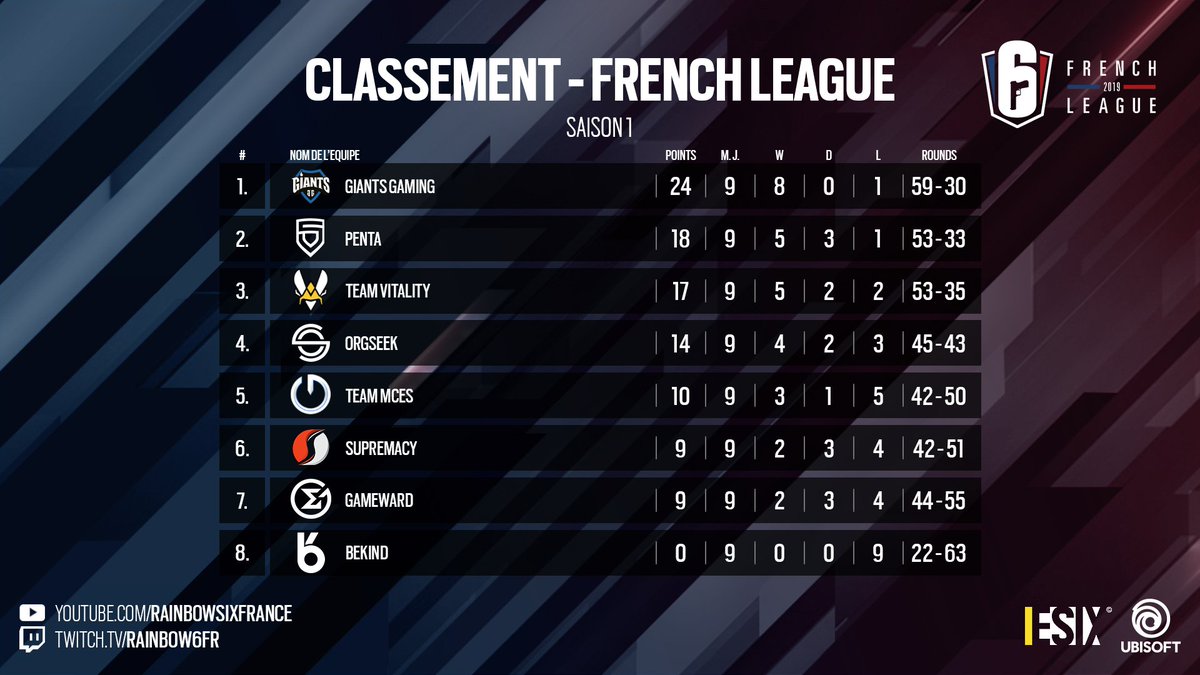 This now puts the Vodafone Giants six whole points ahead of their closest rivals of PENTA, with them likely to book their spot at the LAN Finals at the Paris Games Week next Wednesday where they will undoubtedly be the favourites to defend their title as the French Champions.
ESL Benelux League - Surprise Defeat for Aethra Esports
The ESL Benelux League started up this week for its fourth season as the Trust Gaming organisation was eager to become the region's first back-to-back champions. Across the eight starting lineups, only two returned from last season -- Trust and Aethra -- meaning many were unsure what to expect of the majority of the teams, with all of them ready to impress in their debut match of the season.
As the reigning champions and current Challenger League team, Trust Gaming had no problem taking down their first opponents, FACT Gaming, in a dominant 7-1 scoreline in one of the few extremely one-sided games we saw this week. The other returning team of Aethra Esports, known last season as Solwing Esports, didn't have such an easy time as their game against Steed's new team of Aura Esports went extremely poorly.
Their matchup on Clubhouse initially started out well for Aethra as they won their own defences on CCTV and Armory, before a triple-kill by Doggon on Ash won Aura their first round of the season and kicked off what looked like an unstoppable streak from the team. Doggon then secured a second 3k to push the Scottish organisation to seven round wins in a row to take the map 7-2. While many people were excited to see these new teams show up, taking down last season's runners-up in such a strong showing surely makes this roster a team to watch as we progress further through the season.
The remaining two games of this week were also somewhat of a blowout as ECV esports and Gunners (previously known as Free Gains and Team Dark) took down LAGr Gaming and Stage5 Gaming in two 7-2 scorelines. With four one-sided games this week, many will be excited for next week's game of Gunners vs Aura Esports as two of this week's victors face-off.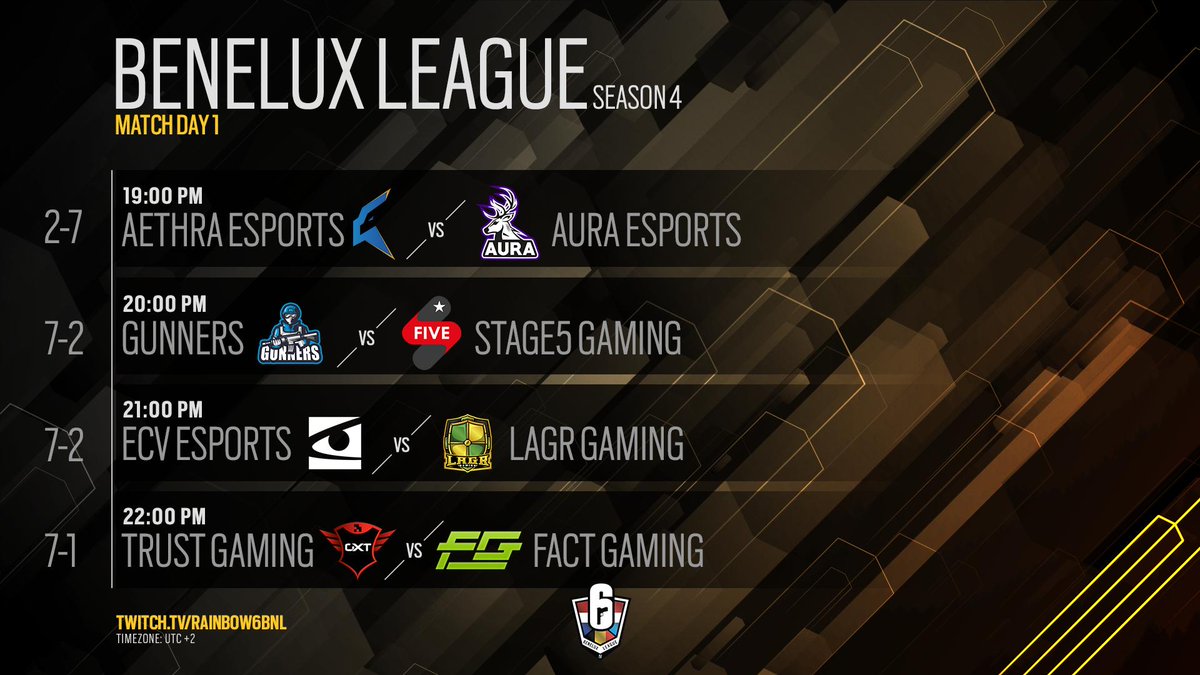 Elsewhere in R6 - CCS Women's League, the Giants Showdown and the Canadian Nationals
The second playday of the CCS Women's League played last Wednesday saw most of the teams which won last week win once again in Europe, as Team Queen, SPYS, and North Sea Gaming all found victory. The notable exception here are T3H Esports, who last week achieved a 7-0 victory over Sphynx thanks in part to a 17 kill-death ratio by C4NARY, but failed to repeat this performance as North Sea Gaming (NsG) crushed their opponents with four back-to-back wins on their defence of Kafe Dostoyevsky. This performance likely positions NsG as one of the top league favourites going forward, with their game against Team Queen in three weeks' time likely to be key for both teams.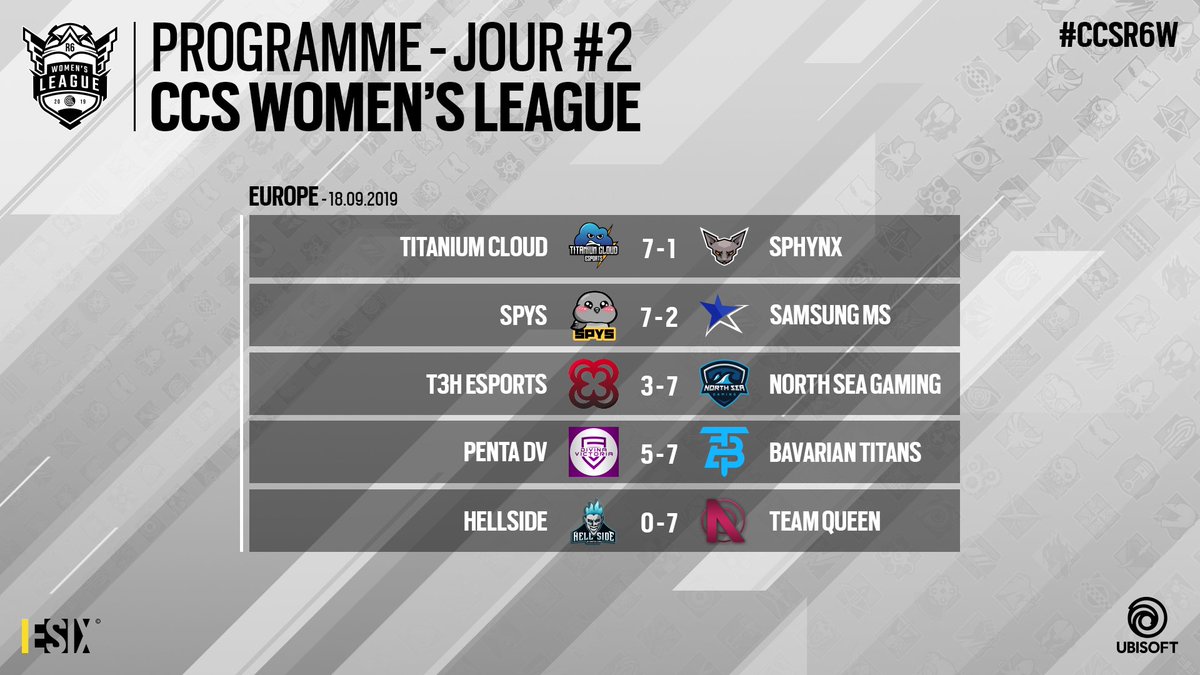 North America had similar results, as four teams found their second victory of the tournament, while four more saw a second defeat. The exceptions saw Lil_Lexi's team of Victorious Secret fall to Disrupt Gaming's Women's roster, while Axios Esports, including the DreamHack Montreal 2018 player of Canasiangirl, found their first win of the season against POWERHAUS Mischief.
The Giants Showdown tournament -- the regional competition for all of South America excluding Brazil -- saw last season's Challenger League qualifiers of Furious Gaming (who were later disqualified for playing with an underaged player) face Nocturns Gaming, last season's runners-up. While Nocturns were the favourites in this matchup, this game was surprisingly one-sided as Nocturns secured some much-needed points by taking Kafe 7-2 to push them up into the top four. At the moment, the reigning champions of Undead Gaming remain undefeated this season, with them scheduled to face LBS Esports next Wednesday as the top two teams in the league face off.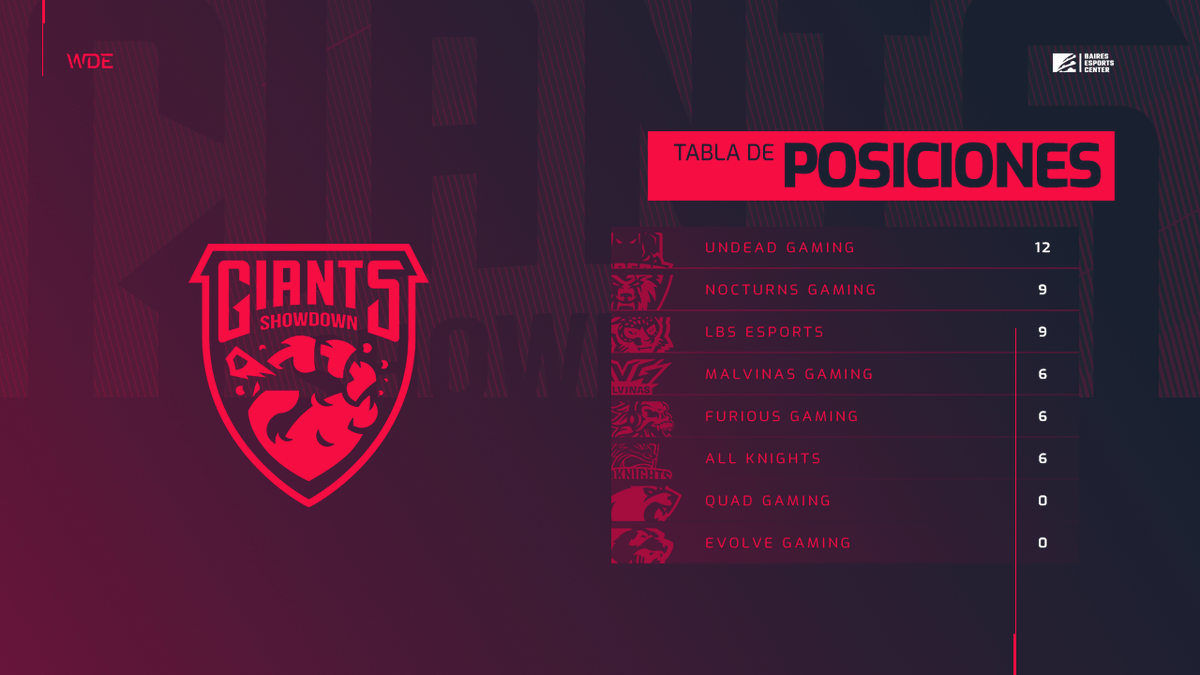 Finally, the Canadian Nationals saw another team qualified for the Finals next month in Toronto as PsykoPaths Gaming faced Super Nova. Since we last saw them at DreamHack Montreal, the Super Nova roster had acquired the ex-Team SoloMid player of Krusher, making them quite a formidable roster, but this clearly didn't phase their opposition. After initially going behind 1-5 on their Consulate defenses, Super Nova mounted a remarkable comeback that was eventually halted on the final round before overtime, largely thanks to a huge runout by StorMz to take the first map 7-5.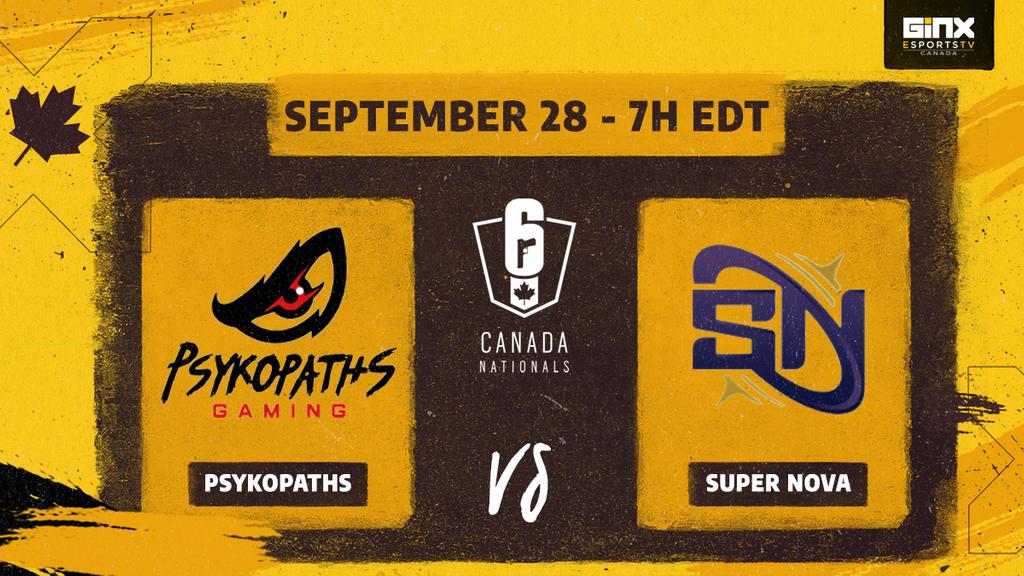 Map two of Clubhouse was a fairly different story, as by the half it was Super Nova with a 4-2 lead -- this, thanks largely to Krusher's 4.5 K/D -- with the PsykoPaths needing to make a comeback on their attacks. This they managed to do very effectively, as Krusher managed just two kills in the following six rounds, while StorMz achieved a 2.0 K/D across the map to take Clubhouse 7-5 once again, and book their team a spot at the LAN Finals. The final team that will be joining Team Canada, Thread the Needle, and PsykoPaths Gaming to fight for $15,000CAD in three weeks' time will be determined next weekend, as Livid Gaming faces yes.
Next Week's Action
The five must-watch games outside of the Pro League over the next seven days are:

PENTA vs Team Vitality

in the 6 French League on Wednesday at ~22:00CEST

Team Secret vs OrgLess

in Europe's Challenger League on Thursday at ~20:00CEST

Obey Alliance vs Akatsuki

in the US Nationals on Thursday at ~21:15ET

Rise Nation vs Disrupt Gaming

in North America's Challenger League on Friday at ~20:00ET

The Spain Nationals Grand-Finals

on Sunday at ~16:00CEST
---
Keep an eye out here at SiegeGG for full updates on these games and check out our Pro League roundup below: