The US Nationals, first revealed in June 2018, saw its second year of competition kick-off in April this year with the largest prize pool of any tournament in R6 history of $156,000 outside of recent Majors and Pro League Finals. This total has drawn the interest of pretty much every team in North America as they all wish to take the title of Team USA away from the current holders of Rogue.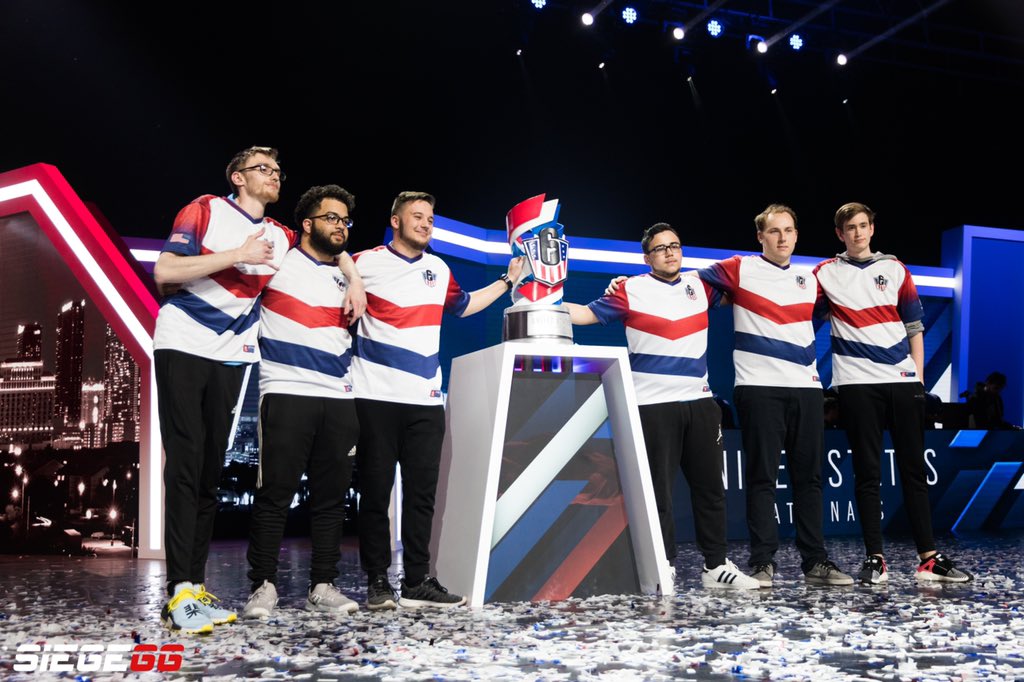 Now, as we sit half-way through its eight-month-long qualification process, let's take a deeper dive into the competition so far, and what to expect over the next three months.
Jump to:
---
Prize Breakdown
Finals
1st Place - $65,000

2nd Place - $35,000

Joint-3rd Place - $10,000 each

5th-8th - $5,000 each
Qualifiers
8 Stage Winners = $1,000 each

8 Stage Runner-ups = $500 each

16 Stage Joint-3rd Place = $250 each
This means that $8,000 in prize money has already been awarded across 14 teams, with another $8,000 to go out before all the finalists are all determined. $4,000 out of the $8,000 awarded has gone to the four teams which have already qualified for the Finals, and so guarantee themselves at least another $5,000 each from a minimum 5-8th place finish.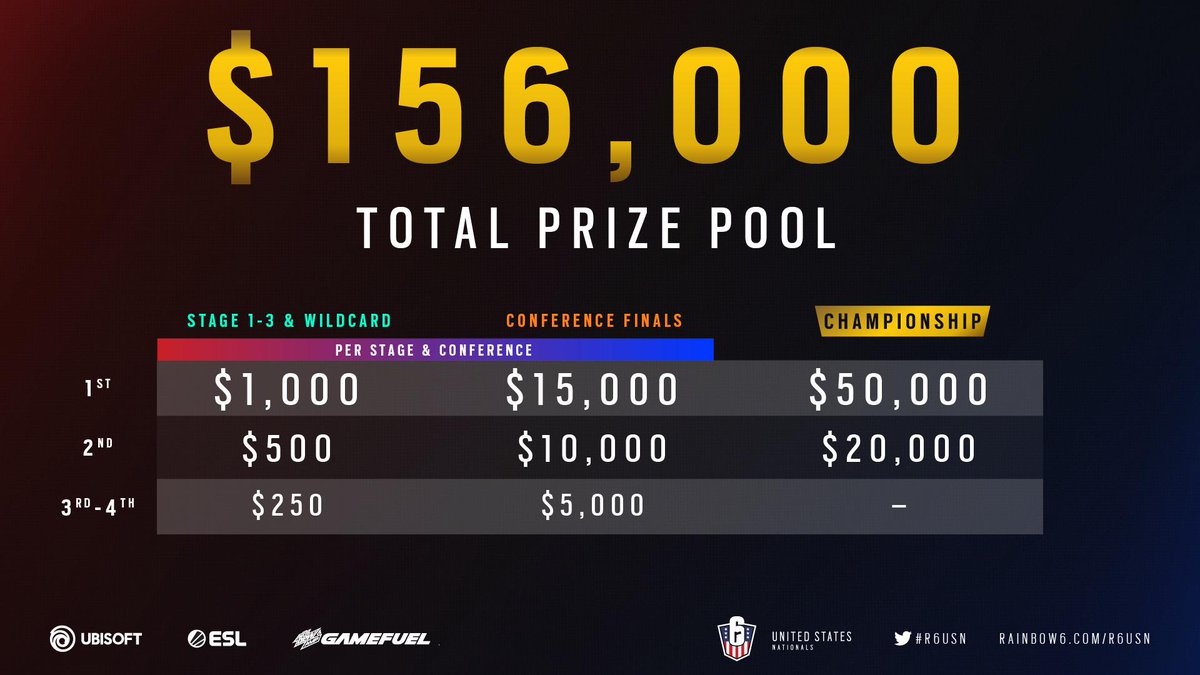 Stage 1
Stage 1 saw two qualifiers per "Conference" (East and West), with the winner of each facing off in the Stage playoffs. The East and West distinction makes no difference and a team can change Conferences between each qualifier as they wish -- it simply is a way to split up the teams into two batches to expedite the qualifiers.
Western Qualifier -
Team Reciprocity
Team Reciprocity was the first team to qualify for the Finals, starting with their narrow 7-5 win over Rogue on Coastline. In this matchup, the team was virtually carried by LaXInG, who almost achieved a 2.0 KD with 13 kills to 7 deaths while no one on Rogue achieved a positive KD spread.
Following this match, they met Our Bad in the Best-of-Three playoff to decide who went to the LAN Finals. Despite being a Challenger League roster, Our Bad had already defeated Rogue themselves to make it to this point which made them a real contender in this matchup. This, however, wasn't to stick as Reciprocity was clearly the better team across Coastline and Consulate.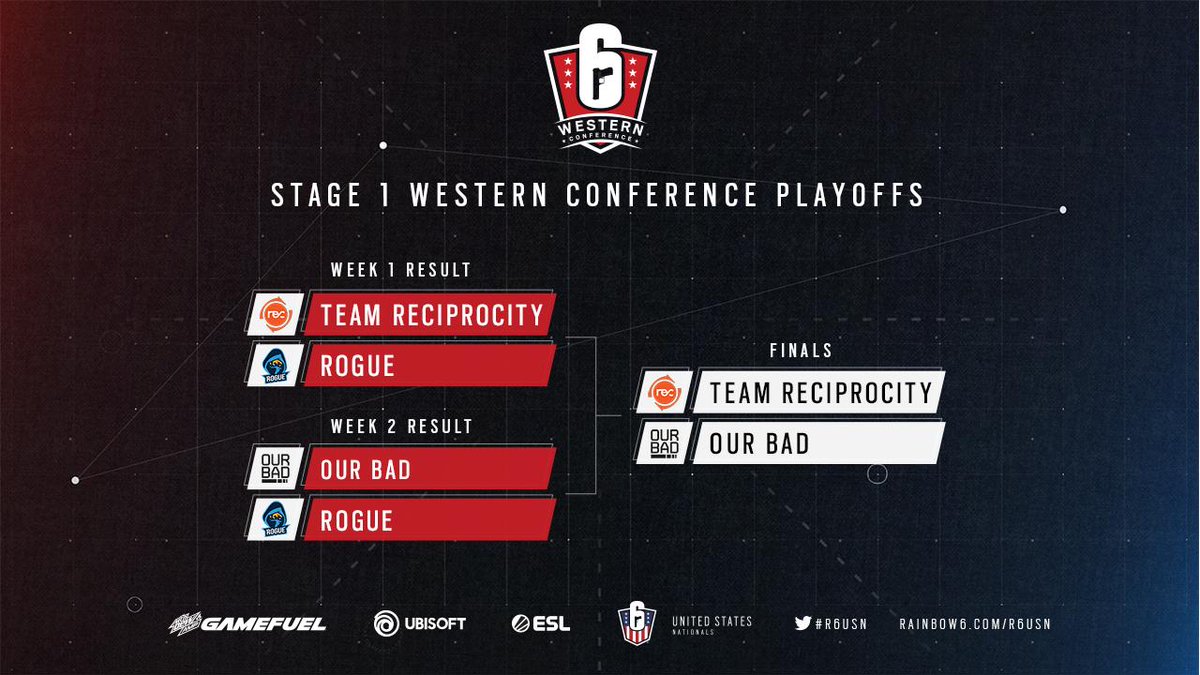 On both these maps, Reciprocity began strong with three back-to-back round wins before Our Bad could even get on the board. On Coastline, the underdogs made a comeback before falling away on round six at 3-2, leading to an eventual 7-3 defeat as the Pro League roster ran away with the game. Our Bad's "comeback" attempt on map two, meanwhile, was even more minimal as they won just a single round before Reciprocity won yet another three before closing it out with another 7-3 on Consulate

This meant Team Reciprocity was the first team to book their spot at the US Nationals Finals in December, and will be eagerly awaiting the final confirmation of all other teams.
Eastern Qualifier -
Susquehanna Soniqs
Running parallel to this was another set of qualifiers to determine team number two to qualify for the US Nationals Finals. The Soniqs' first major task was to defeat their then-fellow Challenger League team of Organised Chaos, which included the now-Pro League names of Merc and Fultz, and the ex-Pro League player of GurmyWormy. The Soniqs were almost unstoppable in this game on Clubhouse as oC won just two defences on Church/Arsenal and Cash/CCTV before Soniqs not only closed out the half 4-2, but the map 7-2.
Meeting them in the Stage playoffs was Billboard and Benji's new team of Honor Among Thieves (an organisation owned by Billboard) as they defeated the Pro League team of DarkZero Esports off-stream to make it this far.
Map one of Clubhouse was Soniqs' map throughout as they started by winning five of the first six rounds before a very brief comeback attempt ended up being futile as Soniqs ended their hopes and the map, 7-3. Map two was much more of a contest, however, as HAT took the lead following two questionable defences of the Dorms/Kids objective on Border. The Soniqs kept themselves in it and ended up drawing the first half only to lose the lead straight away on round seven. This 4-3 lead, however, was as close as the team was to get to an upset, as Neptunez fronted a very successful offensive half on IQ to end the map 7-5 to the soon-to-be Pro League lineup.

Stage 2
Stage two saw four qualifiers per "Conference" (East and West) -- twice the number of last time -- with the winner of each facing off in the Stage playoffs.
Western Qualifier -
Rogue
With four qualifiers in this Stage, Rogue had plenty of opportunities to make it to the Stage playoffs after losing in two separate qualifiers during Stage 1. Rogue fell in the first qualifier to '92 Dream Team (now known as Luminosity Gaming), and early in the second qualifier against Team Boosted, before finally making it to the Stage playoffs after defeating Our Bad in qualifier number four. Here, they met Luminosity once again along with Team SoloMid and Disrupt Gaming.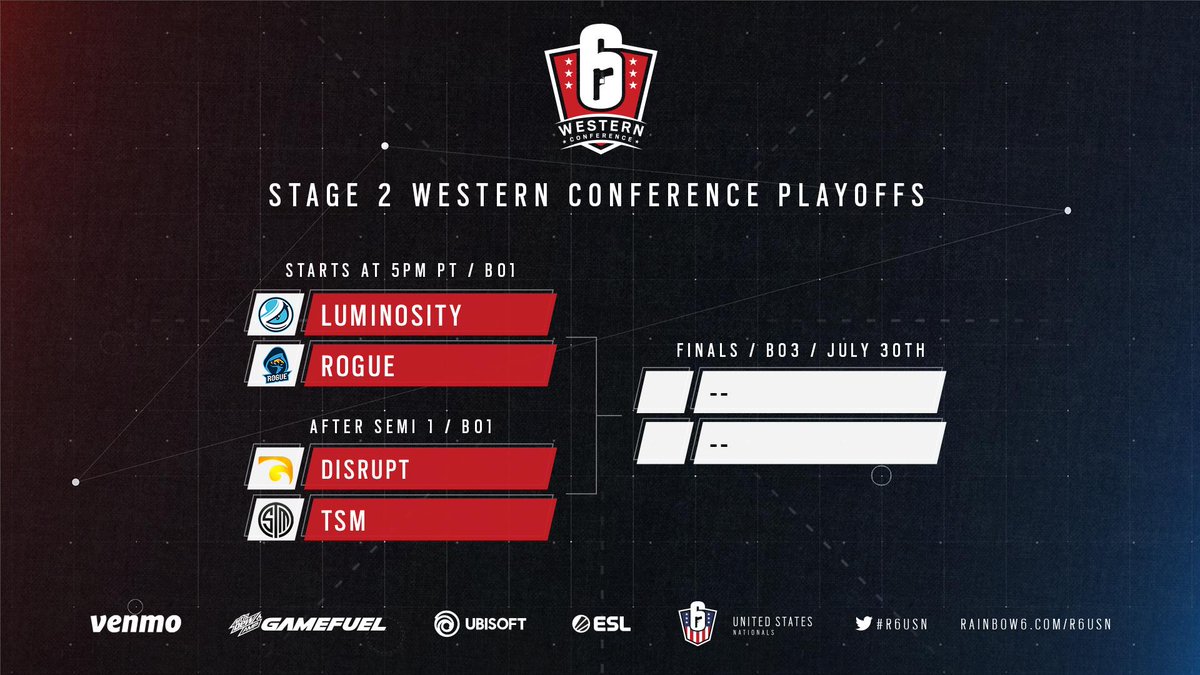 Taking place two weeks after their victory at DreamHack Valencia 2019, Rogue first played LG on Consulate on which, after trading rounds back and forth, a 7-5 victory was assured thanks to standout plays by Shuttle and VertcL. Following this, they met TSM who had run past the Challenger League squad of Disrupt Gaming 7-3 on Villa despite playing with Krazy subbed in for the Canadian of Krusher, thanks to Merc's 2.8 KD.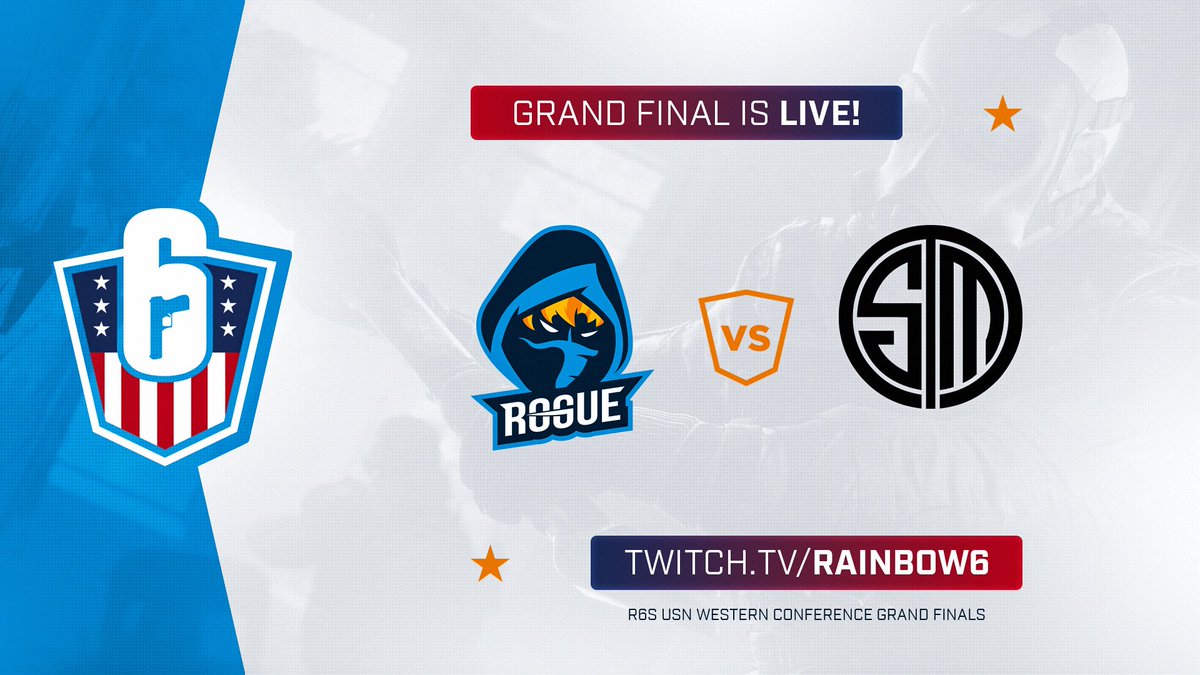 This Best-of-Three game between Rogue and Team SoloMid was the closest game we've seen this year in the US Nationals as Rogue fought to assure this fifth attempt to qualify for the LAN would be successful. Map one was on Kafe Dostoyevsky, which many assumed would be an easy map for Rogue considering their undefeated reign on the map. However, TSM surprised everyone by dominating the tempo and getting the upper hand in every single encounter as they won it with an astounding 7-1 scoreline.
Following this, we then had two close, overtime maps as TSM took three rounds running to open up Coastline before ending the half 4-2. Rogue responded to this with four rounds on their own defensive half to push it to overtime. Here, despite the best efforts of Achieved, Rogue managed to string two rounds in a row to take the map 8-6. Next up was Clubhouse, which saw the two teams trade rounds back-and-forth in pairs, with Rogues lucky start to the second half of the map making the difference. This meant they skipped TSM's "turn" and took four rounds in a row before the rhythm returned to trading rounds, ultimately leading to another 8-6 scoreline to Rogue in overtime.
Eastern Qualifier -
Spacestation Gaming
The final chance for teams to qualify before the mid-season break saw two underdog teams attempt to take the spot from two of the best known teams in the region. Hailing from qualifier number one came a completely unknown team in Parallax Gaming, who defeated DarkZero (DZ's second loss to a tier-three roster in the USN this year) to progress onwards.
Spacestation Gaming then came out of qualifier two as they defeated zqwe (who yet again defeated DarkZero to get to this point) before DZ finally qualified on their fifth attempt this year via the third qualifier. Last came the recently relegated Challenger League team of Rise Nation, with a new look to round out the Stage playoffs after winning qualifier four.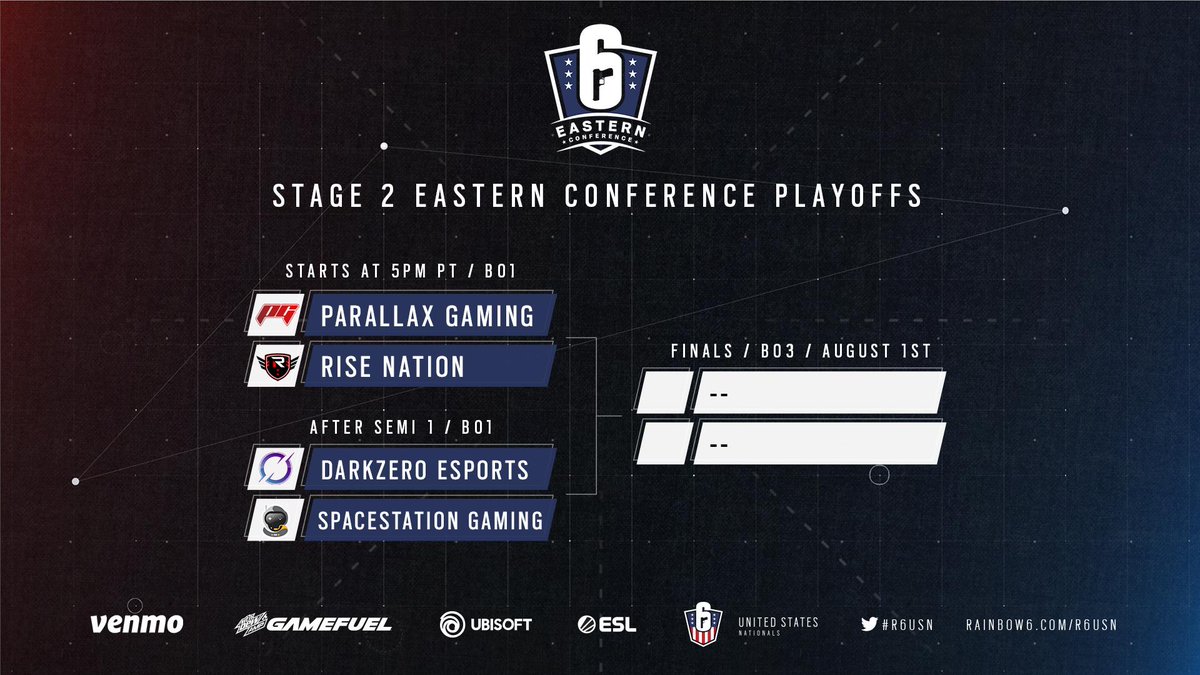 Spacestation Gaming first played DarkZero in their playoff semi-final in what many assumed to be the decider matchup as the two Pro League rosters faced off on Border. DarkZero took an initial two-round lead before SSG kicked into action, winning four rounds back-to-back. It was pretty clear during this display that DZ were overwhelmed as they fell further behind than they ever had before against SSG. DarkZero managed to stop the run of rounds briefly, but the scoreline eventually ended 7-3 -- a clear-cut victory in what many thought would be one of the best games of the week.
On the other side of the bracket, Rise Nation managed to defeat Parallax with the same scoreline -- 7-3 -- to set up a rematch of the US Nationals 2018 semi-finals. Just like the match in which SSG won 7-5, 6-1, Spacestation remained in control with another 2-0 victory. Map one in this matchup was Kafe which, during SSG's six round wins in a row, saw a triple kill by ThinkingNade and a '0:00' clutch by Fultz, and then following two round wins by Rise, saw Rampy finally finish off the map with a triple kill of his own.
Finally, we had Coastline, which was not even as close as map one. Across the nine rounds, Rise won attacks onto the Hookah/Billiards and Kitchen/Service objectives, with SSG clearing up everywhere else. While expected by many, this 2-0 defeat was unfortunate for Rise who would've hoped that their newly solidified lineup would be able to make this matchup a close one. For Spacestation, meanwhile, this win means they will be the fourth team attending the US National 2019 LAN Finals to fight for the top share of the $156,000 prize pool.
Stage 3 and Wild-Card Qualifiers
Stage 3 will see four more qualifiers for the west and east conferences on the following dates:
Qualifier #1 - Saturday, September 14th

Qualifier #2 - Saturday, September 21st

Qualifier #3 - Saturday, September 28th

Qualifier #4 - Saturday, October 5th
The winners of each of these qualifiers then meet in the Stage playoffs as seen in Stage 2. The Wild-Card qualifier meanwhile will act effectively as a "Stage 4" with just a single qualifier, rather than two or four, meaning a surprise team is more likely to qualify.
A loose schedule for these games can be seen below as all eight teams will be determined by October:
Yet to snatch up these four spots are the two remaining Pro League teams with full American lineups -- DarkZero Esports and Luminosity Gaming -- as well as Evil Geniuses and Team SoloMid who, despite having Canadian and Mexican players on the team, can still compete (assuming they acquire the relevant work or athletics visa).
As for Challenger League teams, there remains just a single non-American player playing in Season 10 -- Rob "Flynn" Flynn for Shrug -- meaning the Pro League teams are bound to have a lot of competition from these up-and-coming lineups.
Inside the USN
To keep up with all of the action the US Nationals runs a regular rundown of all the action hosted by the regular US Nationals casters with its most recent show seen below:

---
And so that's our round-up of all the action so far and a look at what's to come. Keep an eye out here at SiegeGG for more coverage of the competition.