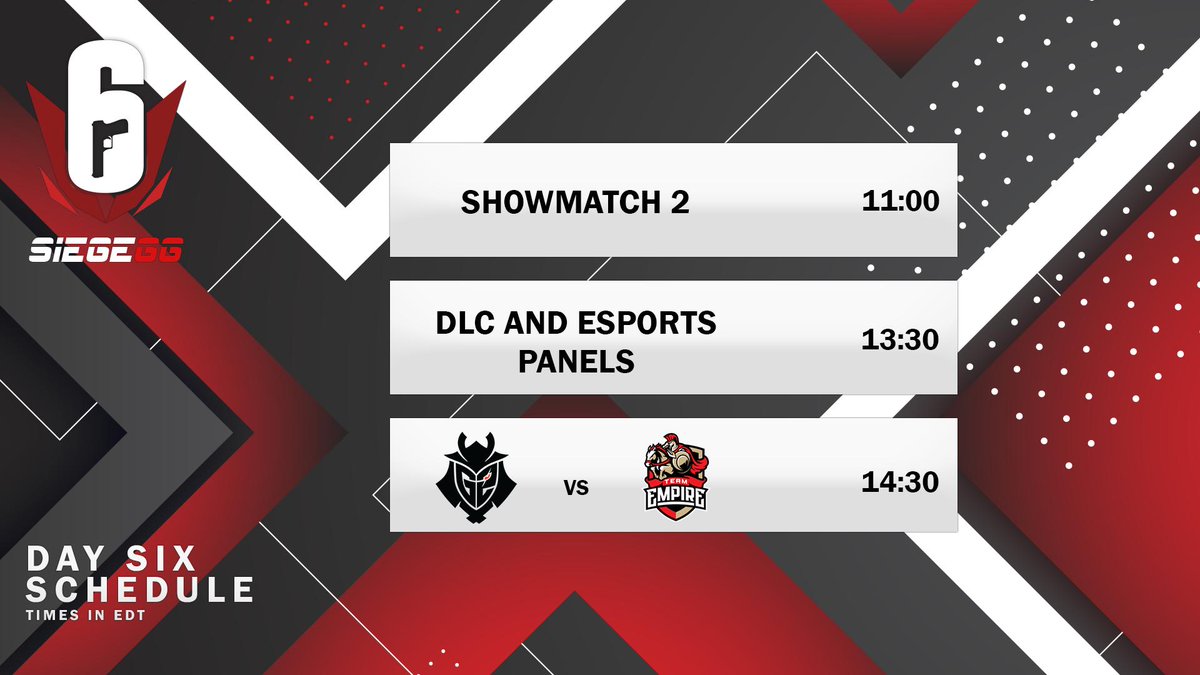 One week's action all came down to this. Still smarting from their 0-3 defeat at the Six Invitational 2019, Team Empire were keen to set the record straight and get revenge against G2 Esports. G2, on the other hand, had never lost a single map to Team Empire in their entire history, and were in no mood to get started today.
Missed the action, though? Fret not, and read on for a brief summary of all the action seen during the grand final of the fifth-ever Rainbow Six Major, held at the Raleigh Convention Centre in North Carolina.
Team Empire 3-1 G2 Esports
Maps: Border (7-5), Kafe (6-8), Clubhouse (7-5), Coastline (7-3)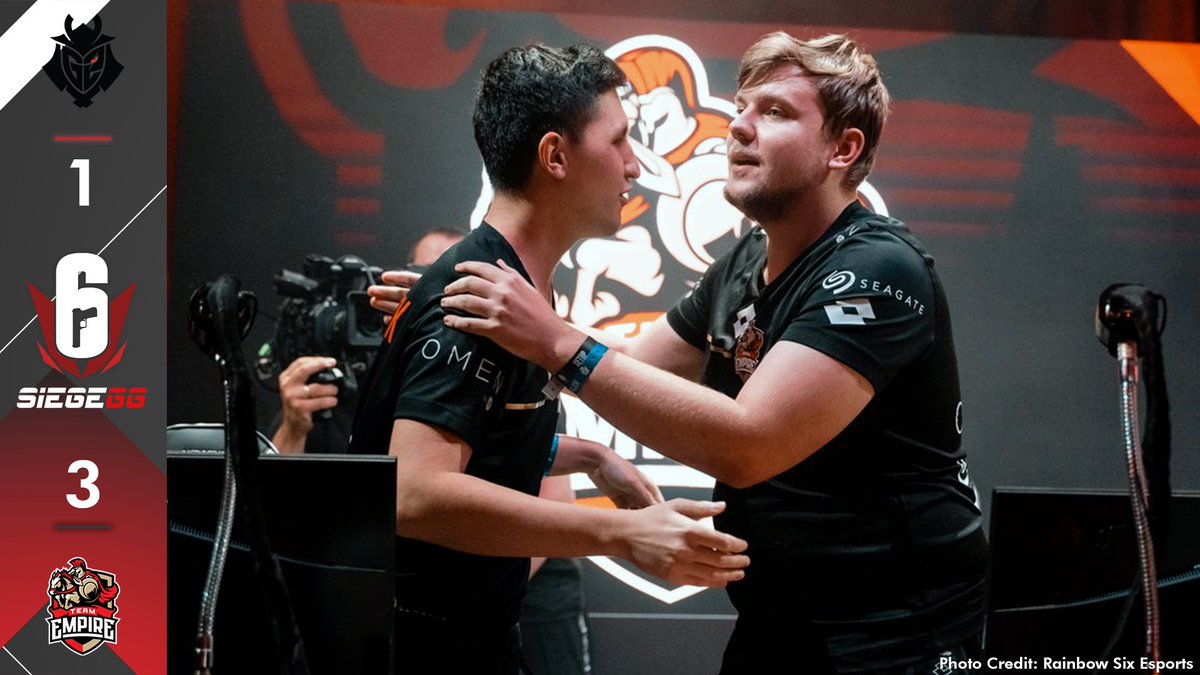 Map One: Border
With the first map being Empire's pick, G2 Esports were eager to start with a strong impression, and Kantoraketti did exactly that by securing four kills as G2 swarmed over Empire with ease. JoyStiCK, though, was more than happy to demonstrate his own strength as he responded with an ace in the very next round and the game was on. Back-and-forth went the teams, with G2 being denied a two-round lead thanks to a ShepparD clutch, but it was Pengu's 1v2 clutch to get three in the round and deny ShepparD's 4k that got hearts truly pumping.
Heading into the second half on equal terms, Empire's sudden collapse onto G2's defenses prompted Shas to call a tactical timeout, but ShepparD make short work of that after the restart as he clutched out a 1v1. Empire then, against all odds, got one more in swift fashion to secure three match points. The Russians would need two of them as G2 would tease a comeback with consecutive round wins, with Fabian securing a much-needed three-piece to get within one round of overtime, but it would be Empire to hold strong to win a map against G2 Esports for the first time in their history.
Map Two: Kafe
Moving over to Kafe, G2 Esports' script had been thrown out of the window. An explosive site take from G2, though, was exactly what they needed after JoyStiCK had spawn-peeked Kantoraketti. It seemed like they would take the first round yet again, but ShepparD and Scyther masterminded a 2v4 retake to give Empire the early lead instead. Scyther would then once again be the hero with a 3k, and then Empire would pull things back from a man-disadvantage for the third round running and force G2 to call their timeout once more.
This time, though, the timeout would be far more successful as Fabian would lead by example, getting a three-piece and then a two-piece in consecutive rounds to pull G2 back into the game. It would then seem that the two teams would be heading into the second half on level terms again, but Scyther and ShepparD were once again uninterested in letting that happen as they masterminded a 2v5 clutch to give their team the definitive lead.
Swapping sides, G2 were expected to assume the driver's seat, with the map being defender-sided, and Fabian was happy to make that happen with a well played Kaid triple-kill. The world champions would then get their swagger back and tie things up with a two near-flawless rounds in a row, finally showing signs of life. Taking their first timeout of the series, Team Empire would continue to hit a brick wall against G2's 78% defensive win-rate, dropping through the hatch to their deaths, but would then respond magnificently to win a third-floor attack.
A well played top-floor roam would then be Empire's undoing, but they would fire back immediately after with a flawless execute onto the site with time ticking away to force overtime. However, with G2 Esports getting defense first on overtime, the early advantage would go to them, though with infinite overtime in the grand final, the map was far from over. Much to the dismay of Empire fans, though, early-round hero Scyther, extremely close to engineering yet another comeback round, would then stop shooting Goga after prematurely thinking he was dead, and G2 would hold firm to take the map and tie the series.
Map Three: Clubhouse
Starting off on defense, Clubhouse was another map where G2 got the advantage they would have wanted, but it was Team Empire's proclivity to pre-fire everything saw first blood go to the attackers. Bandit tricking was then the star of the show as Pengu's efforts saw G2 tie things up, but it was back-and-forth with clean takes from Team Empire and then G2 as it was clear this map would go the distance, too. Despite being on attack, though, JoyStiCK would get a four-piece before another strong execute from Empire as the Russians would go into the second half with a 4-2 lead.
Swapping sides, UUNO would finally show flashes of his prowess he had demonstrated yesterday against forZe, getting a triple-kill before a very strong flank and anchor complement would keep the two-round lead for Team Empire. Going onto the basement defense, though, would prove to be a mistake for Team Empire, as G2 would pull off consecutive wins despite having just 30s to work with and having all ten players left standing.
Now tied up, it seemed that G2 had the momentum, but Empire would hold on to get to match point at which point JoyStiCK would neuter the G2 basement attack by killing their Thatcher, and ShepparD would clean up three to give their team the series lead again.
Map Four: Coastline
With Coastline far and away the best map for G2 Esports, the reigning world champions sprung the first surprise on the viewers by banning Mozzie as they prepared to start on defense. For the first time since on Border, G2 drew first blood, and piled on with a great second-round hold that immediately prompted RayzerGM, now, to call an early-map tactical timeout. Initially, it seemed that it had had no effect, with G2 taking another defensive victory, but Empire finally answered back in the fourth round.
Another round went Empire's way as JoyStiCK managed to once again stay alive and help orchestrate the attack with his smoke grenades, Jackal pings, and rotation cut-offs before the Russians drew level, leveraging the power Lion in place of their hard breach operator.
Team Empire, though, were ready to rumble as they turned on the style, shredding G2 Esports' first attack round within seconds, led by a 3k from none other than JoyStiCK, and prompting Shas to immediately call a tactical pause. It would be all for nought, however, as Team Empire would respond by crushing the G2 Esports attack in a mere 10 seconds to rock the world champions right back. In the next round, though, it seemed that G2 would finally stem the bleeding, but a ridiculously ballsy jump-out from JoyStiCK would save the round and put his team on Major point.
There would be no fourth-Major celebrations for G2, however, as JoyStiCK once again got two vital kills to secure the round, the map, and the series for Team Empire. Facing a fifth and final map, the Russians had reeled off seven rounds in a row to close things out, and six months on from their 0-3 defeat in the Invitational Grand Final, Empire had struck back.

---
After having never beaten G2 Esports across even a single map, Team Empire came to Raleigh and brought the fight to their arch-nemeses, taking three maps on course for their first-ever Major victory. Now, the reigning Pro League and Major champions will return to Russia to gear up for the second-half of Season 10 of the Pro League and set their sights on the Finals to be held in Tokoname, Japan.