As Pro League kicked off on Monday with it's new "super-week" schedule, let's take a look at some of the highlights from across Europe, North American and Latin America, with the APAC roundup coming later this week.
Europe
Considering how hectic the European region of the Pro League was last season, playday one was fairly standard as G2, LSE and Empire all took their games as many expected. What surprised most people, however, was the prevalence of the map, Kafe in its debut in the Pro League as it was played in four out of four games.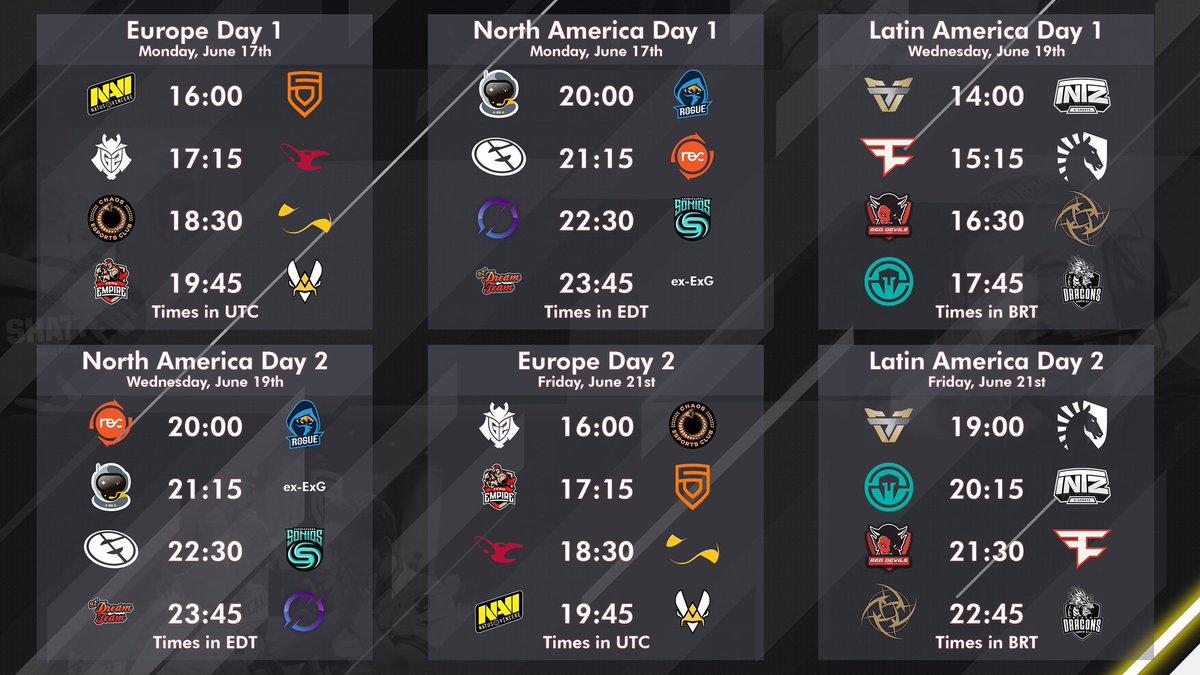 The one standout surprise, however, was the matchup between the fourth-seeded team of PENTA and Natus Vincere, the newly promoted Challenger League winners. Nobody quite knew what to expect from this matchup as PENTA had just come back from a very disappointing Vegas Minor performance while this Na'Vi core roster had only ever played one current Pro League team in their history -- Team Vitality during the Challenger League.
PENTA started off on attack on Kafe as they brought Montagne each round to force out pushes and roamers more directly which did initially work in their favour as they took the lead thanks to a 4k by Balázs "blas" Kővári on round two before ending the half on a 3-3 split. As we went into the second half, however, it was clear that Na'Vi knew their way around the map much better than PENTA did, likely thanks to the added practice they got in while PENTA was in Vegas.
Out of the four rounds won by Na'Vi while on their attack, one ended in a 5v1 situation, while three more ended in 4v1s showing that they had completely shut down their opponents. The single defence-side win that PENTA pulled out was in fact in the new site of Reading/Dining as a late rotate by Na'Vi severely backfired leading to them losing their man advantage and all be picked off as they rushed into the site in a "team-ace" by PENTA. This ultimately wasn't for much use as Na'Vi closed out the map 7-4 claiming a victory in their Pro League debut.
Later on in the week in the second European playday, we saw what I consider to be one of the best games of the year in what I assumed was going to be a fairly one-sided matchup - G2 Esports vs Chaos Esports Club.
In a full 12 round matchup, this game provided two successful 1v1s by Renuilz and Secretly, two successful 1v2s by Kanto and UUNO and, remarkably, three successful 1v3s by a single player -- Rasmus "REDGROOVE" Larsson. These statistics are unheard of by themselves and made even more impressive when you consider this was against G2, the most successful team in Siege history. Following their impressive second half of Season 9, their fourth-place finish at Vegas and now this clear show of force by Chaos, they are undoubtedly an early contender for a Pro League Finals spot, and a team to keep an eye on at the upcoming DreamHack Valencia tournament in two weeks time.
North America
This week saw two clear upsets in the North American region, one on each playday. Playday one was defined by the matchup between Evil Geniuses, the second-seeded team in the world from Season 9 of the Pro League, and Team Reciprocity who have beaten EG in two of three of their previous games including at the Six Invitational 2019 quarter-finals.
This game seemed somewhat even as they traded rounds till they ended the first half on Clubhouse joint, 3-3, however as EG went onto the attack, they seemed to have fallen apart. In the following four rounds, EG failed to make a dent with the closest round coming as they attacked the Church/Arsenal objective with Nathan "nvK" Valenti getting a triple kill before falling in a 1v2 situation as none of his teammates gained any frags. Eventually, the map ended 7-4 to Reciprocity in a dream start to their season.
While that was somewhat of an upset, playday two brought with it a number of huge events. Firstly, it was Jason "Beaulo" Doty's Pro League debut, an event which literally doubled the stream's view count from 11k to 20k viewers and, secondly, saw DarkZero, the second-seeded team in the region currently supported by two support staff and a gaming house, fall decisively to a team which is both newly promoted to the Pro League, and the only orgless team across the three main regions - '92 Dream Team.
I don't think even the most ardent '92 supporter would've thought the game would've progressed like this as they simply steamrolled their opposition taking the game 7-1 which included a 4k from Doodle and KDs of two or higher from Doodle once again, Tomas and Rexen. The one round DarkZero won was primarily thanks to a very quick double kill by Brandon "BC" Carr on the main fraggers of Tomas and Doodle during the execute with them also almost winning just one other round which ended in DZ running out of time and leaving Hyper to find two opponents with literally one second remaining.

This ultimately was a walkover for '92 which bodes really well for their prospects going forward as the frag-reliant underdogs of the league as well as working wonders in attracting organisations to their team. Thanks to this win, they now sit at the top of the North American standings after two playdays making them the team to beat:
Latin America
Finally, we have Latin America as the traditional top four -- FaZe Clan, Team Liquid, Immortals and Ninjas in Pyjamas -- seem to have more competition than ever from the remaining four teams.
Playday one's standout game was very clearly FaZe Clan vs Team Liquid as the two best known and biggest teams in the region faced off. Dismissing the forced forfeit last season due to an internet outage, Liquid hasn't beaten FaZe Clan in over a year with their last victory coming in the Season 7 group stages in April 2018. Since then FaZe has achieved a 12-2-2 map win-draw-loss record against Liquid making them on paper the clear favourites and, despite the newcomer of João "muringa" Deam refreshing the Liquid lineup, FaZe added yet another victory to their count, however, a particularly close one.
The matchup was the first time Kafe had been played within the region with FaZe interestingly opting to go to all the site except for Kitchen, one of the favourites of a number of other teams, however, this did not seem to hurt them as they ended the half ahead, 4-2. Out of these four victories, two ended flawlessly, one ended on time and another in a 4v1 situation showing they clearly were on top on defence. As the sides switched, the teams seemed much more even which unfortunately for Liquid wasn't enough. They ended the second half with a 3-3 split and so the map 7-5. Despite this close scoreline, FaZe had a number of standout players such as Cameraman and Astro, both of which achieved a 2KD on their way to the victory

The second playday of the week also began with a pretty major matchup for Team Liquid as they faced Team oNe eSports, the youngest roster in the Pro League who have blitzed their way through pretty much any roster that stood in their way for the last six months. In a reverse story of the last game, the two teams took turns winning rounds for oNe's defending half on Consulate with 3ks from psk1, Lukid and Nesk as well as a 4k from SKaDinha ending the half at 3-3. From here Team Liquid put their foot down. The only Pro League winning in LATAM history took the following three rounds off of oNe putting them on match point before, despite an attempted comeback, they closed out the map 7-5.
Interestingly, the main difference seemed to less be with coordination and more around individual performances in the second half as while Liquid continued getting their round winning 3ks from psk1 and Paluh, the best oNe could achieve was a single double-kill from Faalz in the entire second half leading to them getting simply out-fragged.
While these were the two biggest games of the two playdays, we saw particularly peculiar results elsewhere as INTZ managed to defeat Immortals 7-0 after themselves being defeated 7-0 in playday one, showing us definitively that you never know what to expect in Latin America:
---
And so here's our roundup of the three main region's Pro League games. Keep an eye out for out APAC news roundup later this week for full updates on everything that happened in the region.