MnM Gaming, a British organisation (short for Molotovs and Marshmallows), first ventured into Rainbow Six esports last September with the acquisition of two separate rosters to compete in the Benelux Season 2 and Premiership Winter leagues. While the Benelux roster failed to make it to the LAN Finals and the Premiership roster finished the season in joint-third, a merged lineup was then formed for the DreamHack Winter 2018 LAN and fared somewhat better.
Comprised of FraO, neLo, and Prox from the Premiership lineup, Fonkers from the Benelux lineup, and Doki on loan from Vexed Gaming -- the team that defeated them in the Premiership semi-finals -- MnM took nine rounds off of Team Empire and took Mock-it Esports (later Na'Vi), a team which had just represented Europe at the Season 8 Pro League Finals, to overtime. These results, therefore, made this the primary lineup for the MnM Gaming roster.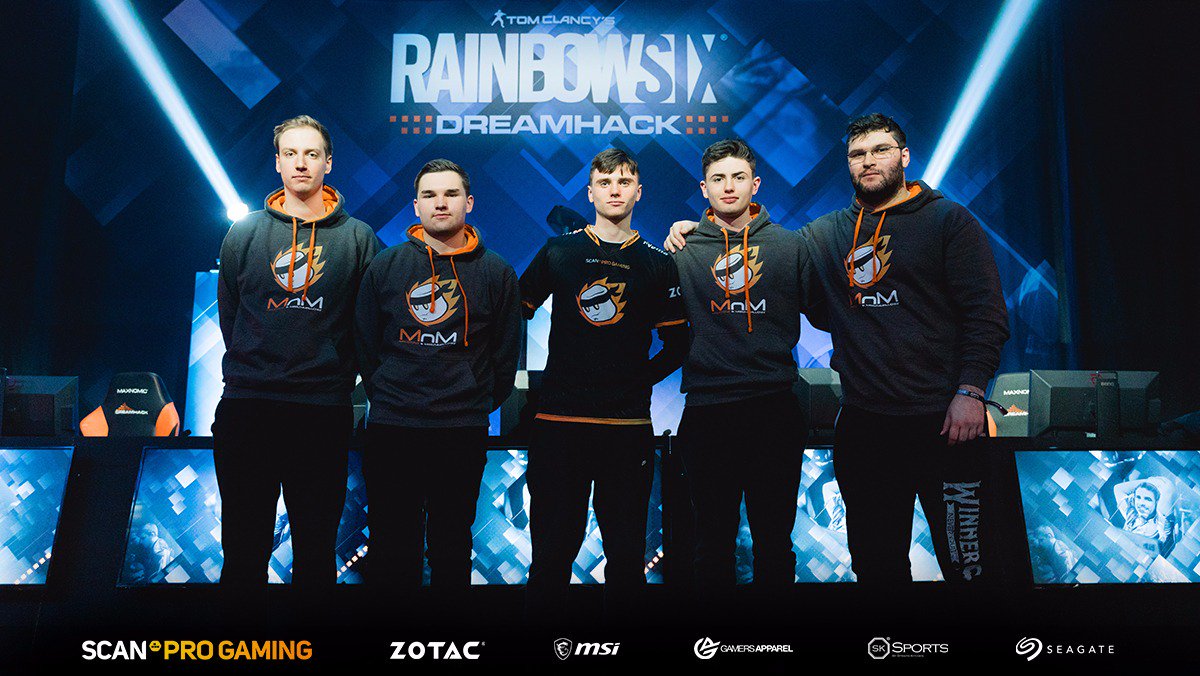 Roster changes just prior to Season 9 of the Challenger League saw Prox replaced by the ex-Method and PACT player of Kendrew, with his teammate from PACT, Saves, joining shortly afterwards to replace the Team Secret-bound Fonkers. These changes were proved to be for the best, when the roster won their first ever LAN event in February at epic26.
Their success was then doubled when MnM became the British champions in March after defeating Team Secret in the Premiership Spring 2019 Season. The team then jumped from strength to strength, and ended up defeating the Challenger League favourites of Team Vitality to win Season 9 of the Challenger League and be automatically promoted to the Pro League.
Now, as this four-month-old roster enters the Pro League, the Ukrainian organisation of Natus Vincere (Na'Vi) has signed the team after dropping their Season 9 lineup on Thursday.
Na'Vi is best known for their CS:GO roster which was the first in the history of the game to win three major tournaments in one calendar year back in 2010. The organisation also has a significant history in Dota 2, in which they achieved three back-to-back grand-final appearances at The International from 2011 to 2013.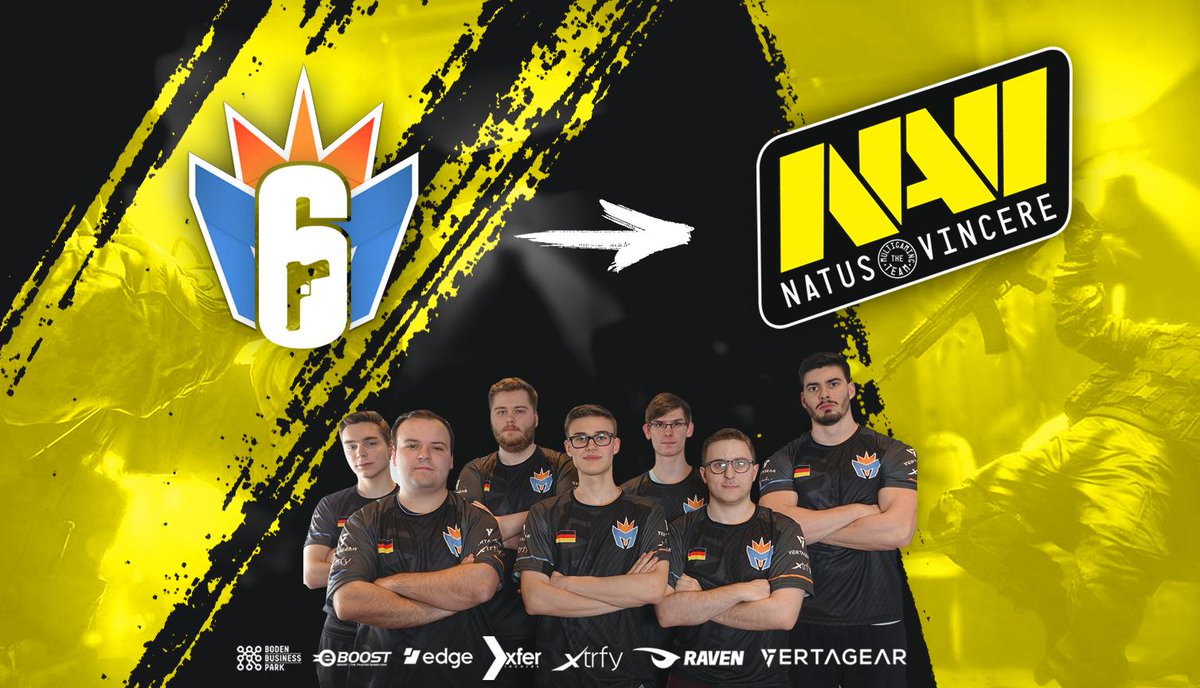 More recently, Na'Vi entered the R6 scene just after the Six Invitational 2019 with the acquisition of the German lineup of Mock-it Esports. However, following their eighth-place finish in Season 9 of the Pro League and subsequent demotion to the Challenger League, the organisation has dropped this roster for their replacements in MnM.
SiegeGG spoke to Doki from the new Na'Vi roster to discuss the signing and their future as we head towards their Pro League debut in a few weeks time:
You have had quite a journey in Rainbow Six, from Vexed Gaming and now you are getting signed by Natus Vincere. Did you ever think this would happen?
For years, ever since I started playing the game back in the Beta, I knew I wanted to go far in Siege. To say that I'm now playing in Natus Vincere, an org I've followed through the CS days is just insane. I'm thankful to have such an opportunity.
How is your team preparing to deal with the expectations and pressure that comes from signing with such a monumental organisation?
For us, we have always had to deal with pressure -- it's never been easy for us to fight against the odds, but we've done it, and done it more than once. It will be a good challenge to play under the Na'Vi name and I have no doubt that we will live up to our expectations... just another box to tick.
When did Natus Vincere approach you to be signed? Did you have any hesitation?
We were approached by Na'Vi not long after making it to the Pro League -- they seemed really welcoming and friendly about picking up our roster. We knew the support Natus Vincere could offer us and we are really excited to combine our talent and their facilities to help us improve even more!

An example of the investment from Na'Vi into their previous Rainbow Six roster
Are you and your teammates going to be going full-time in Siege?
I have been full-time since halfway through the Challenger League season, and the rest of the team are going full time to kick off the start of the Pro League!
What was the lowest point for your team, and how did you recover from there to get to the Pro League?
When we lost Fonkers to Team Secret. We were really unsure if we could recover the loss of one of our main fraggers, but, luckily for us, Saves was available and ticked all the right boxes for what we were looking for. We swapped a lot of roles around and practised a lot to prepare for the Pro League playoffs, which meant a lot of personal sacrifices (social life etc.), but, in the end, it was all worth it.
How have you and your team grown since the ESL Premiership 2018?
The roster has changed completely since the 2018 Premiership Season. We have three new players (including myself) that have really transformed the team into what it is today. I'd say we are one of the more aggressive teams in the Pro League, and our changes since last season of the Premiership made this possible.
When preparing for Team Vitality in the Challenger League Playoff Finals, a team with so much experience and skill, were you confident of the win from the outset?
When preparing for Vitality, we knew that they were the fan-favourites and the crowd wasn't on our side. However, we played this match and prepared for this match the same as any other, and focused on our gameplay and not so much on theirs. We knew how they played, and we knew what we could do to beat them. Our coach, GiG, put a lot of time into finding out their weaknesses and we exploited them as much as possible.

I think our mentality going into this match was really important -- we had to ignore all the hype around Vitality and focus on the match in front of us, which showed in our game.
Your debut season in the Pro League will not be easy by any means, with teams like Team Empire, G2 Esports, and LeStream Esport all being formidable foes. What are the key improvements your team is looking to make to be able to consistently face off against them?
Yes, there are some scary names in the Pro League, but again we will focus on our gameplay and play the best we can. We know we are capable of competing at the highest level of play and it's time to show that.
In the documentary MnM: An Underdog Story it was shown that G2 Esports' coach, Thomas "Shas[O]Udas" Lee had a lot of faith in your team. How close are you and your team with him, and how much did that support mean?
Personally, I'm very close with Shas. We have been friends since the old PENTA/PENTA Academy days and he has helped me a lot with advice and support which has helped me progress as a player, so thank you Shas!
Are there any roster changes we are to expect prior to Season 10?
We will not be making any roster changes prior to Season 10, nor should you expect any in the future as we have found the lineup that fits, that works.
Is there anything else you would like to say to your fans?
The MnM Gaming roster after their Premiership title victory (L to R: Kendrew, Doki, neLo, CTZN, Saves, and GiG, via @MnMGamingUK)

I'd just like to say thank you to all the support we have received from the fans, our organisation, and the UK Community as a whole. You have really helped us believe in ourselves which is really important!
---
Natus Vincere's next game will be next Thursday in the ESL Premiership as they face their ex-teammate of Prox's new team, Who knows, with this roster:
Leon "neLo" Pesić
Ben "CTZN" McMillan
Jack "Doki" Robertson
Luke "Kendrew" Kendrew
Szymon "Saves" Kamieniak
Ellis "GiG" Hindle (Coach)