NORA-Rengo has had somewhat of a mixed 2019 so far. After their landmark Pro League Season 8 Finals victory against Rogue, their Season 9 campaign didn't get off to as good of a start as they had hoped. While their first play day saw them win the first map against Father's Back, the second was a tie against a side that had only just achieved promotion to the Pro League. Other games, though, went according to expectations, and there seemed to be little wrong.
Coming into the break, NORA-Rengo had the Six Invitational to prepare for, and their group was labelled as the 'Group of Death' by many, including the coach of fellow Group D team PENTA, Jessica "Jess" Bolden. Thanks to two wins against PENTA, split by a loss to Evil Geniuses, NORA-Rengo made it out of the groups, and then beat fellow APAC team Fnatic to get to the semi-finals for the second event running. So far, so very good.
Then, out of the blue, arguably still far from the top of his game, captain and star player Yudai "Wokka" Ichise announced an indefinite sabbatical. Suddenly, NORA-Rengo were looking a lot weaker.
Upon returning to Japan, their first game saw them lose 2-7 on both maps to eventual second-placed team Cyclops Athlete Gaming. The loss raised serious concerns if NORA-Rengo would even make it to the APAC Finals, given how close the Japanese Pro League was turning out to be (five teams could have qualified on the final day).
The doubts continued into the APAC Finals themselves, as NORA-Rengo started the tournament with a shaky victory against Korean second-seed Ageless. However, on the second day, when it mattered, NORA-Rengo looked to be the same as they had been at the Invitational, and dismantled top Southeast Asian team Xavier Esports. While they lost against Fnatic in the grand final match played for seeding, it was a largely inconsequential match -- and both teams' players and coaches knew it.
Still, doubts remain for many. Even here at SiegeGG, nearly two-thirds of staff believe Fnatic will win their quarter-finals game. I disagree, and now I want to convince you that despite their year so far, NORA-Rengo stands a great chance at winning the first title for an APAC team.
The biggest cause for doubt regarding NORA-Rengo is, of course, the departure of Wokka. However, the Japanese have historically cared little about what is "supposed to happen" after a roster change. Their first season in the Pro League was uneventful -- while they made it to the APAC Finals, they were sent home immediately by Mindfreak (now Fnatic) in a start to the two team's long rivalry.
Immediately, changes were afoot in the Japanese camp. Korean player Kwon "h3dy" Yugeun finished his studies in Japan and returned home to join mantisFPS (now Cloud9) and was replaced by Tsukasa "Merieux" Asano. There was not much of an improvement, however, and NORA-Rengo failed to make it past mantisFPS and Team CryptiK (now Aerowolf) at the Six Invitational 2018 APAC Qualifier LAN.
More changes were necessary, and the chopping and changing -- perhaps not unfairly considered to be excessive to an outside observer -- meant that out went NoTimeGG and in came Yasuhi "CrazyPapiyoN" Nakajo. Finally, the Japanese found their groove, and NORA-Rengo suddenly looked nothing like the tentative team seen in Season 6. Going to the Pro League Finals for the first time, NORA-Rengo stunned international viewers as they brought the fight to the then-consistently top team Rogue, getting extremely close to defeating them.
Dissatisfied with their failure to win, NORA-Rengo -- who had already been planning the change at the Season 7 Finals in Atlantic City -- decided to replace Yuya "Cloud" Inoue by bringing Shinji "ShiN" Funai on loan until the Six Major Paris. Once again, the move gave their team a sizeable boost, as the first split of Season 8 went smoothly for them and was followed up by the team's first international win against Obey Alliance at the Six Major Paris. NORA-Rengo were getting better, but wanted more, especially after they lost to Obey Alliance the second time around.
Not only did ShiN's loan end, but CrazyPapiyoN was dropped as well -- not a move that weighed lightly on NORA-Rengo, given the latter's proclivity to secure some of the most impactful kills every round. What's more, Takumi "JJ" Iwasaki also had wanted to leave the team, but had to be retained to keep the NORA-Rengo from being disqualified by virtue of the 3/5th core roster rule. Many were critical of the roster changes NORA-Rengo was making, believing that they would have been better served by trying to thresh things out with a consistent lineup.
Incoming were Yuta "ReyCyil" Inoue and Toya "Papilia" Miyazawa, and, against all expectations, NORA-Rengo got better. Not only did they crush the competition at the APAC Finals, winning every game 2-0 in dominant fashion, they went on to beat Rogue at the global Finals. One more change was in the offing, though, with the wantaway JJ being allowed to leave in favour of Ryuki "Ramu" Matsuoka. And, keeping in line with what they have always done, NORA-Rengo got better.
Season-on-season, NORA-Rengo have shown impressive progress, whether due to the roster changes or in spite of them. Every time they have lost a player who was either more than serviceable or very clearly strong, and could have developed into a great fit eventually. But, every time their lineup has changed, they have come out better for it.
Somehow, every time they have found a replacement, they have performed better.
And make no mistake, NORA-Rengo has all the ingredients to make the step up once again. When Ramu had stepped in, there had been justifiable concerns -- JJ was an out-and-out support or flex player. Ramu, on the other hand, was a fearsome fragger that was joining a team that already had the supremely talented Merieux and Wokka filling those roles. Those concerns were quickly laid to rest, but when Wokka retired and JJ returned, many expected a role shuffle. However, that did not come to fruition.
At this season's APAC Finals, NORA-Rengo were somewhat confused with their roles, seemingly trying to fit the support-shaped peg that was JJ into a fragger-shaped Wokka hole, but the change would have been hard to adjust to without causing disruption to the remaining four players. Shifting everyone's roles to accomodate a JJ that they must have known would not be sticking around past the APAC Finals would have possibly seen them miss out on the Season 9 APAC Finals, the Season 9 Global Finals, and the Six Major USA all in one go.
NORA-Rengo rolled the dice and won the games that they needed to, albeit by a margin they would have been glad to have made wider. At the APAC Finals, Papilia admitted that they had actually "underestimated" Ageless, indicating that their preparation had been focused towards Xavier Esports and possibly 0RGL3SS. When they did face Xavier Esports, it was as if a switch had been flipped. The tentative, unsure NORA-Rengo that was seen the previous day against Ageless disappeared, and in its place was a team that looked like it hardly missed Wokka's presence.
Unsurprisingly, the moment the opportunity opened up, JJ was allowed to leave, and in came Yoshifumi "YoshiNNGO" Yukimori. Now, things are just about to fall into place for NORA-Rengo. With their immediate two LAN appearances secured, it is likely they will be happy to move the players' roles as required to mesh well together.
Spearheading the NORA-Rengo attack is likely to be Ramu, a player that, according to Aerowolf player Patrick "MentalistC" Fan, expands the potential of the team. With Wokka, he says the "team played around Wokka's individual skill and playstyle", but "now everyone in NR has more room to assert their own ideas on team play". However, MentalistC cautioned that Wokka's larger-than-life LAN presence -- the 'hype-man' role he used to play when surrounded by a crowd -- could be sorely missed. ReyCyil, however, may be tasked with picking up the slack in that aspect, especially after his lighthearted on-stage antics at the Six Invitational 2019.
YoshiNNGO is also likely to be bringing his own experience to bear, having been to three APAC LAN events before, though NORA-Rengo's new players have historically not even needed to have much prior LAN experience. With these changes, and as they displayed against Xavier Esports, it is very likely that NORA-Rengo will shed the shroud of weakness that seems to be surrounding them and will go on an absolute tear in Milan.
Finally, as far as the opposition goes, the time has hardly been riper for NORA-Rengo to win it all. Their first opponents are familiar foes Fnatic, a team that they have played six times in total already, making their meeting on Italian soil their seventh meeting. Following that, they will be facing DarkZero Esports, a team that has an acute lack of recent LAN experience, or Team Empire, a team that has been rocked by a profoundly great change that G2 Esports' Niclas "Pengu" Mouritzen described as having made them "a lot weaker".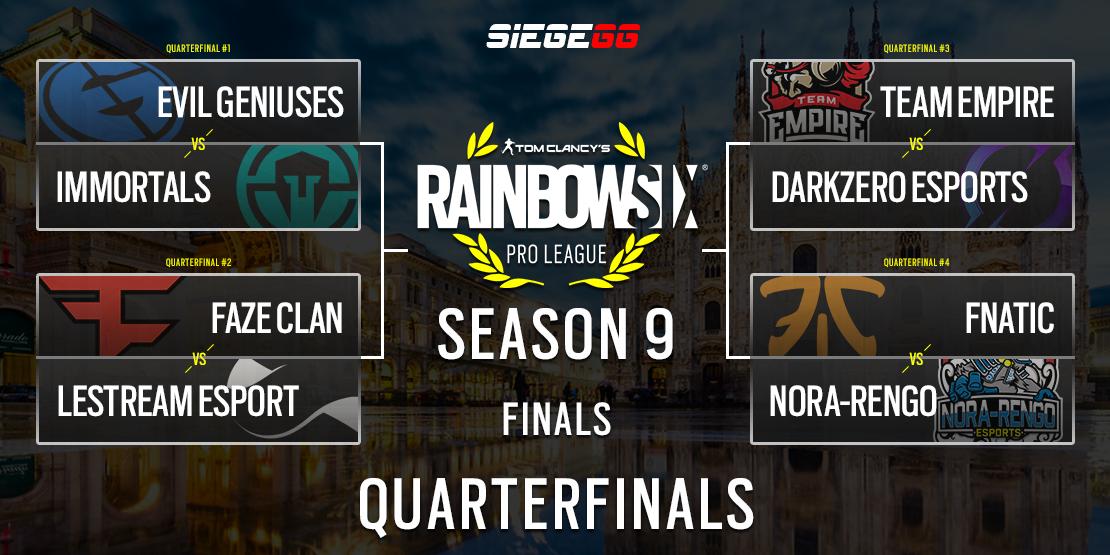 If they clear Fnatic and their next opponent, NORA-Rengo would end up in the grand final, but it is far too difficult to predict who they would be facing. Whatever the case, though, they are unlikely to let up the pressure, and may well be walking away with their first international silverware come 19 May.
NORA-Rengo have only been on the up since Season 6, and there is some magic around their team that has allowed them to sustain this consistent improvement. They have consistently defied expectations and wowed fans and fellow players alike, and it is not just possible, but fairly likely that they will be doing so again in Milan. Underestimating them will be a fatal mistake.