This series aims to highlight the best and most interesting games of all the lower leagues in competitive Siege, from the BR6 national league to the German Saturday League, to ensure you don't miss the best action going on at all levels of play.
United States Nationals 2019 - Stage 1: Eastern Qualifier #1
Last night we saw two of the top teams in North America face off in the US National qualifiers, and on Thursday we will see some of North America's rising stars face off for the first time on the main channel. The undefeated Challenger League roster of Organised Chaos and the ex-Pro League roster of the Susquehanna Soniqs will be joined by two unknown teams in Peek Everything Esports and Dream Chasers for the finals of the very first Eastern Conference qualifier.
Organised Chaos has been somewhat of a breakout story in North America with them losing just a single game of note against Team Reciprocity since their formation at the beginning of the season. In this time, they have stormed to the top of the Challenger League, won the Siege Rivals $2k cup and made the CCS playoffs and now will finally get their chance to play on the main Rainbow6 Twitch stream on Thursday. Them and Soniqs (who were previously known as Elephant Gang) will be the clear favourites to make it to the qualifier finals, however after the extremely close games we saw last night, upsets are very possible.
Brasileirão 2019 - Ninjas in Pyjamas vs paiN Gaming
The BR6 2019 league has been going on for almost seven months now, with games almost every Sunday. Now, as we near the end of the regular season, teams will be very eager to ensure their hard work hasn't been for nothing and will want to finally lock in a position in the upcoming LAN Finals. With this goal in mind, the matchup between paiN Gaming and Ninjas in Pyjamas will be key as both teams sit on the tipping points in the league -- NiP is struggling to stay in a playoff position, while paiN is keen to avoid the automatic relegation spot.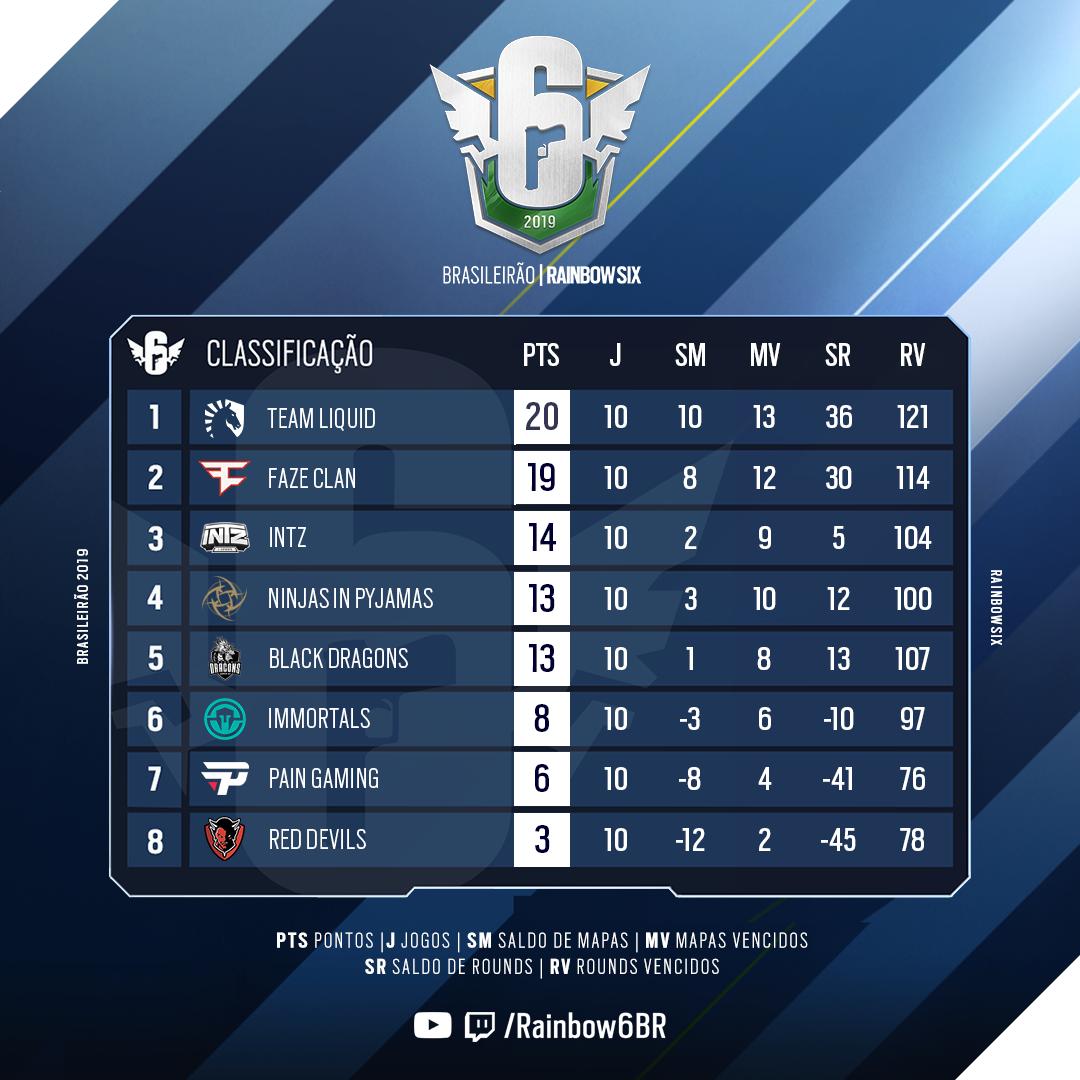 With only six points so far this season, paiN Gaming will be the clear underdogs in this matchup, however, the game is made even more interesting by the fact that this will be a rematch of today's Pro League game between these two teams. The game is vital in both competitions, with both teams desperately needing points, and despite it being a lesser tournament, both these games should be of the highest quality.
As with every week, there is also a second BR6 game this week between FaZe Clan and ReD DevilS, however, this is very likely to be a one-sided affair. RDS have yet to find a single victory in the BR6 2019 Season while FaZe currently sits in second place. Nevertheless, this game still involves two Pro League rosters and so high-quality action can be expected no matter the result and, considering their last BR6 map ended in a draw, an upset is still possible.
Challenger League: NA - Tune 6quad vs Vicious Gaming
On Friday, the fourth and fifth-placed teams in North America's Challenger League will meet in the penultimate playday of the regular season. Both Tune and Vicious had high hopes coming into this season, but with Organised Chaos already guaranteed a spot in the playoffs and with both Soniqs and Disrupt possibly joining them there this week a loss in this matchup could see either team be left behind with just two games remaining.
In the past, the results have largely gone in the way of Tune 6quad. Across their four streamed games so far, the overall round count is 27-20 in favour of Talon's roster (7-3, 7-8, 7-1 and 6-6). However, the addition of Tomas "Tomas" Kaka to the roster after he left the Pro League squad of Excelerate Gaming may change that as he brings more experience to the famously frag-hungry roster.

Campeonato Mexicano Season 1 - Infinity Esports vs Anáhuac Esports
Anáhuac Esports will play the only undefeated team in the Mexican league this week as they aim to regain their second place spot in the tournament and overtake Atheris. Anáhuac currently sits joint in points with Atheris -- both with 5-2-2 win-draw-loss records -- and so any points they could gain in this best-of-two map matchup will go a long way to securing second place with just a few weeks remaining.
Similar to the BR6 League, the Mexican Championship has games every Saturday with each team playing fortnightly across a double-round robin, best-of-two map league. As we currently sit ten rounds through the fourteen round season, much of the season has already passed and it has become somewhat clear which teams will be making the LAN Finals in Mexico City.
However, the second matchup of the day includes two teams trying to change their fate as Pixel Esports Club plays x6tence Mexico. These two teams sit right down in sixth and eighth place in the league, with x6tence three points away from a LAN qualification position and Pixel with just a single map won out of their ten played so far. A game like this is crucial as it is the best chance to gain points for both of these teams, and so while both teams are sitting well down the leaderboard, the game may be the most important one in the league during round 10.
---
So these are the biggest and most interesting matchups this coming week across the secondary-level tournaments around the world. Keep an eye out for more SiegeGG coverage of all levels of Rainbow Six as the Pro League, Mexican Championships, and everything in between all heat up as we near the end of Season 9.