This season, Sydney will host the two Japanese teams of NORA-Rengo (NR) and Cyclops Athlete Gaming (CAG) as they bid to continue the uninterrupted streak of Japanese presence at an international LAN event. With NORA-Rengo being the traditional flag bearers from Japan, CAG will be vying to put their name out there on an international stage, this time in Milan.
At this point, NORA-Rengo hardly needs an introduction. A stunning Season 7 international debut where they nearly pulled the rug from under Rogue was unfortunately followed up by a slightly disappointing performance at the Six Major Paris. Since then, though, NORA-Rengo has been flying, getting to the Season 8 Pro League LAN semi-finals, and the Six Invitational 2019 Semi-Finals too.
Their Season 9 of the Pro League was also going swimmingly, but fans were dealt a shock when star man Yudai "Wokka" Ichise abruptly announced a sabbatical from competitive Rainbow Six and Takumi "JJ" Iwasaki returned to the team. Immediately after, in the first match of the season after the break, NR lost 0-2, putting their qualification to the APAC Finals under threat thanks to how close the Japanese Pro League was. Fortunately for them, they rallied and pushed on to qualify, securing the first seed in the process as well.
Of course, the team that had beaten them 0-2 was none other than Cyclops Athlete Gaming (CAG). CAG may be an unknown name internationally, and even in the rest of APAC, but they are not to be underestimated at all. Finishing just one point behind NORA-Rengo, they lost one fewer game than their esteemed rivals, but also won one less and drew two more. Had they been able to convert one of those draws into a win, they would have been seeded first instead.
Each member on CAG has been setting the charts afire this season, with the team's best performance coming in their win against NORA-Rengo. None of their members were rated below 1.12, and they had suffocated NR so well that outside of Ryuki "Ramu" Matsuoka, no one had scored above 0.80 on NR's side. While this will be their first time at an APAC LAN, underestimating them could be a fatal mistake for any team in their path.
SiegeGG spoke to NORA-Rengo head coach and owner Yasuhiro "kizoku" Nishi and Cyclops Athlete Gaming's Shohma "Shokei" Shiotsuka to talk about their year so far, and their goals for this LAN and beyond:
This season we had five teams on the final play day that could all have easily made it to the APAC LAN. What do you think this speaks about the competitiveness in Japan?
Kizoku:
All the teams from Japan are of a high level.
Shokei:
The skill level of Japanese teams is rising extraordinarily high. I think that this is showing that NORA-Rengo is not the only Japanese team, don't you agree?
What does a typical day of practice look like for your teams?
Kizoku:
We practice for about five hours every day. When offline tournaments draw near, we step that up to about nine hours.
Shokei:
Six days a week, from 8:30PM to 12:30AM.
Who do your teams really wish to avoid at the APAC LAN, and why?
Kizoku:
It's Fnatic. I think we don't need to say why.
Shokei:
I would say Cloud9. Our team has weaknesses, and h3dy's attacks are very strong.
How do you think APAC can grow further?
Kizoku:
We hope for APAC to be held as a single league just like EU, for example. Korea's Pro League has only 3 teams and SEA too only has few participating full professional teams.
Shokei:

I think motivation for the Siege community in Asia as a whole has been considerably rising due to the strong appearances by other Asian teams at international tournaments.
Could we see your teams joining Phase 2 of the Pilot Program soon?
Kizoku:
We do plan to participate.
Shokei:
I haven't been told the details, but when I can give you the good news, I'll be sure to let you know!
CAG is a very strong team, but this is the first time we will see them at APAC LAN. What can we expect?

Kizoku:
They are an extremely aggressive team, so it will be interesting to watch them.
Shokei:
Japan has the quickest attacks, and three of core members are 18 years-old. Our individual skill is going to be high.
To Shokei: Is it going to be intimidating going up against all these far more experienced players and teams at the APAC LAN?
Shokei:
We aren't anxious at all. Lately we've been scrimming with all teams in APAC, and regardless, we anticipate that we will win.
To Kizoku: Let's address the elephant in the room -- Wokka. How did the rest of the team react to him stepping down, and how has it affected your play?
Kizoku:
The players expected that to happen. We then made changes to our play style, but cannot give specific comments about what changed because it concerns our strategies.
To Kizoku: NORA-Rengo, after the Six Invitational 2019, is arguably the most successful APAC team. Have you guys been offered to be signed by other, big organisations?
Kizoku:
The news that very famous international organisations have made various acquisition offers is true.
Do you have anything to say to your fans, locally and internationally?
Kizoku:
We will be working hard to go be able to go to Milan, so we wish for your support at the APAC Finals too!
Shokei:
APAC is just a checkpoint for us to cross, as we are aiming for the international tournaments. We want you to witness our power.
---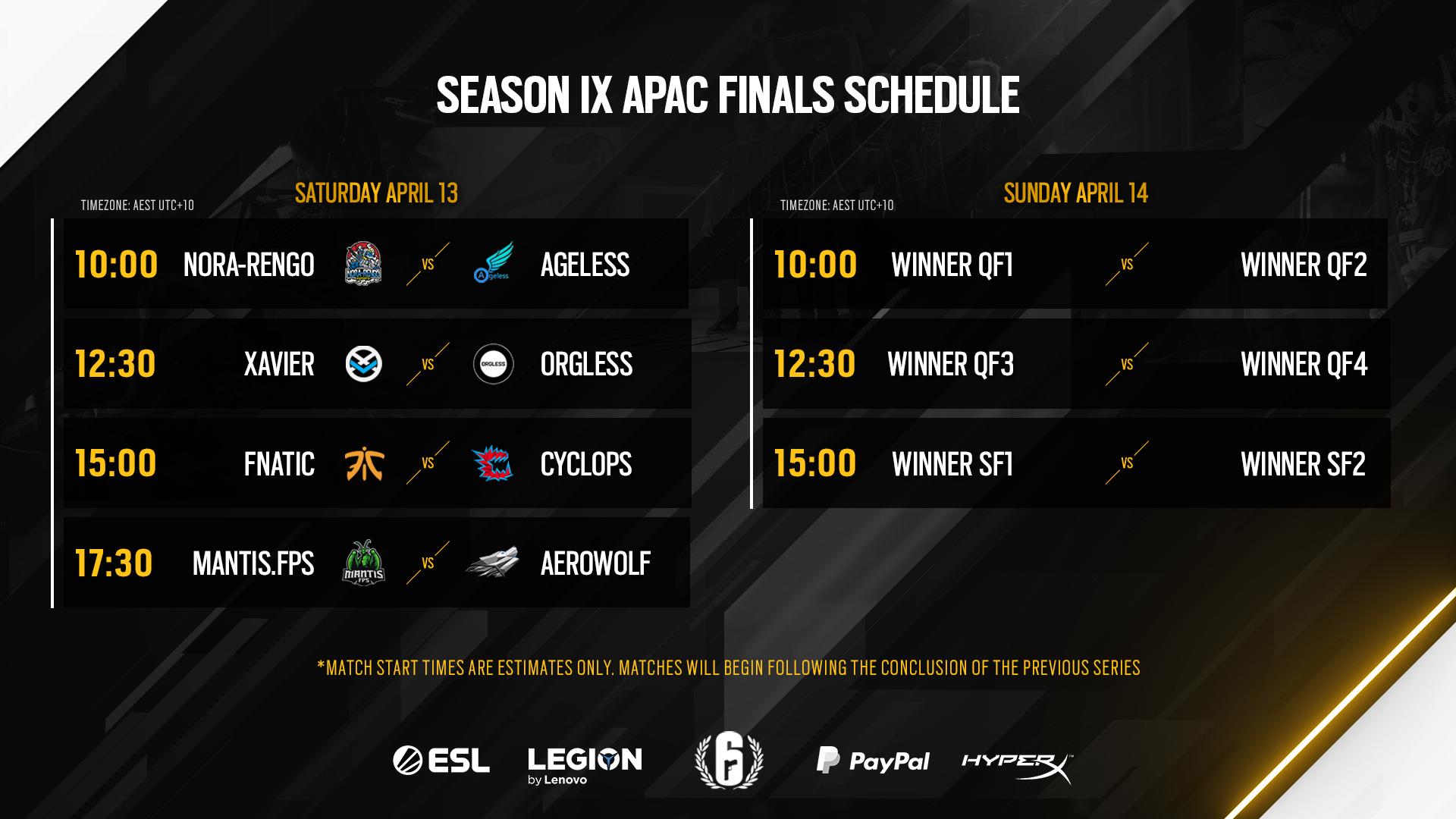 Catch all the action from the event from 10AM GMT+10 onwards on the Rainbow6 Twitch and YouTube channels to see which two of the eight teams will be making it to the Pro League Finals in Milan this season.
NORA-Rengo: Ramu, ReyCyil, Papilia, JJ, Merieux, kizoku (Coach)
Cyclops Athlete Gaming: Mocho, BlackRay, Shokei, tetra, Anitun, XQQ (Coach)