Season 9's ending continues to creep up on us, as the contention for LAN spots in LATAM, EU, and NA keeps heating up. With Milan on the horizon, let's investigate what matches you cannot miss out on in the twelfth regional playday.
North America
Evil Geniuses vs DarkZero Esports
With Team Reciprocity clocking out for this week due to Orgless disbanding, the battle for second place and a ticket to Italy will rest in Evil Geniuses' (EG) ability to show up not only this week, but next week as well. After a number of questionable finishes in recent playdays from a 5-7 loss to Spacestation Gaming and a tie against Rise Nation, EG might not be feeling so hot this half of the season. This, however, is not the first time we've seen these lineups play against each other, with a 7-5 victory for EG in the first half of the season.

The narratives in this match are aplenty, as this is the first time since Brandon 'BC' Carr's departure from EG that he will be playing against his former teammates. DarkZero has looked incredibly promising this season, and will certainly look to keep their first place in the table. EG have the opportunity to keep both LAN spots within reach for the top three teams if they can pull out a solid victory against DarkZero.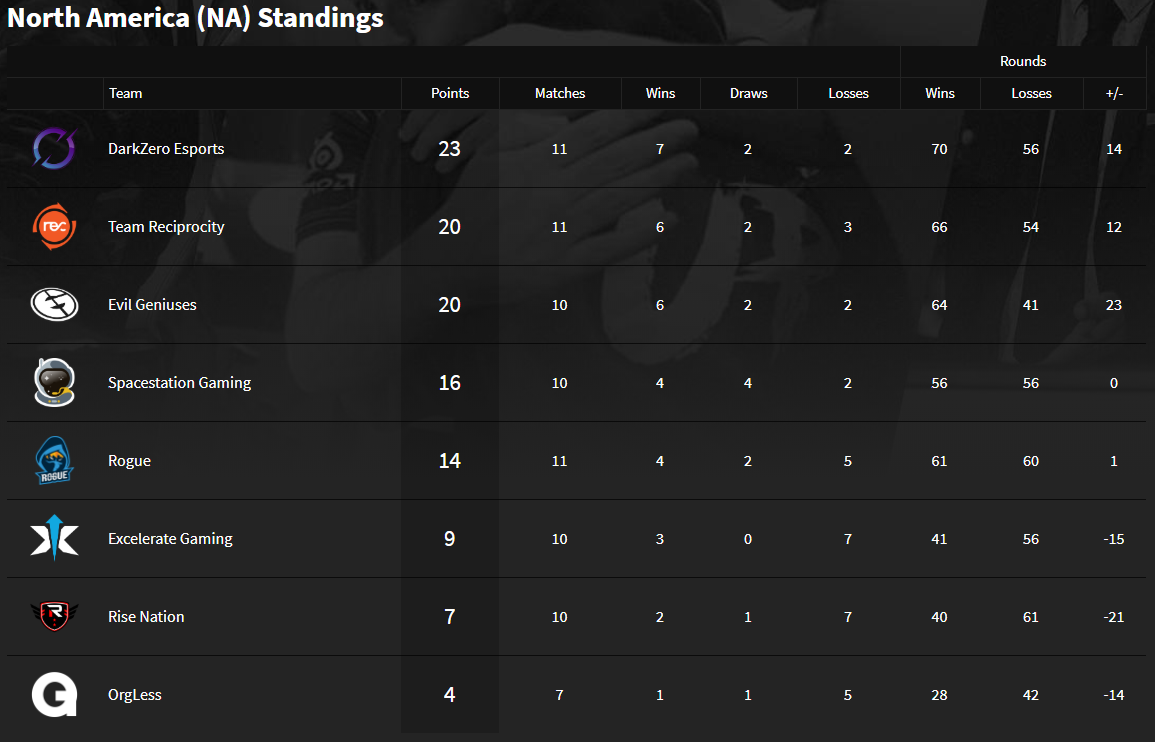 Latin America
FaZe Clan vs Black Dragons
Over in Latin America, FaZe Clan and Immortals hold the tickets to Milan after 11 playdays, but despite Immortals' seemingly dominant 6-5-0 Win-Draw-Loss record, both spots can still go to anybody. Black Dragons have the opportunity to keep the contest for second place close if they secure a victory against FaZe and propel themselves just one point below the third-place tie of Liquid and NiP.
Since this matchup has yet to happen in Brazil's own regional league, BR6, this will mark the first time that João 'muringa' Deam and Ronaldo 'ion' Osawa face off against their respective ex-teammates. Considering how decisive this week's matchups seem (aside from NiP-RDS), a victory for Black Dragons could propel a team like Team Liquid comfortably within LAN contention. However, even before the swap of ion and muringa, Black Dragons still came out on top in both of their pre-Invitational matchups in Pro League and BR6.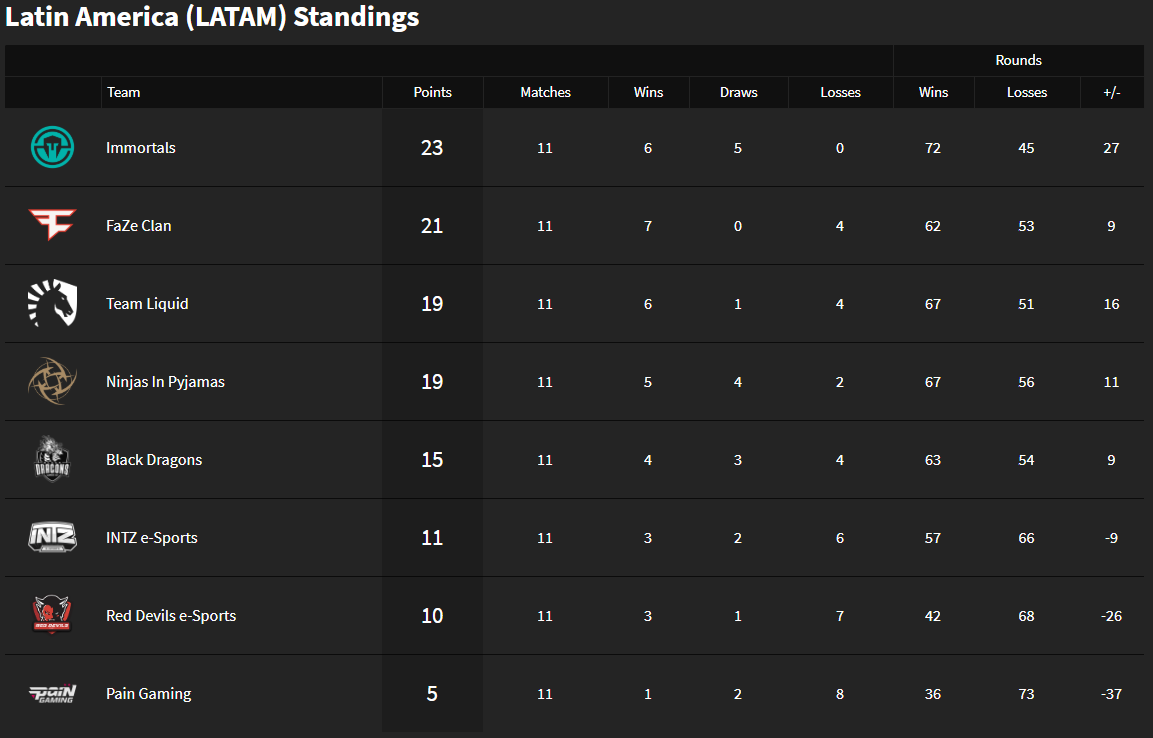 Europe
With Empire sitting pretty with 28 points, and third-placed Chaos a distant ten points away, their appearance at Milan is certain, and also almost as certain is their first seeding. However, the fight for second place could well be decided in this matchup. Chaos have thoroughly impressed many from the very first playday, hitting the European Pro League early like a bad hangover before a slump in the late first half to early second half. With their victory against PENTA on Play Day 9, Chaos have found their momentum once again, and their improvements since Season 9 began will be tested here.

A victory for either team will probably give them the LAN spot, and the lethality that both teams have displayed in Season 9 makes this match a must-watch. Chaos has certainly surprised many of us in Season 9, and LeStream has delivered exactly what we expected from the combination of risze, UUNO, and AceeZ. In all of Season 9, this matchup is certainly one of the most anticipated.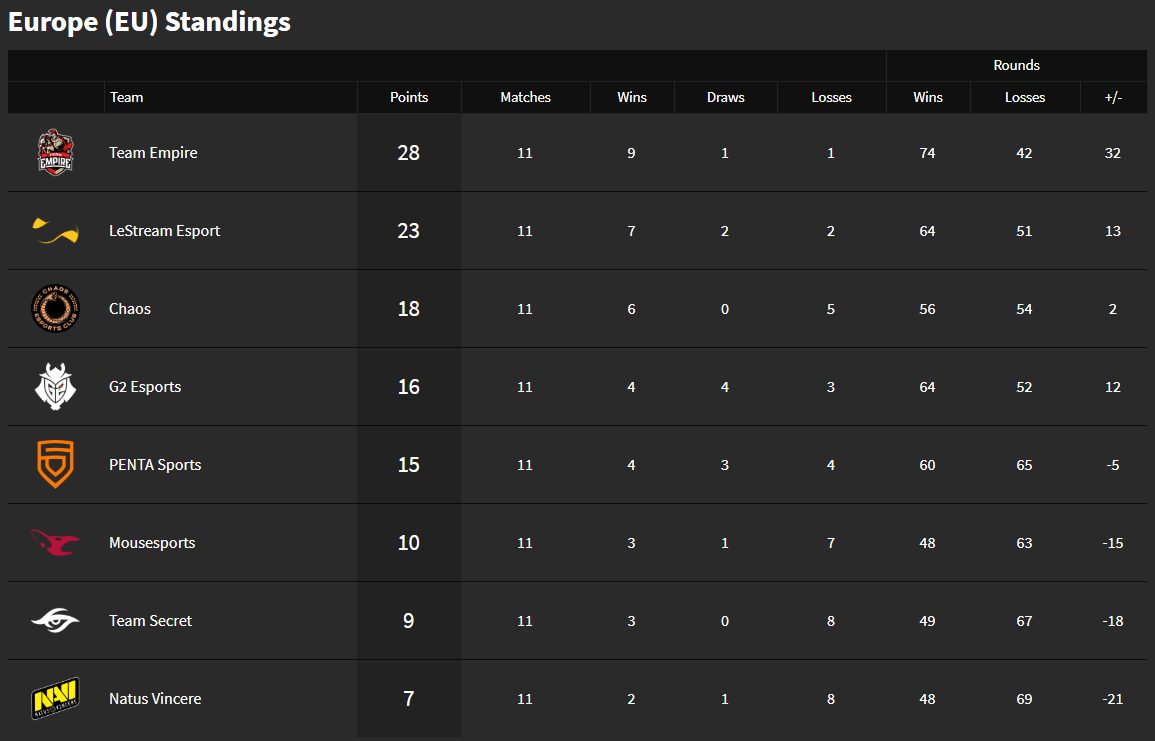 And so, I think these are undoubtedly the must-watch matches for this week. The six aforementioned teams have yet to be confirmed at LAN, but this has been one of the most competitive seasons we have seen. With the APAC Finals also scheduled this week on the 13th and 14th of April, and Milan edging ever so closer, stay tuned to our channels as we give you the Pro League coverage you deserve.