This week sees the end of the online season for the APAC sub-regions as well as a number of highly anticipated matchups in North and Latin America. Let's take a look at which games are the key ones to look out for as we progress further into the second half of Season 9.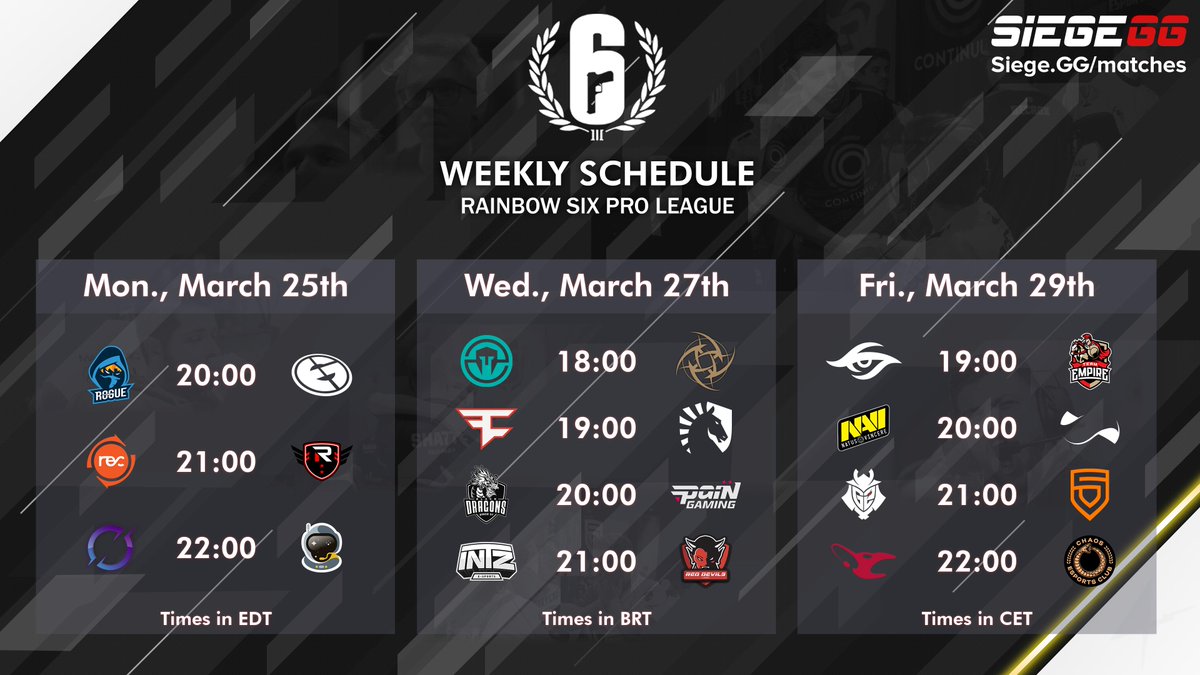 North America
While Rogue have looked somewhat off this season, sitting well out of the top two we are accustomed to seeing them in, this matchup remains to be one of the most anticipated games of the North American online season as these two rivals fight it out yet again.
This season, however, the dynamic is overwhelmingly favouring Evil Geniuses as they sit in second place, two-point behind DarkZero and with one less game played than all their rivals. Rogue, meanwhile, sit down in fourth place a whole seven points off of the league leaders meaning that, while it still is possible for Rogue to qualify for LAN, it is severely unlikely as they will need wins in games such as this as well as a huge number of other upsets out of their hands to push into the top two positions.
One thing that might give them some hope, however, is EG's result last week against Spacestation Gaming. A 5-7 defeat is by no means a bad result but considering SSG's bad run of form online recently - putting them below Rogue in the standings - this shows Evil Geniuses are possibly weak making this an excellent opportunity for Rogue to take some unexpected points and keep them, technically, still in the running for a trip out to the Milan Finals.
Latin America
After an arguably dry day of competition last week, we have two nail-biting matches in which the traditional top-four teams once again playoff. First up we will see the undefeated league leaders of Immortals take on a somewhat weak looking Ninjas in Pyjamas roster which, with just two points separating the top three teams, is crucial for both teams to win.
Immortals will be the favourites for this matchup as they have consistently proved themselves online while NiP comes in with recent defeats against FaZe Clan in the Pro League and at the Six Invitational, as well as both a draw against INTZ and a defeat to Immortals in their two most recent games of the Brasileirão league. If Immortals are to win this their path to the LAN Finals in Milan would be much smoother as they would sit confidently on top after already playing their two closest rivals. Conversely, a NiP win would likely blow the league right open, there would be at a minimum a three-way race for the LATAM Pro League title heating up the following few weeks' action further.

This three-way fight could also be expanded should FaZe Clan take down Team Liquid this week as well. In the first half of the season, we were practically robbed of a matchup after local weather issues forced a forfeit victory to Team Liquid between the two most successful teams in the region. Since then both teams have made roster changes seemingly for the better leading to what realistically could be a season-defining matchup for both teams.

Both teams need this win to keep themselves in contention for a LAN position and, while their most recent matchup ended in a victory for FaZe Clan, Team Liquid has since presumably integrated psk1 back into their roster meaning this is quite literally a completely open game.
Europe
While these aren't the biggest or top names in the European scene, this match will easily be the most interesting because of the two team's standings. These two teams sit in fifth and sixth, just above the relegation zone but also just a point off of G2 Esports in third; their results will make a huge impact on what they're fighting for at the end of the season - relegation or a LAN qualification spot.
In the first half of the season, Chaos took their map against mouz (then known as ENCE eSports) 7-2, however, has since had a major falloff in form - after three straight victories they went on a five map losing streak which was only ended last week against PENTA. Mouz, meanwhile has had a very mixed season however are hard to judge at the moment as their only two maps since joining mousesports and picking up their new coach of Michiel "oVie" van Dartel have been against the World Champions of G2 and a possibly returning-to-form roster of Team Secret - this would be the first real chance we have to see them in action.
Asia-Pacific
Three Japanese games are listed here because of the sheer uncertainty in the region - it's the final week of online play and any of the top five teams can still make it to the APAC LAN next month.
While it may look like NORA-Rengo are in a confident position with 22 points, they play the third-placed team of Sengoku Gaming Extasy eager to make the APAC LAN for the third successive LAN making this a very tight competition. The second-placed roster of CYCLOPS athlete gaming will be the most comfortable with their chances as just the sixth-placed team of SCARZ who have won just a single game the entire season stand in the way of their first LAN appearance ever. Finally, with outside chances come the fourth- and fifth-placed rosters of FAV Gaming and Father's Back - neither of these teams has their fate in their own hands but still have a realistic chance of a late comeback to book their tickets to Sydney in three weeks time.
NORA-Rengo being in a position to not even qualify for the APAC LAN after finishing joint third in the world at both the last Major and Pro League Finals is a real testament of the importance that Yudai "Wokka" Ichise had to the team. Shortly after he announced his retirement from competitive play NORA lost their first two maps of the online season against CYCLOPS which now puts them in this precarious position where they need to suddenly get back to form and defeat the traditional second-placed team in the region to ensure they will one of the two teams representing Japan in the APAC Finals for a shot to attend the Pro League Finals in May.

---
And so that's my preview of Week 10 of the Pro League as we see old rivalries in NA and LATAM while NORA-Rengo fight for their position in Japan. Keep an eye out on SiegeGG for more Pro League updates and results as we get closer to the Season 9 Finals in Milan.