Yeti has been active in the high levels of North American competition since Season 5, but only made it to the Pro League after winning Season 7 of the Challenger League and beating Motiv8 Gaming in the relegation playoffs while under Noble Esports. Since then, his team made the playoffs at both DreamHack Austin and Montreal, narrowly avoided relegation during Season 8, and attended the US Nationals 2018 LAN in Las Vegas.
Following Season 8 of the Pro League, the Noble roster left their organisation and was known as OrgLess for three months before disbanding a few days after the Six Invitational 2019 -- the first time a Pro League team from the three main regions had done so since Season 2.
Since then, Yeti has found himself joining the Challenger League hopefuls of Disrupt Gaming in an attempt to make it back to the Pro League. However, prior to this, we spoke to him about his experience as a spectator at the Six Invitational 2019, and his thoughts on the remainder of Season 9:
Obviously you're here at the Invitational, but are not competing. Is there anything you've seen here that has really stood out to you?
One thing for sure is that they couldn't get a bigger screen! On top of that, the competition has been really at its peak -- I've never seen so many close matches. There's been almost no 2-0 matches or complete blow-outs, every game's been really close.

It's been great to learn from, honestly, as a spectator, and as a pro player, just not competing, you really look at certain things and how you can better your own game too. Coming here as a spectator has many reasons for pro players who aren't competing too, so I'm definitely using it as a learning experience.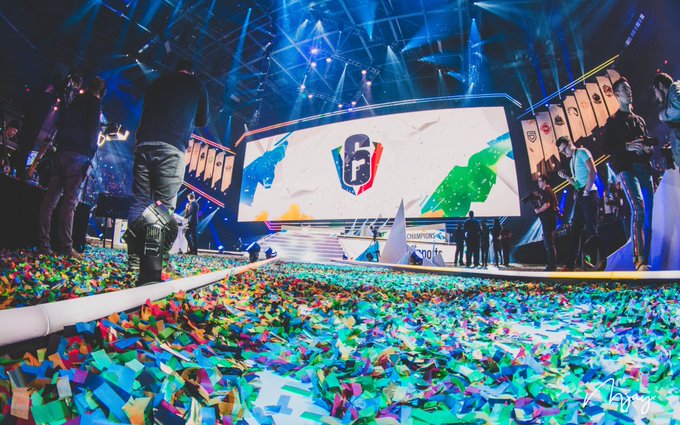 What are your thoughts on the teams we have remaining in the semi-finals?
So far, the semi-final games have been really interesting. I did expect NORA-Rengo to be the one team that could upset Empire, and it's really sad seeing them go home because actually being at the event -- they're definitely the crowd favourites, they've definitely put on a show, and the people really love it.

Right now the Team Reciprocity vs G2 Esports game I can't really say much about it because it's literally going on right in front of us. I do predict Reciprocity winning, I want to go out on a limb and say 2-0, but I don't know. I've got faith in the NA boys and want them to bring it home for NA as it's an NA tournament, it's been a long time, and definitely something that I want to see.

I don't want to see G2 win anymore. They're great guys, legends at this game, frontrunners but they're like the Patriot: you just get sick and tired of them winning.
After the Invitational we will see Kaid and Nomad enter the professional operator pool, How do you think this change will affect the meta and what will go on at the pro level?
I think that on certain maps Nomad will have to be almost permanently banned depending on how they change her. I almost think that impact (grenades) are gonna be a lot more meta. You see a lot of operators with impact grenades and it's actually sometimes kinda troublesome to not bring so many impacts, and you just bring a shield to just have the variety. Now I don't see that -- we'll start seeing less deployable shields and more impacts which complicates it.

I think that makes it still a really aggressive meta, 'cause you lose out on barbed wire -- you lose out on the utility that actually slows the team down rather than using it for your own personal gain as a defender.

Then with Kaid, I don't think Kaid will be that much of a problem. Thatcher's his main counter along with Twitch and Maverick -- they're both pretty good at it -- and most Thatcher (EMPs) you can get some kind of destruction around the hatch or easy hatches underneath the hatches usually. So it's definitely gonna change the meta to be more defense-sided, I think whereas for attack I feel like flanking is always something that's always been present, and if anything this just makes it easier (to hold).
Going into the next half of the season who do you think we really need to watch for in the North American scene?
Rise, as well as Spacestation Gaming. I'm curious to see how SSG does really after such a strong run at this event. I really want to make a point of that because you never know with teams about how they perform at LAN, because at LAN it's a whole 'nother environment with how these players arrive at the event mentally and, obviously, physically. Seeing how they actually go back to playing in Best-of-Ones and online, and just seeing how that affects the players and how they perform (is key).

For SSG, yesterday made them look like a top two/top three team, but I'm just curious to see how they come back to the second half of the Pro League supposedly not making any roster moves, and it's gonna be interesting.
What is next for you as a player?
I'm not really sure, I'm just waiting on my options and seeing what's best for me at this point moving forward, because obviously this is my biggest passion, my dream. I've met so many amazing people and it definitely motivates me and keeps me dedicated to it, so I just want to make the right business move for me, 'cause that's really what I got to take care of in this situation.
Do you have any final comments?
I've met a lot of people here at the event, I always meet a lot of people at the events, I just love all the attention you guys give me and being able to meet all you guys is just awesome. I love every one of you guys, taking pictures with you guys, and signing things... it's great! Memories I'll never forget so I appreciate that.
---
Since this interview, Yeti has joined Disrupt Gaming in the Challenger League, and his next game will be on Friday evening against Our Bad, and then Vicious Gaming. You can catch more interviews and full coverage of the Challenger League right here at SiegeGG.