A loss for Astralis on the final play day locked Mirage in a fourth-place finish of Stage 3's North America League tournament, meaning they will be competing at next week's Six Jönköping Major in Sweden.
For those not familiar with the team, here's a rundown on Mirage, as they near their global debut.
Team history
The Mirage organization has been competing in Rainbow Six since 2018, initially in the Canadian national circuit. This was the first of five distinct Mirage teams.
After the national tier roster that won four out of 14 matches four years ago, Mirage then returned to Rainbow Six in 2020 to take part in the new Canadian Division of the newly started North American League. This roster notably included Rob "Flynn" Flynn, one of the top North American casters in the game at the time, and Kyle "zilchy" Wrigglesworth, who had previously attended the Season 4 ESL Pro League Finals.
This roster was the team to beat initially, winning both Stages 1 and 2 of the CAD tournament and beating Tempo Storm in the Regional Major qualifier. Altiora, later known as Parabellum, however, overtook them by the end of the year and Mirage slipped to a runners-up position at the CAD 2020 Finals.
The 2021 season saw version three of the roster, as three members including zilchy left. Zilchy retired once again and Flynn moved into management. In their place joined Matthew "Hotancold" Stevens and Zachary "Nyx" Thomas, well after both had finished as the ESL Pro League Season 10 as runners-up on DarkZero. Also joining was Mitch "Dream" Malson, who had been on the Tempo Storm roster that Mirage had beaten the year prior, and Benjamin "Benjimoola" Ligacki, a new player, who is currently the team's longest-serving member.
2021 started great for this new team, with a third-place finish in Stage 1 of the newly-combined North American League. Unfortunately, due to the delayed Six Invitational, this stage didn't offer qualification to a Six Major. Furthermore, the performance was led by Hotancold who had the league's second-best performance with a 1.23 SiegeGG Rating compared to Benjimoola in second on 1.01.
When Hotancold left for Spacestation Gaming before Stage 2, this caused issues. Mirage dropped down to seventh and then sixth place before losing to their old rivals, Parabellum, in the Six Invitational qualifiers.
The beginning of 2022 saw three more players leave the team before Stage 1, while a fourth left before Stage 2. This left Benjimoola as the only remaining player from 2021 on the team. This did not go well, with two 10th-place finishes during Stages 1 and 2.
Finally, in August, Mirage opted to replace two of their new players with players that had impressed in the Challenger League and moved Nyx back to an assistant coach position.
Despite no one player excelling to league-topping degrees, the team just clicked and mounted a revival story that many didn't believe was happening until the final play day came to a close.
From 10th to 10th to fourth, Mirage version five made it to the Major.
Mirage's Stage 3 in review
Mirage had a somewhat backward stage.
They lost to the top-three teams as expected and they beat their two main rivals for fourth -- DZ and Astralis -- to win them their position, but they also lost to both beastcoast and XSET in eighth and 10th place in what was one of beastcoast's two lone victories all stage. They also caught and beat Oxygen Esports the week before they regained their mojo and went on a four-game winning spree.
While it was an undeniably impressive stage in which they got the result when required, it also got messy at times, as they lost points in games where they shouldn't have. If they had beaten beastcoast and XSET as their wins against DarkZero and Astralis showed they could, they would have ended in second place and just two points shy of TSM. In this situation, the whole perception around the team going into the Major would have been vastly different.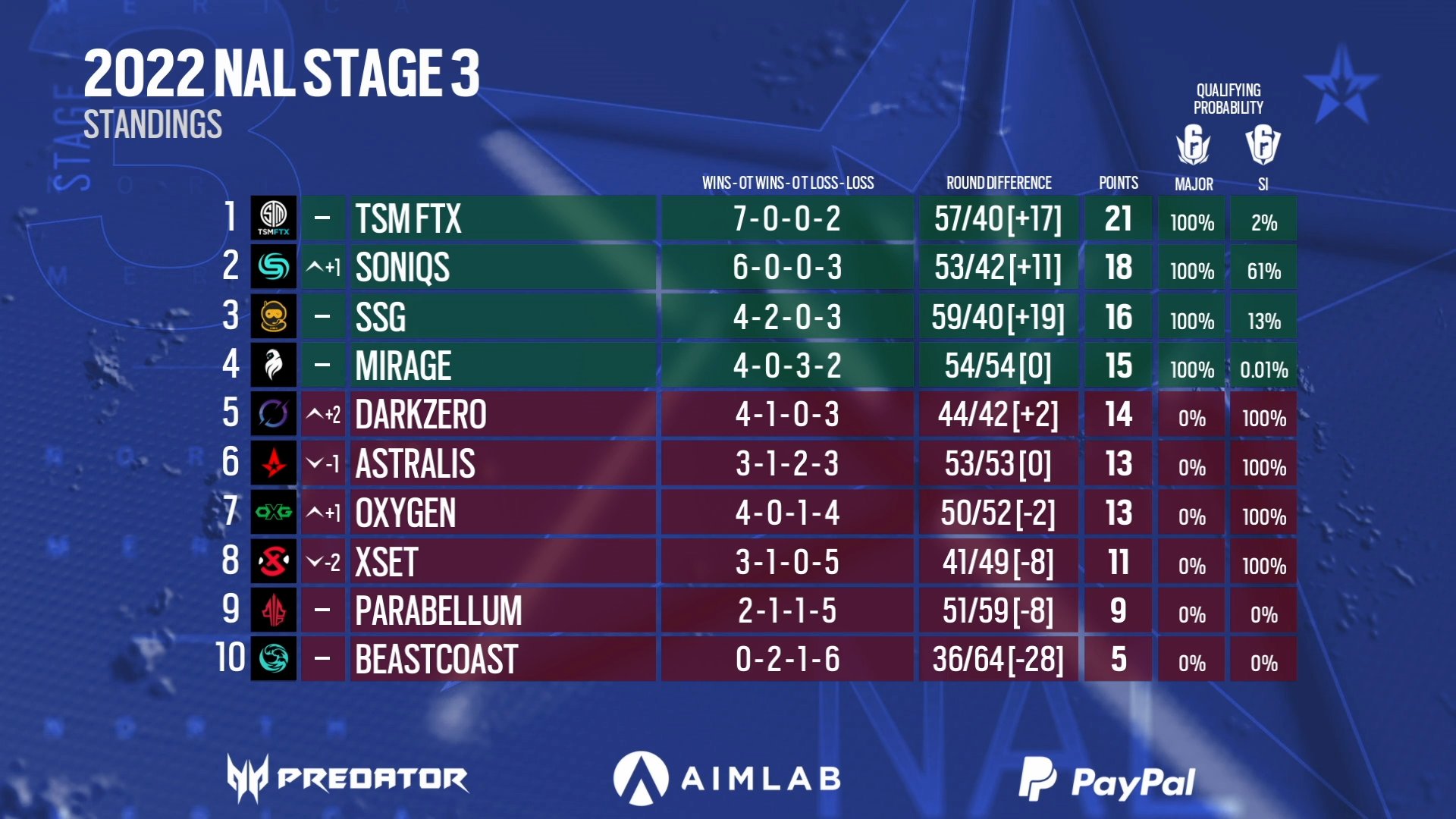 The roster
The roster is as follows:
Benjamin "Benjimoola" Ligacki

Robert "Melted" Kormylo

Tyler "Kento" Ross

Lorenzo "Dexter" Albeira

Jesse "Mohesse" Sheffield
Out of these players, Dexter and Mohesse are still in their debut stage as professional players, while Kento and Melted are also in their debut year.
Dexter is also the lone player with prior global experience, having played for Spacestation Gaming on a trial during the Gamers8 tournament in Saudi Arabia. Here, he notably lost to Team Liquid who are also attending the upcoming Major.
Individually, the team stands out by not having a leading fragger. They are the only team in the NAL without a Zofia-main and also do not have an Ash, Iana, Nokk player, or any other classical entry players.
This, then, should be -- and is -- visible on paper. Mirage's best entry player has 11 opening kills to eight opening deaths, which is the lowest differential of any team's leading entry.
Mirage's best player by kill differential also has the team's second most plants, with six, compared to their dedicated planter and hard breacher, Mohesse, on eight. This is a far cry to the other league leaders, with Bosco getting 15 out of 18 plants for SSG, Gasher getting nine out of 12 for TSM, and Geo securing 10 out of 17 for TSM.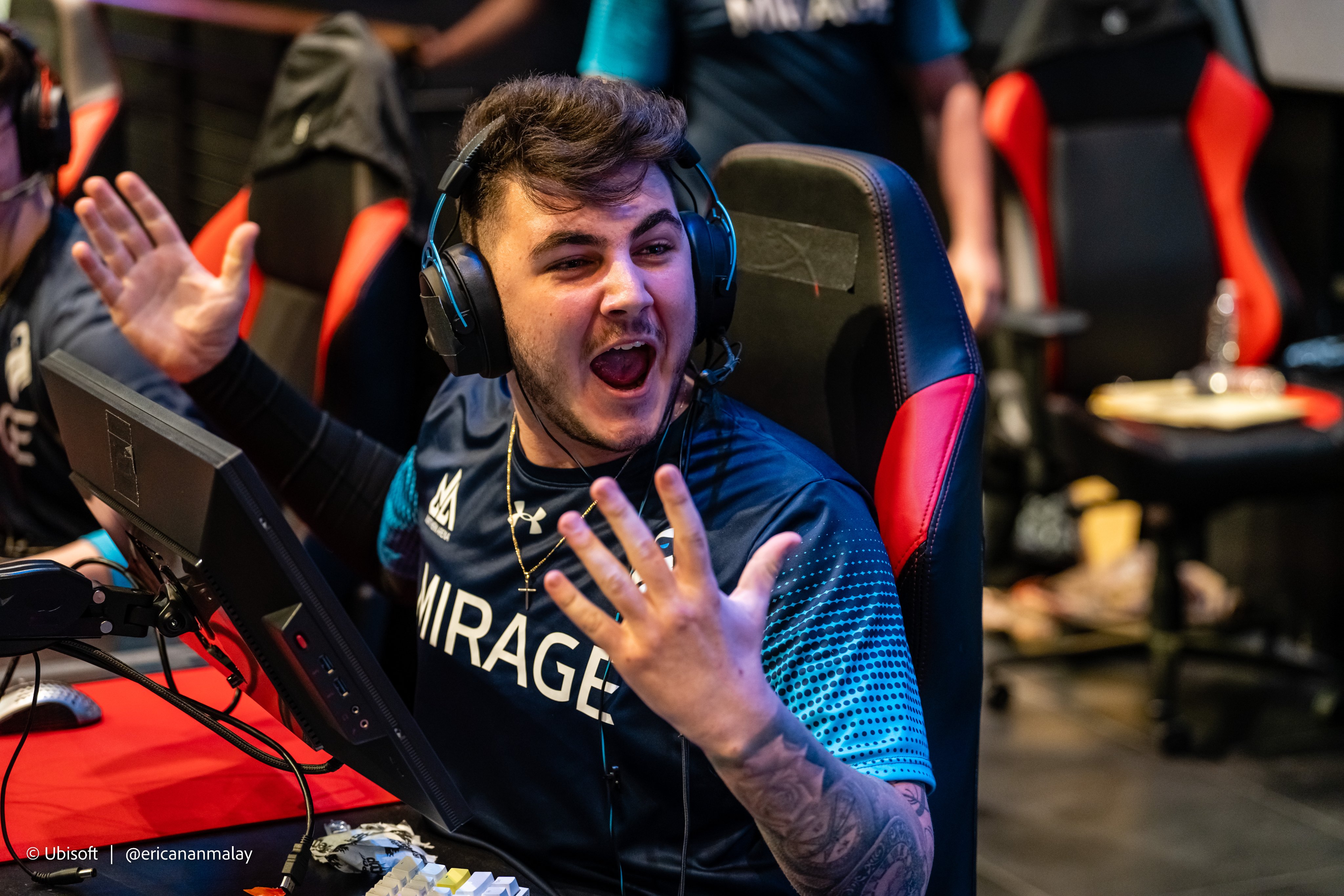 The organization
Since 2019, Mirage has been owned by Northern Arena, a tournament organizer that previously ran the Rainbow Six Canadian Nationals and Canadian Circuit in 2018.
Both companies are therefore Canadian and Mirage explicitly aims to "make Canada a competitive powerhouse on the international esports scene" and "to elevate the profile of professional gaming in Canada".
While qualifying for the Major helps promote Mirage itself, the team has included no Canadian players since Aug. 2021, and the team's last Canadian coach or analyst left in 2020.
As well as the men's team, Mirage also had a women's team named Mirage Scouts. This team finished fourth in Project Eris and fifth-sixth in the CCS Women's League. While they no longer have a Rainbow Six team, Scouts are represented in Overwatch and Valorant.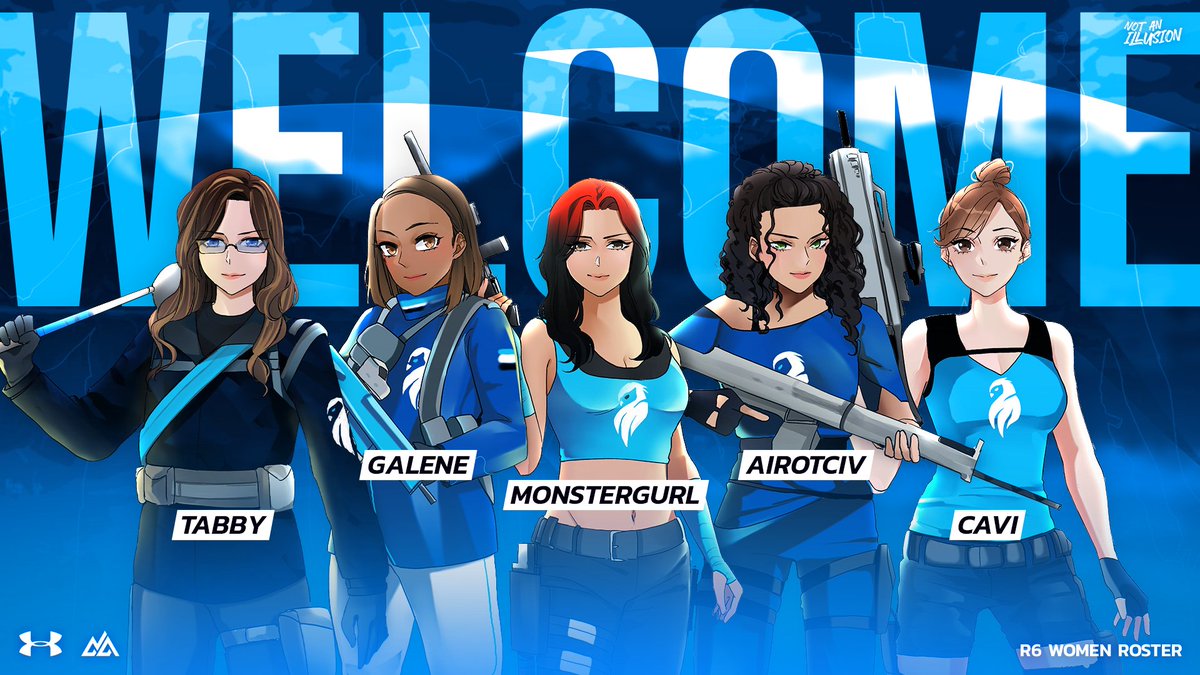 The main Mirage team currently only has one other team. Together with Elyandra Esport, Mirage has fielded a Mirage Elyandra team that qualified for LFL 2023, the French regional League of Legends tournament.
Mirage previously also had notable presences in Rocket League, Valorant, and Overwatch where they won back-to-back DreamHack Montreal titles.