Following the end of the group stage earlier today, Ubisoft have unveiled the bracket for this weekend's playoffs:
Soniqs vs TSM
Wolves Esports vs Team BDS
w7m esports vs Black Dragons e-Sports
Team Liquid vs FaZe Clan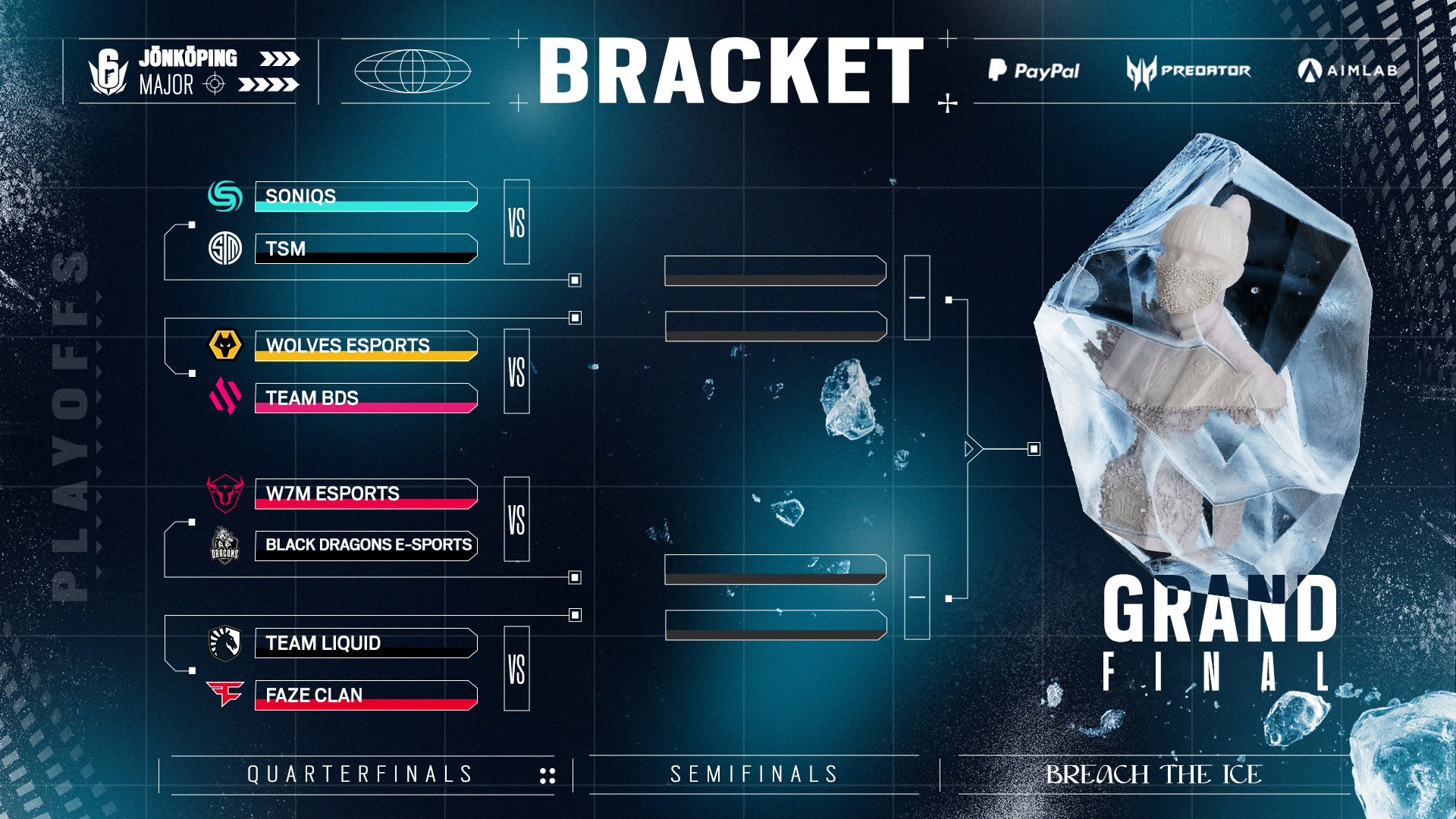 The playoffs will see four Brazilian, two French, and two American teams face off in the final eight, with all four Brazilian sides on the same side of the bracket. As such, a Brazilian team is guaranteed to progress to the grand-final.
There are a number of grudge matches being set up across this bracket:
TSM vs Soniqs
Emilio "Geometrics" Leynez could face his ex-teammate in the quarter-final of a Six Major just three months after he was dropped from the roster.
Liquid vs FaZe
The El Clásico of Siege will take place in a Major quarter-final.
These two teams have met countless times before, regionally and internationally, with their biggest prior meeting on the global stage coming during SI 2021's lower bracket quarter-finals.
Wolves Esports vs Team BDS
The French derby. Team BDS and Wolves have been consistently at the top of Europe but have never made it to a grand-final before. They will now meet in the quarter-final, guaranteeing one of them another shot at reaching a grand-final.
The teams also include multiple ex-teammates with Wolves' Bastien "BiBooAF" Dulac and BDS' Loïc "BriD" Chongthep most notably playing together on Supremacy and Team Vitality for almost three years.
Potential: w7m esports vs FaZe Clan
In a possible repeat of the Berlin Major semi-final, w7m could face FaZe on Saturday's semi-final.
FaZe beat w7m 2-1 in Berlin and were one of just two teams to beat w7m during Stage 3 meaning. Despite w7m having an excellent tournament so far, FaZe may be their downfall.
Potential: Soniqs vs Team BDS
BDS previously beat Soniqs four times, twice each during the Mexico and Sweden group stages.
Geometrics also knocked BDS out of the 2021 Six Invitational
Brazil in the Grand-Final
With Brazilian rosters completely filling out the bottom half of the bracket, one of them are guaranteed to reach the Six Jonkoping Major grand-final. This will be the sixth time in the last eight events that a Brazilian side has finished within the top two.