Stage 3 of the North American Challenger League ended last weekend, with Reality TV winning the tournament after a third-place finish in Stage 2.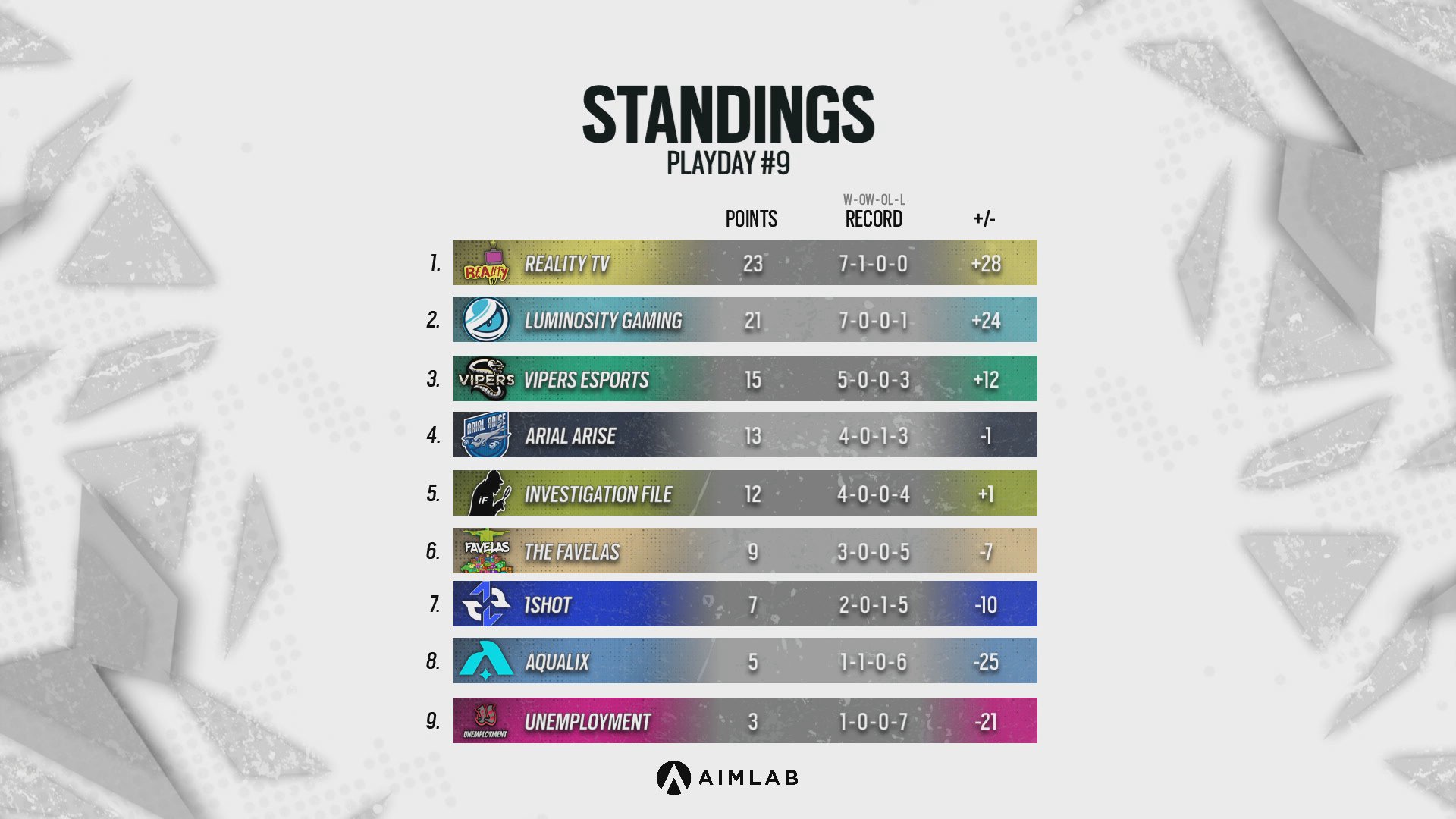 Stage 3
Throughout Stage 3, Reality TV had a close-to-perfect campaign. A 7-1-0-0 record is the most dominant performance in the NACL in the tournament's six-year history.
This was helped considerably by the sheer amount of NACL talent that was recruited by North American League rosters between stages, as eight of the top players were recruited by professional teams; two each from beastcoast, Mirage, TSM and Parabellum.
Reality TV, meanwhile, were not hit by these changes. They added two new members -- "Gity" and "Tristan" -- between stages, which helped them jump from third place to first this stage.
Of particular note was "Gaveni", a player who started the stage with several remarkable performances. After three games, he had a kill-death spread of 43-15 after individual games of 12-6, 16-4, and 15-5. By the end of the stage, he had cooled off to a 1.31 SiegeGG Rating -- second in the league.
Reality TV's lone points loss came against 1shotLFO, who managed to take them to overtime. 1shot's roster eventually finished way down in seventh place with a 2-0-1-5 record, despite an impressive player lineup of ex-Six Invitational and Pro League champion, Nathan "nvK" Valenti, and ex-XSET duo, Dillon "Razorr" Presley and Christian "Prod" Gauch.
The final Stage 3 standings were as follows:
Reality TV -- Gaveni, MrB, Packer, Gity, and Tristan
Luminosity Gaming -- SilentEndz, Eddy, Julian, Splash, and Ryce
Vipers eSports -- Creators, Twist, Poison, Max1ly, and Filthy
Arial Arise -- Jaay, Freak, QrTz, Tonez, and Read
Investigation File -- Ph1sh, Wimpy, Vivid, Inryo, and Seezyy
The Favelas -- Slothi, Barring, Rooty, Aero, and b1ologic
1shotLFO -- Prod, Kilo, Razorr, Swaylen, and nvK
Aqualix -- Saikosys, Apher, P3NGU1N, Hat, and Beastly
Unemployment -- Tra, briyohs, Mikee, Karnageb, and Wittloc
Luminosity Gaming, who finished second, had the best well-rounded roster statistically, as SilentEndz had the tournament's highest SiegeGG Rating at 1.32, three members of LG were in the top five by entry record, the top three by KOST percentages were all by LG players, and "Ryce" had the most plants in the tournament.
They ended the stage with a 7-0-0-1 record, their only loss being a 3-7 to RealityTV.
2022 sason & NACL Finals
The season-long standings see the results from Stages 1 to 3 combined. From here, the top four teams qualify for the NACL Finals. These are the final 2022 league standings:
65 Points -- Luminosity Gaming
59 Points -- Reality TV
48 Points -- 1shotLFO
48 Points -- Arial Arise
41 Points -- Aqualix
41 Points -- Investigation File
33 Points -- The Favelas
32 Points -- Vipers eSports
28 Points -- Unemployment
This means next weekend, from Oct. 22 to 23, LG, Arial Arise, Reality TV, and 1shotLFO will play to determine the NACL victor for 2022.
The winner will not earn a NA League spot for the 2023 season but will instead win an unspecified advantage towards global events throughout the 2023 season. This may refer to qualification straight into the closed qualifiers for Six Majors.