With the group stage matches now complete, here's a roundup of Wednesday's matches.
Qualified teams
The following teams will progress to Friday's quarter-finals:
1st seeds:
Soniqs
Team Liquid
w7m esports
Wolves Esports
2nd seeds:
Black Dragons e-Sports
TSM
Team BDS
FaZe Clan
Four Brazilian, two French, and two American rosters have made it this far, but each of those numbers will be halved on Tuesday.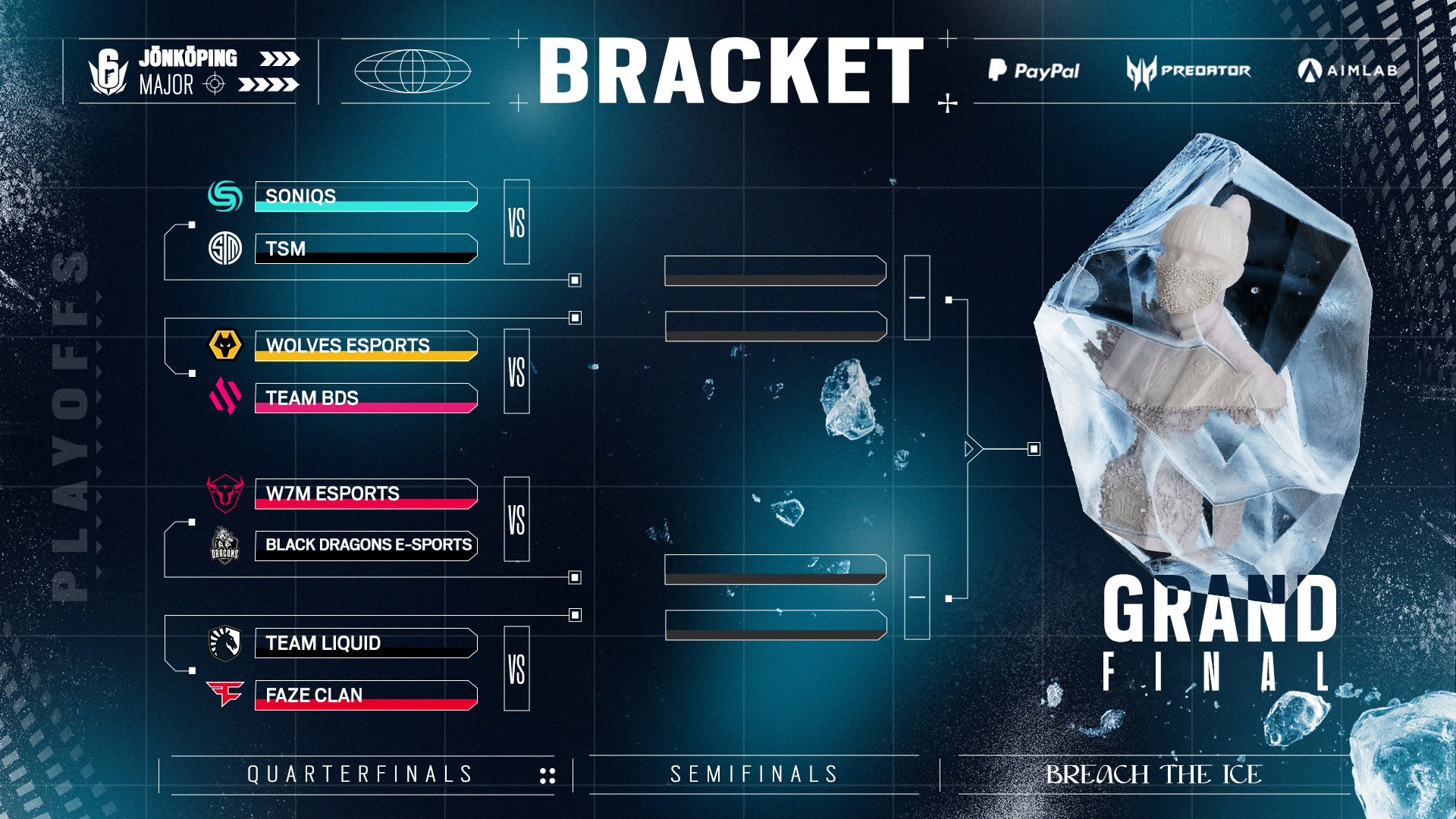 Meanwhile, CYCLOPS and Spacestation Gaming both missed out on the playoffs by round difference.
This is Yeti's fourth Six Major group stage exit, while this is the first time in five Six Majors where Bosco has not reached the playoffs.
Seven teams also qualified for the Six Invitational 2023:
FaZe Clan
Team Liquid
Heroic
MNM Gaming
Elevate
CYCLOPS athlete gaming
Soniqs
Notably, the last three SI winning teams -- TSM, NiP, and SSG -- will all need to qualify for the event via the open qualifiers, with only one out of SSG and TSM able to make it.
Bottom teams
Prior to this Major, only one team had finished with zero points to their name; Chiefs ESC at the Charlotte Major. This roster has since disbanded.
At the Jönköping Major, two more were added to this list, SANDBOX Gaming and FURY. Both teams had qualified after finishing as runners-up in their respective APAC Divisions.
While this was FURY's first professional event, this is particularly bad for the Koreans on SANDBOX, as this is EnvyTaylor's eighth global event, making him and this team one of the most experienced at the event. They have now won just three out of 18 international games in 2022 and have been eliminated in their group just once in seven Six Major and Six Invitational events.
This is also a fairly disappointing result for MNM Gaming. The team was seen to be in the "easiest" group and yet failed to win a single point after day one, finishing last in Group A. This included a 3-7 loss against CAG, who also failed to exit the group and had won just one out of 10 global games in 2022 before the tournament.
Players
As with day two, the player of the day was Kheyze. The Brazilian helped his team become the very first to have a flawless group stage in the current Major format, as w7m won all 18 available points.
In doing so, he earnt a 78-44 K-D and 19-8 entry kill record, leading the tournament by both metrics. He also had the third highest KOST percentage, the highest of any pure fragger.
Here are the final statistics of the 40 players that are exiting the Six Major before traveling to Jönköping:
Of particular note is Heroic's Jume, who is in his debut stage but still had the tournament's second-highest kills-per-round figure in the same group as Team Liquid and TSM.
Similarly, Reeps96 had the fourth-highest SiegeGG Rating out of these 40 eliminated players in just his debut stage. This comes despite a poor first day for him.
Below is a look at all the performances of the players who are still in their rookie year:
Of these, six have made it into the playoffs; Jv92 and volpz for w7m, Snake and Gasher for TSM, LikEfac for BDS, and Gunnar for Soniqs.
Play of the day:
While Paluh's 1v4 against Heroic was particularly impressive, the best play came from Shiinka against FaZe Clan as he managed the same, but with an SMG-11: