On Mar. 9, Daniil "JoyStiCK" Gabov, Artur "ShepparD" Ipatov, Danila "Dan" Dontsov, and Dmitry "Always" Mitrahovich were dropped from Team Empire, with JoyStiCK later stating on stream that they won't be playing in Stage 1 of the EU League.
This move was widely panned as the worst roster move in R6 history, as this core roster is one of only three teams in R6 history to win multiple tier-one titles -- the Raleigh Major and Pro League Season 9 Finals. Empire also finished as runners-up during SI 2019, SI 2022, and the Mexico Major.
Empire is undoubtedly one of the very best teams in R6 history, and now its core quartet has been unceremoniously left without a job just as the Russian economy starts to collapse.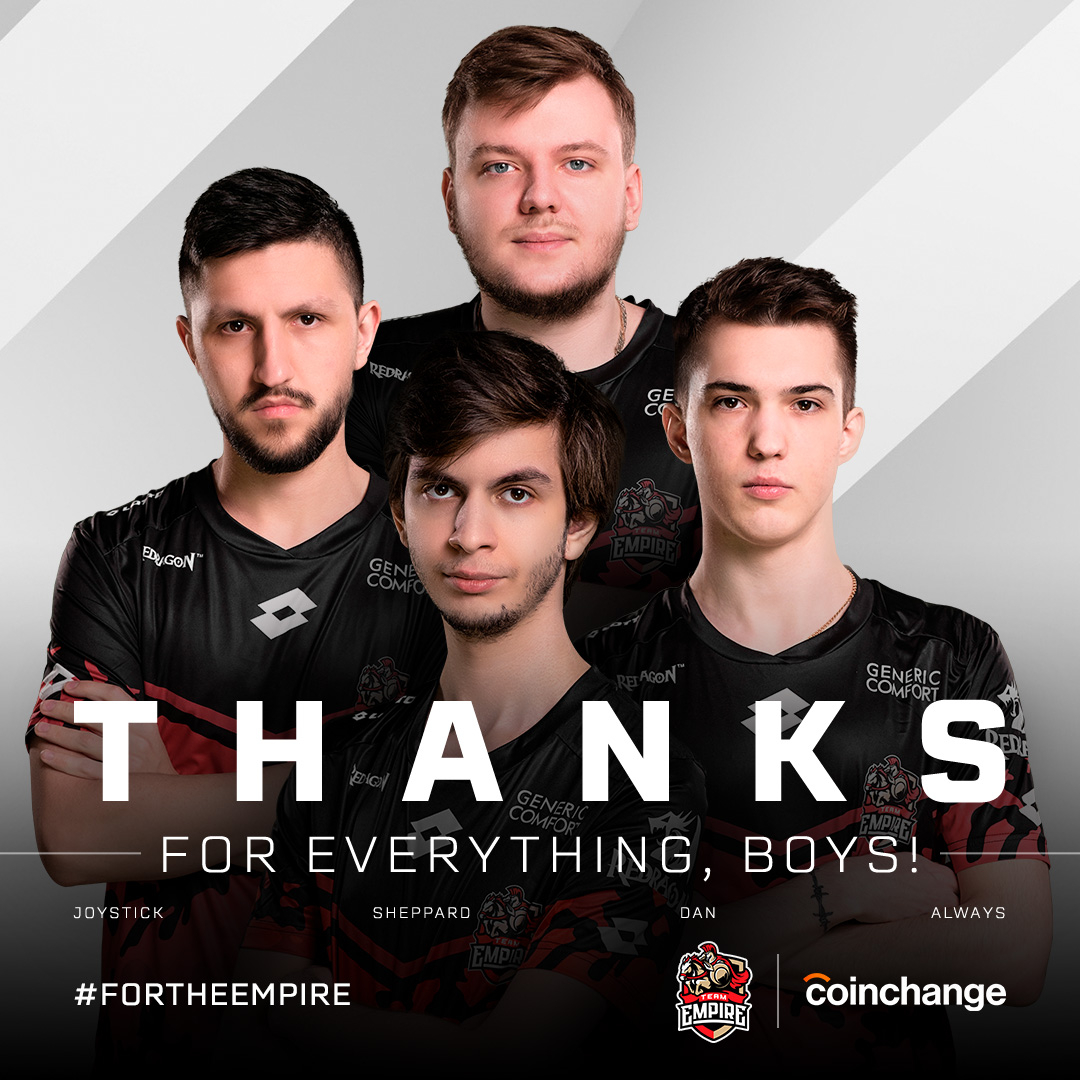 So what's next for them? Well, they still have a few far fetched options to stay together and get back in the EU League within a few months.
The Academy roster loophole
The issue facing Empire is that organizations can only add two players to their roster per transfer window. This means it would take until Stage 3 for the four players to be reunited, with two added in each transfer window in May and August.
There is, however, a finicky workaround by 'abusing' the academy roster ruleset.
All pro-tier teams are allowed to hold an additional academy roster and swap players between the two teams during transfer windows.
This means that organizations such as Virtus.pro could theoretically sign an academy roster that includes JoyStiCK and ShepparD over the next few months. Then, during the May transfer window, swap in those two into the main roster and sign Always and dan as free agents, reuniting the four players.
We have already seen organizations such as Elevate pick up academy rosters outside of the transfer window in 2021, showing that the transfer period is not a limitation. Furthermore, these are the rules in question:
[Introduction] The term "Team" refers to the legal entity which is granted a licence to compete in the Rainbow Six Circuit

[4.5.4.1] During a mid-Season Transfer Window, Teams can bring a maximum of two new Players in the Team.

[4.5.4.3] During Mid-Season Transfer Windows, Teams are allowed to swap a maximum of 2 Players between their Rosters.
The rulebook can be found here.
This means that the word "Team" refers to the organization itself. Hence, all the players on the main and academy rosters are already on the "Team".
Swapping ShepparD from the academy to the primary roster, therefore, hasn't added a new player to the "Team"; you're just moving around the player's roles. The only additions would be the two free agents, which are joining legally, and thus no rules have been broken.
This is somewhat of an abuse of the system, as it was likely not meant to be used in this way. Nevertheless, it's still a possible option should an organization want to go through the trouble.
Buy the 10th licence
This is both impractical and unlikely for a number of reasons, but it's worth including regardless.
At the moment, only nine organizations are confirmed for Stage 1 of the EU League following the exit of Team Vitality. At the moment, the ex-Vitality roster is looking for an organization to represent, like the unKnights roster was six months ago.
While it's possible the new licence holder has already been decided but is yet to be announced, it's also worth noting that the ex-Vitality roster is not guaranteed to be signed by whoever gets the spot.
When eUnited and Tempo Storm left in the NA League, the replacement organizations -- beastcoast and XSET -- didn't keep the same rosters. Prior to that, Soniqs and Disrupt didn't pick up the recently 'org-less' EG and LG rosters. Additionally, when Nora-Rengo had their licence stripped, the licence went to T1, who replaced Nora's Japanese roster with a Korean one.
It then comes to reason that whoever gets the 10th EUL licence may decide that the ex-Empire roster is a better signing than the ex-Vitality team.
Furthermore, with the ex-Empire quartet having won over $1,000,000 in prize money alone between them, they could theoretically create their own organization and buy the licence for themselves.
While this would be quite a move, the biggest issue with this is that there's a fair chance that now's already too late. On the other hand, no details around EUL 2022 have been announced so far meaning there may still be a very slim chance.
It's also worth considering that while this would save the ex-Empire quartet, it would mean the ex-Vitality roster lose their jobs instead.
Both of these scenarios are very unlikely. In reality, these are Empire's best options to make it back to professional-tier competitions:
Join a new organization
Firstly, the most obvious option is to join a new organization two-by-two and be reunited by Stage 3.
This comes with the slight issue that while these four are incredibly talented, most non-Russian organizations would likely not want to pick up a Russian core squad as Russian teams are being banned from tournaments across the sporting world. In a Twitlonger, JoyStiCK stated that the few offers they had fell through due to "the political situation", referring to Russia's invasion of Ukraine.
This would be an issue with almost all of these "solutions", however, especially in the short term, this would be particularly of issue.
The organization to watch in this case is Virtus.pro, who is the only other Russian organization with an EU League licence.
Vp themselves just added two new players to their stable however, Yaroslav "FMX" Kurzin and Kirill "SmashByAsh" Belozerov, and ended Stage 3 just one point short of a Six Sweden Major appearance. If the team can push into the top-four ahead of the Six USA Major, this may discourage them from replacing their whole roster so soon.
Wait to join an organization together
The one exception to the two-player pickup limit is during the off-season transfer window, which takes place every February after the Six Invitational. This is how teams like Empire, XSET, and G2 Esports changed the majority of their team.
This means the four players can take a year off and rejoin the EUL together as a quartet in February 2023.
This comes with a slight catch that a new roster must include two players who had competed in EUL during the 2022 season. If all four of them took a year out, then they'd be at least one player short. This can be worked around by having a recent EUL player sitting on the bench or in a support staff position just to fill the criteria, however.
Attempt a Challenger League run
This core roster has already won the Challenger League way back in Season 8 and can very likely do it again for the 2022 season. This, however, still means waiting to return to the EUL until 2023, and means they're stuck in tier-three tournaments until the EUCL starts in Stage 3.
The team would still be allowed to play in the Six Invitational 2023 open qualifiers as they did for SI 2019.
This is also reliant on Ubisoft, as a number of other games such as Counter-Strike have had CIS and Russian tournaments cancelled. A cancelled Russian Major League season in R6 would limit the ability for these players to even qualify for the Challenger League, to begin with.
This seems like the most likely option for the team, with JoyStiCK stating in a Twitlonger post that the team is "motivated and ready to start from National League to Challenger and etc".
Split up
While the team seems eager to stick together, the prospect of a year without any major tournaments or a decent wage in esports is a big ask and so it's not too far-fetched to think that some of the players might take early options out.
All four players will likely get offers over the next year, and the four players splitting up would be a massive loss to Rainbow Six and Russian esports.