Image: Ubisoft/Kirill Bashkirov
Stage 2 of the 2022 European League ended after nine days of play, with Wolves, Rogue, MNM, and G2 finishing in the Six Berlin Major qualification spots.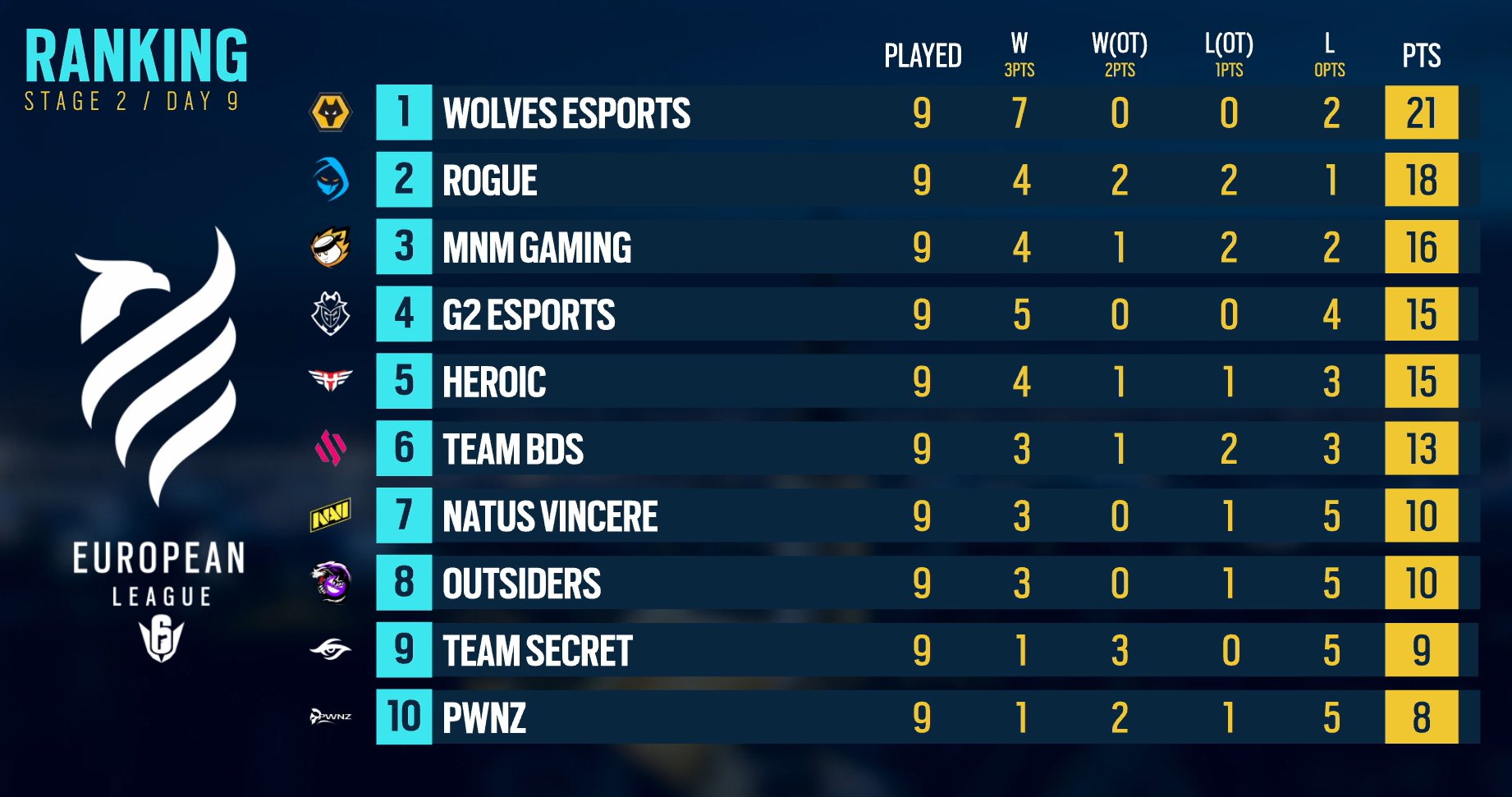 Here's a quick look back at the stage, including some of the standout players, teams, and changes from Stage 1.
Top Performers
William "Spoit" Löfstedt and Stéphane "Shaiiko" Lebleu were the top players this stage. While Shaiiko got the EUL's best kill and opening kill differentials, Spoit had the highest overall SiegeGG Rating, the highest kills-per-round figure, and was superb on the attack, where he ended with a 1.54 SiegeGG Rating.
While everyone knows just how good Shaiiko is, Spoit achieving this level of performance in his very first professional stage is remarkable. He ended the stage with the third-highest Rating in the world at 1.30, only behind Diego "Kheyze" Zanello in the BR6 League and Hwang "Arukaze" Hyeon-jin in APAC North. The closest debutant was Parabellum's Shaun "Gunnar" Pottorff at just 1.19; still an impressive result, but well below Spoit.
EUL was also made more interesting by the lack of Finka play, at least relative to other regions. While the operator is still the most common attacker among top-performing players, only three of the EUL's top-10 players primarily play her. Instead, we have a resurgence of the fragging-support operators as Hibana and Thatcher both feature heavily.
When looking at hard supports, Rogue stands out as they do not have one main defuser-carrier like virtually every other team in the world. Instead, the role is split evenly between the team's Ace and Thermite players, Tom "Deapek" Pieksma and Leon "LeonGids" Giddens.
Finally, Keenan "Keenan" Dunne must be applauded for securing the highest number of clutches in the world in Stage 2, as he got five on the defence and one on the attack. The most clutch teams, however, were Heroic and Wolves with 11 each. Heroic, in particular, had the most even split between players, but still missed out on the Berlin Major.
Biggest Improvement
The most improved individual player was PWNZ's Pavel "Amision" Chebatkov, but his efforts could not pull his team up from the bottom.
This metric most highlights the quality in Wolves Esports. While this is the third Six Major in a row they are set to attend, the team looks better than ever, with almost the entire team making huge jumps up.
Biggest Drop
The one player missing from Wolves' league-leading improvements was Nicolas "P4" Rimbaud, who dropped a massive 0.23 Rating points down to 0.96. This still isn't that bad, as it's just 0.01 Rating points behind Valentin "risze" Liradelfo, but it looks particularly bad due to a good Stage 1 performance.
The same cannot to said about Loïc "BriD" Chongthep and Bryan "Elemzje" Tebessi, the centrepieces of the BDS roster, as their SiegeGG Ratings dropped to 0.81 and 0.80. These figures are unbelievably low, considering the skill they've shown in the past year.
This drop gave BDS the biggest overall change in performance between stages, even outpacing Outsiders, who also feature prominently at the bottom.
However, the most interesting thing about this figure is that G2 and MNM Gaming had identical average SiegeGG Ratings in both stages.
Best New Player
The answer here is obvious: the EUL's best player in Stage 2 was also a new addition, as Spoit hit a 1.30 Rating after replacing Jan "ripz" Hucke, who had 0.85 Rating -- albeit on different roles.
Interestingly, all five new players improved the team's overall Rating. However, it's questionable whether Szymon "Saves" Kamieniak would have done so if he had not replaced a stand-in coach's position.
Finally, while all attention is on Spoit, it's also worth congratulating Jamie "Skiddy" Diamond, who has had an excellent debut season of his own. A 1.14 Rating was well above his closest teammate at 0.98, implying that he may have truly excelled on a better team.
EU League Play of the Stage
The play of the stage came from an absolute masterclass of a round from Rogue's Pascal "cryn" Alouane as he secured an ace on Amaru in the space of 15 seconds. This included four kills without even reloading:
This becomes even more impressive considering these two teams ended in second and third place in the EU League.
MNM must now truly hate this site, as they were also cut through by NAVI's Jordan "Kayak" Morley as he secured an ace of his own, which was also a 1v3 clutch:
Maps
Just like in APAC South, Theme Park came out of the woodwork and was played, albeit for just one game. Nevertheless, with seven attacks and seven defensive rounds won, this made the map the most even in the pool by a long shot. Most maps were fairly one-sided, one way or the other.
The most one-sided was Villa, which ended on average with a 4-2 defensive split. While the map has a defensive reputation, it hasn't actually led in this regard for a few years. Skyscraper also had a 60 per cent defence win rate, while Bank had a 61 percent attack win rate.
The most-played map of the stage went from being Kafe to Clubhouse with Bank, Chalet, and Villa, each leapfrogging Europe's former favourite map.
The overall side bias ended at a 53.97% defensive win rate compared to 52.88% for APAC South, 51.80% for the NA League, and 46.87% in APAC North.