Image: Ubisoft/Kirill B.
On Jun. 20, Stage 2 of the European League will kick-off following a seven-week gap since Heroic were crowned the Stage 1 champions. But the Charlotte Major saw a very weak showing from Europe's representatives and a number of teams have since made roster changes.
Here's everything to expect going into the next few months of play.
The Teams
The lone organizational change came just prior to the Charlotte Major, as Looking For Org was picked up by the esports arm of the Wolverhampton Wanderers football club, while four other teams made player changes.
Heroic -- GorgoNa, Grizzly, Sloth, Benjamaster, UUNO, Mrofficer88, Anarchic (two coaches), and davil (analysts)
Team BDS -- Shaiiko, BriD, Elemzje, RaFaLe, Renshiro, BiOs (coach), and eaglemees (analyst)
Wolves Esports -- BiBoo, Shiinka, P4, risze, Mowwwgli, Lyloun, and Helbee (two coaches)
G2 Esports -- CTZN, Virtue, Doki, Prano, Alem4o, and Shas (coach)
MNM Gaming -- Yuzus, neLo, Tyrant, Neonical, Solotov, ArcherOmix (coach), and Eden (analyst)
Rogue -- LeonGids, cryn, Deapek, Kantoraketti, Spoit, meepeY, Bernie (two coaches), and Saethus (analyst)
Outsiders -- FMX, m1loN, p4sh4, Rask, SmashByAsh, and ViKiNG (coach)
Natus Vincere -- Blurr, Nathan, Kayak, Thuunder, Skiddy, and al0kaka (coach)
Team Secret -- SlebbeN, Keenan, Kendrew, Savage, Saves, Titan, and SiLenCe (two coaches)
PWNZ -- Scyther, Amision, Andreezy, eXoduSS, wTg, RayzerGM (coach), flaers0 (analyst)
Between stages, three teams have made player changes -- Secret, NAVI, Rogue and PWNZ.
Team Secret made the biggest changes after a ninth-place finish, as the SlebbeN-Gomfi duo was broken up and Peter "pacbull" Bull left the team for the second time. In their place come Szymon "Saves" Kamieniak, who was crowned the ESL Pro League Season 10 champion on NAVI previously, and Lucas "Savage" Alves, whose only prior competitive experience comes in UKIN Division 2, the fourth tier of European competitions.
Another notable rookie will also make his professional debut on Rogue as the team's longest remaining member, Jan "ripz" Hucke, has been replaced with the 18-year-old content creator, William "Spoit" Löfstedt.
The Team Empire roster currently playing under the PWNZ name replaced one of their best known players, Andrey "Andreezy" Baviyan, with Nikita "Niko" Rusyaev who previously played in the Russian Major League with the DED Inside roster.
Finally, 19-year-old Jamie "Skiddy" Diamond will also make his competitive debut as he joins NAVI from MNM Academy to replace Rickard "Secretly" Olofsson. The team also brought in Alonso "al0kaka" Díez as a coach following the exit of both their prior coaches in February.
Schedule
The EUL will start on June 20th and run until August 1st and will kick off with PWNZ vs. Heroic. Play days will be every Monday, with additional Thursday games on July 14th and 21st.
The top four teams following the best-of-one single-round robin league will then qualify for the August Six Major which will take place in Europe, likely from August 15-21st.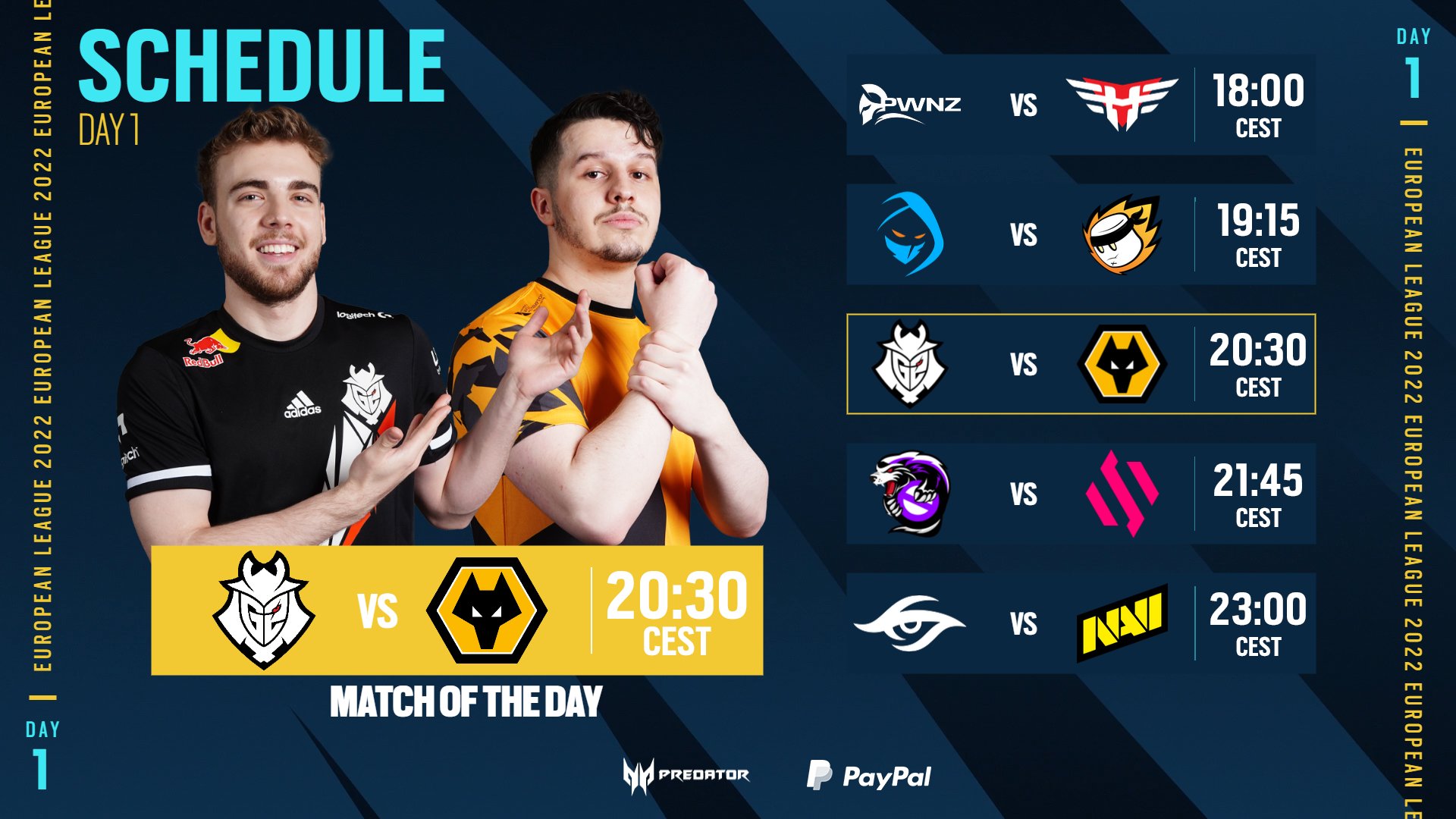 Storylines to Watch
Home crowd wants a home win
The August Six Major event will include the first European crowd for a global tournament since the Milan Pro League Finals over three years ago. After arguably Europe's worst-ever global event in Charlotte, this stage of the EU League will determine which teams get to represent the region in front of the home crowd.
One of the favourites, Team BDS have qualified for every single event since they first qualified for the Challenger League. But, their international results have been slipping recently, with August last year being the last time they effectively challenged for the title. Stéphane "Shaiiko" Lebleu has still never qualified for a global grand-final and in front of the first home crowd at a notable event of his career would be the best place to do so.
The fight for the final Major spot
The most interesting fight during this stage will likely be between the likes of Wolves and G2 who just about qualified for the Charlotte Major, MNM Gaming who finished in fifth, and both Rogue and NAVI who just missed out and have added in new players to pressure the top four.
Spoit has been talked about for years at this point making his addition to Rogue likely the biggest single roster change of the transfer window. Will he be the key that his new team seemed to lack in the final few weeks of Stage 1?
Wolves, on the other hand, have attended two Six Majors in a row now; a third really would cement them as a team that's here to stay. For G2, this roster is brand new on the scene and after ending their debut stage just two points ahead of MNM in fifth, will be desperate to improve on their results now they've had time to gel.
How will Heroic bounce back?
Finally, we have Heroic who dominated the European scene during Stage 1 but then fell flat in their first global event. The team is almost certainly the favourite to win the EUL once again during this stage and, perhaps with a bit of experience under their belt, produce a top-level result that we haven't seen from a Nordic team in some years.
Challenger League
While Europe's Challenger League competition won't start until Stage 3, most of its competitors will be determined over the next few months.
Currently, HellRaisers, a Ukraine-based organization, and the French ex-Heroic roster, which competed in the EUL during the 2021 season, have already locked in their spots. Six more will be determined via an open qualifier likely to take place in September, while the final eight will be determined as follows:
July 17th -- PG Nationals victors
August 3rd -- 6 French League group stage leaders
August 7th -- Benelux League victors
August 30th -- V4 Masters victors
August TBD - Spain Nationals victors, top-2 from the Northern Premier League
September TBD -- GSA League victors