Day two of the Asia Pacific League will start tomorrow with the North Division, as four more games will shine a light on where teams stand for this stage.
6:30PM JST -- Spear Gaming vs TALON Esports
7:45PM JST -- DWG KIA vs CYCLOPS athlete gaming
9:00PM JST -- SANDBOX Gaming vs FAV gaming
10:15PM JST -- REJECT vs Fnatic
The two Korean teams that usually fight to be the third-best Korean team behind DWG and SBXG will start the action this week, as Spear hope to win a second game despite still playing with their head coach, Hwang "NL" Gyo-min, as their fifth member.
The day will also end with a similar game for Japan, as Fnatic face REJECT with the two Japanese teams also trying to gain some early ground on the league favourites after finishing fourth and fifth last stage. While REJECT ended Stage 2 below FNC, Fnatic just replaced the majority of their team and lost last week's game heavily. REJECT, meanwhile, sit on three points.
SANDBOX vs FAV will be a key matchup for both teams as FAV hope to get their first win with their new seven-man lineup, while SBXG will not want to let their stage slip away from them early after a loss against REJECT last week.
Finally, the match of the day will be between Korea and Japan's most successful current team; DWG vs CAG.
While DWG are the most successful APAC team of the last year, they come in without their best player, yass, and have their coach standing in. Will this be enough for CAG to take the advantage? Let's take a look.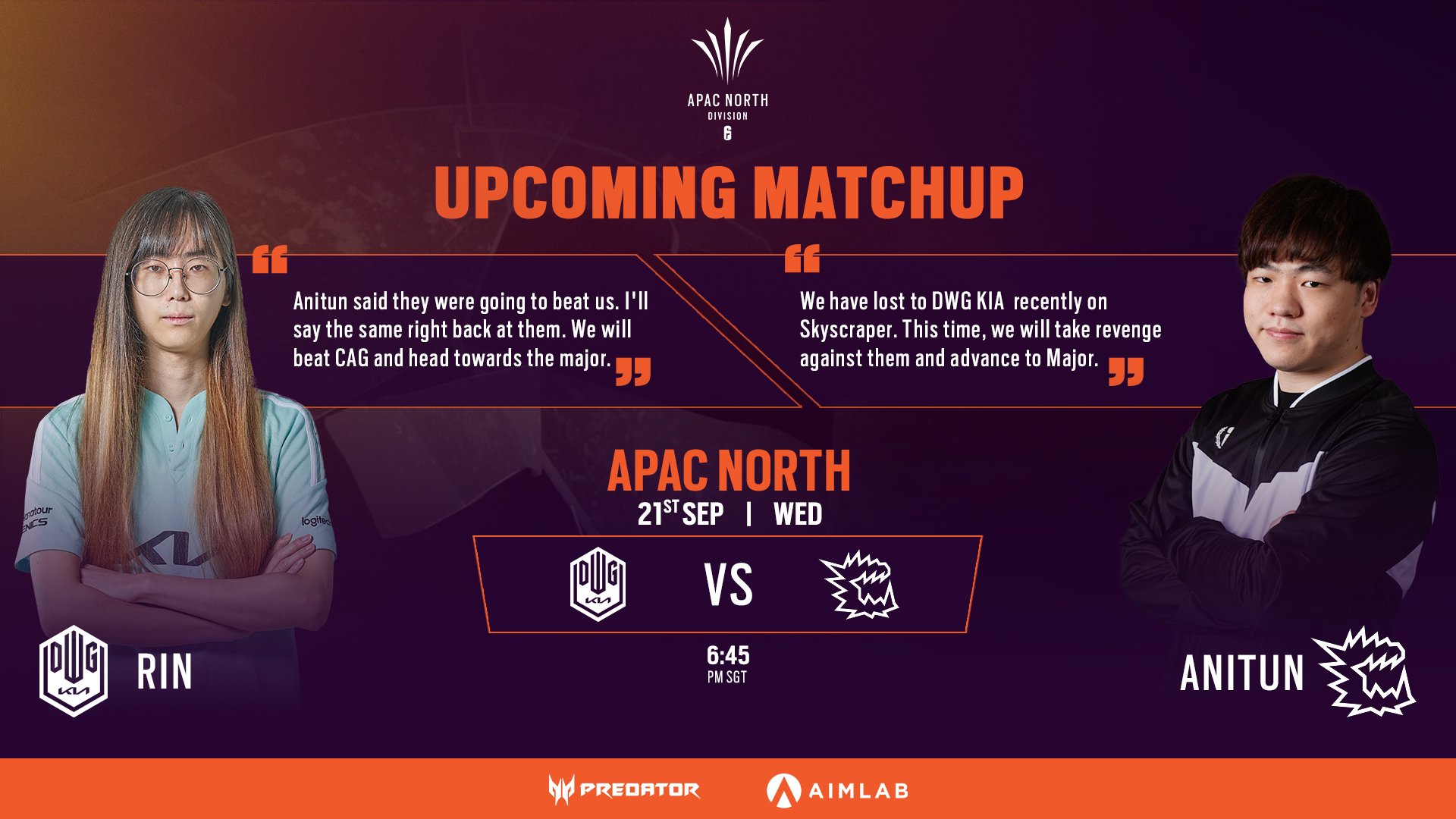 Head-to-heads
It's a 4-4 record on maps, 3-3 on games, and 49-48 on rounds in favour of CYCLOPS and shows that there's hardly ever been anything separating the two overall.
Stage 1 2021 -- 7-3 to CAG on Oregon
Stage 2 2021 -- 7-4 to CAG on Clubhouse
Stage 3 2021 -- 7-5 to DWG on Villa
Stage 1 2022 -- 8-7 to DWG on Theme Park
Stage 1 APAC Playoffs 2022 -- 6-8, 7-5, 8-6 to CAG on Bank, Skyscraper, and Theme Park
Stage 2 2022 -- 7-2 to DWG on Skyscraper
It's notable, however, that two of these three wins came a matter of months after DWG were formed over a year ago. More recently, DWG have won three best-of-one meetings in a row, including a dominant 7-2 in July.
In this match on Skyscraper, everyone on CAG except Sho "BlackRay" Hasegawa simply struggled to win their gunfights at all. It's a simple issue that's very hard to address, especially in a matter of months.
PJH in for Yass
Last week DWG found victory over Fnatic without their in-game-leader and star fragger, Yoo "yass" Sang-hoon. He was replaced on the team by their coach, Park "PJH" Jae-hyun, with no clear reason given as to why.
Considering how much DWG struggled at Gamers8 and the Berlin Major, this is not a good change for the team. Yass was DWG's top player in Berlin as the Iana player, while it was Jang "RIN" Byeong-uk struggling the most.
PJH, his replacement, does have extensive experience casting, coaching, and even playing R6 before in the APAC North League on T1, so this isn't a complete write-off.
DWG put PJH on Hibana and pulled Heo "CATsang" Se-woong onto yass' role instead, as this is where PJH played while on T1. In the lone game we've had to judge them so far, it worked out fine, as no player on Fnatic got more than five kills, while PJH was DWG's lowest fragger on five as well.
However, this wasn't a real challenge, and they should be stretched to their limit versus CYCLOPS.
Finally, it is worth noting that PJH has beaten CYCLOPS before, as T1 took them down 7-3 during Stage 1. During this game, PJH earnt just two kills and ended with a 0.68 SiegeGG Rating.
CYCLOPS' fragging struggles
It's undeniable that CAG have fallen off. While they were APAC's top team very briefly, they're now not even Japan's best as they finished this year's two Japan League seasons in third and second place.
Despite playing primarily lower-tiered opponents during these tournaments, they ended with a negative opening spread, an overreliance on BlackRay, and a consistent trend of messy late-round pushes.
While this is less the case in the APAC North League, this is an issue that also plagued CAG last time they played DWG:
It seems like DWG have learnt exactly how to break down CYCLOPS, just as CAG's Japanese rivals have after so many national tier games and scrims against them.
The battle on entry
Yass brought two major boosts to DWG; IGL-ing and entry fragging. These usually don't go together, but he was seemingly great at both.
PJH is seemingly also a good IGL as he joined T1 during a crisis as an emergency pickup and got them from winning three points combined during Stages 1 and 2 last year to winning 18 in the following two stages.
As such, it's really entry that is the issue. Last stage, yass went 14-4 on entry; CATsang's never achieved anything like that.
CYCLOPS are the perfect test for them, then, as they also struggle on entry. Over the last few stages in APAC North, they've been changing the player on this role, but they've only had differentials of plus two in Stage 2 and one in Stage 1.
This means that it may be a test of DWG's ability to entry that makes all the difference.
CAG are good at coming back from a man deficit, so if DWG can't even get that early advantage, a clear path to victory is open for the Japanese roster. If the Koreans can, we may see a similar scoreline as when they last met on Skyscraper.