Image via Ubisoft/@kirill_vision
Next week, the Six Major will see the top 16 teams meet to compete for a global title. The tournament is split up into two parts, with the group stage taking place from Monday to Wednesday, before the top two teams from each group progress to the three-day playoffs over the weekend.
Group D
The second group to include multiple European teams, Group D is the most likely to throw up some surprises.
While Team BDS is the historical favorite in this group, having attended five events in a row already, their three opponents are less decorated. This will be the second-ever event for the Chiefs and LFO while also being Astralis' debut tournament.
As the top-seeded North American roster, Astralis will definitely be looking to join BDS as the two teams progress to the playoffs while LFO finished the Six Sweden Major in third place, joint on points with second-placed SANDBOX. This gives the LFO team a lot of upset potential if BDS or Astralis fails to perform to the degree fans expect.
The Chiefs also finished third in their Sweden Major group, however, this was with two victories over Oxygen Esports who was playing with their coach substituted in. With two new players, they'll be hoping for an improved performance.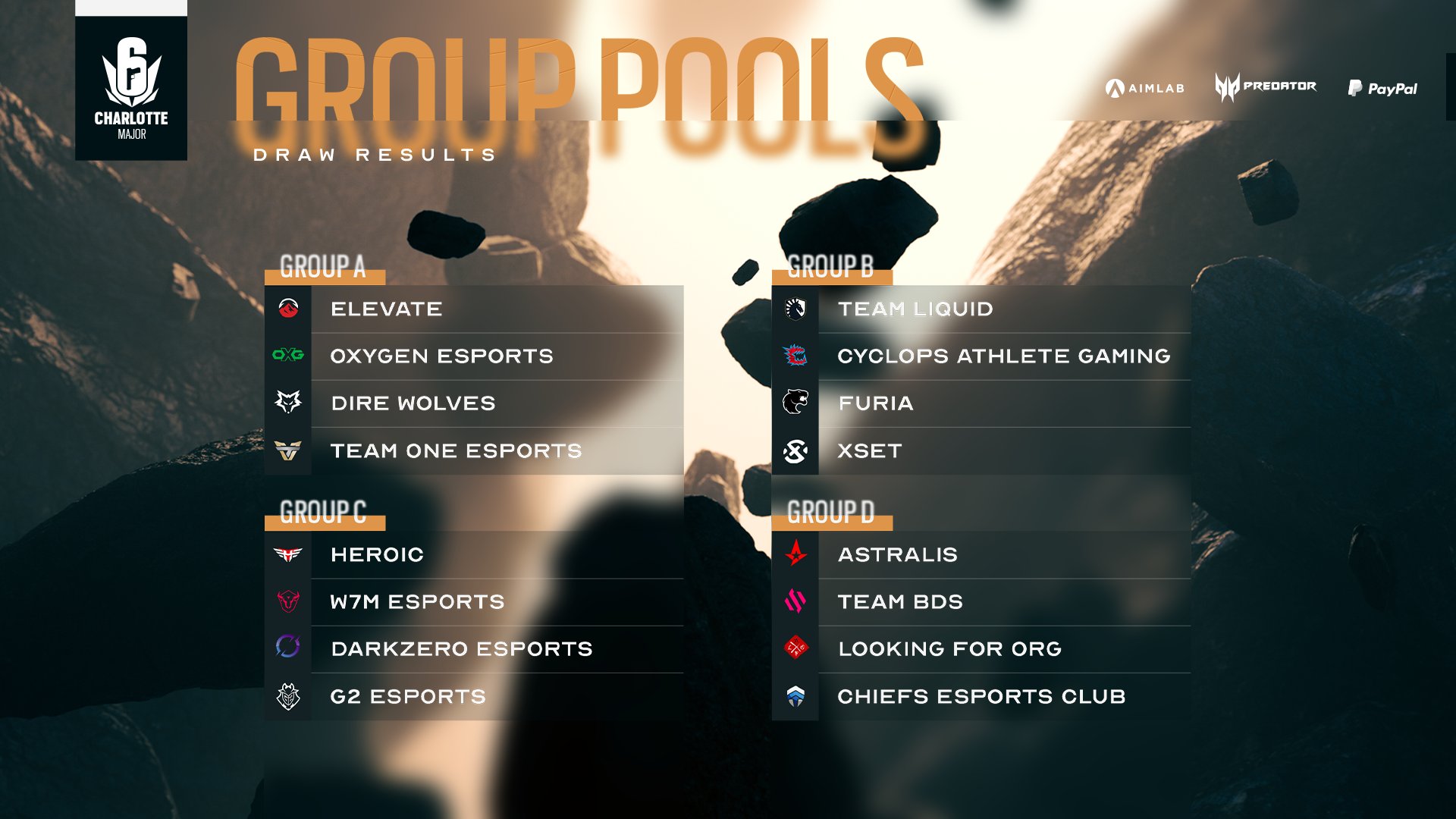 Astralis
David "iconic" Ifidon, Jack "J9O" Burkard, and Matthew "Dpfire" Macway are three 19-year-olds who each caught the attention of the North American scene in 2020 when they came of age to compete. It took very almost two years but now they're finally getting their first chance at a global competition six months after joining the legendary Astralis organization.
Iconic in particular will be looking forward to this after he finished the most recent NA League stage as the joint-second best player by SiegeGG Rating. His teammates during this stage have moved to more support-orientated roles, most notable of which was the sight of Dpfire on Ace, a big departure from his usual pick, Iana.
These changes all stemmed from the pickup of Roman "Forrest" Breaux as, after finishing stage three in a disappointing seventh place, they opted to make a single roster change. It worked out remarkably well as they topped the NAL standings at the beginning of the 2022 Season.
After qualifying for the Pro League back in 2019, Forrest has spent much of the last two years back in the Challenger League. Now he's been given another shot in the NAL and has become Astralis' Hibana-player and planter. This in turn has allowed the team's veteran, Aaron "Shuttle" Dugger, to move onto more of a flex role in which he has secured the second-most kills on the team.
Being such a young roster means that only Shuttle has played globally before with him attending 10 global events and being crowned both the USN 2018 and DreamHack Valencia 2019 champions. That's a serious amount of experience that should hopefully be able to guide the team. Their first event also being in the US also eliminates any timezone, culture, or dietary issues that may rock the players.
There are a lot of reasons for Astralis to be confident. Their game against BDS on the opening day of the tournament will be truly massive if they can get the win while win or lose they should be able to escape their groups, something only DZ and SSG managed to do from NA in 2021.
Team BDS
BDS is one of the best-known teams in Rainbow Six esports as they've attended every event since they first qualified for the Challenger League, while Stéphane "Shaiiko" Lebleu and Loïc "BriD" Chongthep are considered two of the greatest ever players in their roles.
Despite this, they have never qualified for a global grand-final, let alone taken a title. While Heroic beat BDS to be the top-seeded team in Europe, BDS' experience at this level probably puts them as the European favorites at this event, as they have consistently been over the last year.
The roster dynamic is one everyone's familiar with at this point with it remaining virtually unchanged over the last year. Shaiiko's on entry -- a role he's world-leading at -- supported by Bryan "Elemzje" Tebessi. BriD is on plant and hard breach duty, supported by Adrien "RaFaLe" Rutik. And finally, Olivier "Renshiro" Vandroux plays soft breach.
With Arnaud "BiOs" Billaudel and Mees "eaglemees" van der Arend also sitting behind the team, the roster has everything needed to become champions. This was also all true in 2021 and yet the closest they got was the semi-finals in Mexico City. With no changes made from an outside perspective, whether Charlotte will be where everything falls into place is impossible to call.
Looking For Org
BDS' French compatriots enter the Major as the second org-less team to ever compete at a Six Major tournament. This means after a very close third-place finish in their group at the Sweden Major, they'll be hoping for an even better performance to entice a top-level organization pick up before the next stage.
In order to secure this, the team picked up 19-year-old Yanis "Mowwwgli" Dahmani, best known from his time in the Italian national league, to act as their main offensive force, which in turn pushed Axel "Shiinka" Freisberg firmly onto hard breach and Nicolas "P4" Rimbaud onto a roaming role.
While P4 was already topping the team statistically on Finka, he's now doing this even more effectively on Twitch while Mowwwgli on Finka sits just behind him by SiegeGG Rating -- 1.19 to 1.10. This is a big improvement as during stage three last year Valentin "risze" Liradelfo was the second-best player, securing just a 1.02 rating to P4's 1.18.
Risze himself has remained on the same operators -- Sledge and Jager -- and remains the second entry player on the attack. This has not worked well for him with him securing a -11 offensive entry record compared to +6 last stage.
His overall 0.81 rating clearly flags as an issue but the team's third-place domestic finish is also the joint-best performance team captain Bastien "BiBooAF" Dulac has secured in three years showing risze is clearly fulfilling his job, regardless of the statistics.
Vitality has been quietly improving over the last year. To take the next step forward following their performance in Sweden, they'll need to pull off quite an upset performance.
Chiefs Esports Club
Since Fnatic's move to Japan, a mixture of covid-related travel issues and the rise of South Korean and South-East Asian rosters has severely limited the Oceanic scene's global presence. Now, the Chiefs have made it back to their second Six Major in a row and are hoping to put Australia back on the Siege map.
To do this the Chiefs brought in two new players, with "bouncinballz" being the stand-out star, finishing as the second-best fragger in APAC South. He's achieved this while supporting Trent "Worthy" Mitchell-Roseon the attack-side entry with the duo mainly playing on the unusual operators of Jackal and Buck.
The team's main Iana player, meanwhile, is "Ethan" Picard who ended with a 0.74 offensive rating, the fourth-lowest in the league. This is a major departure from stage three, where he reached a 1.36 offensive rating, the third-highest in the league. He was clearly struggling, however, by the time the APAC Playoffs began, Ethan was back topping the team by rating with a particularly good performance against Talon despite losing the game.
The second new player is "Boydy" who's made less of a statistical splash but has been key to the roster as he takes over Raine "Dgtl" Wright's role who in turn moves to the planting and hard breach roles, which Morgan "Fishoguy" Ishizaka played before his departure.
Together, the team travels to Charlotte with a fairly unique team dynamic. No matter how well bouncinballz plays, though, they're going to need Ethan on his game if they want any chance of challenging for a playoff spot.
Head-to-heads
Starting with the two European teams, during this stage BDS beat LFO, 7-4. Prior to this, BDS won just eight out of 16 games against the Vitality organization with Vitality winning seven, and one ending in a draw. However, this includes 6 French League games in which LFO has an excellent record.
Looking just at the post-Fabian EUL games, BDS has a three-to-one record, with the one map lost being in a 7-8 scoreline.
The two teams also have a lot of crossover with BiBooAF competing alongside RaFaLe for three whole years and BriD for just less than that. Elemzje also played alongside BiBooAF and risze, the latter of which was also teammates with Renshiro on Millenium.
The only member of Chiefs to face any of their three opponents previously is Ethan, who on Wildcard lost 0-2 to BDS at the 2020 Six Invitational. Chief's French analyst, Baptiste "Hell" Adiasse, was also the direct replacement on the Benelux roster Epsilon eSports for eaglemees who's now BDS's analyst.
Looking at Astralis, both the organization and its predecessor, Disrupt Gaming, never faced any of the three other teams. Shuttle did, however, lose four out of five maps against Elemzje's Team Secret roster during the Raleigh Major while on Rogue. He also faced risze three times, winning with a 4-2 record. Four of these maps were against the first "LFO" lineup at the DreamHack Valencia 2019 grand-final which Shuttle won while the other two were in the Allied Minor quarter-finals.
Finally, at the Six Invitational 2018 over four years ago, Supremacy beat Counter Logic Gaming 2-1 during the group stage. This included Shuttle topping the scoreboard for CLG while BDS' BriD and RaFaLe and LFO's BiBooAF were Supremacy's bottom three players.
Players & teams to watch
All eyes are on Astralis and BDS in this group, if they can play as they did in the regular season then they should escape the group with no drama. As for who takes first place, eyes are on Iconic and as always, Shaiiko.
For Looking For Org to take one of these spots, they need risze's entry numbers and overall kills on the attack to go up as European teams always struggle with time management when playing globally. Starting a man down would be a death sentence for the team.
Finally, very similarly, the Chiefs need Ethan on the board and they probably need a career-defining performance from bouncinballz if he is to out frag the opposition's entries.