Image: Ubisoft/Kirill Bashkirov
Stage 2 of the 2022 BR6 League ended after nine days of play, with FaZe, w7m, NiP, and FURIA going on to qualify for the Six Berlin Major.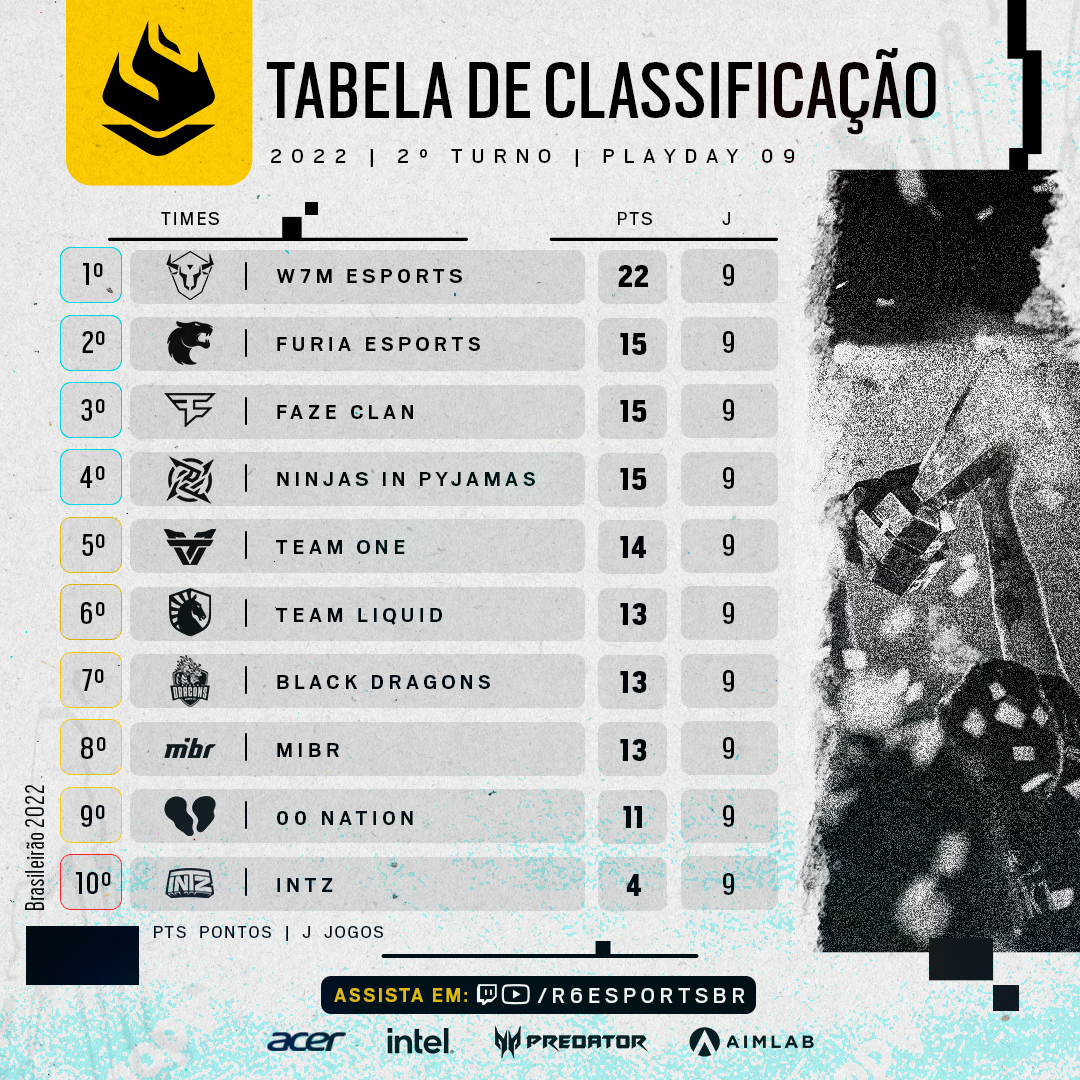 Here's a quick look back at the stage, including some of the standout players, teams, and changes from Stage 1.
Top Performers
The top three players in Stage 1 -- Diego "Kheyze" Zanello, Gabriel "pino" Fernandes, and Gabriel "volpz" Fernandes -- remained the same in Stage 2, while Gabriel "Maia" Maia and Murilo "Muzi" Moscatelli show up in the top seven of both. This shows consistency, which is way more important than one-off MVP performances.
With this in mind, it is undeniable that Kheyze's from w7m esports was the league's best-performing player, as he achieved the highest SiegeGG Rating this stage across all professional leagues.
W7m showed exactly how they topped their league and Kheyze topped all the fragging statistics, Gleidson "GdNN1" Nunes had the highest KOST figure, highest survival rate, and most plants on Thermite.
Eduardo "KDS" Fontes as the fifth highest rated player, is also noteworthy even though he hit a SiegeGG Rating of 1.19. His closest teammate was at 0.96, while Thiago "xS3xyCake" Reis was the joint-worst player in the league on 0.79.
Biggest Improvement
The biggest overall improvement came from pino, as NiP's first roster shakeup since 2019 allowed him to excel in the kill-feeds alongside Gustavo "Wizard" Gomes.
Looking down the list, it is notable how many teams are present in the list of top seven most-improved players between stages. This shows that big improvements weren't driven by an entire team getting better, like how four Wolves players were included in Europe's seven most improved players, but individual players jumping up in performance.
Concerning entire teams, NiP were the most improved overall, while MIBR's improvement wasn't enough for them as they dropped from seventh to eighth between stages.
Biggest Drop
Two teams stand out here very clearly; INTZ and Liquid. While INTZ had a worse stage, with three players all dropping all the way down to the 0.8s, Team Liquid were the only team in the BR6 League to see their entire roster included on this list.
Luccas "Paluh" Molina was notably still the 12th-best performer in the league, but this is well away from what's expected from him. Meanwhile, Gabriel "AsK" Santos was the sixth-worst performing player in the league.
INTZ's problems, meanwhile, really are highlighted when looking at the KOST figures, as the four players listed below are the four lowest in the tournament. In short, the best of them had no measurable impact in 44 percent of rounds, as they died without even being traded.
Best New Player
Considering there was only one new addition ahead of Stage 2, Wizard replacing Julio "Julio" Giacomelli on Ninjas in Pyjamas, the answer in this category is very obvious.
Wizard is not a one-to-one replacement for Julio, as Julio hit a 0.85 Rating on a secondary support role, while Wizard is on 1.10 as a secondary fragger. The change in roles around the team has clearly worked out so far, as the team made it to the Six Berlin Major.
BR6 League Play of the Stage
The flashiest play of the stage was a very clean ace from KDS as he caught four players looking another way:
However, the best play on a pure skill level is probably this 1v4 clutch from Lucas "soulz1" Schinke. If soulz1 failed to get this clutch, then FaZe likely wouldn't have made it to the Six Major.
Maps
The league's most played map by far was Chalet, taking over from Skyscraper last stage. The top three most played are also very evenly balanced, with overall win rates skewed just two percent from even.
Unlike most other regions, no map has been completely neglected, as even the least played map, Oregon, saw multiple picks. Three maps -- Oregon, Skyscraper, and Theme Park -- all had defensive win rates of over 61%, with the most offensive side map being Border at 41%.
The overall side bias ended at a 52.76% defensive win rate, compared to 53.97% in the EUL, 52.88% for APAC South, 51.80% for the NA League, and 46.87% in APAC North.