Stage 2 of the Brasileirão League is now done. While the top four teams -- w7m, FURIA, FaZe, and NiP -- went on to qualify for the Berlin Major in August, the remaining six have over two months to prepare for Stage 3, which is bound to include numerous transfer changes.
Here's a speculation-heavy look into where these changes could come.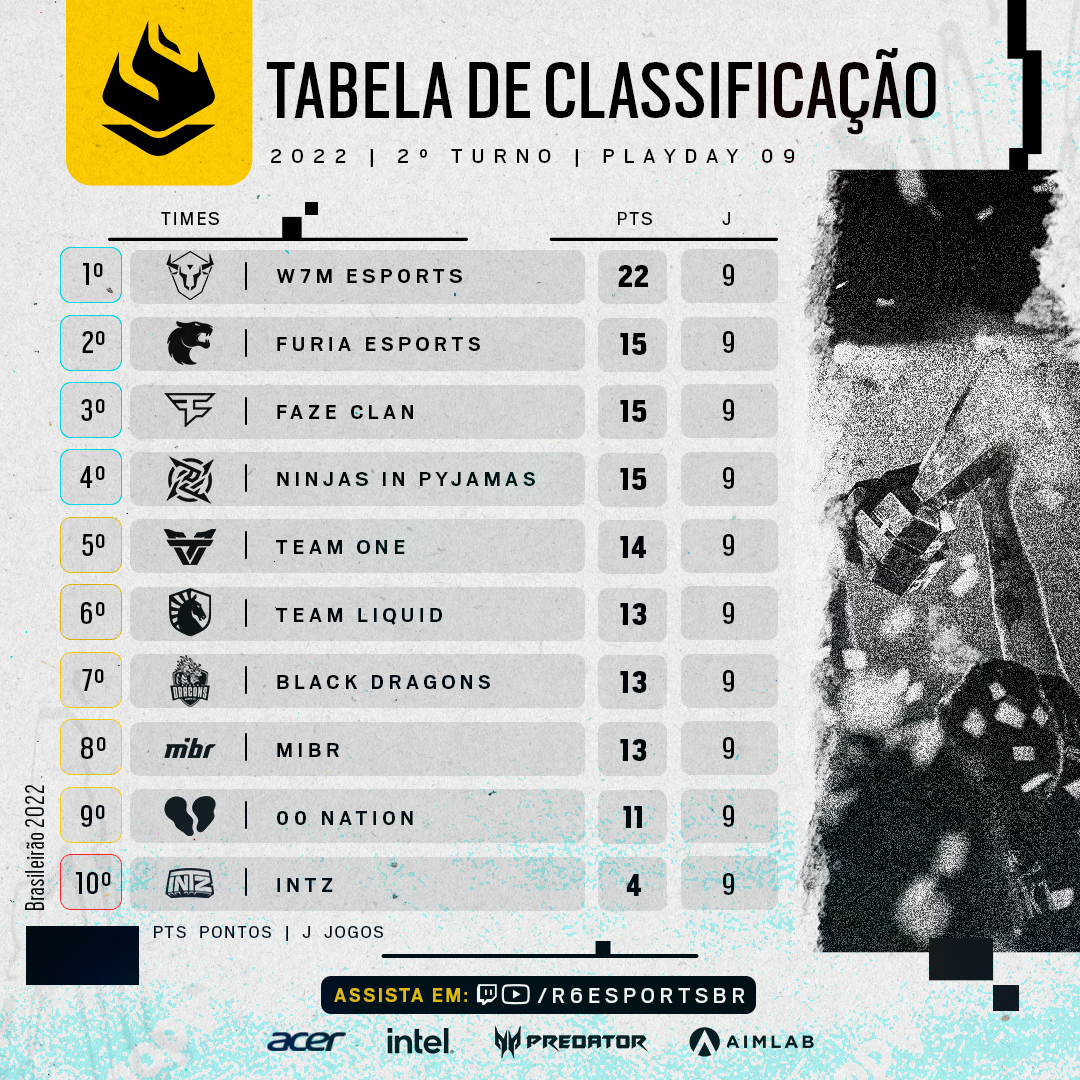 INTZ
From Stage 1 2021 to Stage 1 2022, INTZ finished four stages in a row in eighth place. And in Stage 2 2022, they finished in dead last with a less than stellar 1-1-0-7 record. Considering they also saw a massive fall in player performance, had four players in the bottom nine ratings, and are almost certainly going to be facing a relegation battle later this year, roster changes are very likely here.
While several players can likely be replaced by tier-two replacements with good results, Diego "ZaaK" Balejo stands out as he was the second-worst rated player on the team with the worst kill differential and entry kill differential, all while playing Finka.
Unless he's a wizard behind the scenes, it's hard to justify these numbers on the face of them. During Stage 1, he fared much better but was still somewhat trailing his fellow entry fragger, Victor "Hornetao" Lopes, while he was also the second worst player on his team, just ahead of the hard support player, during last stage's Brazil Cup tournament.
Team Liquid
Yesterday, the entirety of the current Liquid squad just hit a career low point when WYLDE beat them 7-1, 7-1 at the Gamers8 tournament. While WYLDE have Lukas "korey" Zwingmann and Maurice "AceeZ" Erkelenz on their team, they are still ostensibly a tier-two (or three, depending on your definition) German team that are currently in second place in the GSA National league.
This comes after they finished the BR6 League Stage 2 in sixth place, as Luccas "Paluh" Molina and André "nesk" Oliveira had one of their worst domestic seasons to date.
The remarkable thing about this is that in May, these very players were the semi-finalists at the Six Major, losing in a very tight three-map game against the eventual champions. There is no denying this is a world-class team, meaning their current issues are under the hood -- they can't be diagnosed by looking at the statistics.
What may become relevant over the next year are retirements. Paulo "psk1" Augusto is 29 years old, and nesk is 27 years old with a young child. While they could compete at the top for years to come if they wish to, we've seen players retire much younger than this, and both could have successful streaming careers from their own homes.
00 Nation
00N took three recent Six Major champion players, added an ex-FaZe player, an ex-Liquid player, and hoped to make a Brazilian super team. But after two stages in a row in ninth place, changes are probably coming to the team.
However, it's not as clear cut to determine who to swap. While Thiago "xS3xyCake" Reis was the joint-worst player by SiegeGG Rating in the entire league, this is still not that much worse than Vinícius "live" Santos. S3xyCake is also on the hard breach role and brings championship-winning experience.
However, considering the three ex-Team oNe players are technically more successful than S3xyCake with a Six Major title under their belt -- and one that is more recent -- the experience he brings may have reached its limit.
Also pressing for the team is a player who can actually secure entry kills on the attack. Looking at the opening kill to opening death figures, Eduardo "KDS" Fontes is at 1-11, live is at 4-12, and S3xyCake is at 1-8. If they can find a tier-two player to fill this role more effectively, then they may opt to keep S3xyCake and replace live in this role. With support alongside KDS, they could yet become a challenger next stage.
MIBR
Even though they have done no better than sixth in four stages in a row, MIBR are unlikely to make a change. This is because Kaique "Faallz" Moreira, Luca "LuKid" Sereno, and Tassus "reduct" Issi have been playing together since 2017 at lower tiers of play, while Felipe "FelipoX" Lucia has been with them for almost three years now.
The team's newest member is Enzo "Rappz" Aziz who 'only' joined two years ago, and he is consistently near the top of the team by SiegeGG Rating.
Eventually, MIBR will need to make a change, but considering their two worst players are reduct and LuKid, it's hard to see the team reinventing their entire roster to end a five-year partnership now, especially as they were just two points shy of a Copa Elite Six spot.
Black Dragons and Team oNe
Both of these teams are probably annoyed that they missed out on the CES, but they still had a good overall stage. While oNe's João "Dotz" Miranda had a statistically bad performance, qualifying for the Charlotte Major probably means the teams don't want to change anything.
Unfortunately for these rosters, it's not always up to them, as these two teams are a prime space for bigger organizations to shop for new BR6-experienced players. Of note is oNe's Maia, who is undeniably one of the best rookies in the league. oNe may be forced to look for replacements if a team like Liquid decide that they want a change.